Colorado Football 2003: Nov. 8—Colorado 21, No. 22 Missouri 16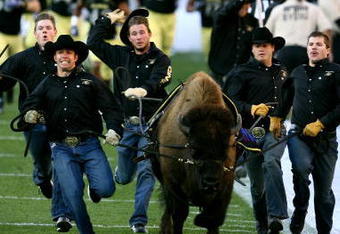 (Photo by Garrett W. Ellwood/Getty Images)
 Colorado v. Missouri – 2003
In 2003, the Colorado Buffaloes got off to a fast start, knocking off 23rd-ranked CSU and UCLA to climb to No. 17 in the polls.
After that, the wheels fell off. The Buffs lost six of the next seven games, falling to 3-6 overall. Heading into the Missouri game, CU was coming off a tough 26-21 loss to Texas Tech.  For only the 12th time since the start of the 1976 season, a span of 324 games, the Buffs had a two-score lead at some point during the game, and lost. CU had an early 14-0 lead on the Red Raiders but still managed to lose.
Of concern to the Buff faithful was the fact that of those 12 losses after leading by two or more scores, only eight of them occurred in the 25 seasons between 1976 and 2000.  Four had now occurred during the Gary Barnett era, including the second time in 2003 (a 23-14 lead against Baylor becoming a 42-30 loss).
Lies, damned lies, and statistics. Numbers can be construed in any number of ways. Fair enough. But for the 2003 Colorado Buffaloes, one statistic could not be misstated or misinterpreted:
3-6.
November 8    Colorado 21, No. 22 Missouri 16
Joel Klatt passed for 187 yards and two touchdowns, leading Colorado to a 21-16 upset of 22nd-ranked Missouri. Brian Calhoun rushed for 65 yards and a score, while D.J. Hackett caught five passes for 84 yards as the Buffs beat the Tigers for the fifth straight season.
The Buffs scored first, taking a 7-0 lead on a 16-yard pass from Klatt to Derek McCoy, culminating an 82-yard drive to open the contest. Missouri responded with a 77-yard drive of its own, but the 18-play, 8:22 marathon netted only a field goal.
Colorado countered with its second long drive, this one covering 80 yards. Klatt hit fullback Lawrence Vickers from three yards out to give Colorado a 14-3 lead. 
Missouri cut the lead to 14-9 midway through the second quarter on a 17-yard pass from quarterback Brad Smith to receiver Victor Sesay (the two-point pass attempt failed).  The Tigers had the chance to take the halftime lead, but on the 15th play of their next drive, running back Zack Abron fumbled into the CU end zone.
The Buffs opened the second half as strongly as the first half, scoring on their first possession.  A 75-yard drive was finished off by a 3-yard scoring run by Brian Calhoun, and the Buffs were up 21-9. 
The much-maligned Colorado defense made the lead hold up, but not without drama.  One long Missouri drive ended on the Colorado 21-yard-line after a Smith fumble, while another ended at the CU 40 on an incomplete pass on fourth down.
Missouri did score with five minutes to play on a 48-yard screen pass from Smith to running back Damien Nash to make the score 21-16.
The 47,722 CU faithful on hand to witness the event were on the edge of their seats when Missouri took over on their own 20 with 2:39 to play.  A sack and an interception by Buff safety Dominique Brooks ended the threat, though, and the Buffs had a 21-16 win.
"I think this was our most complete game of the year," said Gary Barnett.  "It was good to get this win.  Missouri is obviously a good football team." 
"It's a huge tribute (to the defense), because I don't know how they stayed the course," said defensive coordinator Vince Okruch. "To a man, they bought in and believed, and they deserved this kind of game." 
While the Buffs could rightfully celebrate their second win over a ranked team in 2003, they still needed to win out in order to become bowl eligible.  Colorado was now 4-6 (2-4 in Big 12 play), and would need wins over Iowa State and Nebraska to entertain post-season hopes. 
The Iowa State game would be in Ames, but was now looking to be a winnable contest.  The Cyclones were 2-7, win-less in conference play. 
ISU was mired in a seven-game losing streak, having won its first two games against Northern Iowa and Ohio before giving up an average of over 40 points per game in losing its last seven. 
The Cyclones had been shut out in their last two games, 28-0 at Nebraska, and 45-0 at home against Kansas State. A win over Iowa State was not outside the realm of the reasonable. 
A win over Nebraska Thanksgiving weekend was another story.  The 18th-ranked Cornhuskers were 8-2 overall (4-2 in conference), and would be coming to Folsom Field for the first time since being embarrassed by the Buffs in 2001.
The Nebraska game, though, was three weeks away.  If the Buffs were to entertain hopes of a December game in a warm climate, they could not look past Iowa State.
Long Drive Contest
Play in any charity golf tournament, and you can expect certain truisms: you will receive a gift bag with small appreciative tokens like gift certificates and golf tees with a corporate sponsor; a sandbagging team of good players claiming high handicaps, just so they can win the tournament; and a tournament-concluding barbeque. 
Out on the course, there will be designated holes with prizes like "Closest to the Pin" or "Longest Putt".
There will also be a "Longest Drive" competition, usually on a par-five, usually won by a participant with a driver with a club head the size of a small dog.
The weekend of the CU/Missouri game, there was an unintended "Long Drive" competition, with three competitors.
First up —Colorado and Missouri
In the 21-16 CU win, the teams combined for six scoring drives.  All six drives were of the long variety.  The shortest drive of the day covered 79 yards, and that was Missouri's first scoring drive of the day. 
The trip took a gaudy 19 plays, and resulted in a 19-yard field goal late in the first quarter to cut the CU lead to 7-3.
The Buffs were very consistent in their long drives.  Three touchdown drives, covering in order: 82 yards in nine plays; 80 yards in 11 plays; and (once again) 80 yards in 11 plays. 
On the day, the Buffs managed only 276 yards of total offense (compared to 447 for Missouri), with 242 yards being taken up in the three scoring efforts.  Colorado was not only driving long distances, they were successful in the effort.
Second contestant —Head Coach Gary Barnett
A Missouri alumnus, Barnett stretched his winning streak against the Tigers to five games with the win.  In fact, through 2003, Missouri remained the only Big 12 conference opponent not to win against a Gary Barnett coached team.
Barnett's "Long Drive"?  It occurred in 1971. The media release prepared for the press each week by Colorado's Dave Plati (Assistant Athletic Director / Media Relations) told the story of how Barnett first came to Colorado.
Barnett and a friend "road-tripped" to Colorado in the winter of 1971 looking for teaching jobs. When no job offers came, Barnett settled in as an assistant at his alma mater, Missouri. 
Barnett was later offered a teaching and an assistant coaching position at the Air Academy high school in Colorado Springs. Named head coach in 1973, Barnett stayed at the Air Academy for nine years before being named the head coach of Fort Lewis College in Durango, Colorado. 
Two years later, in 1984, Barnett was hired by CU head coach Bill McCartney to be an assistant for the Buffs, and the rest, as they say, is history.
The third "Long Drive"   took place the weekend of the Colorado/Missouri game, and it did not involve either school.  It was the my wife, Lee, came home from Edmonton, Alberta, for the long Veterans' Day weekend (in Canada, it's Remembrance Day). 
Lee had been at her internship since late August, and this was her second trip home.  The first had been the weekend of the Kansas game, the last Colorado win before the Missouri game.
In the 21-16 win over Missouri, the Buffs and Tigers utilized "Long Drives" to secure points.  Coming from Missouri, Gary Barnett had taken a "Long Drive" (and circuitous one) to get to Boulder. 
But the winner of the competition for the "Longest Drive" on the weekend of the CU/MU game was my wife, if for no other reason than the only two weekends in the past eight in which Colorado had won, she had been back in the U.S.A.
Try as I might, I could not persuade Lee to come back to Bozeman for the Iowa State and Nebraska games.  The Buffs would have to try and find a way to win those games on their own.
[The Buffs did go on to defeat hapless Iowa State, 44-10, to raise the 2003 record to 5-6. A bowl game was still a possibility, but it would take a win over Nebraska to do it. The Buffs were game, but fell, 31-22, to the 25th-ranked Cornhuskers, to finish 5-7 and out of the bowl picture]
This article is
What is the duplicate article?
Why is this article offensive?
Where is this article plagiarized from?
Why is this article poorly edited?

Colorado Buffaloes Football: Like this team?