Creature vs. Creature: Georgia Bulldogs Need an Extra Cocktail This Year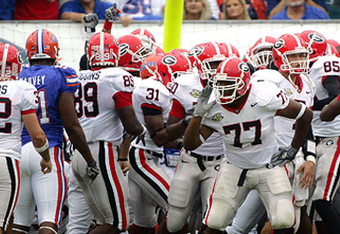 Bulldog fans all around the Southeast are stocking up to take their annual pilgrimage to Jacksonville.  Some feel the need to bring extra tailgate supplies from the alcoholic beverage aisle in the supermarket with a doubtful prognosis.  Take another look before you doubt the Dawgs; Florida may be in for a rude awakening.
The Gators are on a 17 game winning streak with Superman himself in the bid for his second Heisman and a defense that is third in the nation.  My counterpart Trey Jones covers the Gators view of the World's Largest Outdoor Cocktail Party in his article Creature vs. Creature: A Gator's Take on a Bulldog Beating in Jacksonville .
Despite the obvious talent gap between the teams, the Dawgs aim to stop the bleeding of a 3-16 record in the last 19 matchups against Florida.  While Georgia is still atop the all-time series record, the Bulldogs have spent far too long playing the role of younger brother to the giant of the sunshine state.
Let's set things clear for any doubters; this game still constitutes as a rivalry.  If Georgia could be guaranteed a win in one game each year, they would always pick Florida.  Bulldog fans have never hated the Gators more and a win may not ever be as satisfying as one this year could be.
At the beginning of the season I wrote an article that analyzed the Florida Gators and looked for any cracks in the armor (SEC Scouting Report: How to Beat the Florida Gators ).
Since the dawn of the Tim Tebow era in Gainesville the Gators have lost only six games.  Several trends emerged that could provide the game plan Georgia needs to upset their rivals.
The Georgia Game Plan
One common thread to every Florida loss during this span is the presence of a solid run game by the opponent.  Georgia can forget about that idea though as they rank dead last in the SEC with 108 yards rushing per game and they are going up against the Gators who are second best in the conference against the rush.
An interesting note about Florida's vulnerability is that teams who stick around have a great chance at knocking them off.  Since 2006, Florida is just 2-5 when trailing at any point in the second half.  If Georgia can survive the initial surge then there is hope.
Sacks have also been a pitfall for Florida as Tebow becomes very mediocre when he gets rattled.  In the Bulldogs' 2007 victory they were able to get to Tebow six times which helped hold him to -15 yards rushing.  This year the Florida offensive line has allowed 15 sacks; the same number they allowed all last year.
The last two weeks both Arkansas and Mississippi State have been able to exploit this weakness as Tebow went down nine times.  Both games proved to be nail-bitters for Gator fans and Georgia will be looking to continue the trend.
Speaking of Tebow...
While Tebow is unquestionably the best quarterback in the SEC, do we dare admit that he is not performing at the level we are used to from him?  Numbers don't lie and while the Gator great will go down as a legend of college football, something is missing from Florida's quarterback this year.
All offseason there was talk of how Tebow was going to improve his passing game and become a greater threat through the air.  That prediction could not be further from the truth.  So far he has matched his 2008 total interceptions of four while passing for only eight touchdowns compared to 30 a year ago.
With all the Gators' directional schools and junior college opponents taken out of the stats, Tebow's SEC numbers tell all.  In conference play the star quarterback has thrown for just 147 yards per game while last year he put up 193 yards through the air on average.
Can Georgia Move the Ball?
It would be unrealistic to assess this weekend's matchup without taking a good look at Georgia's offensive woes.  No matter how much the Florida offense may struggle, it will be impossible to win without a strong performance from the Bulldogs offense.
One statistic that stands out is third down efficiency.  While Georgia has been good on third down, converting just under 40 percent, the Gators defense has held SEC offenses to just 13-for-62 on third down this season.
With the absence of a running game, a lot of pressure will be put on Joe Cox to move the ball through the air.  Look for a lot of quick throws early to compensate for the running game and boost the confidence of Cox.
"Must-Have" Keys for a Win
While there is no exact recipe for an upset, there are trends that emerge and factors pointing the Bulldogs to several must-have components.
A.J. Green Must Have An Impact— Sophomore receiver A.J. Green is the best player on the Georgia offense and he must have a lot of touches.  He can work miracles with the ball in his hands and this game is a great platform to showcase his talent.
Joe Cox Must Avoid Turnovers —Without exception, the Dawgs must play mistake-free football and Joe Cox becomes the most important part of that equation.  The Florida defense is too good to expect big numbers from Cox but interceptions will be a dagger in the heart.
Defensive Line Must Dominate— The Georgia defensive line has shown spurts of brilliance while also managing to perform with much mediocrity at times.  The front four will have to be explosive and get Tebow rattled for the Dawgs to have any shot at slowing down the Gator offense.
Special Teams Must Make A Play— While the kicking game for Georgia is solid, they need a game-changing play in the form of a blocked kick or a return for a score.  Look for freshmen Branden Boykin to light the fuse and spark a Georgia victory.
If Georgia manages to excel in these areas they put themselves in a position to upset the Gators and take back bragging rights in the rivalry.
No amount of talent can overcome the hatred that these two teams have for each other, and Meyer and Richt will have their boys ready to play on Saturday.
This article is
What is the duplicate article?
Why is this article offensive?
Where is this article plagiarized from?
Why is this article poorly edited?

Georgia Bulldogs Football: Like this team?