Knee-Jerk Reactions: Week 6 In The AFC North
October 18, 2009
AFC North Knee-Jerk Reactions—October 18, 2009
Texans 28 Bengals 17
Come on, we all got caught up in the hype. Admit it, you were thinking the Bengals were a real team this year. You actually had visions of the 2005 season, didn't you? Yeah, me too.
Actually the Bengals played an OK game against a pretty good Houston team. Their running game sputtered at times, but Cedric Benson is running well this year and I don't think that will change.
After last week's inspired performance against a surprisingly offensive Ravens offense, the defense was exposed by an even higher-powered offense, allowing close to 500 yards of total offense to the Texans. I still like Mike Zimmer, he'll get that defense back on track.
Browns 14 Steelers 27
Meanwhile, three hours to the east was a game in which several players returned from injuries. The Steelers got strong safety/free safety/linebacker/lineman/cornerback/coach/general manager/diety Troy Polamalu back, and the results were predictable—the defense was a lot better. They still seem to have this need to give up big plays late in games, but you could almost see the difference across the entire defense with Polamalu in there.
Big Ben is on fire this year, proving that he can manage an offense just as well as he can mangle a defense. His final stats were impressive, but they did come against the Browns. Mendenhall looked good but not great. Willie Parker fumbled late in the game and it could have been costly. His days are clearly numbered in Pittsburgh. Smart move by the Steelers to sign Heath Miller to a 6 year extension. The guy is, in my opinion, the best tight end in the league.
Ravens 31 Vikings 33
Wow, what a game! Down by 17, the Ravens offense came alive in the 4th quarter, scoring 17 points and temporarily securing a late 1-point lead. The Vikings used Adrian Peterson to keep the Ravens defense honest, and it worked. Favre had a spectacular game, particularly early on, but Peterson's running was the difference in this game.
The Ravens really do have a top offense this year, this is not hype. I was impressed with Ray Rice's catch and duck and break-tackle and run last week. He had another big game receiving this week as well, although on his late TD run he was completely untouched—that was just pure speed. Watch out for this young'en, he's a player.
That being said, they've lost three straight and their defense is a shell of its former self. Maybe Bart Scott is that much of a difference-maker.
Gripes
Dear NFL,
Please figure out what a touchdown catch IS and what it ISN'T. No one seems to know right now, especially the game officials. When you make a rule, please make sure your employees know how to enforce it. For example, what the hell does "maintain the catch throughout the play" mean? You don't know, admit it!
Thanks a bunch,
A Fan
Why is the term "it is what it is" so F-ing popular? It doesn't mean anything! That goes for you too, "he thinks who he is."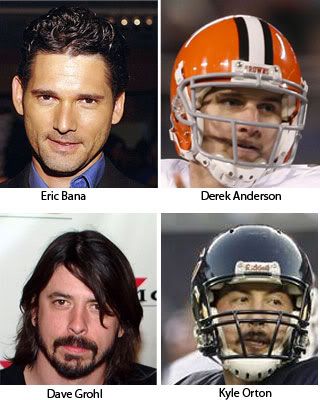 Around-the-League Observations
Derek Anderson looks like Eric Bana, but only when he wears his helmet.
Ditto for Kyle Orton and Dave Grohl.
When I first saw John Harbaugh, I thought he looked like a wimp as far as head coaches go. I'm kind of scared of him now.
These anniversary uniforms are for the most part hideous. Denver's Milk Dud-inspired digs highlight this.
Dave Zastudil continues to show the rest of the league why he's awesome.
How the hell does anyone block Kris Jenkins? Oops, as I typed that he was taken off the field. My bad.
I don't care for any of the Ryans: Buddy, Rex and Rob all seem like dicks. We all know about Buddy, but Rex is beginning to show that famous Ryan classiness with his "f**k you"s when his team does something good. What grown man says "f**k you" in that situation anyway? Actually, his brother Rob does.
Giggles
I just heard Dick Emberg use the word "reacharound."