NCAA Football: Week Five Predictions and Scores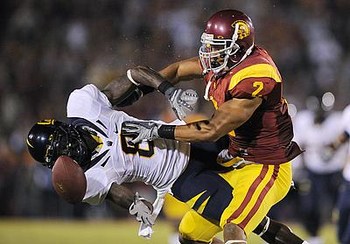 Hey again, college football fans. Welcome back to my weekly predictions and scores slideshow.
Last week I had another pretty solid week. and my upset picks were right on for the most part. I nailed Iowa's win, Virginia Tech, South Carolina, and Oregon.
If you are new to my picks, I pick every game in the AP Top 25 and also choose a handful of intriguing games outside of the top 25. My upsets are based on rankings, NOT point spreads.
Enjoy my selections and slideshow, and feel free to leave me some of your predictions! Have a great week of college football!
Last week's record: 23-6
Record on the season through week four: 86-26
Friday Night: Utah State (1-2) at No. 20 BYU (3-1)
After getting smashed by Florida State two weeks ago, BYU came back with a solid win over Colorado State last weekend. The Cougars have a very balanced offense led by quarterback Max Hall.
Utah State is struggling this season, and Friday night should be no different. The Aggies give up an average of 35 points per game, and much of that happens through the air. Expect a huge day for Hall and the Cougars.
Utah State may score some points, but not nearly enough.
Winner: BYU 46-24
No. 6 Virginia Tech (3-1) at Duke (2-2)
Duke has been a bit of a disappointment this year to many, but then again, it is Duke, a basketball school, right? Their record is 2-2, but both wins were against weak opponents.
Virginia Tech was very impressive last weekend in demolishing the Miami Hurricanes.
Hokies quarterback Tyrod Taylor hasn't been extraordinary, but he has been consistent enough to win games.
Taylor typically has one or two big pass plays per game that go over 40 yards. His legs are also a threat, and I expect him to take off quite a bit against Duke.
I think VT struggles at the beginning of this one because of who they're playing and the big win they are coming off of. VT wins rather easily, but don't be shocked to see a slow start.
Winner: Virginia Tech 36-14
No. 22 Michigan (4-0) at Michigan State (1-3)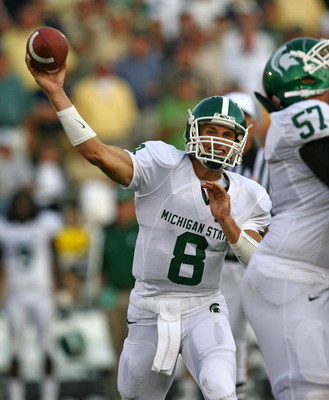 The "Big Blue" are undefeated at 4-0 and have exceeded most people's expectations. They had a great comeback win last week against Indiana, and they also had a clutch last second win over Notre Dame a few weeks ago.
Quarterback Tate Forcier has been incredible for a true freshman, but I expect the Spartans to blitz a ton and make him as uncomfortable as possible.
Michigan State is led by quarterback Kirk Cousins, who is having a pretty decent season thus far. The Spartans have really had a tough time replacing last year's star running back Jevon Ringer and are in search of a more balanced offense.
Nevertheless, the Spartans' record may not look good, but they have had terrible luck, as well as some heartbreaking losses. I think they find a way to control UM's Forcier, and I expect their rushing attack to pick up.
May surprise some people here...
Winner: UPSET ALERT! Michigan State 35-33
Arkansas State (1-2) at No. 13 Iowa (4-0)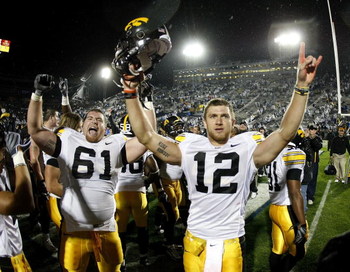 Nothing about this Hawkeyes team is eye-popping except for maybe their defensive playmaking ability. Nonetheless, they play very hard, physical, and know how to win games, period.
Quarterback Ricky Stanzi isn't flashy or great, but he is the perfect quarterback for this team, and his leadership skills are off the charts.
Running back Adam Robinson has done a great job filling in for injured Jewel Hampton, as he is rushing for five yards per carry.
Arkansas State is a better team than people think, but Iowa is too consistent on both sides of the ball to have a letdown.
Winner: Iowa 34-9
No. 3 Alabama (4-0) at Kentucky (2-1)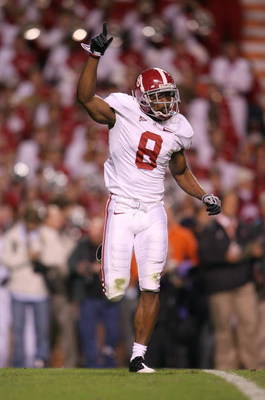 There may not be any team across the country that is playing as well on a week to week basis as the Alabama Crimson Tide. They have a strong run game, passing game, and of course play solid team defense.
Quarterback Greg McElroy has been surprising everyone with his accurate arm and superb decision-making skills. Julio Jones is the NCAA's version of Randy Moss...throw it near the kid, and he'll find a way to jump up and grab it.
Bama linebacker Dont'a Hightower will miss the rest of the season, and although this team has looked invincible, this could hurt them in the long run if they meet UF in the SEC Championship.
Kentucky looked awful in the first quarter against Florida, but after that they played much better and never quit trying. I think the game took a lot out of them, and I see Bama rolling here.
Winner: Alabama 38-6
No. 10 Cincinnati (4-0) at Miami OH (0-4)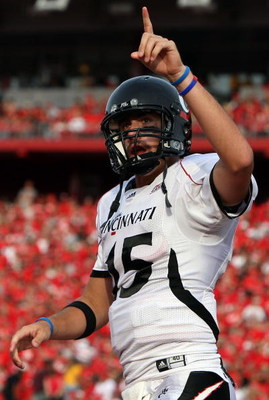 Who really is the best team from the state of Ohio at this point? Most would probably agree it is still Ohio State, but man oh man, have the Bearcats of Cincinnati been impressive.
Their win last week against Fresno State didn't come easy, but winning at Oregon State is not an easy thing to accomplish either, and they did.
Quarterback Tony Pike leads this team, and he and Marshwan Gilyard have quite a connection going. Gilyard is Cincy's top receiver and a big play-maker.
Miami of Ohio is awful, and it is possible that they will go winless this season. The game should be over after the first quarter, and Tony Pike for Heisman chants may begin to get louder.
Winner: Cincinnati 47-7
No. 4 LSU (4-0) at No. 18 Georgia (3-1)
LSU has not looked impressive all season, and I think this may cause some confidence issues for the Tigers.
Georgia may not be as good as the past few seasons, but their offense is finding its stride now, and quarterback Joe Cox has been tremendous.
The Dawgs are coming off a last second win over Arizona State. Meanwhile, the Tigers are coming off a last second win of their own...a late goal line stand saved LSU's season last week at Mississippi State.
I see this being a somewhat high-scoring game, and the team with the most turnovers will lose this game, period. I expect both Cox and Jordan Jefferson to throw the ball well.
Something tells me LSU isn't ready to just turn it on just like that.
Winner: Georgia 29-24
No. 15 Penn State (3-1) at Illinois (1-2)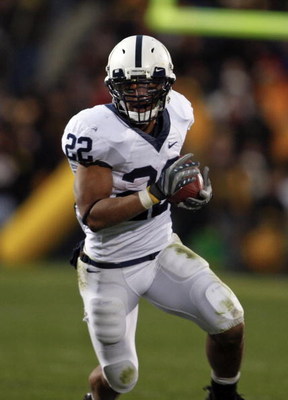 Joe Pa's Nittany Lions are coming off a very rough week four. The offense was terrible, and the defense couldn't hold the Hawkeyes back as much as they expected to.
The biggest problem for PSU was their turnovers. Fumbles and interceptions killed their drives, and quarterback Daryll Clark looked as bad as I have ever seen him.
Illinois is also coming off a disappointing loss where they got their butts handed to them by the Ohio State Buckeyes. Juice Williams is a shadow of his old self, and this team's offensive weapons are extremely limited.
In most years I would give the Illini a shot to upset a top 15 team...unfortunately for them, this isn't most years.
Winner: Penn State 27-10
No. 9 Ohio State (3-1) at Indiana (3-1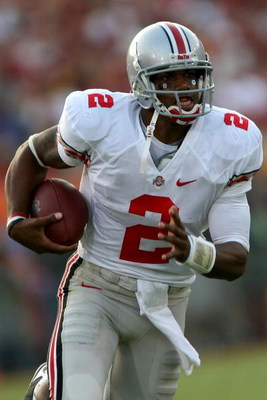 The Indiana Hoosiers showed just how much they have improved with last week's near win against Michigan. The offense has talent all over, but the defense is still trying to figure out who they are.
Ohio State's defense has been the story of their 2009 season so far, and I expect another strong day from Thaddeus Gibson and the other Buckeyes defenders.
At Indiana or not, this game should be controlled by Terrelle Pryor. He has great speed, and it is almost confusing at times to figure out why he doesn't just take off and run more.
If the Buckeyes can stop IU's rushing attack, then it could be over right away.
Winner: Ohio State 35-10
No. 21 Ole Miss (2-1) at Vanderbilt (2-2)
The Ole Miss Rebels are coming off of a very flat and unimpressive game at South Carolina in which they lost 16-10.
Houston Nutt made several critical errors in the game, and at times it almost appeared that Ole Miss couldn't and didn't want to handle the pressure of being a top-tier team.
Vandy, on the other hand, played very well against Rice, and even in their losses this season they hung tough in low-scoring battles.
The defense is definitely this team's strength again, while their offense still hasn't found exactly what they want to do.
Quarterback Larry Smith has thrown more interceptions this season than touchdowns. The rushing game is much better, and I expect the Commodores to run the ball much more against Ole Miss.
If Ole Miss is smart, they will use their star running back Dexter McCluster much more often. Against South Carolina, Nutt seemed to have forgotten who he had on his team because McCluster rarely got the ball until the fourth quarter.
Also, Ole Miss needs a much better game out of quarterback Jevan Snead if they want to get themselves back near the top 10.
This game may stay close for a bit, but then Ole Miss' talent takes over.
Winner: Ole Miss 27-12
No. 25 Georgia Tech (3-1) at Mississippi State (2-2)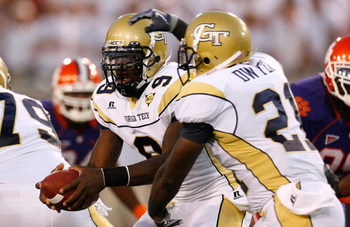 Mississippi State has been a tremendous story so far this season. Although they are only 2-2, they have been very competitive in nearly every game, and last Saturday they almost pulled a huge upset off over the LSU Tigers.
Georgia Tech has been a difficult team to grasp so far because one week they look tremendous and the next week they look awful.
Nonetheless, the Yellow Jackets are coming off a huge win against the UNC Tar Heels, and their rushing game, led by Jonathan Dwyer, seems to be back...for now.
To me this game comes down to pure execution, and whichever team can cause more turnovers will win. Neither team has a great throwing quarterback, but overall GT has the better players.
I see this being a close game for a bit, but I don't see Mississippi State having enough playmakers to pull an upset.
Winner: Georgia Tech 34-21
UC Davis (1-2) at No. 5 Boise State (4-0)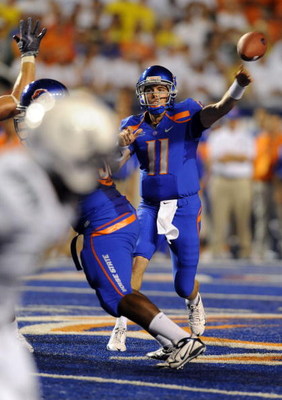 This is one of those games that will be painful to watch. Even if you are a Boise State fan, you may turn this game off at halftime.
UC Davis has very little offense, and when they play a strong team with a decent offensive line, they have troubles on defense.
Boise State has an explosive offense, and other than the Fresno State game their defense has been very strong as well. This game will be over early.
Winner: Boise State 59-6
No. 7 USC (3-1) at No. 24 California (3-1)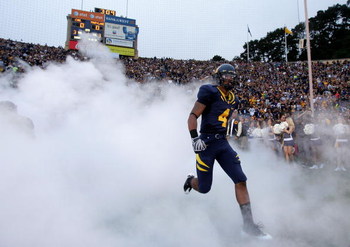 Last week was a game that the California Golden Bears would love to forget, or perhaps learn from.
I said it last week, and I'll say it again...the Bears have been a one-dimensional team so far, and if you slow down their rushing attack, you slow down their entire team.
The huge shock for me was how badly their veteran defense played. Oregon put up 42 points in a rather easy game for them.
The USC Trojans have had a rough season thus far. They have so many starters injured that Pete Carroll had to take away a kid's "redshirt" to allow him to now possibly play in this week's game.
The Trojans are without their leading touchdown scorer, Stafon Johnson, who suffered a near-death injury this past week in a freak weight room accident (prayers go out to him).
The Trojans are also still without their No. 2 receiver Ronald Johnson, several defensive players, and their third running back (after Johnson's injury) Marc Tyler.
The Men of Troy still have a ton of talent and a great coaching staff, but they had better play better than they have thus far.
The key in this game is the play of Cal's quarterback Kevin Riley. If he takes care of the ball and is able to stretch the field vertically, this allows star running back Jahvid Best to have success.
Look for USC to crowd the line of scrimmage and go after Best and Riley all game long.
On the other side of the ball, the key is USC's passing game as well. The Trojans have a great set of running backs, but without a passing game they are not nearly as efficient.
I see this being a rather low-scoring game with a ton of big hits and emotion.
The last time I picked against my Trojans was against Ohio State, and they proved me wrong, so hopefully they do it again this week.
I just see USC having trouble after an emotional week. It will either deflate the team or unite them more...
Winner: UPSET ALERT! California 21-20
No. 8 Oklahoma (2-1) at No. 17 Miami FL (2-1)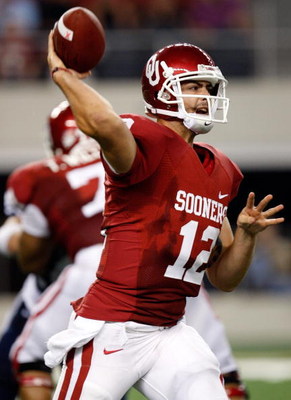 Whether Oklahoma has Sam Bradford or not, I like this matchup for the Sooners.
The Miami Hurricanes had two impressive wins to start the season, and when everyone else was chanting that the "U" was back, the 'Canes got smashed by Virginia Tech.
UM's Jacory Harris is a great player with unreal playmaking ability. However, anytime Miami has played a team with great athletes, they have seemed to struggle a bit.
If the Florida State receivers found open space, I sense that the Sooners will as well.
Lastly, Miami better establish a run game, or else they will be in for a long game because OU's defense is better than it gets credit for.
Oklahoma's hoping that Bradford will play, but honestly, for this game I don't think it will matter too much. They have had two weeks to prepare for this game, and I see them attacking each and every weak spot on the 'Canes team.
I do think Miami's offense will move the ball, and the home field will surely help; however, the Sooners at this point still have more playmakers.
Winner: Oklahoma 42-21
SMU (2-1) at No. 11 TCU (3-0)
Even though SMU has had two weeks to prepare for this game, they have zero shot at winning it.
TCU's defense is way too strong and are coming off a wonderful showing at Clemson. Their offense still isn't great, but they have just enough to beat quality teams.
SMU won their first two games over UAB and Stephen Austin, but in their last game they fell short against a much improved Washington State team.
TCU could shut SMU out with their great defensive speed, but I see a few scores in this one. Either way, it won't be close, and TCU quarterback Andy Dalton should have his best day yet.
Winner: TCU 41-10
No. 12 Houston (3-0) at UTEP (1-3)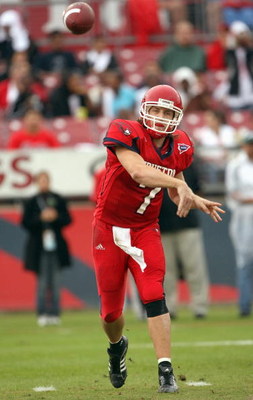 UTEP was demolished last week against Texas, and this week shouldn't be much different. Houston is a team with a ton of confidence and has the ability to score points but also play defense during critical times of games.
The Cougars are led by quarterback Case Keenum, who has already thrown for over 1,100 yards and eight touchdowns.
Last week they found themselves in a battle against Texas Tech, and after a clutch drive they found themselves with two wins over solid opponents.
I am still a little skeptical about this team in the long run, but this game won't be close.
Winner: Houston 49-10
Washington State (1-3) at No. 16 Oregon (3-1)
Who would have thought the Oregon Ducks would have pounded Cal the way they did? The offense awakened sporting those retro green and yellow jerseys, and the defense did a pretty impressive job as well.
Ducks quarterback Jeremiah Masoli had his best game yet, and people began remembering why they liked him so much after last year's bowl victory over Oklahoma State.
Running back LaMichael James is the real deal as well, and his speed is tough to match for any defense. Look for another big game from him.
Washington State is much improved from last season, and they have showed a lot of grit and heart. They finally settled on a quarterback, Jeff Tuel, who showed a lot of smarts against a great USC defense.
Look for Wazzu to keep improving, but there is no way Oregon at home makes this even close.
Winner: Oregon 44-16
Thursday Night: Colorado (1-2) at West Virginia (2-1)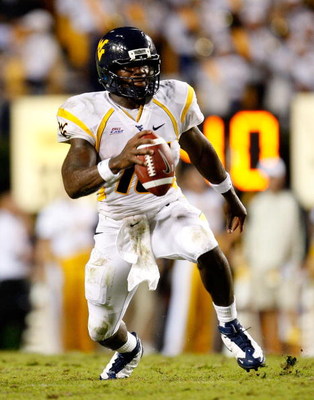 Colorado has been a very disappointing team this season, and I expect the same for this week's game.
West Virginia may not be a power like it has been, but they still have a ton of weapons on offense. Quarterback Jarrett Brown has a strong arm and pretty good mobility around the pocket.
Colorado's defense has been pushed around all year (except last week against Wyoming), and I expect them to give up some points as well.
The good news for CU, though, is the fact that WV also doesn't have much of a defense. I expect both teams to put up some points, but WV being at home will score a few more.
Dan Hawkins better enjoy the cool WV weather because he is on the hot seat!
Winner: West Virginia 38-32
Other Intriguing Games and College Girl(s) of the Day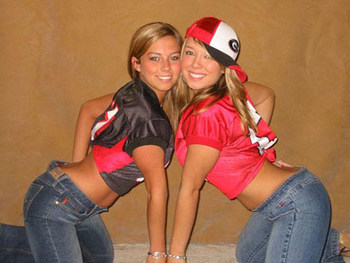 Pictured here is the college girl(s) of the day—enjoy.
Here are my picks for other intriguing games this weekend:
South Florida at Syracuse
Call me crazy—I think USF has a letdown, and a much improved 'Cuse team stuns them in NY...Syracuse 24-21.
Pittsburgh at Louisville
I like the road team here; Pitt Panthers win 31-21.
Wisconsin at Minnesota
I am going with the road team again here; something tells me the Badgers win it 28-24.
UCLA at Stanford
Stanford is a good team; UCLA is as well. I like Stanford at home though. Cardinal wins 23-16.
Air Force at Navy
Navy has too much in this one...Navy wins 35-17.
Washington at Notre Dame
A much improved Washington team will make this a close, close game. In the end though, the Irish score too many points. ND wins 35-25.
Florida State at Boston College
I look for FSU to rebound and play yet again another good road game. Seminoles win 28-14.
Texas A&M vs. Arkansas
I like Arkansas' offense. Hogs win 37-22.
Auburn at Tennessee
If this game was in Auburn I would take them, but I like the Vols at home in a great Saturday night game. Tennessee wins 28-21.
UNLV at Nevada
Battle of Nevada goes to...UNLV 34-30.
Keep Reading