Though it's not fair to put the Dallas Mavericks' playoff hopes on life support after a predictable short-handed loss to the Golden State Warriors, that's exactly what's happening. Playing without Dirk Nowitzki, Chandler Parsons, Deron Williams or Devin Harris, the visiting team couldn't avoid a 128-120 loss to the defending champions, and the latest blemish on the schedule isn't good news.
Nowitzki won't miss every game. This was merely a scheduled absence meant to keep him fresh for the games Dallas should be winning down the stretch. Williams and Harris should also return in the near future, and the Mavericks probably won't be playing teams capable of drilling 21 three-pointers in 48 minutes again this season.
However, their playoff hopes are still dwindling.
Coming out of Oracle Arena, they sit at 35-37 on the season, giving them the same record as the Utah Jazz. Both those teams sit a mere 0.5 games behind the 36-37 Houston Rockets, who now hold down the No. 7 seed in the Western Conference after a Friday night victory over the Toronto Raptors.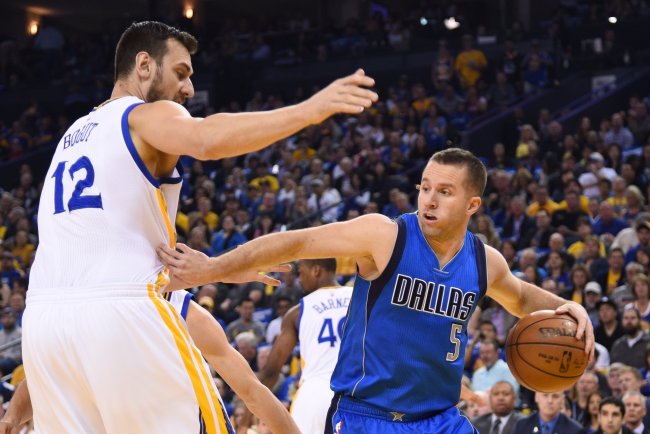 Kyle Terada-USA TODAY Sports
Only two of those three teams will advance to the playoffs, where they'll likely serve as sacrificial first-round lambs to either the Dubs or the San Antonio Spurs. But as we move deeper into the NBA calendar, three issues loom large for the Mavericks.
The first is simple—health.
Williams told Mavs.com's Earl K. Sneed that he expects to return from his abdominal strain as soon as this weekend, while Harris only missed this game to witness the birth of his daughter. But Parsons won't be suiting up again this year after going under the knife to repair a meniscus tear in his right knee, and that's a significant loss.
Everything had finally started to click for the Florida product prior to his season-ending injury. Since the All-Star break, he'd averaged 17.6 points, 5.6 rebounds and 4.1 assists while shooting 51.7 percent from the field and 44.7 percent from three-point range.
As he told reporters at the end of February, via Eddie Sefko of the Dallas Morning News, "I definitely think I'm playing the best I ever have."
But even while he'd struggled early in the season, his presence aided the Mavericks. The season-long on/off splits are rather telling:
That might not seem like a monumental discrepancy, and it's not. But every little bit helps right now, because the Mavericks aren't exactly playing their best basketball.
That, simple as it may be, is the second issue.
Since the All-Star break, the Mavs have outscored their opponents by a mere 0.9 points per 100 possessions—the equivalent of the Detroit Pistons' net rating throughout the 2015-16 campaign. But since the beginning of March, that mark has dipped to minus-2.4, which is more comparable to the Orlando Magic.
The defense, or lack thereof, is to blame. That's the third and most glaring issue.
No one was ever going to mistake the Mavericks for a point-preventing juggernaut, but the porosity has only grown more problematic in recent outings. Just take a gander at their season-long marks in the defensive Four Factors, as compared to where they stand in March:
Allowing opponents to shoot more efficiently, forcing fewer turnovers, giving up more second-chance opportunities and sending better shooters to the stripe with greater frequency makes for a brutal combination.
And because of the third issue, there's no easy way to change this. The schedule isn't going to lighten up anytime soon.
Dallas Mavericks' Remaining Schedule

| | | |
| --- | --- | --- |
| Game | Opponent | Opponent's Record |
| 73 | @ Sacramento Kings | 28-44 |
| 74 | @ Denver Nuggets | 31-42 |
| 75 | New York Knicks | 30-43 |
| 76 | @ Detroit Pistons | 39-34 |
| 77 | @ Minnesota Timberwolves | 24-48 |
| 78 | Houston Rockets | 36-37 |
| 79 | Memphis Grizzlies | 41-32 |
| 80 | @ Los Angeles Clippers | 44-27 |
| 81 | @ Utah Jazz | 35-37 |
| 82 | San Antonio Spurs | 61-11 |
Of the 10 remaining games, six come on the road. Naturally, most of the tougher opponents have to travel to the friendly confines of the American Airlines Center, which helps negate any advantage the Mavericks would typically have at home.
"It's a tough position to be in," Nowitzki told ESPN.com's Tim MacMahon after a March 18 loss to the Warriors. "We're going to face some guys that we're fighting for playoff spots here soon. It's all big games. Our schedule is a beast. There's no moral victories right now in March."
Now two games below .500, the Mavericks need to fix things quickly. They don't want to be fighting an uphill battle when they close their schedule against the Los Angeles Clippers, Jazz and San Antonio Spurs.
And yet, it now seems almost inevitable they'll find themselves in that very position.
Zach LaVine Keeps Improving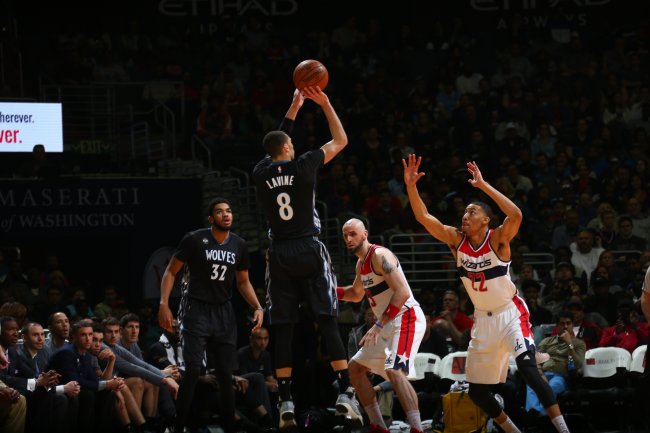 Ned Dishman/Getty Images
In one of the more entertaining games since the All-Star break, the Minnesota Timberwolves toppled the Washington Wizards in double overtime. It took a miraculous triple from Gorgui Dieng at the end of regulation to complete a fourth-quarter comeback, but the 132-129 victory wouldn't have been possible without Zach LaVine strutting his stuff against Bradley Beal and the Washington backcourt.
It's par for the course during the second half of the season, as the dynamic 2-guard has thrived playing alongside Ricky Rubio while quickly blossoming on the offensive end.
Don't make the mistake of thinking LaVine is nothing more than a Slam Dunk Contest champion. He's developing his shot and learning how to use his jaw-dropping athleticism as his young career progresses.
Since the All-Star break, LaVine has averaged 18.4 points, 2.9 rebounds and 2.6 assists while shooting 50.6 percent from the field and 46.1 percent from beyond the arc. And that was before he made 10 of his 17 field-goal attempts and went 5-of-9 from downtown en route to 25 points, four assists and two steals on Friday night, highlighted by these two second-quarter triples that came in quick succession:
Those weren't his only highlights on the night, even if they showcased his newfound ability to create his own looks and work off the curl. He also drilled the game-tying trey with 11 seconds remaining in overtime and recorded the decisive assist to Dieng in double OT.
"Playing off the ball next to the league's best passer has allowed LaVine to play within the flow of the game, not think so much, and to take advantage of what is his arguably his best on-court attribute: his confidence in himself," Lucas Seehafer recently wrote for Canis Hoopus. "Few people in the world believe in anything as much as LaVine believes in himself."
Now, there's even more reason to believe.
If it weren't for his complete lack of defensive value, LaVine's massive uptick on the scoring end would deserve some hype in the Most Improved Player race. According to my total points added metric (explained in full throughout this article), he's taken one of the NBA's biggest year-to-year leaps, largely because of what he's done as a point-producing threat:
LaVine has still been a net negative, but that shouldn't be surprising for a raw backcourt player who only just celebrated his 21st birthday. He was always more of a project than a finished product, and that hasn't changed.
If anything, he's developing faster than anyone could've expected.
Hassan Whiteside Is a Monster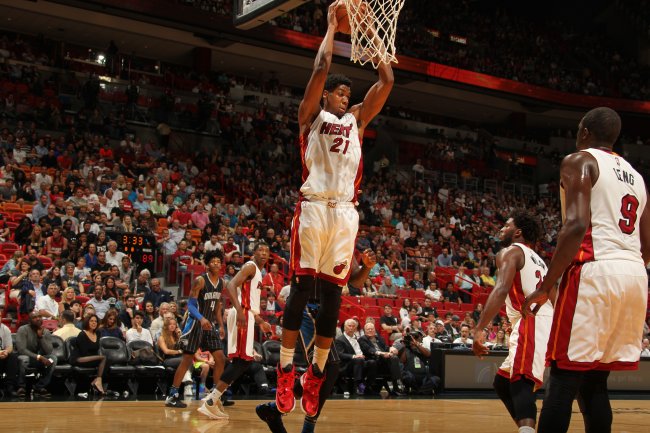 Issac Baldizon/Getty Images
There are some nights when Hassan Whiteside leaves no doubt that he enjoys the physical advantage. Friday was one of those, as the Miami Heat center paced his squad during a 108-97 defeat of the Orlando Magic, torturing Dewayne Dedmon and whoever else the visitors threw at him.
When the final buzzer sounded, Whiteside had recorded 26 points, 12 rebounds and five blocks while shooting 10-of-15 from the field and 6-of-7 at the charity stripe. But impressive as those numbers may be, it was the way he produced them that was even more special.
It often seemed as if the Heat could lob anything up in his general vicinity, only to see him grab the rock and slam it through the hoop for two points. He completely overpowered everyone unfortunate enough to guard him during his seemingly endless parade of dunks:
As Bleacher Report's Zach Buckley tweeted, his performance even got a bit predictable during the third quarter:
Third-quarter quick summary:
Whiteside gets a catch.
Whiteside gets a finish.
Whiteside screams at everyone.#Heat

— Zach Buckley (@ZachBuckleyNBA) March 26, 2016
But this really isn't anything new.
As Whiteside continues to thrive during his contract year, he's learned how to come off the bench for head coach Erik Spoelstra and make the most of his minutes. Since he began starting games on the pine in early February, he's averaged 16.3 points, 12.9 rebounds, 0.6 assists, 0.6 steals and 3.5 blocks while shooting 60.8 percent from the field.
At this point, there's no doubt this production is going to make him a lot of money this summer.
Detroit Pistons Give No Ground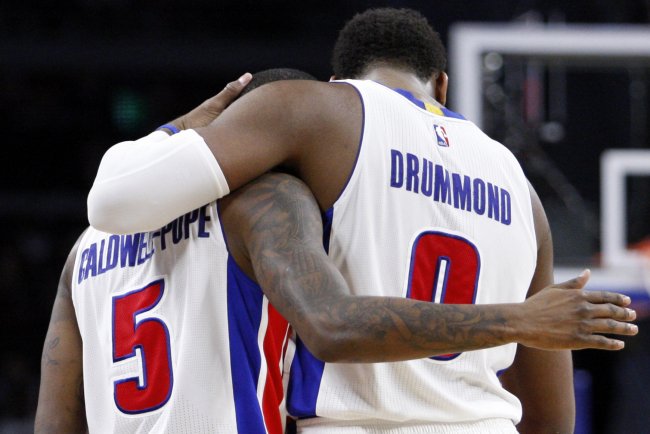 Raj Mehta-USA TODAY Sports
Against a Charlotte Hornets squad that had gone 18-5 since the start of February, the Detroit Pistons could easily have rolled over and failed to improve their positioning in the Eastern Conference playoff race.
Instead, they thoroughly trounced the visiting squad, charging out to a big first-half lead and finishing with a 112-105 victory that doesn't accurately show the disparity between the two. A 16-0 run during garbage time will do that.
Detroit entered Friday night with a 38-34 record, putting it 1.5 games ahead of the Chicago Bulls in the chase for No. 8. With the Bulls resting after their disaster against the New York Knicks and the Wizards losing in double overtime, a loss wouldn't have been the worst thing in the world.
Instead, balance reigned supreme, creating a two-game cushion that could prove quite beneficial.
Though Andre Drummond was the individual standout Friday night with 18 points, 14 rebounds and three blocks, the Pistons had five more players score in double figures—Kentavious Caldwell-Pope (21 points), Marcus Morris (20), Reggie Jackson (17), Aron Baynes (16) and Anthony Tolliver (11). Even Tobias Harris managed to overcome a 1-of-7 performance from the field by recording seven boards, five assists, one steal, one block and no turnovers.
If this is the type of balanced effort the Pistons will provide during the stretch run, it'll be awfully tough to displace them from the back end of the Eastern playoff picture, despite the tough nature of a schedule that includes eight games against possible postseason squads in their final nine.
Atlanta Hawks Remain Impenetrable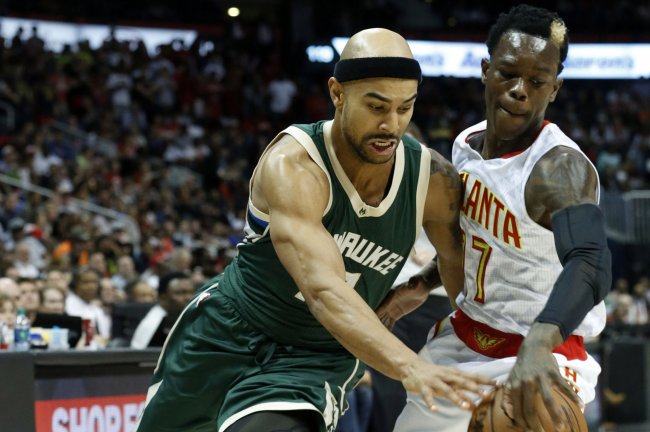 Jason Getz-USA TODAY Sports
There are some trends you want to see as you gear up for the playoffs: It's ideal when your team is moving in the right direction on either end of the floor, and you can't complain when a leading scorer is starting to heat up.
Lately, it's been almost impossible to score on this team, which is still very much in the mix for one of the top seeds in the Eastern Conference. After another suffocating victory, this time a 101-90 win over the improved Milwaukee Bucks, Atlanta sits at 43-30 on the season—alone in third place, though admittedly too far back in the competition for one of the top two spots.
Since the start of March, the Hawks are giving up just 99.4 points per 100 possessions, which would trail only the historically stingy San Antonio Spurs in the season-long standings. As Zach Lowe wrote for ESPN.com, this was a conscious choice, and it's working:
Atlanta could have obsessed over repairing its gummy offense, but it made a different choice: become a defensive juggernaut, and hope the offense reanimates in time.

[Head coach Mike] Budenholzer devoted 90 percent of practice time to defense, players and coaches say. Atlanta tightened its foundational scheme, and got more adventurous scripting opponent-specific tweaks. The team beloved among hard-core fans for its gorgeous offense breaks every huddle with a chant of "Defense!"

It has worked. The Hawks rank second overall in points allowed per possession, trailing only the Spurs, and they've been No. 1 by a wide margin since the calendar flipped to 2016.
The trend isn't stopping at the hands of the Bucks. There's no telling when it will.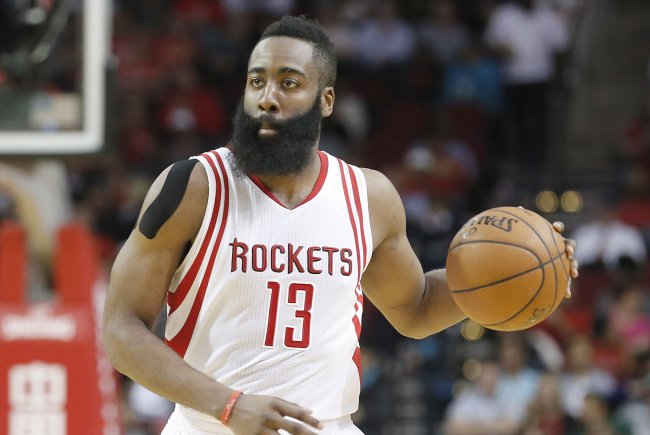 Thomas B. Shea-USA TODAY Sports
The most interesting number of the Houston Rockets' 112-109 victory over the Toronto Raptors was two, representing how many Toronto backcourt players were tossed during the final quarter. Both Kyle Lowry and DeMar DeRozan were ejected following technical fouls, unable to keep from jawing at the referees as frustration mounted.
But the most impressive numbers belonged to James Harden.
Fighting to keep his Rockets in the Western Conference playoff picture, the bearded shooting guard couldn't be contained by his worthy opponents. He finished with his third triple-double of the 2015-16 campaign, exploding for 32 points, 11 rebounds, 13 assists, one steal and one block. Though the seven turnovers were a few too many, Houston could live with them.
Plus, as the Rockets' official Twitter feed noted, there was something special about this type of trip-dub:
Tonight marks Harden's 2nd triple-double of the season while scoring 30+ points; no other player in the league has more than one.

— Houston Rockets (@HoustonRockets) March 26, 2016
Houston still has a difficult path to the playoffs. It must overcome a number of tough opponents during the stretch run while hoping the Utah Jazz and/or Dallas Mavericks fail to get hot.
But if Harden is producing like this, the Rockets should play more than 82 games this year.
Adam Fromal covers the NBA for Bleacher Report. Follow him on Twitter: @fromal09.
All stats, unless otherwise indicated, are from Basketball-Reference.com or Adam's own databases and accurate through games played on March 24.