For Stephen Curry and the Golden State Warriors, fun is a weapon.
The Los Angeles Clippers found themselves in the crosshairs Wednesday, as the Dubs delightedly fired away in a 114-98 win.
Curry and Klay Thompson joyously quick-triggered big offensive nights, scoring 33 and 32 points, respectively. Both heaved up plenty of "Sure, why not?" triples, sprinted around screens and generally cut the Clips down a trifecta at a time. Combined, they hit 11 of 20 from long range as Golden State extended its laughable record to 64-7.
More telling was Curry's joyous silliness, marked by absurd full-court left-handed passes and impossible underhand scoops.
Vice Sports' David Roth captured the vibe:
I think circa-now Steph is the most dominant player I've ever seen. The different bit is how lightly and enjoyably he manages to be that.

— David Roth (@david_j_roth) March 24, 2016
Draymond Green posted 12 points, 12 rebounds, four assists, two steals and a handful of post-finish flexes.
Naturally, the crowd at Oracle Arena whipped itself into a supportive frenzy.
In all, it was a refreshing reminder of what has made Golden State so great this season and what the Warriors needed after a stretch of decidedly off-brand basketball. Relatively speaking, the Dubs were in a slump coming into Wednesday's revival.
The San Antonio Spurs took them off their game over the weekend, slowing the pace and hassling Curry into one of the worst shooting games of his career. Following that loss, the Warriors looked equally sluggish in a too-close-for-comfort win over the Minnesota Timberwolves on Monday.
Curry looked particularly deflated in both contests. Hesitant and unable to consistently beat larger mismatches off the dribble, he was noticeably subdued. Per Ethan Sherwood Strauss of ESPN.com, head coach Steve Kerr recognized the change.
Kerr on whether Curry looked tired in San Antonio: "He did. He didn't look quite like himself and that happens every once in awhile."

— Ethan Strauss (@SherwoodStrauss) March 21, 2016
And when Curry appears human, the Warriors lose what makes them so special: a proprietary blend of carefree style and ultra-confidence that comes from watching one transcendent talent prove over and over again that he'll save them. He will win them games they should lose.
When the Warriors sense, even for a second, Curry might not be himself, that he might not be fit to make the impossible routine, they lose something vital. Without their sublime safety net, they suddenly realize their cartwheels-on-a-tightrope style is risky. And they tone it down.
The Warriors aren't the Warriors when they're careful.
Yes, that means they tend to get a little reckless when they're at their best. But that at least gives Kerr something to harp on amid the blowouts and record-setting performances. Twenty-point wins don't afford much room for criticism, but if the Warriors turn the ball over 17 times in the process, Kerr can pretend he's upset.
More critically, an untethered approach—led by Curry's 30-footers and one-armed whip passes—is integral to Golden State's success. Other teams can't play that way. Can't keep up.
The Warriors settle in and get comfortable at 100 miles per hour. Opponents can drag-race with them for short stretches, but they eventually lose a wheel or worse: catch fire and veer smoldering off the track entirely.
Back home and rested up, Curry and the Warriors looked like themselves Wednesday: loose, cocky and dangerous. And we should expect more of the same as the hunt for 73 wins enters the final straightaway. Golden State plays eight of its final 11 games at Oracle, and it won't see a team as good as the Clippers again until the Spurs roll in on April 7.
This upcoming stretch is going to be fun—which is great news for the Warriors and a nightmare for everyone in their way.
Silver Lining: The Rockets Are Mad
That's about all you can say for a Houston Rockets team that coughed up a 15-point halftime lead, allowed a game-winning dunk to Derrick Favors and fell out of the top eight in the West. This is all very bad for the Rockets, of course, but at least they're upset about it, per Calvin Watkins of ESPN.com:
Patrick Beverley slammed a cabinet door in his locker and yelled "F***!"

— Calvin Watkins (@calvinwatkins) March 24, 2016
That's a positive, right? Especially for a team that has played huge stretches of the season in disinterested fashion.
The Utah Jazz pushed past Houston with the 89-87 win. Gordon Hayward led the way with 22 points, and Favors added 17 points and 15 rebounds—plus the aforementioned game-winner on a perfect feed from Rodney Hood with 1.6 seconds left.
And thanks to the Portland Trail Blazers' 109-103 win over the Dallas Mavericks, Utah actually did more than move past Houston; it also slipped into a tie with the Mavs for seventh place.
Of the four teams competing for the final three spots in the West, the Jazz stand out. They're the only squad with a mark over .500 in their last 10 games, having now won two in a row and seven of 10. And though this may come as a surprise, the Rockets aren't in the worst shape.
As a result of a torn meniscus, Dallas will be without Chandler Parsons for the rest of the season. And it's not like things were going all that well when he was healthy, either. Since Jan. 1, the Mavericks are just 16-23. Pretty surprising, huh?
Kind of like this:
Sorry.
Sometimes, It Just Isn't Meant to Be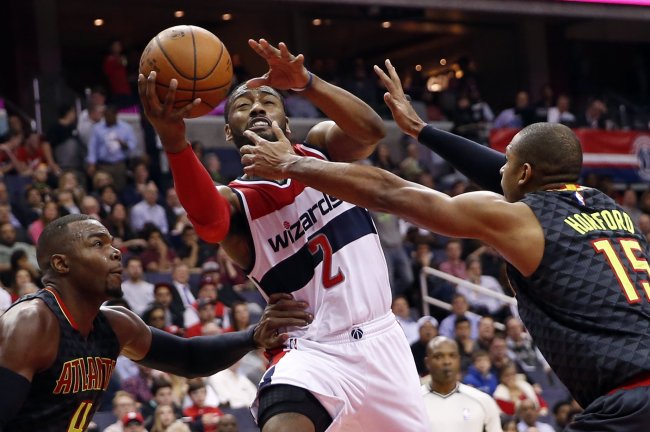 Alex Brandon/Associated Press
The Atlanta Hawks hit a season-high 17 threes and sent one very loud message in a 122-101 win over the Washington Wizards on Wednesday. With every triple that shredded the net and every vicious perimeter trap, the Hawks seemed to shout: "You don't belong here!"
"Here" being the playoff picture, where Atlanta officially resides and the Wizards occasionally squat.
A win would have pushed Washington over .500 for the first time since it was 6-5 on Nov. 24. And considering the Wizards beat Atlanta by 15 points Monday, another result like that felt possible.
But early in the second half, it was clear the Wizards weren't going to make that happen. Those who've been following the team closely this year, like SB Nation's Mike Prada, knew the familiar feeling of a team's brush with success and then letting it slip away:
I'd like to say I'm surprised about this, but … nah

— Mike Prada (@MikePradaSBN) March 24, 2016
Faced with high-level offense and vicious defensive execution, the Wizards fell apart in the second half. Atlanta outscored them by 10 in the third quarter and 15 in the fourth.
The loss dropped the Wizards two-and-a-half games behind the Detroit Pistons for eighth in the East, making it clearer (even after entering Wednesday night with a five-game winning streak) there's a significant divide between assured postseason teams and whatever the Wizards are.
LeBron James Is Getting Serious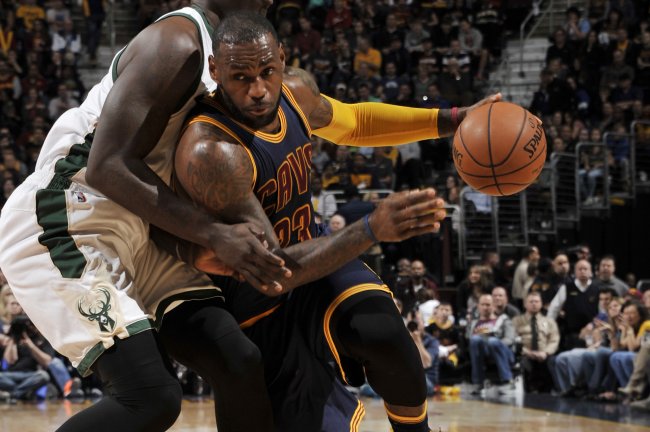 David Liam Kyle/Getty Images
The clumsiness (or deliberate, petty message-sending) of Unfollow-gate was a bad way to start it, but LeBron James' annual springtime refocusing seems to be going well. He posted a triple-double in Monday's blowout win over the Denver Nuggets, and his energy on both ends in Wednesday's 113-104 victory against the Milwaukee Bucks was noticeably high.

James finished with 26 points, eight assists and six rebounds, helping the Cavs continue their recent trend of unselfish offense. After piling up a season-high 38 assists against Denver, Cleveland amassed 29 against the Bucks.
Even more importantly, James' renewed focus set a tone that should help the Cavaliers polish away the inconsistency that has plagued them for most of the season. If you're Kyrie Irving or Kevin Love—or anyone on the roster—you can't dog it or sulk about roles when your best player is hustling like this:
James is elevating his game, giving us little reminders of what he can do when he gets serious.
It may be time to forget Cleveland's first five months. Led by a dialed-in James, the team we'll see over the final few weeks could be significantly different—and better.
Isaiah Thomas Is Fun
With Kyle Lowry missing the game to rest a sore right elbow, it's not fair to get into the ramifications of the Boston Celtics' 91-79 home win against the Toronto Raptors. Lowry is the best player on either team by a considerable margin, so there'll be no far-reaching conclusions drawn about the East hierarchy, Boston's chances to reach the conference finals or any other similarly serious business.
There will, however, be left-handed skyhooks, via James Herbert of CBSSports.com:
ISAIAH SKYHOOK pic.twitter.com/t0ibQKXFOH

— James Herbert (@outsidethenba) March 24, 2016
Isaiah Thomas led all scorers with 23 points and gleefully seemed to be making things up as he went along, per Jay King of MassLive.com:
Isaiah Thomas has reached try-anything mode over the last couple of games. And it's working.

— Jay King (@ByJayKing) March 24, 2016
Though he's been creative and effective all season, Thomas has taken things to another level in the absence of versatile stabilizer Jae Crowder. Thomas seems to know, as the great Seal once explained, the Celtics are never gonna survive unless they get a little crazy.
(It's unclear if Seal was actually singing about the Celtics, but let's say he was.)
The Celtics embark on a five-game road trip officially assured of a winning record on the season, thanks to their 42nd victory of the year. If Crowder returns from a sprained ankle on the trip (and looks good), Boston could make some progress in securing a top-four seed.
Even if that doesn't happen, we should expect Thomas to keep things exciting.
Detroit Handles Its Business, Chicago Does Not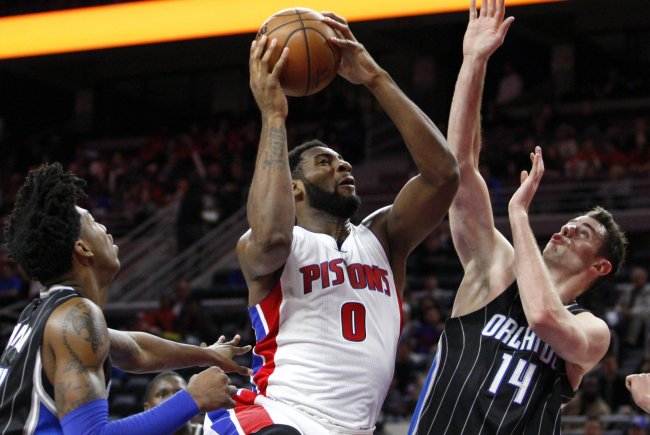 Raj Mehta-USA TODAY Sports
The Detroit Pistons matched a season-high winning streak by dispatching their fourth straight pushover opponent, beating the Orlando Magic by a final of 118-102. Andre Drummond carried a short-handed team missing Kentavious Caldwell-Pope and Reggie Bullock, scoring 30 points and grabbing 14 rebounds.
Stan Van Gundy won't be happy with the defense (because Orlando scored more than zero points), but the Pistons now head into a brutal scheduling stretch against Charlotte, Atlanta and Oklahoma City with a one-game cushion on the Chicago Bulls for the No. 8 spot in the East.
Detroit's advantage would have only been a half-game if the Bulls had taken care of business in similar fashion. Chicago also faced its fourth consecutive lottery-bound opponent in a row, but shoddy interior defense and Jimmy Butler's clearly compromised health contributed to a 115-107 loss Wednesday against the New York Knicks.
Butler has been bad since returning from his month-long absence nursing a knee injury. Really bad, per K.C. Johnson of the Chicago Tribune:
Jimmy Butler is shooting 28-for-77 (36.4%) in his six games back from his knee injury.

— K.C. Johnson (@KCJHoop) March 24, 2016
Per Nick Friedell of ESPN.com, Butler's his own worst critic:
Butler on his struggles: "You see the way I've been playing lately. It's saddening. It's piss-poor. It's terrible."

— Nick Friedell (@NickFriedell) March 24, 2016
Derrick Rose shot at least 50 percent for the third consecutive game, and Nikola Mirotic scored a career-best 35 points. But without a healthy Butler, the Bulls couldn't compensate for their poor defensive effort.
You can't allow things like this on defense and expect to retain playoff position:
There's a lot of time left for the Bulls to figure things out. But we've been saying that all year, and it's starting to ring hollow. The levels of play suggest it, and the standings prove it: Detroit has the upper hand here.
The Kids Are All Right
This rookie class is ridiculous, and Wednesday's crowded slate forced some of the more exciting first-year exploits to the background. Kristaps Porzingis scored a career-high 29 points, Karl-Anthony Towns went coast-to-coast in a way no center ever should and Emmanuel Mudiay won his Denver Nuggets a game by doing this:
Nice work, rooks.
Follow @gt_hughes on Twitter.