The 20 Best Leaps In College Football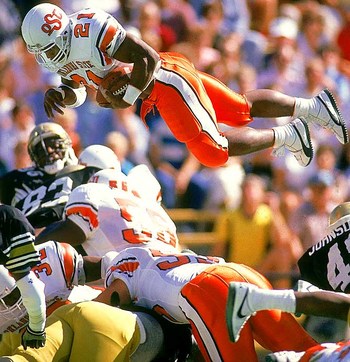 Sometimes there's only one way to find the endzone, and that's by punching your Skymiles ticket.
For these 20 players, leaving their feet and showing some big ups was the only option they had to make the play.
In honor of them, let us pay homage to the 20 best in college football history, who discovered that the bet way in (or out) is always up and over.
Note: flips and leaps just keep gettin' added. Feel free to leave your favorite in the comments, and we'll add them as they come along.
Sam Bradford Thanks You, Asks For Another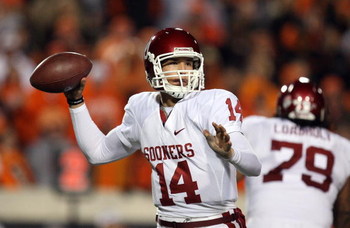 Now that we know Sam Bradford isn't made of titanium alloy, this try-for-a-touchdown leap against an overmatched Oklahoma State team looks like suicide.
At the time, it just showed what a competitor Bradford was, and will continue to be, once that shoulder heals.
Get well soon, Slammin' Sam. We're already bored of the Longhorns.
UCLA QB Cade McNown Rides A Wave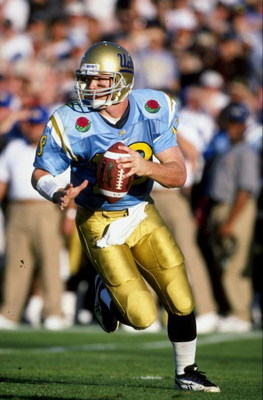 Continuing in the vein of quarterbacks with incredible moxie and possibly-limited rationale, this is Cade Mcnown, UCLA quarterback, riding atop a wave of Washington State defensive linemen past the plane of the endzone.
Sam McGuffie Leaps So High, It Qualifies As A Transfer To Rice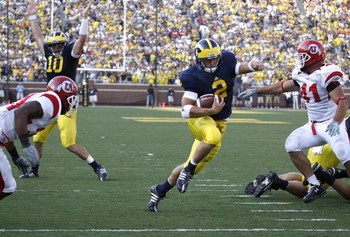 As a Michigan fan, it's hard not to watch this clip of Sam McGuffie skyin' fools as though he's your ex-girlfriend. You just wonder what he's up to nowadays, and wish he would call sometime.
Sigh.
Golden Tate Leaps Into The, Er, Wrong Crowd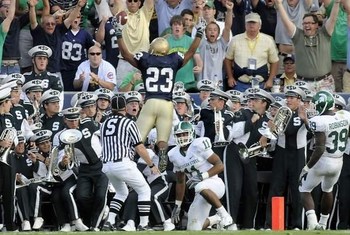 There were a lot of leaps this weekend, did you notice that?
Maybe touchdowns leaps are like celebrity deaths.
Here's Golden Tate, crowd-surfing in the wrong crowd. He's probably just trying to get to the first row of fans.
Herschel Walker, Herschel Walker Win With Flair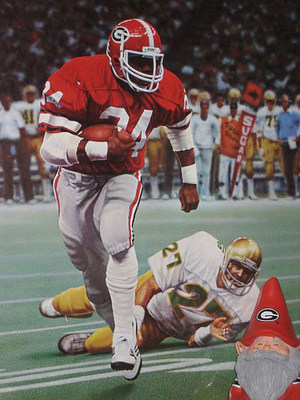 This is Herschel Walker's winning touchdown in a slugfest against the Florida Gators in 1981, as well as his 47th carry of the game, a record for Georgia running backs.
Herschel Walker wrote the book on touchdown leaps, playa. He also wrote the book on dissociative personality disorder.
Which means this leap actually counted for seven touchdowns. That's what'sc called paddin' stats, son.
Beanie Wells, Leaping When Leaping Was The Rage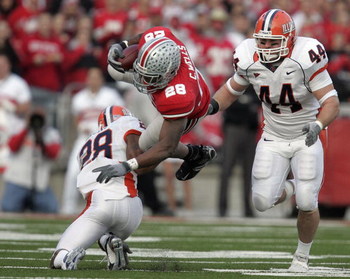 Leaping over people was all the rage back in 2008 (remember?). And Beanie Wells was the coolest kid in class.
What's stopping him from becoming one of the best NFL running backs of all time?
Oh, that's right: he has ankles an eighty-year-old woman wouldn't trust.
Reggie Bush Digs The Front Flip Out Of His Repertoire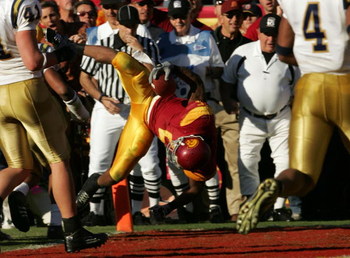 As far as innovation goes, there's no player experimenting more with the gaudy accessorization of touchdowns than Reggie Bush.
This guy is the iPhone-cover inventor of touchdown leaps.
Have You Ever Seen A Fullback Jump That High?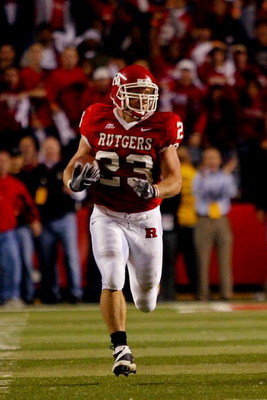 Deuce McAllister, Translated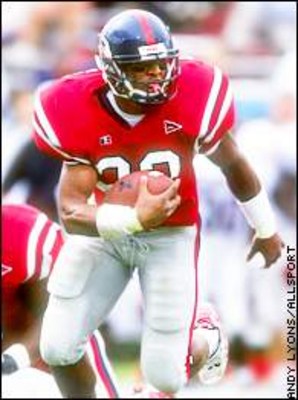 Jahvid Best, To Whom This Slideshow Owes Its Existence
Jahvid Best averages 1.2 touchdowns per carry.
All we can do is watch and learn.
Mike Hart, Scheduled To Land In The Notre Dame Endzone Sometime Today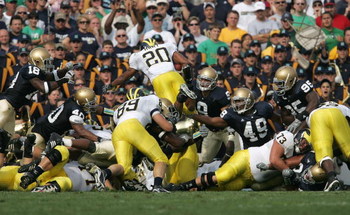 There's a special place in running back heaven for Mike Hart, who will never play a reasonable down for the NFL, but was one of the greatest running backs in college football history playing for the Michigan Wolverines.
Here he is leaping over the pile to score on the Irish in 2006. You can barely see him, he's s'dang small.
Barry Sanders Times His Leap Against Wyoming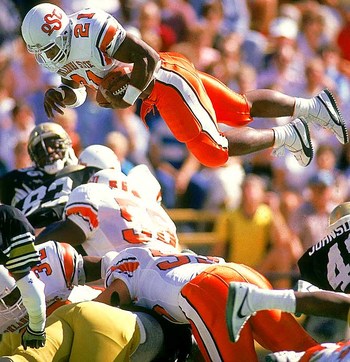 Look at the Oklahoma State offensive line cave in the Cowboys defense here. Thing of beauty, that.
Barry Sanders found a million ways to score a touchdown, and retired before he could decide on a favorite.
Ortege Jenkins Catflippin' Over UDub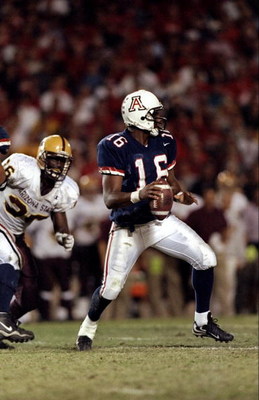 Ortege Jenkins for the game-winner to beat the Dub in 1998.
Old School: Tillman Takes It In From The Five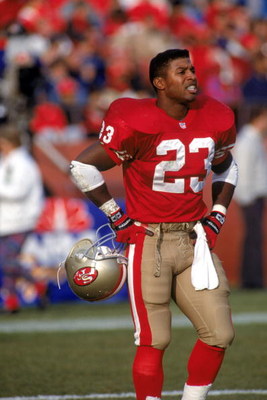 Sooner Spencer Tillman leaps from the five yard line against Nebraska in 1983.
Don't be too surprised; there was less gravity back then.
Ladies and Gentlemen, Ross Dickerson!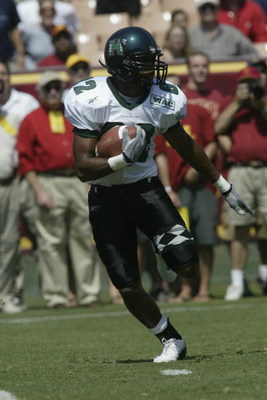 Carson Palmer Accepts His Heisman From Four Feet In The Air, Upside Down
Ram Veal Sacks Clausen On Fourth Down To Force Overtime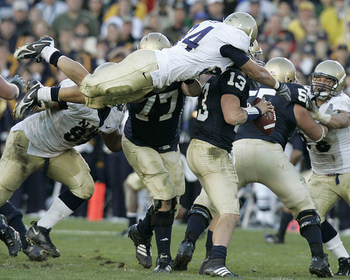 In 2007, Notre Dame's decided schematic advantage couldn't possibly have factored in cornerback Ram Vela's magnificent leap over the cut block on the attempted fourth down conversion.
Navy would go on to win this game in triple overtime, 46-44.
LaVar Arrington Shuts Down The Illini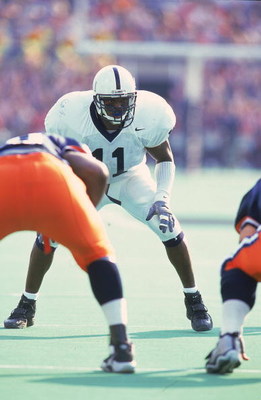 Leaps are not only the property of the offense, as Lavar Arrington shows in this leap to shut down the Illini on 4th and 1.
Knowshon Moreno Skies It Against The Sun Devils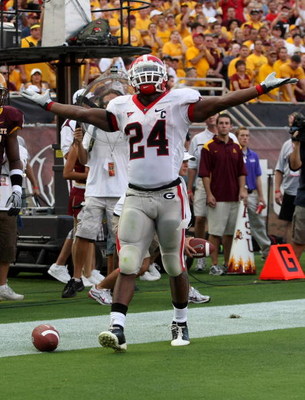 First thing that comes to mind when thinking about gaudy touchdown leaps is this great clip of the vaunted Georgia running back, Knowshon Moreno, taking it in against Arizona State last year.
I remember being surprised that Knowshon didn't turn into a star and ascend into the night sky after this leap was complete. God knows he tried:
Keep Reading