Adebayor and Bystrov: A Tale of Two Players Who Left for Greener Pastures
September 17, 2009
On July 18, Arsenal star forward Emmanuel Adebayor decided to sign with cash-rich Manchester City for a reported £25 million, a contract that would keep him with City for five years.
But the true boiling point for Arsenal came this past weekend, when Adebayor faced his former club for the first time, scoring in a 4-2 victory in front of the home fans.
His goal celebration, as it has already became infamous, had many Arsenal fans utterly enraged, to say the very least.
Now imagine the thought of Adebayor returning to Arsenal in three or four years of tormenting his former club. Would the Gunners accept him back into their ranks? Should they accept him back, if he expressed a desire to once again play for Arsene Wenger?
For each individual, the reaction could be completely different. Some may say yes, if Arsenal is struggling and they feel as if Adebayor would give their team a boost in the table. Some would protest adamantly against the move, feeling he has done enough damage and they do not want him back.
For Zenit St. Petersburg, we already know the reaction.
In the summer of 2005, local talent Vladimir Bystrov was sold by the club to archrival Spartak Moscow, a move that had many fans outraged. Bystrov was a favorite of many, and as he was only 21 at the time of the move; he certainly had the potential to improve greatly.
His first game against his former club followed a similar plot as Adebayor, just not so dramatic.
Bystrov wasn't disliked immediately, as it was not his choice to go to Spartak. But his actions quickly made him a hated man. He would point to the Spartak logo on his jersey, kiss it, and do his absolute best to draw cards against his former teammates.
This new-look Spartak side jumped ahead of Zenit and several other teams to finish second in the league. Bystrov also led Spartak to second-place finishes in the next two years as well, including a Champions League Group Stage berth in 2006-07.
Bystrov and manager Valeri Karpin celebrate.
However, on Aug. 27 of 2009, Bystrov was signed by Zenit St. Petersburg on a five-year contract.
Zenit had gone through a very rough summer, losing its coach, captain, and leading goal-scorer in a matter of weeks. The team also lost playmaking midfielder Danny early in the season, when an injury forced him out of action.
The club was slumping badly and had only won once in the previous five matches, including losses to cellar-dwellers Tom Tomsk and Terek Grozny, as well as a draw with 10-man Rubin Kazan at home.
It was time for divine intervention.
So, the club responds by giving caretaker Anatoliy Davydov several new weapons, including Torino captain Alessandro Rosina, former Chelsea striker Mateja Kezman, and Bystrov.
The fans were very pleased with Rosina and Kezman. Especially Rosina, who earned his own nickname after the first match and was named Player of the Month in August, despite being a second-half substitute in nearly every game.
The reaction to Bystrov, however, has been almost at the point of a civil war between fans.
Bystrov's first game back in a Zenit uniform was against one of the worst teams in the Russian Premier League, Khimki. Although the game was played in the Moscow suburb, many Zenit fans made the trip to show their displeasure toward the re-signing.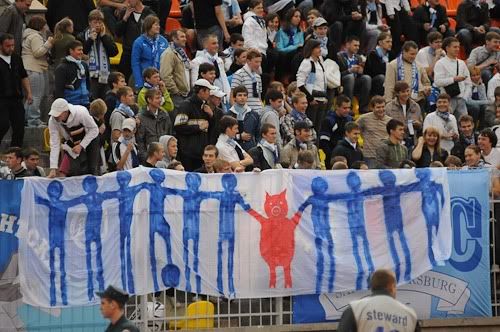 Ten men in blue. You can guess who the 11th is.
Many fans brought signs displaying messages of hatred. Many fans also booed him any time he touched the ball. They also harshly booed him after he scored Zenit's second goal of the game, giving the Sine-Byelo-Goluboy a 2-0 advantage. After seeing these actions, the club, Bystrov, and other fans had words of choice.
Igor Denisov, one of Bystrov's best friends from the time when he played for Zenit, spoke his mind rather quickly after the match. In an interview with Sports Day, Denisov said "My friend deserves the right to play for Zenit and is worthy of normal relations."
Second, Bystrov himself also came out to explain his perspective on the move.
"I liked Spartak. But I always wanted to return home to Zenit and Petersburg," he told Sovietsky Sport. He also made reference to his wife nearing childbirth, and revealed her desire to move back to St. Petersburg. The fans however, still remain divided on the situation.
So Bystrov's second game with Zenit approached, this time it was at the Petrovsky Stadium, in another must-win situation against Rostov.
Zenit scored in added time, just before the halftime whistle blew, courtesy of veteran midfielder Konstantin Zyryanov, but it was only because of a slick pass from Bystrov that found Zyryanov wide open in the middle of the box. As he headed to the lockers, chants of "Bystrov! Bystrov! Bystrov!" were incredibly audible from the one end of the stadium.
Similar chants continued into the second half, and Volodya put home his second goal in as many games. But this time, he ran straight toward his many detractors with outstretched arms, showing off his old Zenit jersey with pride.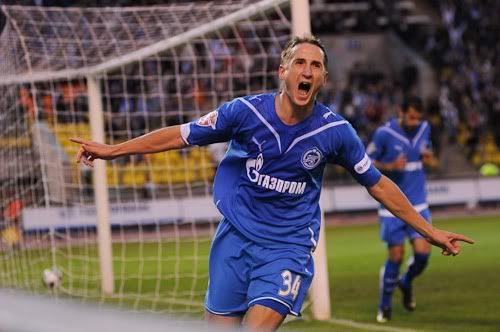 Гооооооол!!
And with that goal, the jeers were drowned out by a massive ovation.
But the war continues. Zenit is 2-0-0 with Bystrov in the starting XI, outscoring opponents 6-0 in those two matches. Suddenly, the team that was dead and in eighth place in the league has rocked into fifth.
The team may be one unit, but the city is divided.
Now let us fast forward to the future, say 2011. And Arsene Wenger wants to bring Adebayor back to the Emirates. Which role would you play in the signing? The role of an accepting fan, who believes Adebayor would help, or the fan who never wants to see that man in an Arsenal uniform ever again?
Adebayor and Bystrov are two completely different men. One is powerful, the other is a speed demon. One is African, the other is a Russian. But in a few years, they could share the same fate.
Arsenal, we know how you feel.