NCAA Football: Week Three Predictions and Scores
Welcome to week three of the NCAA Football season!
Last weekend we had some instant classics and, hopefully, we will see more of those moments this weekend. There are some very intriguing games this weekend and some tough picks.
If you are new to my weekly selections: I predict the winners and scores of all top 25 games and a handful of interesting games outside of the top 25.
Check my slide show out for my predictions this week and feel free to chime in with your own selections.
My record last week: 21-6
My record on the season: 40-13
Thursday Night: No. 14 Georgia Tech (2-0) at No. 20 Miami (FL) (1-0)
This could be one of the best games of the week and the fact that it is happening on a Thursday night makes it even more intriguing.
I think GT's offensive style is really hard to prepare for, especially with such a big physical back like Jonathan Dwyer. The key in this game may be something GT might not want to do though—Josh Nesbitt has to be able to stretch the field with his arm.
Miami played exceptionally well in the opener at Florida State. My biggest concern for them is their defense and GT's ability to move the ball could keep the Canes on their heels all night. I think Jacory Harris has to make plays with his arm and feet or UM may struggle.
I am calling for an overtime game here!
Winner: Georgia Tech 34-27 in OT
No. 10 Boise State (2-0) at Fresno State (1-1)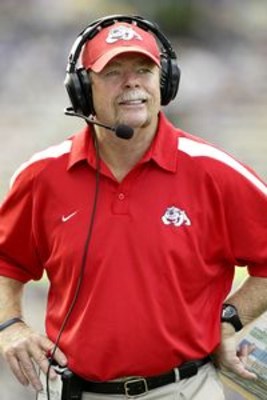 Boise State won impressively last weekend while Fresno State lost a heart-breaker at Wisconsin in double OT. Boise State is clearly the favorite and the Bulldogs will have all they can handle in their own house.
Fresno State can move the ball on offense and may give Boise State some problems up front. The Bulldogs need to play sound defense and cover the Boise State's wide receivers effectively or it could be a long night.
Boise State's defense has been fantastic thus far having only given up one touchdown in two games; however, I think Fresno can score more. If Boise State makes mistakes as they did in the Oregon game, it will be too much for them to overcome.
I am thinking Pat Hill gets his boys ready and pumped.
Winner: UPSET ALERT! Fresno State 27-24
Temple (0-1) at No. 5 Penn State (2-0)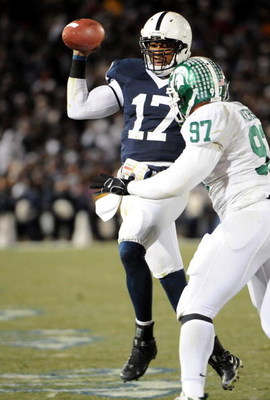 Temple isn't very good, Penn State is.
Although the Nittany lions haven't looked exceptionally well in their first two games, they have nothing to worry about again this weekend. Darryl Clark is quietly putting up big numbers and is starting to get some attention as a Heisman candidate. Look for a big game from him on Saturday.
This won't be close, sorry Owls.
Winner: Penn State 44-10
No. 8 California (2-0) at Minnesota (2-0)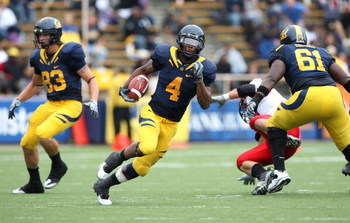 Two words: Jahvid Best.
The guy is a great runner with ridiculous speed.
Best on turf, not good news for the Gophers! It will be an interesting game though because Cal really has not been tested at all on the defensive side of the ball this year.
Minnesota may be 2-0 but they have a lot of questions around them, mostly on offense. As I said, Cal really has not been tested on defense, so if Minnesota can have a balanced attack and maybe catch them off guard, they can make a game of it.
I just see too many athletes and too much speed on Cal's sideline for the Gophers to have a chance. The long trip and playing in a dome will ,most likely, cause a slow start for the Bears, but look for them to explode mid-second quarter and after half.
Winner: California 37-17
No. 11 Ohio State (1-1) at Toledo (1-1)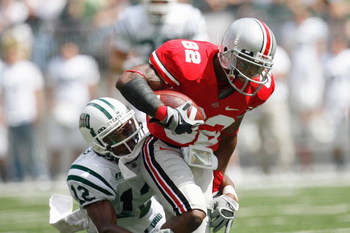 Do the Buckeyes have a letdown at Toledo after their tough loss at home to USC? I don't think so, but I do think Toledo will come out and compete hard.
One thing we know about Toledo is that they can score points.
They have scored over 30 points in both games against Purdue and Colorado, but neither of those teams has a good defense. Ohio State does have a good defense and their defensive line will cause havoc on the Toledo offensive line.
If Terrelle Pryor struggles early, look for Toledo to hang in the game for a while. If he comes out firing on all cylinders, then the Buckeyes should roll in this one. The offense relies on Pryor, he needs to step up his game.
Either way OSU will win this game, but if Pryor struggles it may be closer than people think. I, however, think he will come out hungry. Game will be somewhat close at half, but then OSU takes control
Winner: Ohio State 47-20
Duke (1-1) at No. 22 Kansas (2-0)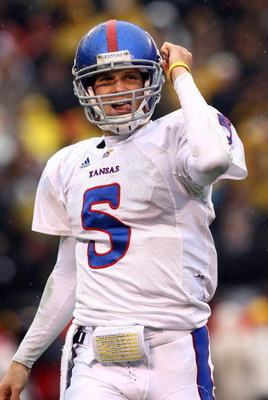 Kansas has been very solid so far in 2009 and, surprisingly, the defense has been a strength. Todd Reesing is the leader of KU and is a solid quarterback that doesn't make too many mistakes.
Duke is a hard team to figure out. The Blue Devils lost to Richmond and then beat Army pretty badly.
Which team will show up against the Jayhawks?
I just don't see Duke being able to contain KU's passing game and Duke doesn't have enough offense to test the Jayhawks defense.
Winner: Kansas 30-13
East Carolina (1-1) at No. 24 North Carolina (2-0)
North Carolina struggled last weekend against a feisty Connecticut team but still got the win. This weekend ECU will visit the Tar Heels in Chapel Hill.
ECU has a competitive team but I really don't seem them giving UNC a tough game. The Pirates' offense doesn't have much explosiveness and the defense was torn up for 35 points last weekend against West Virginia.
T.J. Yates should have a big game for UNC and throwing for over 275 yards should be expected this weekend. UNC's defense should shut down a rather bland ECU offense.
Winner: North Carolina 31-10
Eastern Michigan (0-2) at No. 25 Michigan (2-0)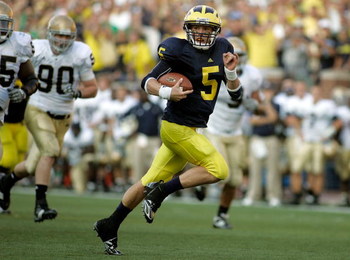 The Wolverines appear to have their swagger back and their offense has been pretty impressive in the first two games. The defense has had some problems, but last weekend against Notre Dame they made some great adjustments.
Eastern Michigan has lost some tough games in the past two weeks which, surely, has affected their confidence. Their biggest goal in this game is to stop freshman quarterback Tate Forcier. He can run and throw and seems to love the spotlight.
If Michigan can spread the ball around as they have early in the season, they should win this game going away. No problems here for the Wolverines.
Winner: Michigan 38-16
North Texas (2-0) at No. 4 Alabama (2-0)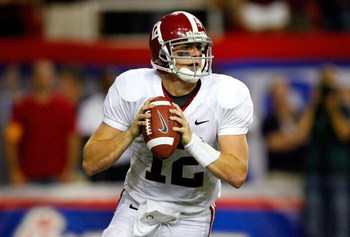 North Texas is 2-0 and have won some pretty exciting games for their program. They may be able to win their conference this year and have a lot to be happy about.
However, Alabama is simply too good and powerful to have a slip up against them.
The Crimson Tide have a great rushing attack followed by a solid passer in Greg McElroy. Bama struggled for a bit last week against FIU which has me questioning their attitudes just a little; nonetheless, they are a good team with national title hopes.
This game will be close after one quarter and then the blowout takes place.
Winner: Alabama 42-15
Tennessee (1-1) at No. 1 Florida (2-0)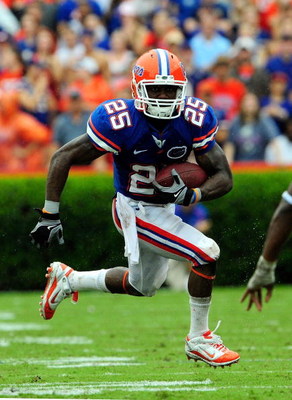 Finally the two teams can play the game and the war of words and mind games can be put to rest.
We all know Kiffin likes to talk and we all know that Urban Meyer also likes to talk but does so more quietly. UF has far superior overall talent and their offense will be hard for the Vols to contain.
I think some fans are getting a little too excited about how bad UF will demolish Tennessee. Don't get me wrong, I do think the Gators will win convincingly, but to completely disregard a team who has been looking forward to this game (On both sides) isn't necessarily the smartest thing.
Tennessee's problem is their offense. Will they, can they, get a run game going?
Will Crompton make a ton of mistakes like he did against UCLA? Many people are calling the Vols loss last week embarrassing but honestly, UCLA has a VERY good defensive line and a good secondary.
Nonetheless, Tennessee can not turn the ball over that often and expect to win any games. They need to play smarter and figure out how to run the ball better.
Florida has all of the weapons surrounding a great quarterback.
Their defense is stacked and as Lane Kiffin mentioned, they certainly all could see playing time in the NFL. Brandon James in my opinion will have the biggest impact on the game...if he is able to explode for big plays, UF will have zero issues.
Close for a while, especially since the Gators have played nobody decent yet and will have to get adjusted to a somewhat solid team in Tennessee.
Winner: Florida 39-14
No. 3 USC (2-0) at Washington (1-1)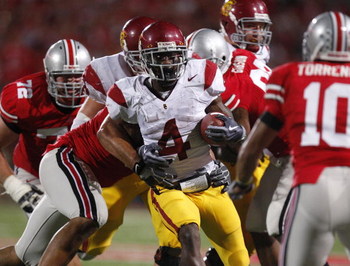 Many people are calling this a dangerous game for USC. Last year USC came off a big win against Ohio State and followed it with a loss to Oregon State. USC has learned a lot from that game and I don't think they will be taking the Huskies lightly.
Plus, any time you get a chance to play against some of your old coaching staff, it becomes even a bigger game.
USC's offensive line has learned a lot from last game and I believe they will come out ready to prove they are one of the best units. I think Joe Mcknight is ready to explode more and more and I see a big game from him. I also think some of the other running backs like C.J.
Gable will show up in a big way. Whether Barkley starts or not, I think USC's offense will begin to get more and more aggressive. In addition, if Aaron Corp does start at quarterback for the Trojans, it adds another dimension of mobility that Barkley doesn't bring.
Jake Locker is Washington's heart and soul and I do think he will cause some problems for USC's defense.
He is a good passer and a powerful running quarterback.
Some people call him the "Poor man's Tim Tebow." Either way, I think Sarkisian will test USC's defense with Locker's ability to move around. Defensively though, I don't think they have a chance of stopping USC.
The longer USC lets Washington hang around the more interesting it will get. I see a rather stress free win for USC though.
Winner: USC 43-17
Tulsa (2-0) at No. 12 Oklahoma (1-1)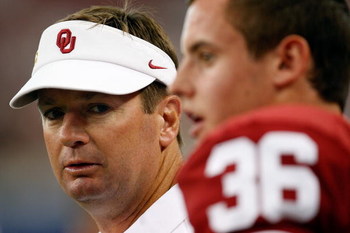 Don't sleep on this game. I do think the Sooners will come out with a win, but Tulsa is a pretty talented team with an offense that knows how to put the ball in the end zone.
Tulsa has a dual-threat quarterback in G.J. Kinne which could cause some matchup issues for the Sooner's defense. Oklahoma does not have Sam Bradford, and I know the backup is very capable, but it still means their offense is not at 100 percent.
If the Sooners can run the ball hard and well in this game, Tulsa will have no shot at keeping it close; but if they can force the ball in the air and make some stops, their offense could make it a decent game.
OU just has too much.
Winner: Oklahoma 41-23
No. 19 Nebraska (2-0) at No. 13 Virginia Tech (1-1)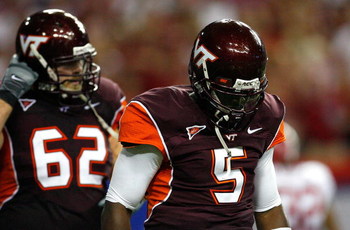 Perhaps one of the best matchups of the weekend here!
Nebraska is on its way back to the top and Virginia Tech has yet another team that is sure to finish in the top 10 or 15. The Hokies don't have a ton of offense but they have enough to get the job done against most teams.
Their defense and special teams are always strong and I think they will cause fits for the Cornhuskers.
If Tyrod Taylor can have a big game for VT, the Hokies win. If Nebraska can force some turnovers and move the ball efficiently, they can earn the upset. I just find it hard to believe that Nebraska goes into VT and gets a win.
Close and fun game to watch.
Winner: Virginia Tech 28-24
No. 18 Utah (2-0) at Oregon (1-1)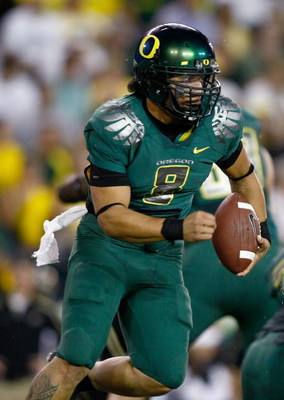 The Duck's offense woke up last weekend and I think the same will continue this week. However, their defense played a pretty bad game and Purdue was able to put up points to make it a closer win than Oregon would have liked.
Utah on the other hand is 2-0 and have continued their winning ways from the 2008 season. Despite that, the Utes have not looked very good in any of their two wins and both games were much closer than one would have expected.
I think there are too many questions on offense and their defense should struggle to keep up with the Ducks speed.
If Oregon's rushing attack is on, the Utes will have trouble winning in Eugene. The crowd will be loud, pumped up and I think this helps the Ducks win a big game.
Winner: UPSET ALERT! Oregon 35-27
No. 17 Cincinnati (2-0) at Oregon State (2-0)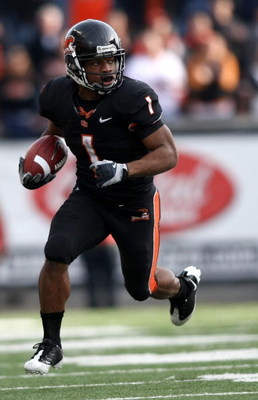 I think this game here might be the best game of the entire day. Oregon State is notoriously a slow-starting team but this year they are 2-0 out of the gates and if they can beat Cincinnati at home this weekend, it would be a huge deal for the Beavers.
I am not sure if there has been a better looking team in the first two weeks than the Bearcats. Cincy pounded the life out of Rutgers and followed that performance by putting up 70 points in the next game.
Their opponents were not anything special but Cincy took care of business and looked impressive in doing so.
Quarterback Tony Pike has put up huge numbers thus far but will be challenged for the first time at Corvallis.
Oregon State has one of the most exciting and tiny running backs in the nation in Jacquizz Rodgers.
He has great speed and quickness, and will be the difference maker in this game. I don't think many people realize how loud Oregon State's crowd can get. The Beavers are tough at home and I see this being a tough game for Cincy.
Winner: UPSET ALERT! Oregon State 30-27
Florida State (1-1) at No. 7 BYU (2-0)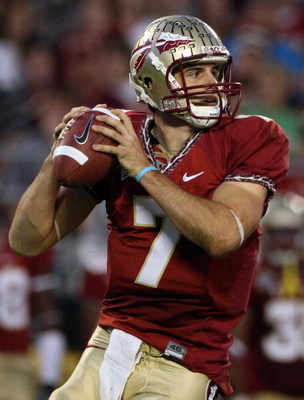 I know a lot of people are really down about FSU after their performance last week against Jacksonville State.
I however, am not.
Obviously they have a ton to work on and are not where they should be in regards to how good they could be. I think the Noles had a tough time swallowing the heart-breaking loss against Miami and it affected their entire attitude towards JSU.
This week though, I think the Noles are going to come out to BYU and show they have what it takes to be a good team. The key for FSU is running the ball.
Their offensive line is talented and the running backs have great speed, it is just a matter of execution now. Ponder has looked very good so far and I think the trend continues here. BYU does have a good defense and are very well coached though.
The key for BYU will be their ability to take advantage of a seemingly weak FSU secondary. Max Hall has all the tools at quarterback to do so, but I think some teams and fans forget that FSU always has great speed which can interrupt certain teams playmakers.
I see a close game, battle of field position here. My prediction may shock you all but I just have a feeling...
Winner: UPSET ALERT! Florida State 26-24
Louisiana Lafeyette (2-0) at No. 9 LSU (2-0)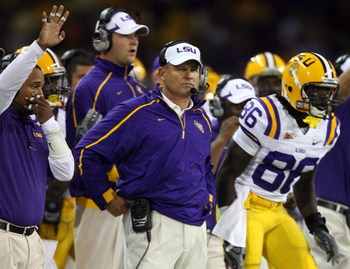 Do I think LSU will win? Yes.
Do I think they will blow them out like everyone expects? Maybe, but I don't think it will be as bad as most think.
LSU is 2-0 and have had some bright moments but their team does not look as good as most of the great LSU teams we are accustomed to seeing.
Louisiana Lafeyette came up with a big win last weekend when they knocked off Kansas State. I know KSU isn't a good team right now but it still proves that LA Lafeyette knows how to win.
Having said all of that, I look for LSU to run the ball down their throats. Jefferson will have a good day too but it is all thanks to the running backs opening up the field.
Winner: LSU 40-18
Texas State (1-0) at No. 15 TCU (1-0)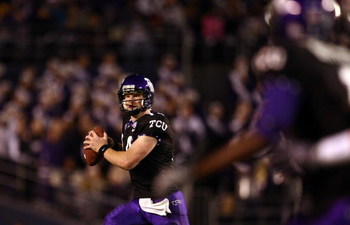 TCU is coming off a win at Virginia last weekend. Ordinarily that would be viewed as a good win, but this year it is an expected win.
I am not sold on TCU's offense but I am sold on their defense.
They have hard-hitting linebackers who like to be aggressive on every snap. The defensive line is also very disruptive and can do a lot of damage, especially to Texas State.
Winner: TCU 35-3
Rice (0-2) at Oklahoma State (1-1)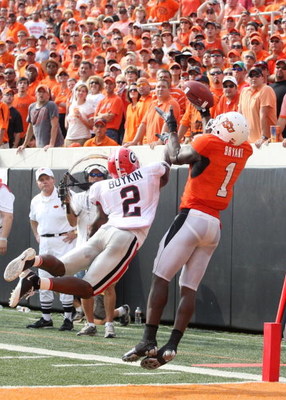 Zac Robinson and Dez Bryant are going to have huge games this weekend.
Rice has no defense and virtually no offense anymore after losing their best players last season. Oklahoma State's offense has been a little disappointing so far, especially if you consider how easily South Carolina scored on Georgia while the Cowboys struggled.
I think they find a rhythm in this game and they will destroy the Owls.
Winner: Oklahoma State 56-7
Southeastern Louisiana (2-0) at No. 5 Ole Miss (2-0)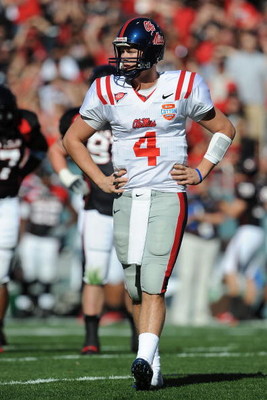 SE Louisiana has put up some big point totals in the opening weeks but Ole Miss is a different machine.
The Rebels have a powerful and accurate arm in Jevan Snead and have running backs than can bust through a whole in an instant. The defense is also very talented and SE Louisiana will have plenty of trouble in this one.
Look for over 550 yards of offense for Ole Miss in this one.
Winner: Ole Miss 51-14
No. 23 Georgia (1-1) at Arkansas (1-0)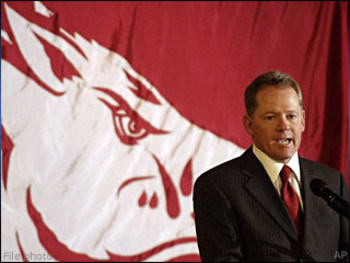 Georgia has struggled in both their games this season and even though they were able to knock off South Carolina last week and they still didn't look very good.
Joe Cox had a nice day and I expect him to have another good day at Arkansas. My biggest question for the Dawgs though is their defense. South Carolina struggled to put up three points against NC State and against UGA they put up over 30 rather easily.
Arkansas has a very talented team and I really like their running back Michael Smith. He has lightning quick speed and can turn it to the next gear in the blink of an eye. I also think many people forget how solid the Razorback's quarterback was when he was at Michigan.
Ryan Mallet has a cannon for an arm and he has plenty of weapons to spread the ball around to. Also, the Razorbacks have had two weeks to prepare for this Georgia team.
To me, it will come down to who can make enough stops to win, both teams will score.
Winner: UPSET ALERT! Arkansas 37-31
Texas Tech (2-0) at No. 2 Texas (2-0)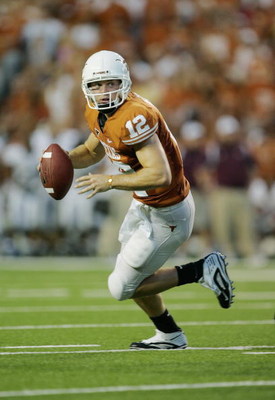 Texas Tech still has a great passing offense and a ton of fire power. The defense though, doesn't have what it used to and the Red Raiders biggest playmakers on offense are gone.
Texas has the entire package and I think if they come out in every game ready, unlike last weekend, they are a great team. I look for the Longhorns to score early and often. They will get their revenge.
Winner: Texas 49-24
More Predictions for Other Intriguing Games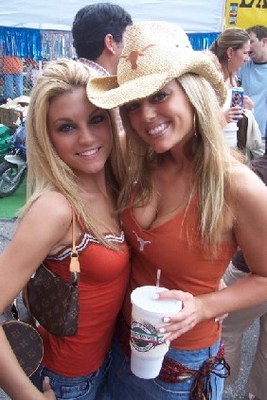 Now come the selections for other intriguing games not in the AP Top 25.
Also, a new thing I have started that I will continue every week..."College babes of the week" as seen in the photo.
Arizona (2-0) at Iowa (2-0):
Winner: Arizona to come in and surprise the Hawkeyes, 21-17.
Mississippi State at Vanderbilt:
Winner: Vandy at home, 21-13.
West Virginia at Auburn:
Winner: Auburn wins a big game at home, 22-20.
Michigan State at Notre Dame:
Winner: Notre Dame is the better team and wins, 35-20
Kansas State at UCLA:
Winner: UCLA, even without their starting QB Prince, win 29-14
Boston College at Clemson:
Winner: Clemson 27-17
Louisville at Kentucky:
Winner: Big in-state rivalry here...UK Wildcats win 33-20
Keep Reading