Buell's Eye: Week 2's College Football Picks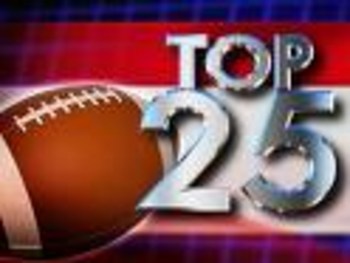 After an eye-opening Week 1 in College Football, the first game jitters are out of the way for the Top 25 teams, except for one, and I go into Week 2 with an 18-3 record after my opening weekend's Top 25 match-up predictions.
Included in the three missed picks were Oklahoma being upset by Brigham Young, Oregon losing to Boise State for the second straight year, and Florida State coming up short at the last second against Miami in an instant classic game of that Sunshine State rivalry.
The first weekend of the season showed us the resurgence of several heralded programs that have struggled in recent years, injured a Heisman Trophy Winner and a top-ranked University's dream of a National Title, displayed the surprisingly inept offense of the once-ranked Oregon Ducks with one punch, and established credibility for certain "BCS Busters."
Heading into Week 2, we see two of those rising, traditionally-rich programs face off in an early-season bout, while another rivalry featuring Top 10 schools kicks off in Columbus, Ohio.
USA Today Poll No. 25 Oregon State Beavers (1-0) @ UNLV Rebels (1-0)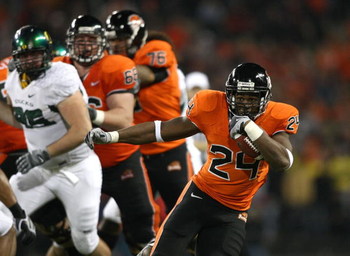 The Oregon State Beavers travel to Nevada to take on the Rebels of UNLV in the second week of the season.
In a bit of a shootout, the Beavers top the Rebels, 32-29.
No. 25 Missouri Tigers (1-0) vs. Bowling Green Falcons (1-0)
Missouri makes their Top 25 debut in 2009 one week after dominating the Fighting Illini of Illinois, 37-9.

They take on the Bowling Green Falcons at home in Week 2, and will simply be too much to handle once again. In what shouldn't be a close game for long, the Tigers take down the Falcons 37-21.
No. 24 Kansas Jayhawks (1-0) @ UTEP Miners (0-1)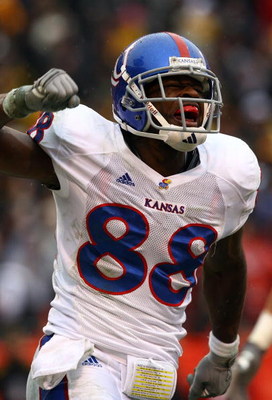 This one isn't the most intriguing match-up of the week, to say the least.
Kansas is just downright better and will keep up their momentum this week against UTEP after steamrolling Northern Colorado last week 49-3.

The Jayhawks win this one, 56-20, over the Miners.

No. 23 Cincinnati Bearcats (1-0) vs. Southeast Missouri State (1-0)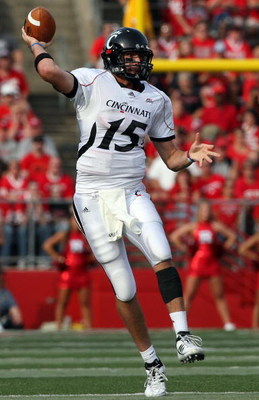 Cincinnati wasn't getting much love from anyone before the season started. Apparently, that hurt their feelings.
The Bearcats absolutely pounded Rutgers on the road in their opening game of the season, 47-15.
Week 2 will provide more of the same delicious feast for the Bearcats to enjoy as they take on Southeast Missouri State. Cincinnati takes this one in blowout fashion, 46-17.
No. 22 Nebraska Cornhuskers (1-0) vs. Arkansas State Red Wolves (1-0)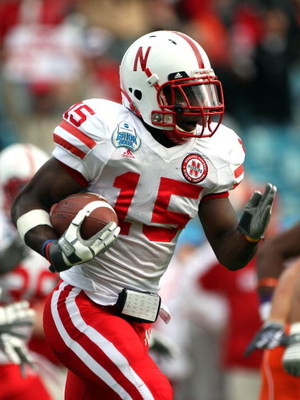 Watching Nebraska blow out their first two opponents of the season creates some nostalgia, almost taking me back to the mid-1990's when they ruled the country on the college football landscape.
Of course, once they start playing some actual competitive opponents, especially the ones that reside in their own Big 12 conference, that ought to change some things.

In the meantime, the Cornhuskers take on the Red Wolves of Arkansas State in Week 2. Four quarters later, Nebraska prevails, 42-14.
No. 21 Georgia Bulldogs (0-1) vs. South Carolina Gamecocks (1-0)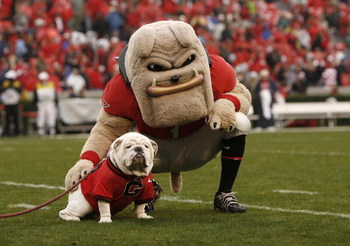 The #21 Bulldogs were one of the few teams that began the season with the very difficult task of playing a Top 10 ranked opponent. They didn't succeed, losing by two touchdowns to the, now ranked, No. 5 Oklahoma State Cowboys.
Georgia looks to bounce back in the second week against the Gamecocks of South Carolina, who won their opener against the North Carolina Wolfpack by a grand slam, 7-3.
The Bulldogs regain their footing against Steve Spurrier's squad with a victory, 30-21.
No. 20 Miami Hurricanes (1-0) - Bye Week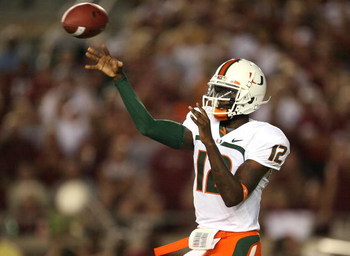 Fresh off their opening game upset victory over rival Florida State, the Hurricanes get to rest in Week 2 with a bye week, prepping themselves for their next tough opponent, the No. 15 Georgia Tech Yellow Jackets, on September 17th in Miami.
No. 19 North Carolina Tar Heels (1-0) @ Connecticut Huskies (1-0)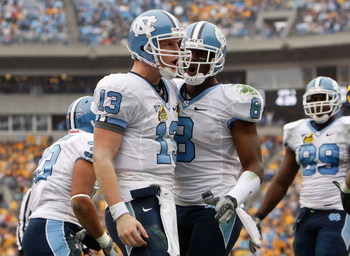 I don't know what it is, but everything in me says to pick UConn upsetting the Tar Heels in this one, oh, so badly. However, I honestly just don't believe this year's Huskies team can keep up with North Carolina, even on their own field.

The Tar Heels travel North to take on Connecticut in what should be a pretty entertaining game, coming out on top, 38-30.
No. 18 Notre Dame Fighting Irish (1-0) @ Michigan Wolverines (1-0)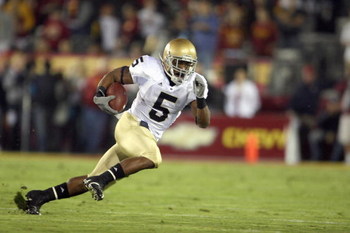 Suddenly this game got a whole lot more interesting, didn't it?
Last season this rivalry was a channel-changer.
After both Universities completely dominated in Week 1 amongst innumerable amount of controversies, question marks, and hot seats, both the Fighting Irish and the Wolverines try to start a very important 2009 year, 2-0, in a Week 2 match-up that could help shape both team's season.
The offenses that shined in the openers get stifled a little bit this week as Notre Dame defeats Michigan in "The Big House", 24-14.
No. 17 Utah Utes (1-0) @ San Jose State Spartans (0-1)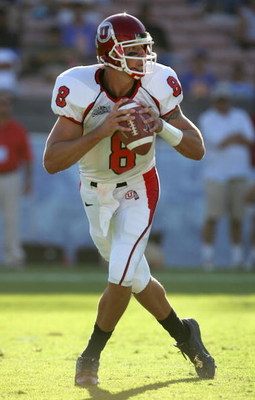 Last week, Utah struggled against intrastate rival, Utah State. Meanwhile, San Jose State was leading the No. 3 USC Trojans 3-0, only to never score again, losing by 53 points.
So, what is expected in Week 2 when these two go head-to-head?
The Utes shake off their jitters and play a much more organized, less sloppy four quarters against the Spartans, winning easily 38-20.
No. 16 TCU Horned Frogs (0-0) @ Virginia Cavaliers (0-1)
Congratulations Texas Christian, you moved up one spot from your No. 17 Preseason ranking without ever playing a game.
Congratulations Virginia, you just lost to William & Mary last week in your season opener, at home, 26-14. What are you going to do now?

The answer is: lose to the Horned Frogs by a final score of 34-13.
No. 15 Georgia Tech Yellow Jackets (1-0) vs. Clemson Tigers (1-0)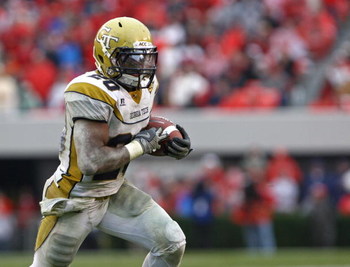 In a Thursday night game, the Georgia Tech Yellow Jackets take on the Tigers of Clemson at home in the first game of the College Football Week 2 schedule.
The Yellow Jackets' electric offense will be more than enough to defeat the Tigers, 28-7.
No. 14 Virginia Tech Hokies (0-1) vs. Marshall Thundering Herd (1-0)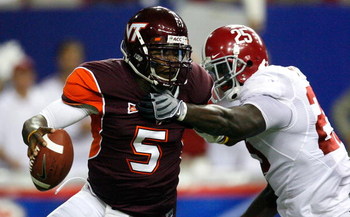 No. 4 Alabama certainly looked like the better team against Virginia Tech last weekend. Now, the Hokies look to get back to their winning ways at home against the Thundering Herd from Marshall.
Virginia Tech succeeds with their mission, defeating Marshall by the final score of 36-16.
No. 13 Oklahoma Sooners (0-1) vs. Idaho State Bengals (0-1)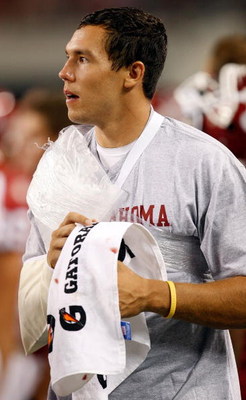 Oklahoma's season really couldn't have started off any worse.

First, their Heisman Trophy Winning quarterback leaves the game before halftime to injury, (not the only devastating injury they suffered in their season opener), they lose the game in an upset to Brigham Young, and consequently, their National Title hopes are now already in jeopardy.
Backup QB, Landry Jones, tries to right the ship, stop the bleeding, and lead the Sooners to victories until quarterback, Sam Bradford, can take the field again.
Jones' first task on that rough stretch of road shouldn't be too tough to handle though, as the Bengals from Idaho State visit Norman, Oklahoma.

The Sooners even their record at 1-1 after a good mauling of the Bengals, 35-3.
No. 12 Boise State Broncos (1-0) vs. Miami (OH) Redhawks (0-1)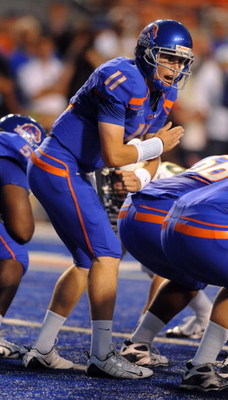 Boise State is at it again.
Their usual antics on that blue field of theirs and a second straight win over the Oregon Ducks has everyone thinking about another BCS Bowl appearance for the Broncos.
This week they face the Redhawks from Miami (OH) who are coming off a 42-0 thumping they took at home, compliments of the Kentucky Wildcats.
The second week of this 2009 College Football season proves to be no kinder to the Redhawks as they get trampled by the Broncos, 48-10.
No. 11 LSU Tigers (1-0) vs. Vanderbilt Commodores (1-0)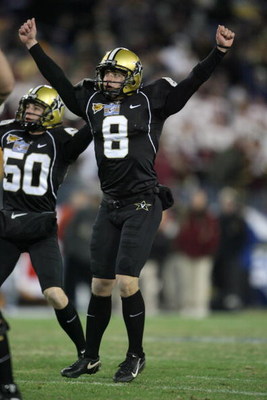 Upset Alert: Watch out LSU!
The LSU Tigers narrowly defeated QB Jack Locker and the Washington Huskies last weekend, who were, in fact, winless in 2008. LSU is destined to take a step backwards this season, and that step comes a bit sooner than most would have expected.
In an upset, the Vanderbilt Commodores start their season, 2-0, as they take down the Tigers from LSU 17-14, on the road.
No. 10 California Golden Bears (1-0) vs. Eastern Washington Eagles (1-0)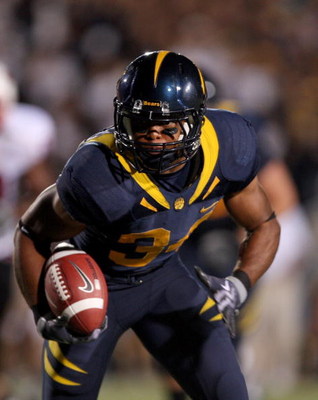 California wanted to prove that the Pac-10 Conference race has more than one sprinter this season. After shelling the Maryland Terrapins, 52-13, last weekend, their message was sent.
This week they get to add to their 2009 resume as they take on the Eastern Washington Eagles, at home. The Golden Bears dominate, defeating the Eagles 59-10.
No. 9 Brigham Young Cougars (1-0) @ Tulane Green Wave (0-1)
No. 9 Brigham Young may have introduced themselves to a BCS Bowl bid in 2009 by pulling off the Week 1 upset against the Oklahoma Sooners.

After jumping 11 points in the rankings with that impressive victory, the Cougars hope to continue their climb to the top as they take on the Green Wave from Tulane in Week 2.
BYU rolls the Green Wave, 45-24.
No. 7 Penn State Nittany Lions (1-0) vs. Syracuse Orangemen (0-1)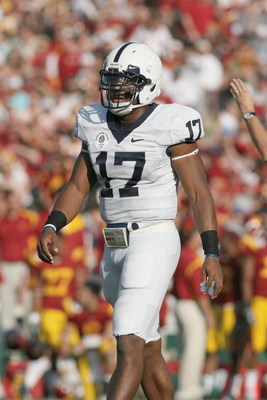 Penn State controls their own destiny in the Big 10 again this season.
They won't be letting QB Greg Paulus and the rest of the Orangemen team from Syracuse derail their mission in Week 2, either.
The Nittany Lions slice up the Orangemen, 34-17.
No. 6 Mississippi Rebels (1-0) - Bye Week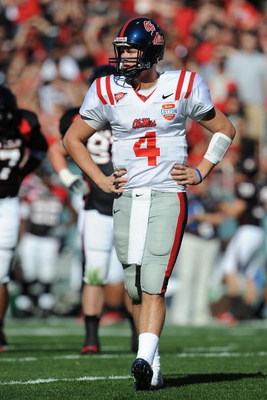 A 45-14 win at Memphis last week to start off the season by the Rebels was nice.
However, the nation will have to wait a few more weeks to find out if this Rebel team from Mississippi is worth the No. 6 early season ranking that they have been given.

This week: a bye: Next week: a practice game against Southeastern Louisiana.
No. 5 Oklahoma State Cowboys (1-0) vs. Houston Cougars (1-0)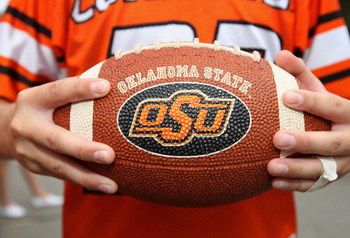 The 24-10 opening victory against the Georgia Bulldogs has certainly set a nice tone for the #5 Oklahoma State Cowboys season in 2009.

So, what happens when they start to tackle the Big 12 opponents they have on their schedule?
First things first, the Cowboys must take care of business at home against the Cougars from the University of Houston.
They succeed, 44-24.
No. 4 Alabama Crimson Tide (1-0) vs. Florida International Golden Panthers (0-0)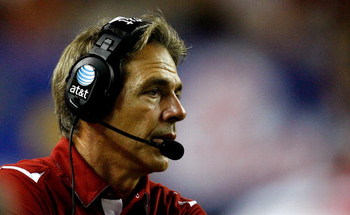 The opening Saturday night victory against Virginia Tech sure was pretty for Alabama.
This week's match-up just might be downright ugly.
Florida International comes to visit Alabama in Week 2, and so much for taking care of your guests.
The Tide continue their winning ways of top 5 football, picking on the Golden Panthers 40-6.
No. 2 Texas Longhorns (1-0) @ Wyoming Cowboys (1-0)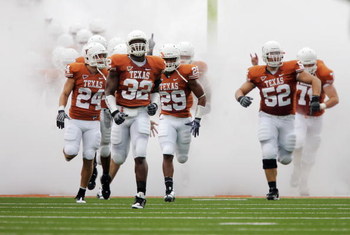 The Texas Longhorns were already seeking revenge from 2008 before this season even started. Now, with the Sooners hurting earlier than expected, the Longhorns are hungrier more than ever.
Texas hits the road to play the Cowboys from Wyoming, and in dominating fashion, stampede their opponent 38-14.
No. 1 Florida Gators (1-0) vs. Troy Trojans (0-1)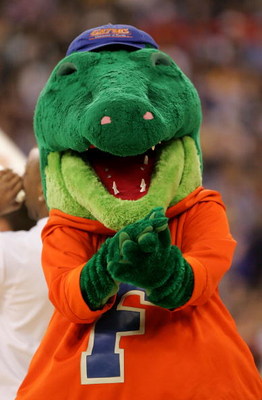 There wasn't much doubt that the Florida Gators would roll through some victories almost effortlessly again this season.
Just like last week, the same remains true this weekend, and the Gators get some more practice as the Trojans of Troy come to visit The Swamp.
The Gators enjoy the meal, 47-17.
Game of the Week: No. 3 USC Trojans (1-0) @ No. 8 Ohio State Buckeyes (1-0)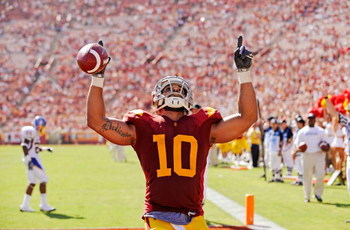 Before the season started, most predicted that this was the year the Ohio State Buckeyes would take down a top opponent as they defeated the USC Trojans on their own field in Columbus.
Yet, after the Trojans spanked San Jose State behind new freshman quarterback, Matt Barkley, and the Buckeyes struggled against Navy in Week 1, USC will still have Ohio State's number in 2009.
In what will be an absolute dog fight in this weekend's "Game of the Week," USC tops Ohio State 28-24.
Keep Reading