World Cup Qualifying: Good Weekend, Bad Weekend
September 7, 2009
Forget the issues of diving and poaching young players, all summer long we were told how La Liga was better than the Premier League. Yet, judging by this weekend's action, England's top division is where most of the top goal scorers in world football reside.
Leaving out the home countries, the Premier League was represented by Nicklas Bendtner, Roman Pavlyuchenko, Dimitar Berbatov, Didier Drogba, Tuncay, Stefan Maierhofer, Clint Dempsey, Jozy Altidore, Giovani Dos Santos, Robin van Persie, Adel Taarabt and Michael Essien—who are all major players for their countries.
Good Weekend
Dunga & Brazil
Brazil's 1994 World Cup winning captain has built a team in his "water carrying" image that looks at this early stage to be one of the favourites to lift the trophy again in South Africa.
Much like the vintage of USA 94, the current Brazil side is excellent in defence and Argentina will not be the last side ruing their lack of punch against the world class backline of the Samba Boys.
Dunga's appointment was not welcomed by everyone in Brazil but after Argentina's second World Cup qualifying defeat on home soil, O Globo was quick to claim: "It doesn't get any better than this." For once Brazil have a world-class keeper in Julio Cesar and a collection of defenders that are the envy of many other international teams.
(Brazil are 5/1 second favourites to win the 2010 World Cup.)
Argentina hoped to break down Dunga's side but were unable to settle due to the brilliance of Kaka who was the best player on the pitch. Ably supported by Robinho and the clinical Luis Fabiano, Rosario was silenced and qualification secured to South Africa.
It will take a coach of real genius, perhaps Guus Hiddink or Vicente del Bosque, to work out a system that can breach the Brazil defence and hold out on the break against Kaka, Robinho and Luis Fabiano.
Despite the class shown by Brazil in Rosario, it might be worth backing Chile (7/1), who can qualify for the World Cup on Wednesday. Dunga is without his front three of Robinho (thigh injury), Kaka and Luis Fabiano as well as Lucio and Ramires.
Jermain Defoe
Defoe's incredible start to the campaign continued at Wembley, claiming his seventh goal of the season in six games for Spurs and England.
At 26 it feels like the former West Ham striker is finally hitting his potential and he must feel that he will score every time he steps on the pitch.
(Defoe is currently 13/2 to finish as the Premier League's top goalscorer.)
England were sluggish at times during the friendly win over Slovenia. There will surely be those who trumpet Fabio Capello's Three Lions once qualification is secured with a win over Croatia on Wednesday night. However, the nagging suspicion remains that England are not quite technically good enough to win the 2010 World Cup and don't have the necessary nous when it comes to the key moments in the latter rounds.
Don Fabio also has a few dilemmas, does the Italian stick with Glen Johnson who continues to defend poorly and surely he must start with Defoe even though Rooney would seemingly prefer anyone else.
Scotland
Finally George Burley's side produced a second-half performance worthy of their fans. Scott Brown added to his burgeoning reputation with a fine headed first and had the Macedonia defence not been so limp in stopping James McFadden, comparisons with Maradona's goal in 1986 would be common place.
Scotland were fortunate that Holland have stormed away with the group to leave the rest of the teams fighting over second place like bald men over a comb. With Norway likely to beat Macedonia on Wednesday night, it is imperative that the Scots secure at least a point against the Oranje.
Although the home side will be without James McFadden, they should be buoyed by the fact their opponents will already be thinking about their club commitments on the weekend.
Burley will no doubt be aware that Eljero Elia is a man in form and is swiftly becoming as important as Arjen Robben for the Dutch. But, Holland's defence is by no means water tight and against opponents who may not be 100% up for it, this could make or break Scotland's play-off chances.
(Scotland are 15/8 to beat Holland.)
Republic of Ireland
World Cup qualifying ensures there a few dates to mark in the diary. Italy's visit to the Republic of Ireland on October 10, on the same night as Russia-Germany, will be make or break for Giovanni Trappatoni and his side.
The 5-2 defeat to Cyprus in 2006 had left many scars on the Irish and this result keeps the dream alive. As Trapp said after the victory on the clash with Italy: "It is David versus Goliath but in 90 minutes of football anything can happen."
Before then, Bulgaria face Italy in Turin in Wednesday which could see Dimitar Berbatov and co pushed out of play-off contention or the group blown wide open.
Northern Ireland
It isn't always the victories that secure qualification for big tournaments and Nigel Worthington's sides 1-1 draw in Poland was a major result in terms of the overall standing in Group 3. Having gained just three wins in their last 32 away matches, Northern Ireland are unlikely to win many away from Windsor Park and now have to go all out for a home win over Slovakia.
Spain
Another master class from the European champions who hit five against a capable Belgium side that have been one of the biggest disappointments of the World Cup qualifying campaign.
(Spain are 9/2 favourites to win the 2010 World Cup.)
Switzerland
Not much attention has been paid to European qualifying Group 2, but it looks like Switzerland will edge out a bunch of other average teams (Greece, Latvia, Israel) to reach South Africa.
Egypt
The Pharoahs gained a scrappy 1-0 win over Rwanda on a dire pitch that leaves their World Cup hopes alive.
Ivory Coast
A 5-0 win over Burkina Faso continues to prove the quality possessed by the Ivory Coast. Ghana may have been the first African team to qualify for the World Cup but "The Elephants" look a good bet to win the competition next July.
(At 33/1, Ivory Coast are the favourite African team to win the 2010 World Cup.)
Ghana
As mentioned above, the first African team to qualify for the World Cup and if goalscorers Sulley Muntari and Michael Essien can stay fit they will have a chance in South Africa.
Giovani Dos Santos & Adel Taarabt
Most Spurs fans were delighted with the capture of Niko Kranjcar for a scandalously low fee of around two million pounds. In truth though Harry Redknapp may already have had the players at White Hart Lane to cover for the injured Luka Modric.
Taarabt will no doubt continue to showcase his party pieces at Loftus Road, his goal against Togo, the last move of the match was of real quality. Dos Santos not only scored one, but set up two and is now a major figure for Javier Aguirre and Mexico's hopes of turning round their poor start to World Cup qualifying.
Nicklas Bendtner
After scoring a classic target strikers goal against Portugal, the Dane urged Arsene Wenger to pick him in a central role for Arsenal. Whilst The Professor's new 4-3-3 formation appears to be working just fine so far, it is a little strange that Bendtner has been started on the right and Robin van Persie in the middle. Especially as RVP plays on the right in exactly the same formation for the Dutch.
Bad Weekend
Maradona
To blame Maradona for all of Argentina's woes seems a little unfair, but he is the public face of the current side and defeat is almost always pinned on the coach no matter which team is defeated in world football.
The bottom line is that Argentina have incredible attacking talent (e.g. Juan Roman Riquleme and Gonzalo Higuain were not in the squad for differing reasons) but the defensive options available to the 1986 World Cup winning captain are pretty woeful. Not only have they had Maradona stumped but also contributed to the departure of his predecessor Alfio Basile.
How Gabriel Heinze still gets picked is a mystery to almost everyone who has seen him play over recent years whilst the central defensive pairing of Nicolas Ortamendi and Seba Dominguez is simply too inexperienced to deal with world class strikers.
Backed up by a goalkeeper who has just four international caps and it is easy to see why Maradona has an almost impossible job to build from the back.
Argentina as a team struggled defensively, the marking for Luisao's opening goal was embarrassing and only accentuated after the game when Maradona confirmed that they had practiced defending set-pieces.
Great players rarely make great coaches, Franz Beckenbauer being one notable exception at international level. Maradona's reputation could be forever be tarnished if Argentina fail to qualify for South Africa.
The three remaining games against Paraguay (a), Peru (h) and Uruguay (a) are humongous games and the whole world will be watching.
(Argentina are 13/2 favourites to win the 2010 World Cup.)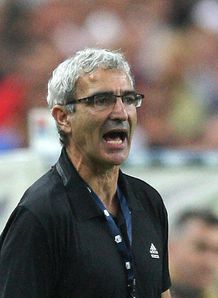 Raymond Domenech
Seriously, how is Domenech still manager of France?
France's 1-1 draw with Romania has left Serbia in pole position in Group Seven and Wednesday's match in Red Star's Marakana Stadium will see the home side qualify for South Africa if they secure victory against Les Bleus.
Even a draw should be enough for Serbia to hold a significant advantage as they are four points ahead going into the crucial encounter.
Domenech should have been sacked after the feeble exit from Euro 2008. It seems abundantly clear that their performance at the World Cup was down to the genius of Zinedine Zidane and the emergence of Franck Ribery, since then the French coach has consistently failed to gel some world class players into a side that looks good enough to dominate even the average teams in world football.
Predictably, after France were booed off the pitch on Saturday, Domenech slammed the fans for being "dishonest and rude" and stood firm, saying "It's not my style to let go." It just goes to show that every country has their own Steve McClaren.
Carlos Queiroz
The late equaliser from Liedson saved Queiroz and Portugal from almost certain elimination from World Cup qualification. There is now a very real chance that the two best players in the world, Lionel Messi and Cristiano Ronaldo, will not feature in South Africa.
It has been said before, but Portugal must start winning, starting with the game in Hungary on Wednesday.
Kakha Kaladze
You have to feel for a player that scores two own goals in any game, for Kaladze to claim a brace against the team where he plays his club football only adds salt into the wounds. There has always been something quite tragic about the AC Milan defender following the kidnapping of his brother in 2001.
His two own goals were spectacularly unlucky with both flicking off his head and foot as he went to make defensive clearances. TV commentators on Georgian channel Rustavi Ori summed up the feeling towards the defender in his home country: "[Kaladze] gave back to Georgia what Georgia took away from him."