The Most Disapointing Players In Each Team In MLB. A Must Read.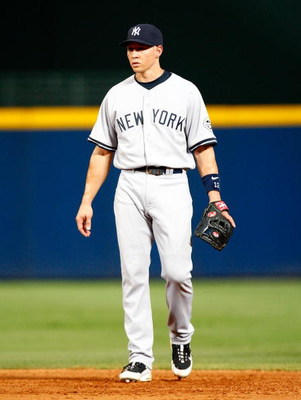 This article might be a bit " bold " because it is very easy to recognize greatness. But it is difficult to recognize mediocre.
But hey, this article is here to do that.
There are 30 teams in MLB and here are the worst players on each team.
Let me know if you like it and feel free to pass it around.
Let me know if I forgot someone.
Arizona Diamond Backs- Chris Young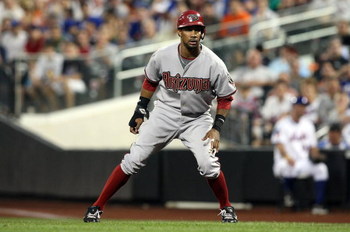 AB 329
Hits 62
7 HR
.188
OBP .294%
28 RBI
In a season were they would need career years out of all their players in order to compete Chris Young was just horrible.
He was never able to hit for a high .BA but this is to new heights .188.
A measley .347 SLG and .640 OPS.
Young is only 25 and he is already on a decline.
Atlanta Braves- Kelly Johnson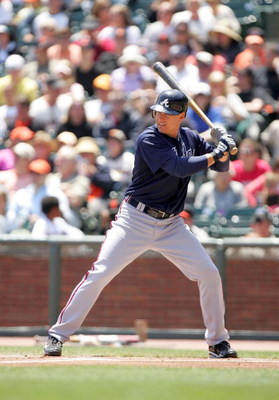 AB 277
Hits 59
8 HR
.213
OBP .296%
26 RBI
This second basemen has had his playing time completely reduced, he just can't find the gaps.
He has struck out 42 times in 92 games which isn't horrible but if your not finding gaps what good is that.
He came off a season where he hit .280 but now he will be lucky to hit .220.
Baltimore Orioles- Jason Berken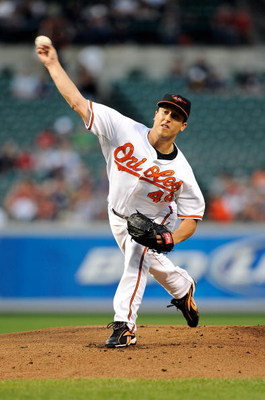 4-11
ERA 6.07
96 IP
WHIP 1.68
54 K's
36 BB
He has just been horrible for the Orioles this year, the Orioles average 5.2 runs in his starts.
He has a horrible K/BB ratio of 1.50.
Plus, his ratio of Hits/9 is 11.8.
He is HR prone (14) and its not as if the defense is letting him down he has given up 69 runs and 65 of then are earned.
Boston Red Sox- Brad Penny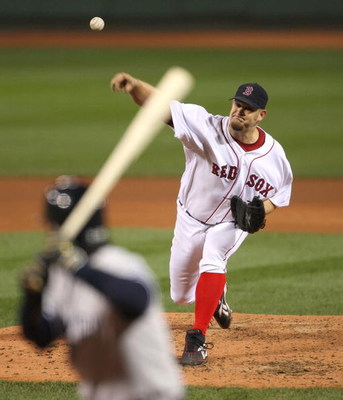 With Sox
7-8
ERA 5.68
131 IP
1.53 WHIP
89 K's
42 BB
It was close between him and John Smoltz but in the end I gave the honor to him because he made more starts.
Penny 9 times gave up more then 3 earned runs in a start.
When a guy has a WHIP over 1.50 you don't even have to look threw his other stats to know what type of player he is.
As a baseball fan you don't want to kick a player when he is down so hopefully he can revive his career in SF.
Chicago Cubs- Geovany Soto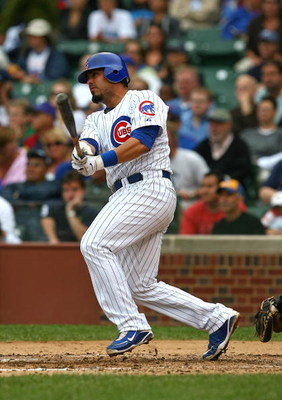 AB 264
Hits 56
9 HR
.212
OBP .318%
31 RBI
One of the biggest disapointments this year, after coming off a season where he won the ROY he will be lucky to hit ,220 this year.
His OPS+ is a joke at 77, his OPS is a joke at .690 and his SLG% almost .150% from last year to .371%.
This spot was basically a contest between Milton Bradley and Soto but even Bradley has been more productive then Soto.
He was supposed to be the next Mike Piazza seems more like a Brad Ausmus to me.
Chicago White Sox- Dewayne Wise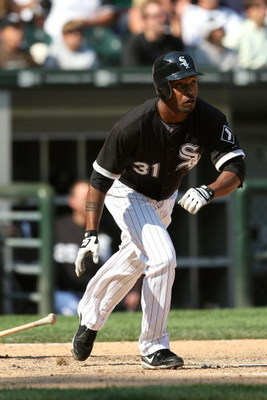 AB 119
23 Hits
2 HR
.193
OBP .232%
9 RBI
He can play great defense but can't hit a lick.
I'm sure Sox fans love him, he seems like a great guy but when you have only 23 hits in 119 AB that tells you that he should be on this list.
He can't get on base as you can see from the OBP, he is just a bench player at best.
Again, can play great defense but can't hit a lick.
Cincinatti Reds- Jay Bruce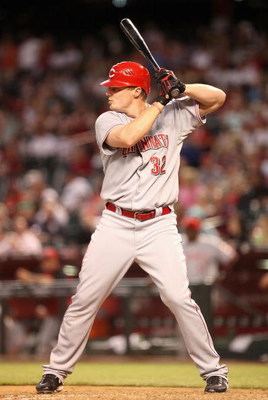 AB 299
Hits 62
18 HR
.207
OBP .283%
RBI 41
Coming off a year were he placed 5th in ROY voting, talented reds OF makes this list.
This list basically came down to Homer Bailey and Bruce but since Homer never had success in the majors to begin with Bruce got it.
'
Last year the OBP wasn't very good and the .BA was pretty low but they weren't at the extreme they are this year. Last year he hit .254 and had a OBP of .314%.
If he doesn't straighten up somehow all I see is that he is a really bad copy of Adam Dunn
Cleveland Indians- Rafael Perez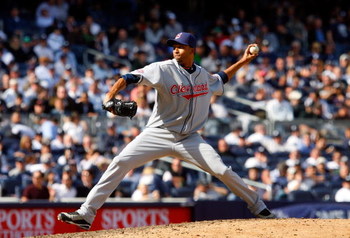 43 Games
38 IP
ERA 6.98
50 Hits
27 K's
1.81 WHIP
The last 2 seasons I loved this guy and I hade hoped the Phillies could somehow acquire him some how. Well this year has been a season to forget for this hard throwing lefty
The past 2 seasons he averaged more then 9 K's per 9 and had a ERA averaged of 2.75.
This year he has basically tripled that ERA and the stuff seems lost as well.
Even if you are going to post a ERA in the 6.00 area you should still have K stuff but the K's have dropped 4 full K's from last year to 6.3/9 ( in case anyone was wondering last year it was 10.2).
The long ball hasn't been that big of a problem its basically just getting hit ( 50 hits in 38 IP).
He needs to get it together.
Colorado Rockies- Garrett Atkins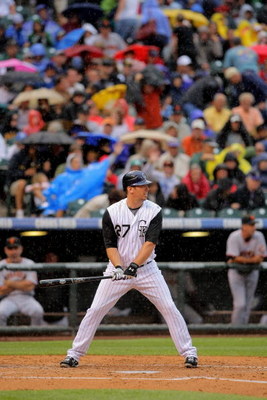 AB 315
72 Hits
8 HR
.229
OBP .312%
RBI 40
After 4 straight seasons of a .BA of at least .280 and at least 80 RBI, Atkins has lost his everyday job.
Since 2006 his numbers every year have been dropping, another guy that is putting the ball into play most of the time but isn't finding the gaps.
He has K'd 49 times in 108 games.
He is a Coors creation this year has a .256 at Coors and .208 on the road.
He is 29 so these are his prime years but to me looks like more of the drop off years.
Detroit Tigers- Armando Galarraga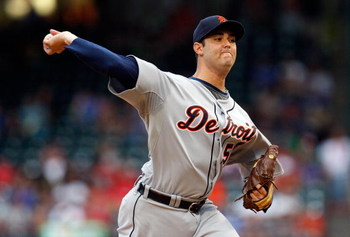 6-10
ERA 5.05
IP 135
WHIP 1.52
88 K's
After a sizziling 3-1 with a 1.85 ERA in April, Armando since then has given up 4+ ER 10 times.
He was coming off a year were he placed 4th in ROY voting.
It seemed like in the beginning of the season he actually replaced Verlander as the ace of the Tigers staff.
This year all of his stats have gotten worse, the ERA has jumped up almost 2.00 full runs, K's/9 have went down to 5.9/9, the walks have went up to 3.9/9.
Not to mention the WHIP went from 1.19 to 1.52.
This was a close race between Carlos Guillen and Armando for this spot but Armando got it over Carlos because Armando had the better 08. So there was more hype about him coming into the season.
Florida Marlins- Cameron Maybin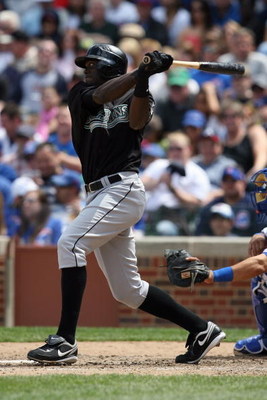 AB 88
Hits 19
HR 1
.216
OBP .303%
RBI 4
There was a ton of hype for this young amn coming into the season, he was so bad they domoted him to the minors for the majority of the season.
In the minors he was advertised for having the total package but the K's are his weakness. He had 32 K's in 29 games this year.
I have seen him play in person and the only thing I can say is if he can learn some plate discipline he will be a good player.
But this year wasn't the year for him but he will turn 23 soon so there is still some tiem left for him to mature.
Houston Astros- Mike Hampton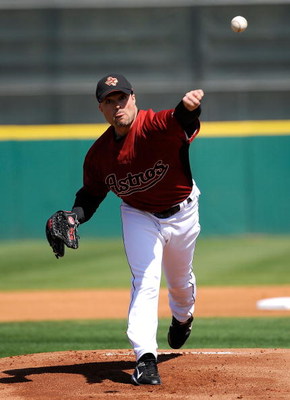 7-10
ERA 5.30
IP 112
WHIP 1.55
74 K's
This pick really shouldn't be a suprise to most people, we all knew Hampton wasn't going to be good for the Astros but this bad.
Hampton's ERA is almost 1.50 runs worse then his career ERA.
The WHIP is just ridculous, that WHIP really highlights how good Greg Madduz and Pedro Martinez were in their primes.
Well at least Hampton didn't get hurt.
Kansas City Royals- Juan Cruz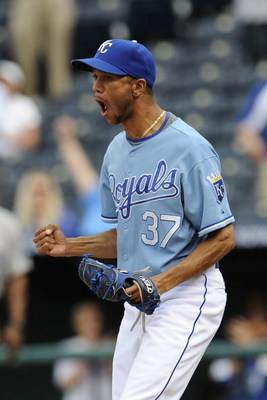 Games 43
IP 46
ERA 6.17
Hits 43
K's 35
WHIP 1.50
For the past 3 seasons he was a top notch set up guy for the D-Backs but as soon as he got to Kansas City he choked.
Before he got to Kansas in Arizona for the past 3 seasons he had a ERA of 3.47 and two of the seasons he had a K/9 ratio of over 11.0/9.
His problem had been preventing the big inning, he can get a inning 1-2-3 but when he gets hit he gets hit HARD.
The strange thing is like fellow reliever Rafeal Perez his stuff seems to be gone too. His K's went from 12.4/9 last year to 6.7/9, completely cut in half.
I really wanted to give this honor to Jeff Gordan or Mike Jacobs but Cruz won out.
Los Angeles Angels- Ervin Santana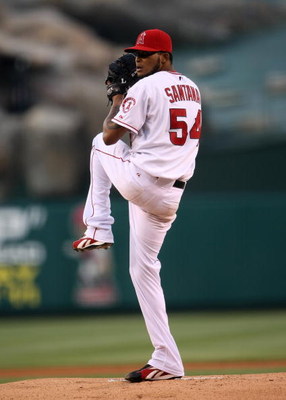 7-7
ERA 5.68
IP 103
WHIP 1.54
80 K's
BB 39
Even a great team like the Angels have a weakness, their weakness Ervin Santana so far.
He came off a All Star year but this year he will be VERY lucky to get that ERA in the 4.00's.
For Ervin it seems like its a trend of bad year, good year.
In his rookie year he had a ERA 4.65, then a 16 win year, then a ERA of 5.75, last season a ERA 3.49 now this year a ERA 5.68.
Last season he had great control ( K/BB ratio of 4.55 ) and this year he still has decent control ( K/BB ratio 2.05 ) but has been HR prone ( 16 HR in 103 IP ).
So much talent just not consistent enough.
Los Angeles Dodgers- Mark Loretta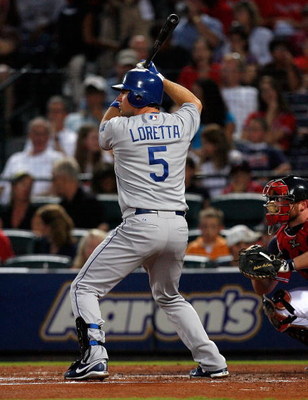 AB 162
Hits 37
HR 0
.228
OBP .315%
RBI 22
The Dodgers haven't had many problems this year but their bench is pretty weak except for Juan Pierre. ( Good thing they got Thome ).
Loretta had a solid year last year when he hit .280, but this year all of his numbers are horrible.
You can't even pick out one thing he has done well except for his FLD%.
He was so used to playing full time so maybe now that he is a bench player he doesn't have a routine.
I wanted to put Russell Martin at this spot but he is doing exactly expect from a catcher.
Milwaukee Brewers- JJ Hardy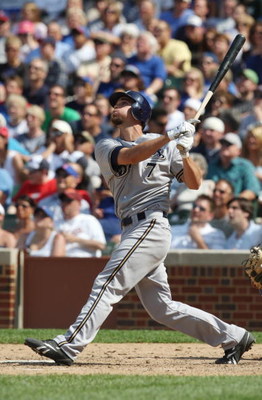 AB 379
Hits 87
HR 11
.230
OBP .300%
RBI 46
It was a tight race between Manny Parra, JJ Hrady and Dave Bush but because there were more expectations for JJ he got the spot.
With the rise of Alcides Escobar in Milwaukee JJ's reign in Milwaukee might come to a end this off-season.
JJ really has only been good for 1 category at the SS position and that has been the HR power but since that has not been there this year, he has been a let down.
The OPS has dropped over .100% from last year and the SLG% has also dropped over .100% from last year.
Minnesota Twins- Francisco Liriano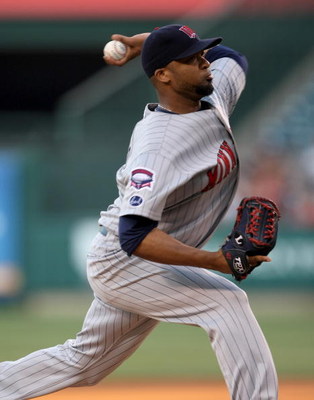 5-12
ERA 5.80
IP 127
WHIP 1.53
K's 115
BB 58
No one expecting Liriano to have a bad year, his last 11 starts last year he had a sparkling 2.75 ERA but this year he might not even have a ERA under 5.50.
11 times this season he has given up more then 3 earned runs.
After a slow April he never got back on track , he had a 6.04 ERA in April.
You can't blame it on Tommy John because he had a great second half last year.
Muhclike Ervin Santana so much talent just hasn't been consistent.
New York Mets- Daniel Murphy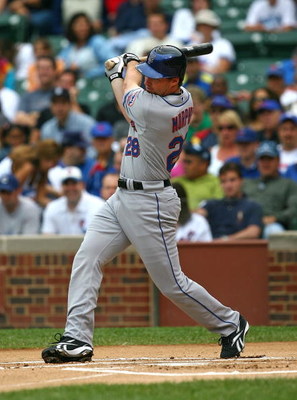 AB 416
Hits 108
HR 8
.260
OBP .313%
RBI 49
I really wish I could have put the entire Mets team in this spot with the exception of Johan and Wright but its one per team.
Daniel Murphy if you think about it represents the Mets season, overhyped, weak and a disspointment.
Murphy was supposed to be a guy that hit .320 with 20 HR and 80 RBI but he willn't even do a fraction of that.
It was basically a race between Murphy and Oliver Perez but Murphy won out.
He is a bench player.
New York Yankees- Joba Chamberlain
8-4
ERA 4.38
IP 133
WHIP 1.50
K's 115
BB 65
You know you have a good team when you have a starter that has a ERA under 4.50 as your worst player.
As a starter he is just another pitcher, as a reliever he had the best stuff in baseball.
Any Yankee fan that watches the game knows that he goes to the slider way to much. Plus he just can't throw strikes.
That WHIP is in the same class as Mike hampton, any time you hear your name with Hampton you know itsn't a good thing.
Next year when there will be no inning restraint maybe he will pitch better.
This basically came down to Brian Bruney, Phil Coke and Joba.
Oakland Athletics- Bobby Crosby
AB 211
Hits 47
HR 6
.223
OBP .294%
RBI 27
Another bad year for Bobby Crosby, after that good rookie season he has been less then average major leaguer.
Thinks about this the last 5 seasons he has hit 39 HR combined his rookie year he hit 22 HR.
I think it might be too late to turn his career around.
Philadelphia Phillies- Brad Lidge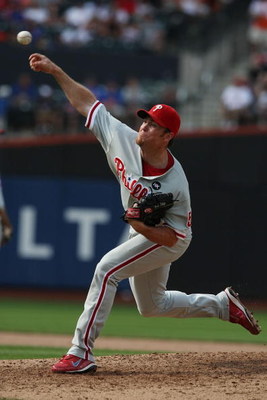 Games 56
IP 49
ERA 6.89
Hits 57
WHIP 1.73
K's 51
The Phillies worst player has been Brad Lidge.
Coming off a season were he was perfect Lidge has been arguably one of the top 3 worst closers in the game this year.
Latley the Phillies have been putting up a lot of runs so Lidge has more room for error but this season is unsalvagable for Brad.
He has been a disspointment this year
Pittsburgh Pirates- Matt Capps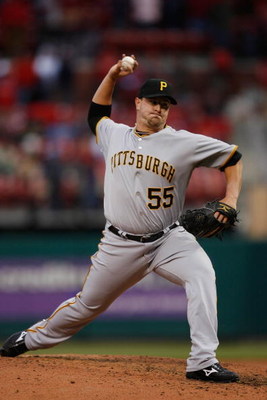 Games 48
IP 44
ERA 6.09
Hits 61
WHIP 1.71
K's 37
Here's another closer, Brad Lidge doesn't have to feel bad he ain't alone.
Matt Capps doubled his ERA from last year this season.
The problem with Matt is that he can't prevent the big inning, he will get hit because he doesn't have the stuff to K batters.
For Matt's standards his control has been extremely off.
Last year he had a K/BB ratio of 7.14. This year it has dropped to 2.47.
He is only 25 so he still has time to develop but the Pirates didn't get what they expected from Matt.
San Diego Padres- Edgar Gonzalez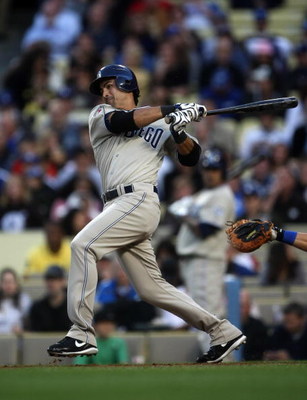 AB 126
Hits 24
HR 4
.190
OBP .254%
RBI 12
Edgar has been pretty bad this year, it's too bad the Padres really needed all their players to have great years for them to be able to compete with the Dodgers and D-Backs coming into the season.
I don't really watch the Padres so I can't tell you guys what Edgars problem is.
But from what I can see just like good hitting bad hitting might also be contagous.
At the end of April he hit .160 and has just been stuck in that area the entire season.
San Francisco Giants- Emmanuel Burriss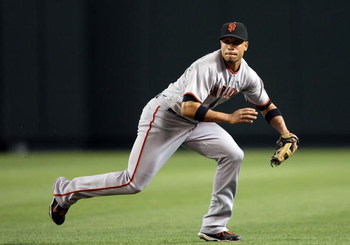 AB 202
Hits 48
HR 0
.238
OBP .292%
RBI 13
The Giants have been a nice suprise this year but from what the stats say Emmanuel hasn't been the reason.
Although he is on the DL I still think thats no reason to let hi mget off the hook.
Before he went on the DL he had 3 hits in the entire month of June.
Again there are very few guys that can turn their season around when they have a slow start.
Seattle Mariners- Michael Saunders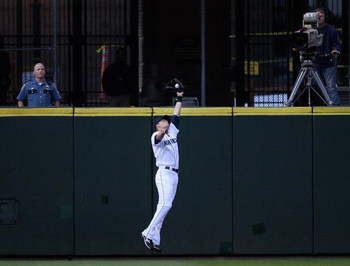 AB 97
Hits 20
HR 0
.206
OBP .252%
RBI 4
The OF for the Mariners Michael Saunders makes this list.
He hasn't been able to hit major league pitching evident by the 34 K's in 31 games for the Mariners.
He has a unbelievable OPS of .490% and the SLG% is a joke at .237%.
This kid still needs more seasoning in the minors.
St. Louis Cardinals- Khalil Greene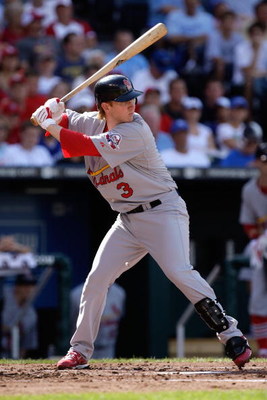 AB 156
Hits 32
HR 6
.205
OBP .278%
RBI 24
Khalil has been in a downward spiral after a terrific 2007.
The Cardinals haven't missed his bat because of Holiday, De Rosa, Ludwick and of course Pujols.
He will be a free agent at the end of this year and well he won't get the best of all deals.
What I thought was amazing was that this season he has had a total of 5 multi hit games.
Tampa Bay Rays- Andy Sonnanstine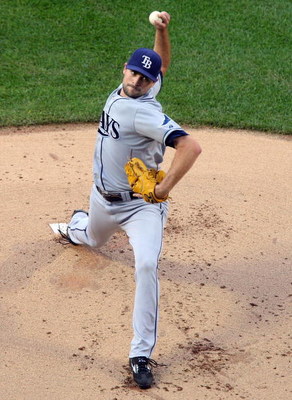 6-8
ERA 6.62
85 IP
WHIP 1.59
K's 52
BB 26
Last year he was a 13 game winner this year he might not even get over .500%.
I was going to put Kazmir here but Andy has been a bigger let down.
He has given up a ridiculous 17 HR in not even 90 IP.
Texas Ranger- Taylor Teagarden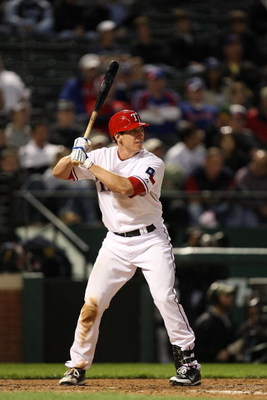 AB 159
Hits 32
HR 6
.201
OBP .263%
RBI 22
Taylor was the back up but when the everyday catcher Jarod Saltalamachia went down Teagarden struggled.
He struggles putting the ball into play ( 60 K's in 47 games ).
he defensive abilities are good but he needs to hit to stay in the majors.
Toronto Blue Jays- Vernon Wells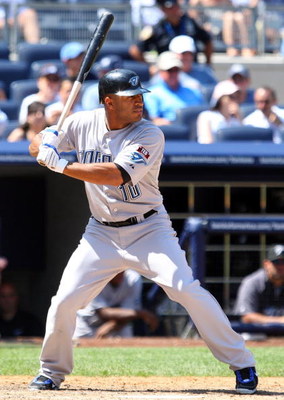 AB 519
Hits 129
HR 13
.249
OBP .301%
RBI 55
He came into the season being the Jays best hitter but this has been a season for him to forget.
It seems like he only provides when he needs to, every year he played for a contract he put up good numbers.
I have never been a big fan of Wells and this year he has just been lazy.
Defensively he could be on his way to another GG but offensively he really has no clue at the plate this year.
Washington Nationals- Willie Harris
AB 247
Hits 55
HR 5
.223
OBP .350%
RBI 21
With some exceptions the entire Nationals team is bad.
But Harris takes the prize, he has had a decent year getting on base (.350) but he just isn't a major leaguer.
If I was a manager I would use him strictly for defense and pinch running.
Keep Reading

New York Yankees: Like this team?