Ranking The Best Active Players In The NFL By Uniform Number, 1-49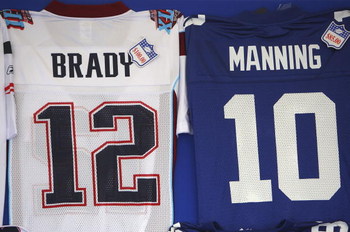 Because we are all suckers for lists like this, I wanted to try my hand at putting together the top players in the NFL by number.
Here are numbers 1-49. 50-99 will be up sometime over the next couple days. I've been through the list pretty thoroughly, but if there's a glaring mistake, don't be too hard on me because I did it all manually!
1. Jason Elam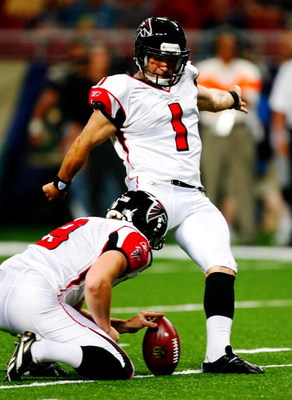 Elam has been the model of consistency, sitting top 20 all-time for kicking accuracy in the NFL with a career 81.4 percent mark. Showing no signs of slowing down at age 38, Elam posted a career-best 93.5 percent rate with the Falcons last year.
2. Matt Ryan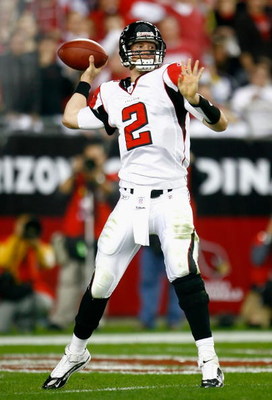 Already drawing comparisons to number 10 on this list, Matty Ice was named the AP Offensive Rookie of the Year last year, leading the surprising Atlanta Falcons to an 11-5 record. Ryan is well on his way to becoming one of the next great quarterbacks in the NFL.
3. Stephen Gostkowski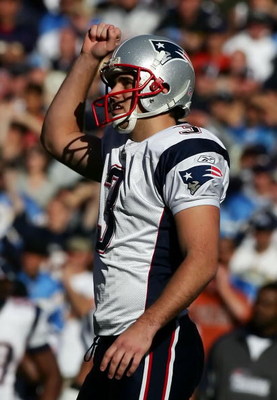 It was a tough call between Jon Kitna and Gostkowski. Although Kitna could start for a handful of teams in the NFL, I'm going with one of the top young kickers in the game. Gostkowski's performance quickly helped to ease the pain when Pats fans lost Mr. Clutch Adam Vinatieri to the hated Colts.
4. Brett Favre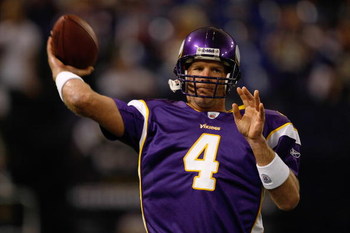 Who else? He may not be the player he once was—and count me among the excited but nervous Vikings fans—but he's still the best to wear this number.
5. Donovan McNabb
After being booed by Philly fans on draft day, McNabb has carved out an impressive career in the City of Brotherly Love. The five-time Pro Bowler remains one of the top QBs in the NFL, and this year, he's been surrounded with arguably the best offensive talent he's ever had. McNabb could be leading the Eagles to another Super Bowl appearance.
6. Jay Cutler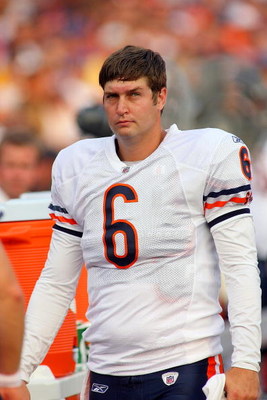 Bears fans are giddy over his arrival, and rightfully so. Though I've been less than impressed with his attitude, I cannot dispute his talent.
Cutler has arguably the best arm in the NFL right now. After being treated to studs like Cade McNown, Henry Burris, and Craig Krenzel (to name a few), Cutler is the best QB to start for the Bears since McMahon. He may go down as one of the top two or three quarterbacks in Bears history if he manages to stick around.
7. Ben Roethlisberger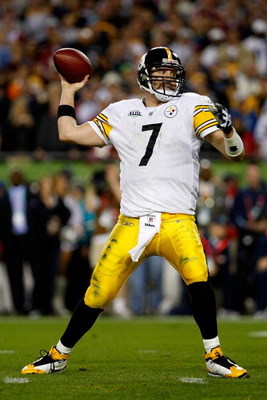 At 27-years-old and already with two Super Bowls, Ben has proven himself as a more than capable leader. Outside of his stellar 2007 season—when he threw 32 TDs to only 11 INTs—his regular-season stats are only average. But Big Ben always gets the job done in January and February.
8. Matt Hasselbeck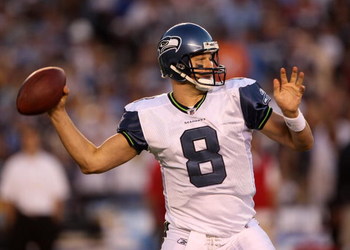 Though he battled through injuries last year, Hasselbeck has been the steady leader for the Seahawks for eight years and counting. After some nice additions in the offseason and finally feeling healthy this year, Hasselbeck could again lead the Seahawks to the NFC West title.
9. Drew Brees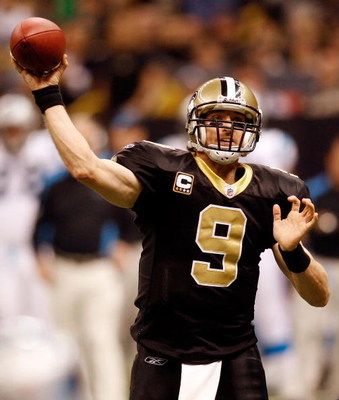 Drew Brees has been the focal point of the turnaround in New Orleans since his arrival in 2006. His stats are off the charts, he has started every game for the past four years, and is clearly one of the top three QBs in the league.
10. Eli Manning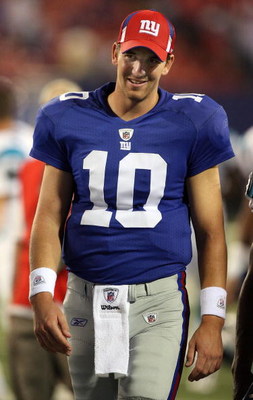 It took some time, but Manning has developed into a pretty good NFL quarterback, though not spectacular by any means. He is another example of a guy who gets the job done when it counts—in the playoffs.
11. Larry Fitzgerald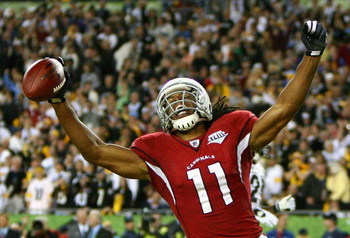 Larry Fitz, the former Vikings ball boy, has emerged as arguably the best wide receiver in the NFL. Size, speed, hands, route-running, and the scary thing...this guy never stops working his tail off to get better.
12. Tom Brady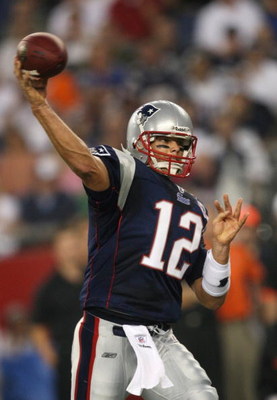 Was there another choice?
13. Kurt Warner
At 38-years-old, Warner's still got it. He proved this by leading the Cardinals to Super Bowl XLIII last year. Here's hoping that hip of his (insert old man joke) holds out for another couple years so he can put up some more numbers and strengthen his case for the Hall of Fame.
14. Brandon Stokley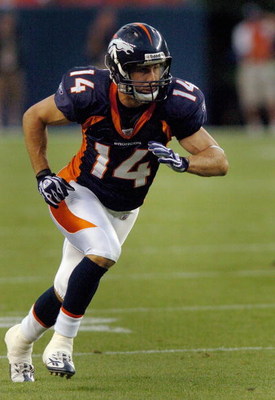 Let's just say my choices were pretty slim. Stokley is clearly past his prime, but he can still be a decent slot receiver and will likely be utilized more than you think by Kyle Orton this year in Denver.
15. Brandon Marshall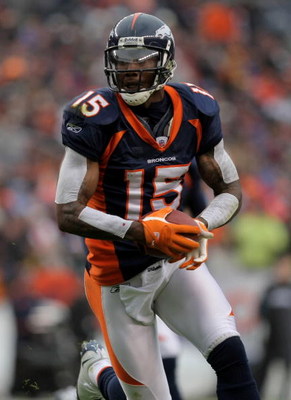 Marshall has the ability to be a top-five receiver in this league. He catches the ball well, is extremely hard to tackle, and moves well after the catch. If only he could get the off-the-field issues under control...
Devone Bess, Chris Henry, and Steve Breaston could all challenge for this title, but for now, it's still Marshall.
16. Joshua Cribbs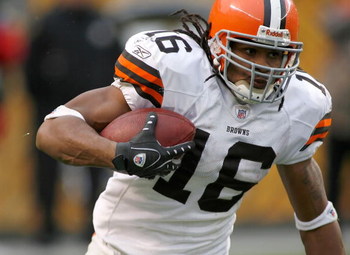 One of the most dangerous return men in the NFL, the defense has to account for him anytime he's on the field. He also went to the Pro Bowl in 2007 as a returner.
17. Philip Rivers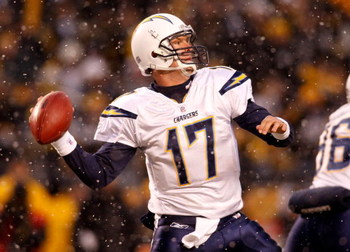 Though he's arguably the most talented quarterback to come out of the first-round of the 2004 draft, Rivers does not have the Super Bowl ring that draftmates Eli Manning and Ben Roethlisberger have. It's only a matter of time before the uber-talented Rivers joins that club.
18. Peyton Manning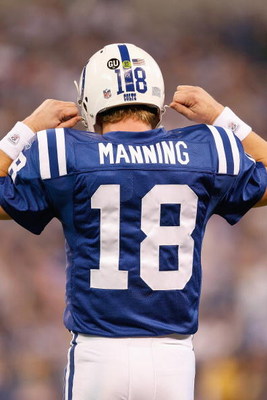 There is no debate here. Peyton Manning is football.
19. Eddie Royal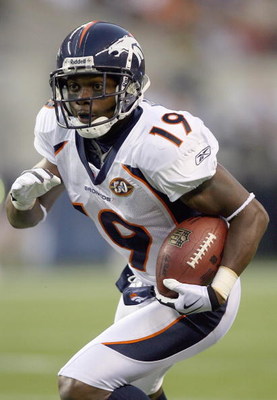 A very close one with Ted Ginn, who also wears 19. But I'm going to give this one to Royal. In only his second year, Royal will catch a lot of balls—a la Wes Welker in New England—and he could really emerge as Kyle Orton's go-to guy when he needs to move the chains.
20. Ed Reed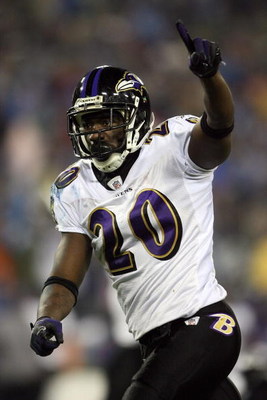 The debate continues on whether Reed or AFC North rival Troy Polamalu is the best safety in the game, but there's no debate here. Reed is the best player to wear 20.
21. LaDainian Tomlinson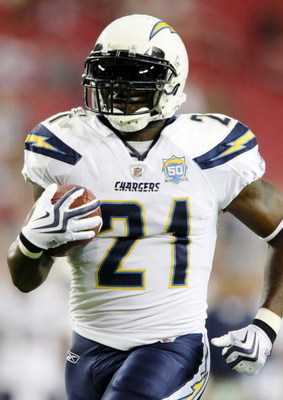 This one was MUCH harder than you'd think, as all-world corner Nnamdi Asomugha also suits up with a 21 on his chest.
Very close call, but LT is still one of the top RB talents in the league and is a sure-fire Hall of Famer. Eight straight years of 1,100 rushing yards and honored as a first team all-pro four times, Tomlinson is easily the top RB of this decade.
22. Asante Samuel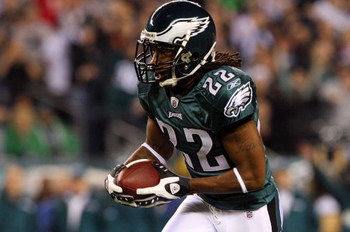 He takes a lot of chances (and has been burned because of it), but the fact remains Asante Samuel is one of the top playmaking corners in the league.
23. Ronnie Brown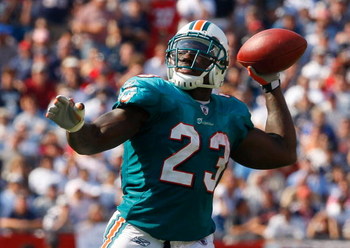 The man who brought the Wildcat to the NFL, Ronnie Brown is a mutli-talented back who can do it all. He can run, catch, block, and throw. He could make some real noise this season, now two years removed from his ACL tear in 2007.
24. Darelle Revis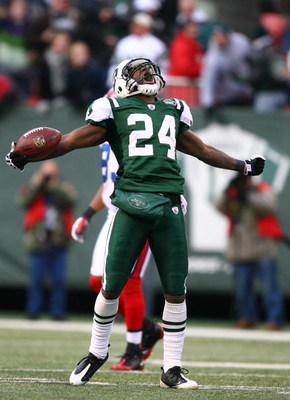 This one is going to cause controversy because Champ Bailey also dons 24. However, Champ's play has tailed off for the past two years and Revis is the man to take his place as one of the few shutdown corners in the league.
Revis went to the Pro Bowl in just his second season in the NFL. And the scary thing? He can still improve.
25. Kerry Rhodes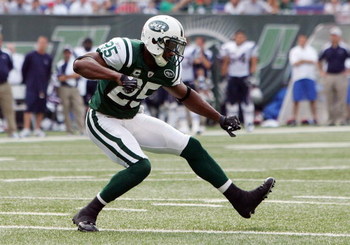 Kerry Rhodes has been a playmaker in the Jets secondary for four years now, and he's never really received the recognition for it because he's been overshadowed in the AFC by a couple of pretty good players in Ed Reed and Troy Polamalu. He's good enough to beat out Ryan Grant and Reggie Bush on my list...
26. Antoine Winfield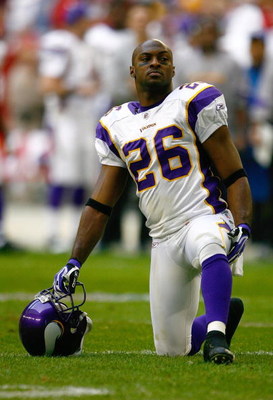 Antoine Winfield is arguably the best pound-for-pound tackler in the NFL. Although he's never received any recognition until this year's Pro Bowl, he's easily been one of the best all-around corners for some time.
He's a leader for the Vikings both on and off the field. He's also a big part of that run defense—even as a corner—along with Pat and Kevin Williams and EJ Henderson.
Very honorable mention goes to Clinton Portis.
27. Brandon Jacobs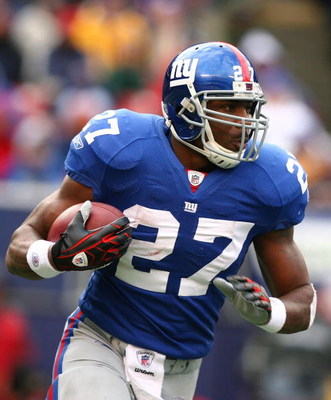 6'4", 264 lbs., and an absolute BEAST of a running back. This guy is the epitome of power back. Just ask Laron Landry...
28. Adrian Peterson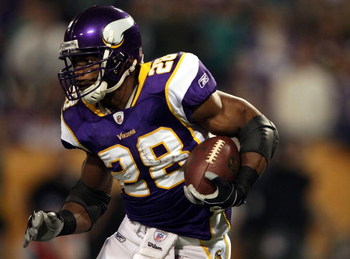 The best running back in the NFL. Period.
29. Leon Washington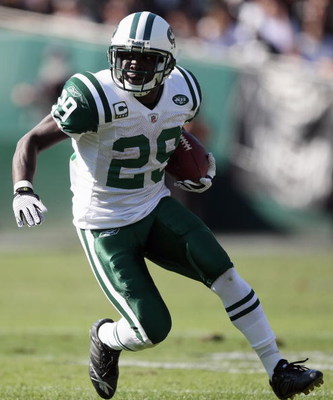 A threat to score every time he touches the ball, Washington is looking at an increased role in the Jets' offense this year after only 123 touches from scrimmage last year. This guy is too good NOT to have the ball in his hands more often.
30. Laron Landry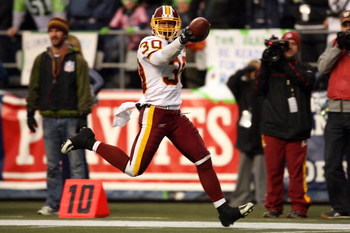 Landry was already considered a mid-first round pick before he ran a 4.34 forty at the 2007 NFL Combine and wowed everyone with his athleticism.
The Redskins grabbed him at sixth overall and have had no regrets since. Landry had some early growing pains in his rookie year, but he makes plays and still has room for improvement. This could be a big year for him.
31. Antonio Cromartie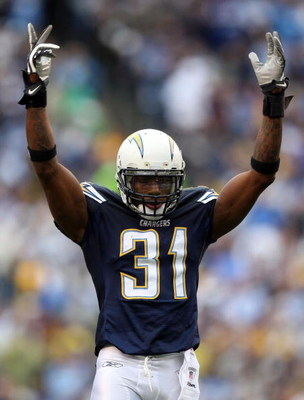 This was really close. There are a number of solid players with 31 on their jersey: Cortland Finnegan, Richard Marshall, Ken Lucas, and Brandon Meriweather were all considered.
In the end, I went with one of the most athletic corners in the league. Although he had a down year last year due to injury, Cromartie is healthy and should be back among the league leaders in interceptions this year.
32. Maurice Jones-Drew
MJD is finally getting the chance to be the bell cow in the Jags' offense this year, and he's getting lots of love in fantasy drafts because of it. Fantasy aside, Jones-Drew is an immensely talented back who has surprising power for a guy generously listed at 5'7".
33. Michael Turner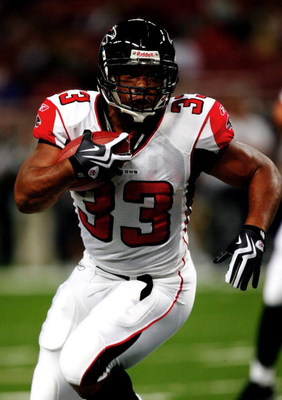 After living under LT's shadow in San Diego for four years, Turner finally had his chance to emerge with the Falcons in 2008...and emerge he did.

The Burner broke out last year for over 1,700 yards on the ground. Questions arose on whether he'll duplicate that due to the 376 carries he had last year, but with fresh legs—from being a backup for four years—he's still got some years of top-level production left.
34. DeAngelo Williams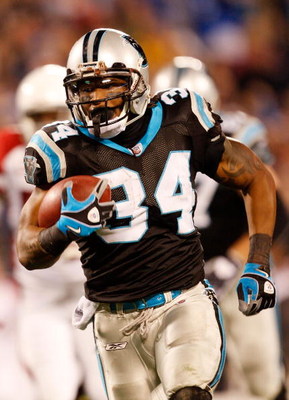 After hearing about his potential for two years, DeAngelo Williams is another running back who broke out in a huge way in 2008. With over 1,500 yards and 18 TDs—most of which came later on in the season—Williams has proven himself as a major threat on the ground for the Carolina Panthers.
35. Jerome Harrison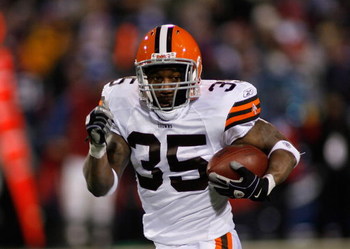 Cleveland's speedy third-down back is not exactly a household name outside of Ohio, but with an impressive 7.2 YPC last year maybe Cleveland needs to get the ball into this guy's hands a little more often?
36. Brian Westbrook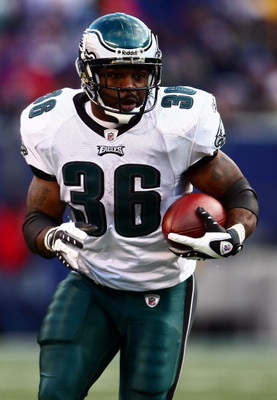 Though the Eagles' offense is driven by McNabb, Brian Westbrook is really the engine of the whole thing. He catches the ball well, is an excellent blocker, and is also effective on both outside and inside runs.
Bottom line, this guy is their offensive MVP and a top-notch talent when he's on the field.
37. Yeremiah Bell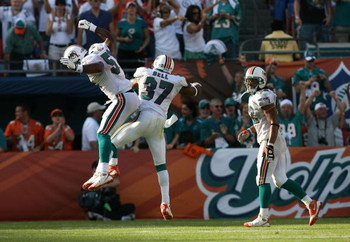 This was one of the thinnest numbers I've encountered yet and Bell was by far the best talent I could find—unless someone has a guy I didn't notice. He's a tackling machine from the safety spot and a solid starter for the Dolphins.
38. Naufahu Tahi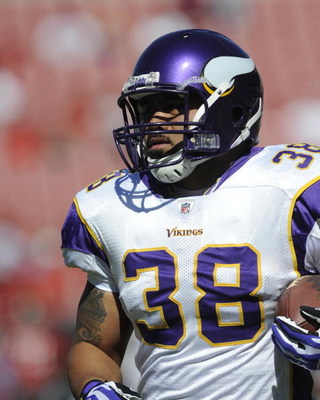 If someone knows of a better name here, I'm willing to hear it. Tahi is a pretty good FB who leads the way for the best back in the league. Nothing special about him, but he gets the job done.
39. Steven Jackson
Jackson has been bitten by the injury bug quite a bit, but when he's on the field he's an absolute beast. Easily a top 10 back. If he had anything resembling a capable offensive line (and if he could stay on the field), he would be a perennial Pro Bowler.
40. Jimmy Kleinsasser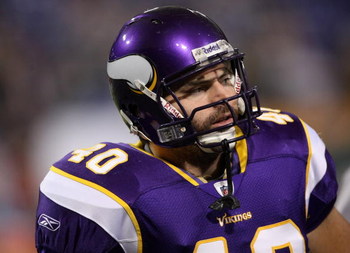 Jimmy K is one of the best blocking TEs in the league. He's also a guy who seems to come up with a big catch out of the blue. Probably can't start for many teams, but he's basically an extra tackle in a two TE set.
41. Terence Newman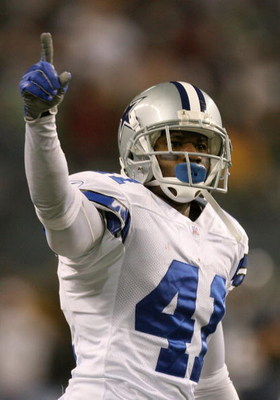 Known more for his coverage skills than his tackling ability, Newman is one of the top cover guys in the league and a real leader on the Cowboys' defense. You'd like to see more picks out of him, but he has the ability to matchup one-on-one with any top receiver and stick to him all game.
42. Darren Sharper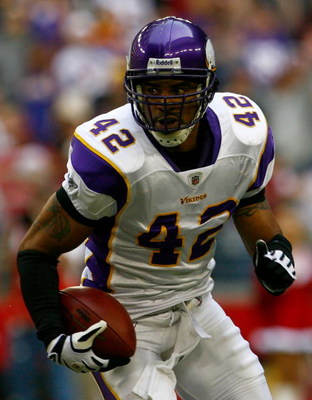 The NFL's active leader in career interceptions, Sharper is clearly nearing the tail-end of his career. Having said that, he still demands a starting role by keeping himself in excellent shape. He will definitely be an upgrade to a Saints' secondary in desperate need of help.
43. Troy Polamalu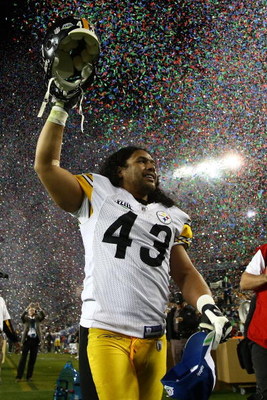 Along with the aforementioned Ed Reed, Troy Polamalu is one of the top safeties in the NFL and likely a future Hall of Famer. He has two rings with the Steelers already, and he may collect another one or two before his career is through.
44. Dallas Clark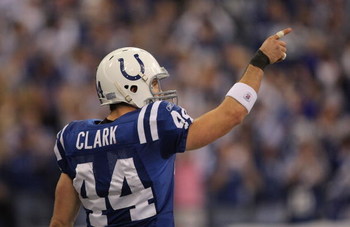 Peyton Manning's go-to-guy is an expert at exploiting mismatches all over the field, and Manning is a master at finding him. Overall, he's just a really solid football player and easily the best player wearing 44.
45. Brad Hoover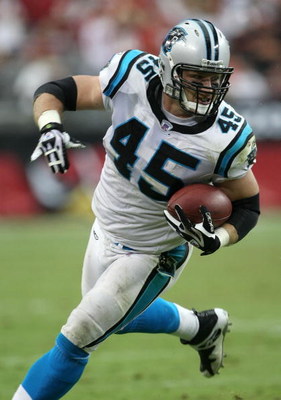 Very solid fullback who has paved the way for some really good rushing attacks over his 10-year career. Last year's was no exception, with DeAngelo Williams running for over 1,500 yards and rookie Jonathan Stewart topping the 800-yard mark.
46. Ladell Betts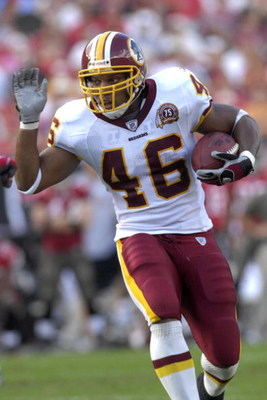 Betts has been a perennial backup for most of his career, but the Redskins are very happy to have him. In 2006, Betts was given the starting role after Clinton Portis went down, and he responded by putting up over 1,600 total yards from scrimmage for the season, while only starting nine games.
47. Chris Cooley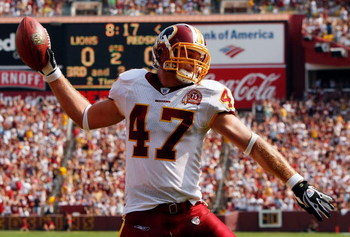 I don't know about anyone else, but when I think of the Redskins these days, I think of Cooley. For as much as Cooley's an entertainer on the field, he may be even moreso off of it.
Make no mistake though, with four straight years of starting all 16 games and no less than 734 yards receiving each year, he's got skills with the numbers to back them up.
48. Mike Brown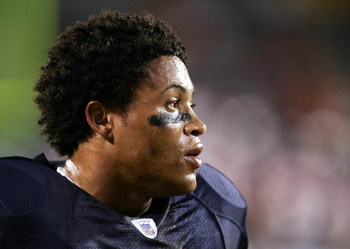 Am I ever glad Brown changed his number to 48 when he moved over from the Bears to the Chiefs this year because I don't know who I would've picked for this spot.
Unfortunately, I don't have the photo to prove it, but it's in the NFL database, so I'm going to trust it.
49. Tony Richardson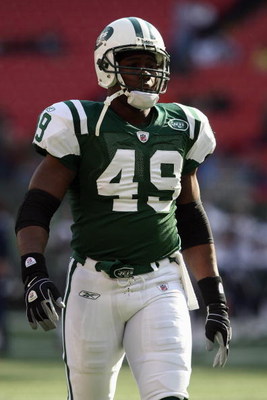 Tony is a classy guy and an extremely good FB, who blocked for a 1,000-yard back virtually every year since being in the league. This guy definitely deserves to be the best with this number.
I wouldn't be surprised if he ended up coaching someday, as Adrian Peterson said that Richardson was the main reason for Peterson's rookie performance, not only because of his blocking, but because of his knowledge of the game.
Keep Reading