Blazer Chronicles' College Football Preseason Top 25
Everyone has a Top 25 these days, so the Blazer Chronicles are no different.
Check out the 2009 Preseason Top 25 from Blazer Chronicles.com
Listed first you will see some teams that didn't make it into the poll, but will at some point during the season.
Leave comments at the end and let us know what you think.
Others Receiving Votes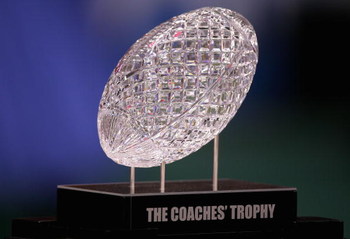 These teams JUST missed out on the Top 25, or are predicted to be in the Top 25 at season's end...
Tennessee Volunteers
Illinois Fighting Illini
Mighigan St. Spartans
USF Bulls
Oregon Ducks
Notre Dame Fighting Irish
25. Oregon St. Beavers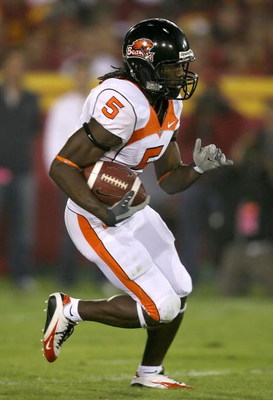 The Beavers ended last season with possibly the most boring win ever (A 3-0 Sun Bowl victory over Pittsburgh). Jacquizz Rodgers returns as does injured QB Lyle Moevao. The Beavers upset the Trojans last season and get the chance to do it again, but this time it's in L.A.
The Beavers have finished in the Top 25 for three straight seasons. They have some work to do to make it a fourth time.
24. Clemson Tigers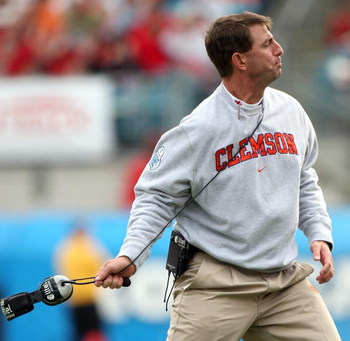 Last year was a rough year around Death Valley. Preseason expectations were high with thoughts of an ACC Championship. Fast forward a few months and Tommy Bowden is no longer the coach and interim coach Dabo Swinney is the new head man.
C.J. Spiller is back and the offense should be a solid unit. The Tigers also have a strong looking defense and should win the ACC Atlantic Division.
23. Miami Hurricanes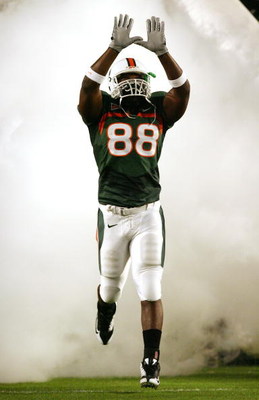 The Hurricanes have the talent and the speed to compete with any team in the country. It's a good thing they do. The first four games are brutal. (At Florida St., Georgia Tech, at Virginia Tech, Oklahoma).
It's a long conference season though and the Canes should work their way back into the Top 25.
22. Pittsburgh Panthers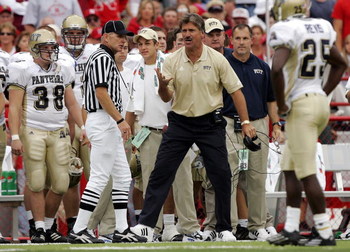 There are 15 returning starters from a team that gave coach Dave Wannstedt his first winning season. A favorite team to win the Big East, the Panthers have a favorable schedule and a Top 25 defense.
21. Nebraska Cornhuskers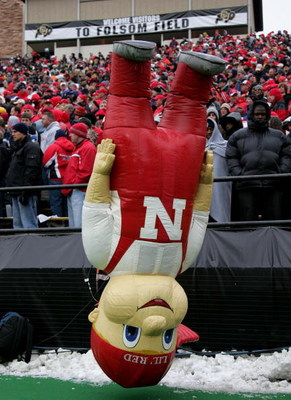 The Cornhuskers tied for North division title last season. This year they have a new QB and only 13 starters returning but are my pick to win the North.
Oklahoma dots the schedule from the Big 12 South division and a road game to Virginia Tech early in the year should be interesting.
Nebraska won six of their last seven in '08 and new coach Bo Pelini made the Nebraska faithful happy with his return to power football and devastating defense.
20. TCU Horned Frogs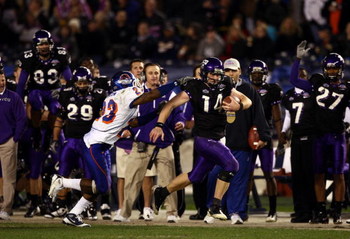 TCU lost two games last season, but may have been the best non-BCS team. Utah took all the spoils, but the Horned Frogs controlled their head to head matchup but blew a late game lead.
The schedule calls for them to travel to BYU, Clemson, and Virginia, but all those are winnable contests.
19. Iowa Hawkeyes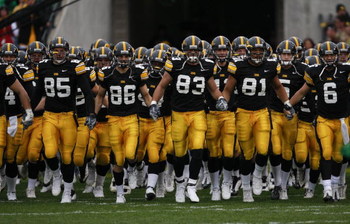 Iowa finished in the Top 20 last season after a disapointing 6-6 '07 season. This year's squad has a Top 10 defense but their schedule is a tough one.
The Hawkeyes travel to Michigan St, Wisconsin, Ohio St. and Penn St. The Nittany Lions will be waiting for revenge in that game.
The school administrators believe, they extended Kirk Ferentz's contract though 2015.
18. Cincinnatti Bearcats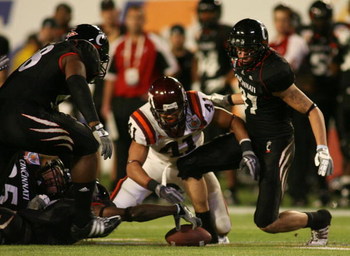 The Bearcats won the Big East last season, but this year head coach Brian Kelly replaces 10 starters from that Championship team.
The BCS game was a disaster that showed maybe Kelly isn't quite ready for prime time even though his name comes up almost every time a job comes open.
Talented QB Tony Pike is back and even more talented WR Mardy Gilyard returns. The defense needs to stay strong, and if it does, Cincy could challenge Pitt in the Big East.
17. Rutgers Scarlett Knights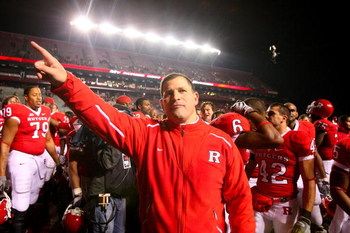 Schedule, Schedule, Schedule. This is why the Knights are here. All of their "tough" (Is there such a thing in the Big East?) conference games are at home and their non-conference schedule is embarrassing.
That being said, they are riding a seven game winning streak and have a good coach in Schiano.
16. Oklahoma St. Cowboys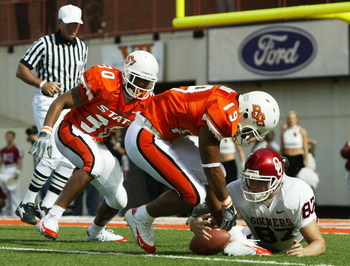 This offense will be fun to watch. QB Zac Robinson could be considered a dark horse for the Heisman if they can navigate the schedule. Don't sleep on WR Dez Bryant either.
The Cowboys open a new stadium this year and welcome in SEC power house Georgia. They also play both Texas and Oklahoma this season.
The defense has to get better than the 176 points they allowed in thier final four games of 08, but with 10 of the top 12 tacklers back, they should.
15. Boise St. Broncos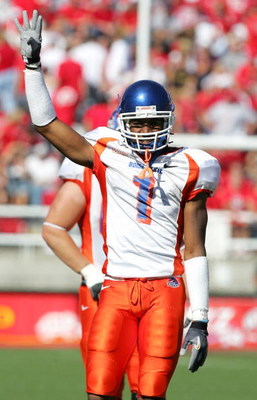 Just 11 starters return, but the schedule is almost the easiest in the country, and with a team with the talent of the Broncos, 13-0 is expected.
The Oregon Ducks come to play on the Blue Turf but even if they falter there, the WAC title is a strong possibility.
Ian Johnson is gone at RB, but with the number one Special Teams Unit in the country and a QB that completed almost 70 percent of his passes for almost 3,500 yards, fans in Boise shouldn't have any trouble telling their Studs from Spuds.
14. LSU Tigers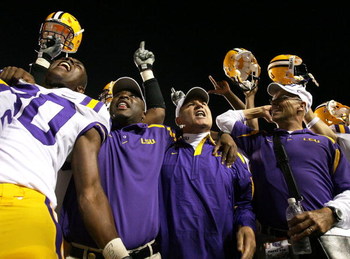 Les Miles had a disappointing season in '08. After finishing 8-5 and only 3-5 in the SEC, Miles brought in Defensive Guru John Chavis to take over a defense that has talent, but lacked focus last season.
The QB situation needs to be decided quickly. LSU has more talent than a team like Rutgers but schedule and conference make all the difference. While Rutgers will probably be in a BCS bowl, games against Georgia, Alabama, and yes, even Ole Miss will probably keep the Tigers in Florida in January at best.
13. Georgia Tech Yellow Jackets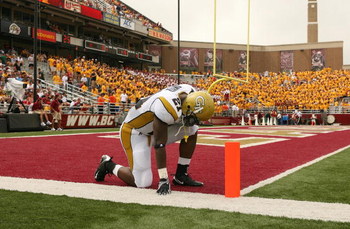 Paul Johnson's offensive attack was much more than a gimmick in 2008. The Jackets upended three ranked teams and even though they collapsed in the bowl loss to LSU, Georgia Tech made big strides under the new staff.
Eighteen starters return, led by ACC Player of the Year, RB Jonathan Dwyer. The defensive line may have a hole or two, but aside from that, the Jackets will be a tough drawl in 2009.
12. Georgia Bulldogs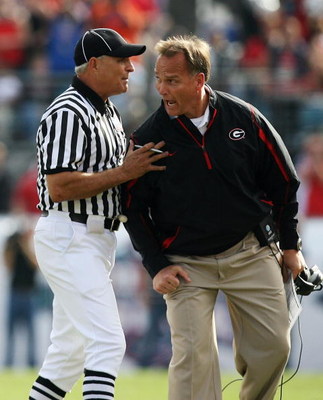 Last year's disappointments are still fresh in the minds of the Dawg faithful. It won't take long to either forget them, or remember them with a trip to Stillwater Oklahoma looming early on.
The Dawgs also travel to Gainesville, Knoxville, and Atlanta to play Tech but their schedule is easier than last season.
Matthew Stafford and Knowshon Moreno are gone, but A.J. Green returns at wideout. The O-line should be better, but the season will ride on the arm of Senior Joe Cox or freshman Aaron Murray.
After the firings of Tommy Tuberville and Phillip Fulmer in 2008 in the SEC, Richt has to be feeling the pressure of returning the Dawgs to Championship form.
11. Mississippi Rebels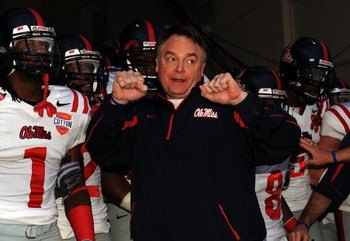 In one season the Ole Miss Rebels went from winless in SEC play to a team that challenged for the West Title and the upset eventual National Champion Florida Gators in 2008.
Quarterback Jevan Snead is the best QB in the SEC not named Tim Tebow. With the diminutive Dexter McCluster running the Wild Rebel package and a defense led by All SEC player Greg Hardy, the Rebels should compete for the West title again.
This season there is no Florida or Georgia on the schedule. If they handle the West and an improving Tennessee Volunteers team, look for the Rebels in Atlanta in December.
10. Utah Utes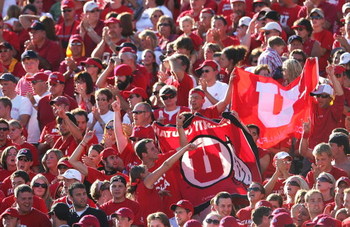 Any team that destroys the Alabama Crimson Tide in the Sugar Bowl deserves a Top 10 ranking. Utah finished last season undefeated and ranked No. 2 by the AP.
The Utes return a ton of talent but must get past the Ducks of Oregon in Euguene. They lost some wide receivers, but you know you have arrived as a National Power, when the new players replacing skill players, are better than the ones from the previous season.
Another Mountain West title is certainly possible, if not probable.
9. Virginia Tech Hokies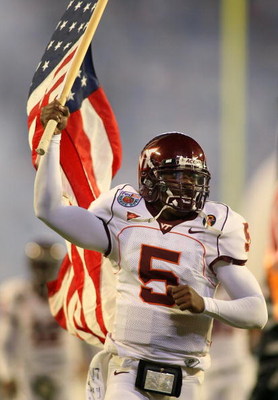 A win over Alabama to open the season could be the launching pad that this program needs to compete for a title. Last season's improbable run to an ACC title was one Frank Beamer's best coaching jobs. He still has Bud Foster as his defensive coordinator and sneaky QB Tyrod Taylor behind center.
If a win over Alabama happens, they can't afford a loss to Nebraska who they host later in the season. Win both of those games and navigate a conference schedule that ate up it's teams in 2008 so bad that the Top 10 didn't include an ACC team, and Beamer Ball will be back in the National Title Game.
8. Ohio State Buckeyes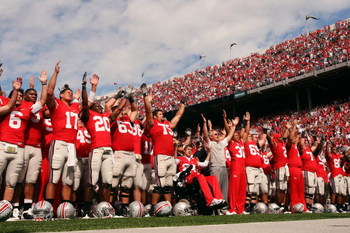 Very rarely is one game so important for a coach, a University, a Conference as the Sept. 12 game against the USC Trojans in Columbus.
The Buckeyes need to send the message that not only can THEY compete on a National Level, but so can the Big Ten. They have been blown out of enough Title Games the last few seasons to put doubt in National minds.
Stud QB Terrelle Pryor should be able to move the offense even better this season. The Buckeyes lost some studs on defense however and that spells trouble for that USC showdown. The road trip to Happy Valley is the other game that if they win, they could find themselves in the spot to get destroyed by another SEC jaugernaut in the National Title Game.
7. California Golden Bears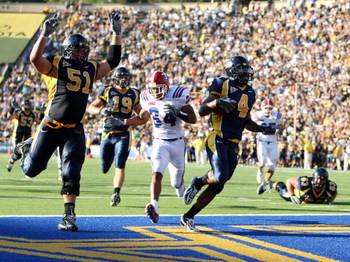 Cal has all the tools to compete not only for the Pac-10 title, but a National Championship. Both lines are top notch, they have veterans at QB and RB, and USC will come in to play their third road game in four weeks.
The Golden Bears will be led on offense by Kevin Riley and Jahvid Best. On Defense Syd'Quan Thompson isn't the same player that Robert Meachem burned like toast in his first game back in 2006.
6. Alabama Crimson Tide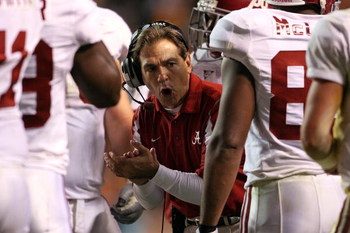 Alabama ran through last season on a mission. The problem was they ran into field General Tim Tebow and the Florida Gators in the SEC Championship. After that, they looked pitiful and unmotivated in a blow out loss to Utah in the Sugar Bowl.
Saban will have the motivation back in '09. The Tide lose their quarterback Sarah Jessica...err John Parker Wilson and All SEC lineman Andre Smith.
If the Tide can replace Wilson well, and win in Oxford on Oct. 10, they could find themselves with another chance to win the SEC Crown.
5. Oklahoma Sooners
Heisman Trophy winning QB Sam Bradford returns, will the Sooners return to the National Title Game? The Big 12 is starting to challenge the SEC for the most competitive conference. On top of having to navigate the Big 12 and the Big 12 Championship Game, the Sooners have to play upset minded BYU.
Texas has even more of a chip on it's shoulder when it comes to the Sooners, so expect the Red River Rivalry to be another amazing matchup.
The defense for the Sooners will be strong however as it returns eight starters from a nasty unit.
4. USC Trojans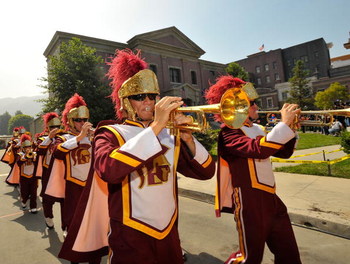 Here they are again. The Trojans make their yearly, if not weekly appearance in the Top Five. This season may have more question marks than ever though.
They travel to Columbus, they travel to Berkely, they travel to South Bend to face a hungry Notre Dame team, and they have to play in Eugene, all with a new QB.
If the Pac-10 is ever going to dethrone the Trojans, this is the year they have to do it.
3. Penn St. Nittany Lions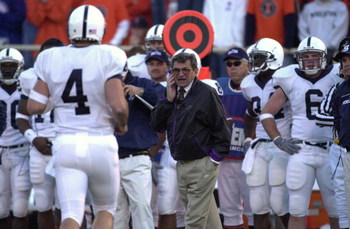 Last season the Nittany Lions handed most of their opponents their worst losses of the season. That was because of talented players, Daryll Clark and Evan Royster on offense and the best linebacking core in the country.
Their schedule is soft, and add to that the fact the Big Ten is too afraid to have a Championship Game, and you have a team that could slide right into a National Championship picture.
JoePa keeps plugging along and so does Penn St. Possibly all the way to Pasadena.
2. Texas Longhorns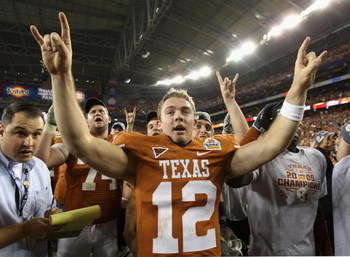 You can thank Texas Tech's Michael Crabtree's feet for keeping the Longhorns out of the National Title game last season. Texas did what they thought they needed to do in beating Oklahoma, but it wasn't meant to be.
This season Colt McCoy looks to win the Heisman Trophy and lead Texas to a National Championship. The last time the title game was in Pasadena, that worked out pretty well for Mack Brown.
Sixteen returning starters and Top Five units across the board will make it easier than most seasons. Like most of the top teams, their non-conference schedule will provide little if any resistance.
1. Florida Gators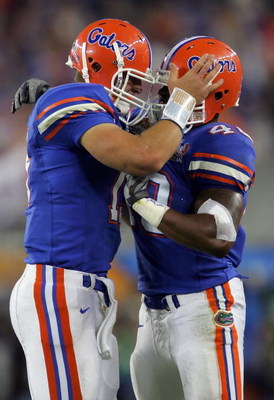 Tim Tebow...The End.
Just kidding, (sort of). The Gators have Tebow so they don't need anything else right? Well, regardless if they need it, they have it. They are the most experienced National Champion in a long time, and even though no team has repeated as BCS Champions, the Gators are simply built for it.
Urban Meyer is a great coach, but the Gators need to overcome his desire to put pressure on them when it isn't needed. (Posting the comments of a coach that hasn't coached a college game yet from a 5-7 team all over your complex doesn't exactly send the message that "we are the champs, who are you".) Of course, he overreacted to the Georgia touchdown party two years ago too, and that turned out okay for the Gators.
If they do make it to Atlanta and have to face Alabama again, look out. Saban usually isn't fooled twice.
Keep Reading