The Seven Worst Bears' Starting QBs in the Past 10 Years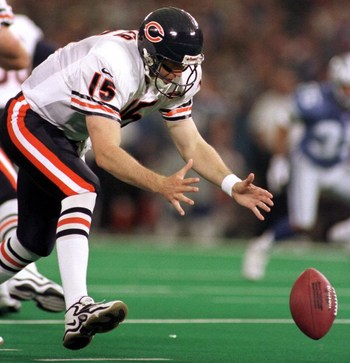 There's a very distinct division in the Windy City these days. It involves the alleged new golden boy of the Chicago Bears, Jay Cutler. Half the people love him, adore him, and believe he's the one who will lead us to the promised land where the Lombardi Trophy lies at the top of the mountain.
Others though, like myself, hold a great deal of caution. See that fella in the picture? That's Jim Miller, one of the best Bears' quarterbacks of the decade. Maybe that's why I hold so tightly to the bag of confetti before dumping it on Mr. Cutler. Also, consider the fact that our beloved Monsters of the Midway have had 12 different starting quarterbacks since 1999. You could say we've been blessed with many quarterbacks, except all of them haven't been, y'know...good.
To make sure you keep this in mind as the beloved Jay takes the field, here's the seven worst Bears' starting quarterbacks of the past decade, in no particular order.
Craig Krenzel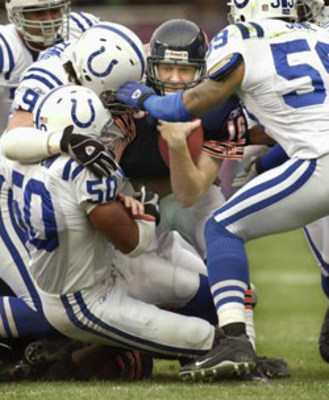 There are so many quarterbacks who are not meant to be starting quarterbacks. That fella you drafted in the fifth round? He's not meant to be the starter. especially not in his ROOKIE SEASON. Krenzel threw three touchdowns, six interceptions and had a QB rating of 52.5 before going down with an ankle injury and being cut in the offseason.
He later went on to become the Bengals' third stringer, an appropriate ending for a former Bears' starting quarterback.
Henry Burris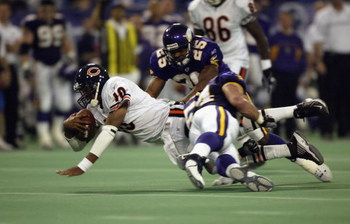 Henry Burris is a borderline legend...in the Canadian Football League. In his 10 seasons in the CFL, he has thrown for 29,356 yards and 185 touchdowns. In his ninth season, he threw for a career-high 5,093 yards and was the Grey Cup MVP.
After his third season, he went to play for the Green Bay Packers, where he didn't play a single game as the third stringer. He then came to the Bears, where he played in six games, started one, and had a 28.4 passer rating. Thanks, Henry. You're a true Canadian hero.
Cade McNown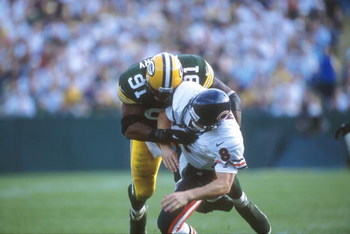 Despite his first-round selection, Cade McNown was never meant to be a starting quarterback as quickly as he was. Yet constantly, the men placed in front of him (the reasonably talented Shane Matthews and Jim Miller) just kept getting injured, and Cade kept losing games.
His numbers just kept getting worse. In his second season, he was 1-8 as a starter, threw nine interceptions, fumbled eight times, and was by all accounts a major jerk.
It's one thing to be a bad player, but it takes talent to be hated as well. McNown went on to become the third stringer for the Miami Dolphins. Noticing a trend?
Kordell Stewart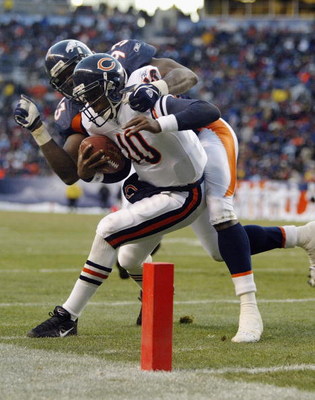 The man they called "Slash", due to his talent at multiple positions, did not live up to his nickname in the Windy City, at least not with regards to his passing. Truth be told, most fans didn't expect him to. Kordell had always been quite mediocre, though at times showing flashes of brilliance.
While Kordell did rush for 290 yards and three TDs as a quarterback, he also had a passing TD-INT ratio of 7-12 and led the Bears to a 2-5 record as a starter, before being replaced by a certain then-rookie quarterback who will be named later in this list.
Kordell went on to become the (survey says?) third string quarterback for the Baltimore Ravens. He did become the team's punter for a brief time, winning the NFL's Special Teams Player of the Week. I can't make this stuff up, folks.
Chad Hutchinson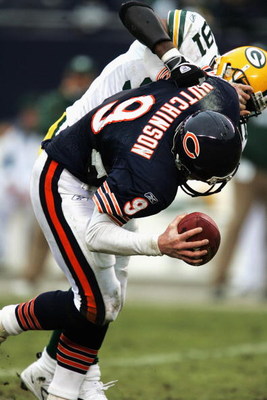 The Hutch may be the perfect example of the steep falls from grace the quarterbacks on this list experience.
Chad actually threw more touchdowns than interceptions in the five games he started for the Bears in 2004, though he led them to a record of 1-4. He was going to be the starter for 2005, believe it or not.
Then the preseason came around, and everybody realized The Hutch sucks. A lot. Truth was he always sucked, but he was in the unique position of having two young quarterbacks behind him, and the team figured, "Well, might as well let Chad start the season while Kyle and (name deleted) learn the game a bit more."
But Chad sucked so much in the preseason, that he was dropped to FOURTH string. Wow. He was released before the season started, and hasn't played since.
Jonathan Quinn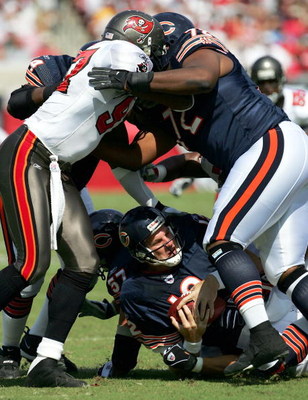 A career third stringer before his time with the Bears, the Less-Than-Mighty Quinn was brought in alongside former Chiefs' quarterbacks coach Terry Shea, who was becoming the Bears' new offensive coordinator.
Shea promoted Quinn as his pet project who had oh-so-much talent but couldn't show it off because, well, Trent Green was better than Quinn.
But nevermind that nonsense! It was Jonathan's time to shine. Shine he did, like a chrome bag of manure.
Quinn went 0-3 as a Bears' starter while throwing three interceptions to just one measly touchdown. Thus, he was canned. He didn't play football again after the season.
Rex Grossman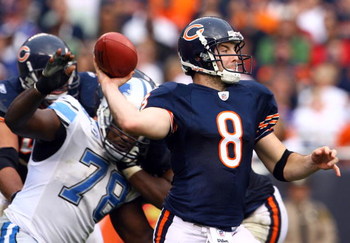 Boy, Rex could really throw the ball. He could throw it so far. When drafted, most believed Rex Grossman had the strongest arm in NCAA football, and they wouldn't necessarily be wrong.
Perhaps Rex's chronicles on the Bears are so much sadder and more frustrating because of how long he stayed on the team. He sucked so bad so many times, yet he would keep having these sparks of greatness. It can best be summed up by his 2006 season, the season he led the Bears to the Super Bowl.
Sexy Rexy had several productive performances, which were then cancelled out by a handful of turnover-ridden games. While earning a passer rating of at least 100 in seven games, he earned a sub 50 rating in five games during the latter portion of the season. Grossman, who was named as the NFC Offensive Player of the Month in September, ended December with a 64.4 passer rating, including a zero rating during the final game of the season.
As a starter, Rex has a 19-12 record with 33 touchdowns and 35 interceptions. But the numbers don't really get across what kind of hell the six seasons of Rex Grossman really were.
It's like having a son who's a screw-up as a teenager, yet is so brilliant. He goes to a great college, only to drop out and become a druggie. Then he goes to rehab and cleans up his act, only to relapse a month later. At some point, you have to cut the strings and let him go for good, which Lovie Smith finally did.
Rex is now competing for the second string job with the Houston Texans. I wish him the best of luck in his future endeavors.
Keep Reading

Chicago Bears: Like this team?