NBA Breakdown: All 30 Teams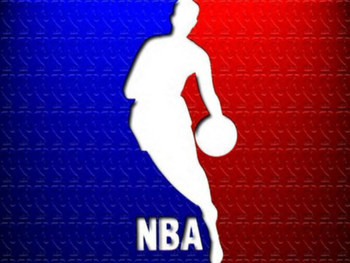 As the NBA offseason frenzy of transactions, trades, and team-defining moves slowly begins to settle down, it has become strikingly clear that the 2009-2010 season will be one of extremes: extreme competition and parity among the league's best, and low-level garbage time among the leagues bottom feeders.
Numerous contending teams found a way to improve themselves this offseason by further dismantling already atrocious squads. In doing so, they set forth a dramatic shift in the NBA landscape.
What follows is a breakdown of every team in the NBA with descriptions, analysis, and perspective on how this offseason changed your favorite team's prospects.
Along with each description is a designation as a playoff "contender" or "non-contender" based on the makeup of the team as it stands today.
Let's get started.
Philadelphia 76ers: Non-Contenders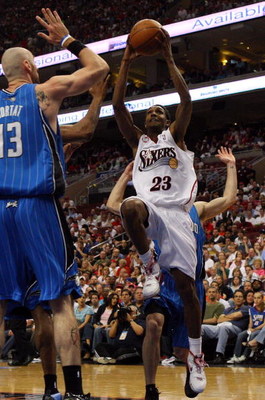 Losing Andre Miller for nothing will hurt the Sixers. Now they turn the point guard spot over to a young Lou Williams who has never ran the team before. It's a risky move and will either be a hit or miss.
Andre Iguodala has emerged as the leader of this team, but he's not a superstar yet and he won't be until he learns to shoot the ball consistently. The only big time player on this team, Elton Brand, can't keep up with the fast tempo of this club.
The Sixers might play some people tough but they won't be serious contenders.
Charlotte Bobcats: Non-Contenders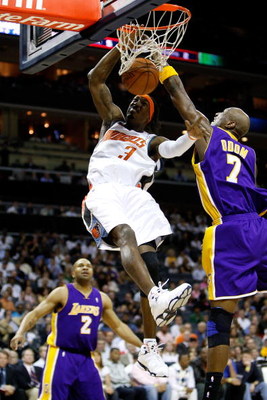 There's not really a single star on this team.
They trade away their double-double machine in Emeka Okafor for an injury-plagued center in Tyson Chandler that the Hornets have seemed desperate to get rid of since last season. Contract extension talks with Raymond Felton aren't working out.
Who do they have? I like the potential of D.J. Augustin and Gerald Wallace is a versatile small forward but neither of those two players have enough to carry the Bobcats.
Milwaukee Bucks: Non-Contenders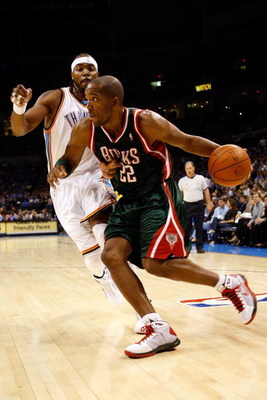 They lose Richard Jefferson, their most productive guard this past season, and Charlie Villanueva, their most productive and versatile forward, and Michael Redd is coming off season-ending ACL surgery.
This is going to be a long year for Bucks fans.
Chicago Bulls: Contenders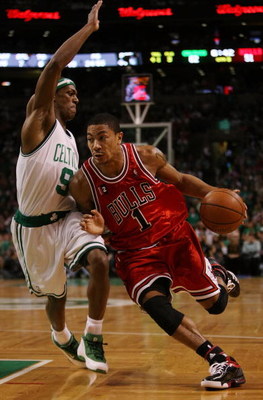 The loss of Ben Gordon will surely hurt, but when looking at the big picture the Bulls offense could become more efficient. Gordon's shot selection has always been questionable though the Bulls will suffer in points they might gain in stability.
Derrick Rose will improve in his second year under Vinny Del Negro's system, and should score the ball effectively off his strong drives or facilitate to underrated perimeter scorers John Salmons and Luol Deng (who is back from injury after missing a significant portion of last season).
Brad Miller will provide versatility at the center position, and young forwards Joakim Noah and Tyrus Thomas will supply energy off the bench.
The Bulls will be a very young, tough team to beat and if the Carlos Boozer trade rumors come to fruition they could join the upper-echelon of the Eastern Conference.
Cleveland Cavaliers: Contenders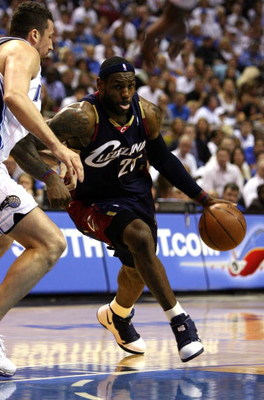 The Cavaliers will be interesting to watch.
On paper they are better than they were last year when they grabbed the No. 1 playoff seed in the Eastern Conference. However, there is no way to tell how this team will respond psychologically to a devastating and premature loss to the Orlando Magic in the Eastern Conference Finals after such high expectations.
LeBron will be great, Shaq should help, and Anthony Parker and Jamario Moon are underrated role players that will benefit greatly from LeBron's presence.
But the team still does not have a bona fide star in his prime to compliment James (and no, as Mo Williams showed last year during the NBA Finals he is not that kind of player yet).
It will be up to James again to see if the team can take the next step.
Boston Celtics: Contenders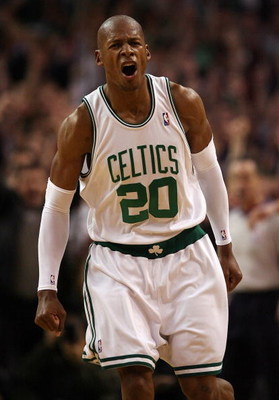 The only things that will stop the Celtics from winning another title is injury and age.
The Big Three is back in action but is also one year older (Pierce is 32, Garnett is 33, and Allen is 34). This may very well be the last year this team has a chance to legitimately compete for a championship as currently constructed. The team has all the role players and depth necessary, especially after adding versatile (yet volatile) forward Rasheed Wallace, and efficient Pacer product Marquis Daniels.
It is also worth noting that the experience gained by young players like Rajon Rondo, Kendrick Perkins, and Big Baby Davis during the playoffs after Kevin Garnett went down is invaluable. All three of those players started to grow into their own and gain tremendous confidence in carrying significant offensive and defensive roles.
This team should be much better talent wise than they were last year, or even during their championship run in 2008.
Los Angeles Clippers: Non-Contenders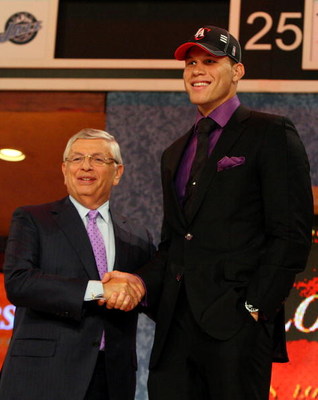 They won't contend this year but they are certainly moving in the right direction.
When motivated Baron Davis is still a star, and Eric Gordon and Al Thorton are two young players with enormous promise. They got rid of a malignant black hole in Zach Randolph, which will open up an opportunity for number one overall pick Blake Griffin to play big minutes and gain needed experience fast.
If they keep building in this direction in two years to three years the Clippers will be very competitive.
Memphis Grizzlies: Non-Contenders
My knee-jerk reaction to the Grizzlies is negative, but the more I think about it the more I see that this team could be ready.
They've got two emerging perimeter stars in O.J. Mayo and Rudy Gay, a good young distributor in Mike Conley, a low post playmaker in Marc Gasol, a proven scorer and rebounder (albeit a selfish one) in Zach Randolph, and a project in Hasheem Thabeet that if nothing else will be an immediate contributor at the defensive end.
The Grizzlies might be on to something.
Atlanta Hawks: Contenders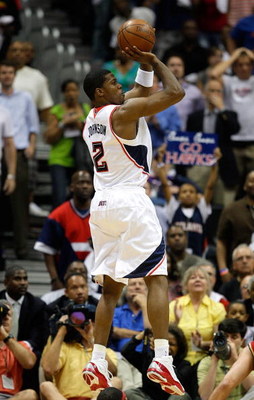 The Atlanta Hawks made a huge leap forward last year by latching onto the 4th seed in the Eastern Conference and getting to the second-round of the playoffs. If they can build on that experience, the Hawks have enough young talent to be relevant in the playoffs for the next couple of years.
Mike Bibby re-signed and assured the team that they will have a facilitator to get the ball to proven scorers like Joe Johnson and the Hawk's latest acquisition, streaky shooter Jamal Crawford. Couple those players with versatile young talents in Al Horford and Josh Smith and the Hawks seem poised to continue their ascent up the Eastern Conference ladder.
Miami Heat: Contenders
Dwayne Wade alone makes this team a contender, how far they go once they make the playoffs is dependent on the continued development of young players like Daequan Cook, Mario Chalmers, and Michael Beasley and the front office decisions of General Manager Pat Riley. If Riley can land the Heat another big time player to sidekick D-Wade, let's say like a Carlos Boozer, the Heat could be dangerous.
New Orleans Hornets: Contenders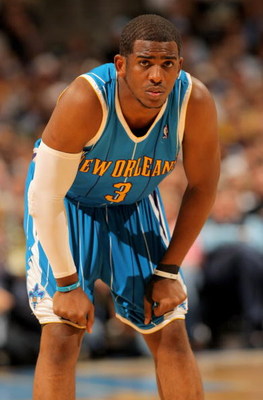 Ownership frugality will hurt Chris Paul and company, but the one major move this franchise did make this off-season was a good one. Emeka Okafor is a physical presence on the low block who will not only make up for Chandler's rebounding and shot-blocking ability, but will also add durability and a slightly improved offensive game in the post area.
Couple Okafor's work on the glass with Paul's playmaking ability, David West's face up jumpers, and James Posey's bench presence, and this team will be competitive. Many teams have jumped ahead of the Hornets in the Western Conference but they will still be relevant.
Utah Jazz: Contenders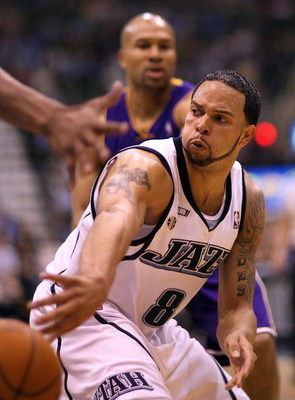 Carlos Boozer is as good as gone, but the Jazz still have a relevant franchise as long as Deron Williams is running the point. Paul Millsap proved he can be a guaranteed double-double type player, and role players Ronnie Brewer, Kyle Korver, and Memhet Okur excel in Jerry Sloan's system. Second-year center Kostas Koufas is also a young player on the rise to look out for.
I don't expect them to be much better than they were last year, but the Jazz will still be respected.
Sacramento Kings: Non-Contenders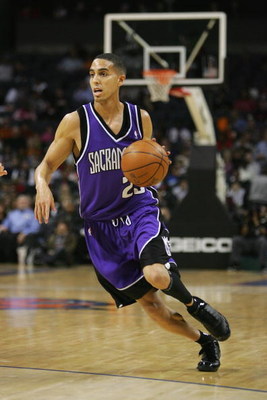 They have Kevin Martin and…Beno Udrih?
New York Knicks: Non-Contenders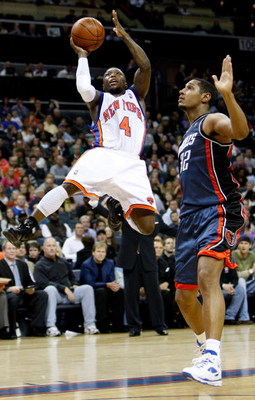 Donnie Walsh and company are banking on saving cap space and landing at least two premier players during the summer of 2010, but in the mean time the Knicks are going to have a hard time improving after D'Antoni's impressive first-year effort.
The team's two best players, Nate Robinson and David Lee, have both asked for either more money or a ticket out of town. Thus a stalemate has ensued as the Knicks want full financial flexibility for the next year's blockbuster free-agent class. If either of those players leave the Knicks will have a hard time getting even close to .500.
The team is thin at nearly every position, and the only legitimate role player or playmaker on the team is gritty point guard Chris Duhon. Unless, of course, you include former number two overall draft pick Darko Milicic in that category...
Los Angeles Lakers: Contenders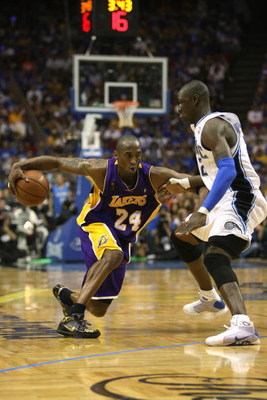 The Lakers are loaded.
They lose a strong role player in Trevor Ariza but replace him with a star in Ron Artest,who is even more physical, scrappy, and skilled than Ariza. Artest gives the Lakers a legitimate big three to rival that of Boston's.
Expect young players like Jordan Farmar and Shannon Brown to also step up and become beneficial role players in the Lakers championship hunt.
Orlando Magic: Contenders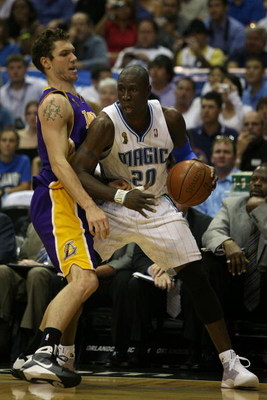 With the addition of Vince Carter the Magic will have arguably the league's best starting five next year.
Holding on to Marcin Gortat was key, for his gritty and efficient play along with Mickael Pietrus' clutch shooting will also fortify the Magic's bench. Like the Lakers, I expect the Magic to be a better team next year even without a key player from last season (in this case Hedo Turkoglu).
The question is will that talent will be enough to get them through the re-powered Celtics and Cavaliers again?
Dallas Mavericks: Contenders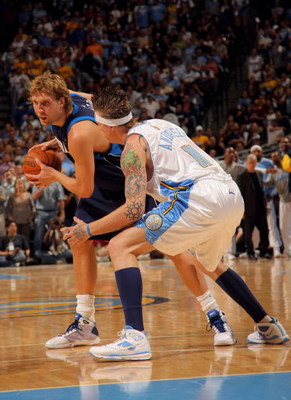 Shawn Marion is a huge pickup for a team that already has star power in Dirk Nowitzki and Jason Terry. Marion will benefit from Jason Kidd's playmaking ability and will complement Terry's deadly three-point shooting on the fast break.
They have the players to become a dynamic up-tempo club, the only question is with Kidd and Nowitzki getting long in the tooth will they have the fire to continue fueling the Mavs engine?
New Jersey Nets: Contenders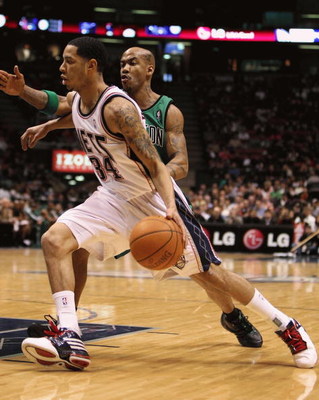 I love the Nets new youth movement. Devin Harris, Courtney Lee, and Brook Lopez, will be the nucleus for this team for many years to come. As they learn to grow and play together this team will become increasingly more dangerous. They may not compete for a championship this year, but I expect the Nets to be in the playoff hunt.
Denver Nuggets: Contenders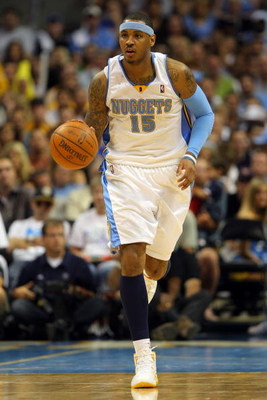 This franchise has turned it around.
As long as Chauncey Billups is running the show with his cool, calm veteran poise, and Carmelo Anthony is scoring with ease, the Nuggets will be in the championship mix. They showed something to the world last year by taking the eventual world champion Lakers to 6. They have toughness, they have an electric bench (thanks to the streaky shooting of J.R. Smith, and the highlight flair of Birdman), and they are almost unstoppable at home.
Indiana Pacers: Non-Contenders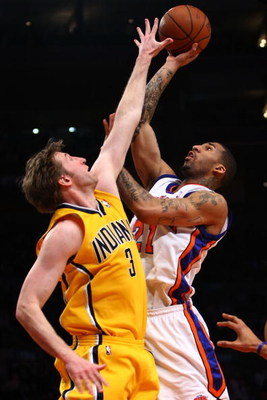 Larry Bird might actually be trying to make the Pacers the whitest team the NBA has seen in the last half-century. I love Danny Granger, but Mike Dunleavy, Troy Murphy, and Tyler Hansborough don't really cut it for me.
Oklahoma City Thunder: Non-Contenders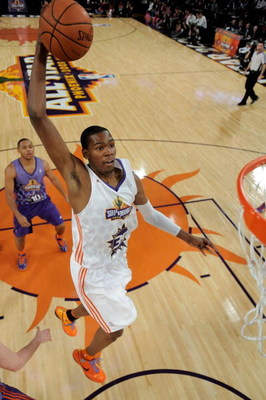 They're not there yet, but they will be.
Like the Nets, the Thunder have a youth movement going with athletic players forming the core. Kevin Durant, Jeff Green, Russell Westbrook, and number three overall pick James Harden, will command the Thunder for years to come.
Kevin Durant especially is ready to have an MVP-type year. It became obvious towards the end of last season and during the U.S. Olympic team workouts that Durant is ready to take the next step and join the upper-echelon of NBA players.
Once he learns to get his teammates involved, and allows their growth to accompany his own, the Thunder will be something to watch.
Detroit Pistons: Contenders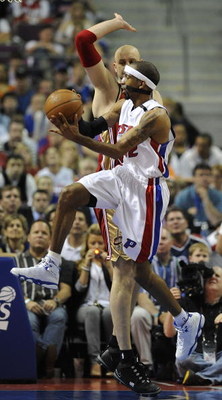 The addition of Charlie Villanueva is like adding a younger, calmer Rasheed Wallace. Which works out well considering Wallace has now moved on to the Boston Celtics. However the addition of Gordon is one that puzzles me, especially considering how much of a disaster Allen Iverson was in the Pistons system.
Gordon provides the same type of dilemma that Iverson did: they're both undersized for their position, can't play the point, and threaten the team's chemistry with their questionable shot selection and their need for the ball.
If Rip Hamilton can't gel with Allen Iverson I don't see how Gordon will be any better.
The team also loses Antonio McDyess further diminishing the Pistons front line. Still, if Rodney Stuckey continues to improve, and players like Amir Johnson and Jason Maxiell step up to fill the shoes of McDyess and Wallace, the Pistons do have enough talent for a playoff spot.
Toronto Raptors: Contenders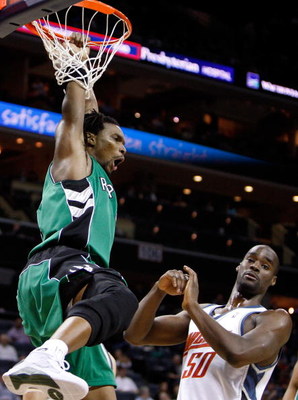 Though I think the addition of Hedo Turkoglu is a little overrated, I do think that he will complement Chris Bosh well and he gives the Raptors three very skilled big men when you also consider 7' forward Andrea Bargnani.
Jose Calderon is an underrated point guard, and he will find his new Turkish three-point threat along with Golden State aquisition Marco Belinelli often on the perimeter. The losses of Shawn Marion and Anthony Parker hurt, but if rookie DeMar Derozan can pick up some of the slack the Raptors should be improved.
Houston Rockets: Non-Contenders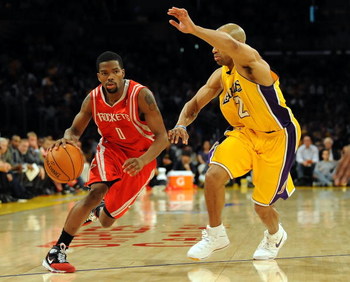 Ron Artest is gone, Yao Ming might be done for good, and T-Mac is out for at least half the season. Though I like Aaron Brooks, Shane Battier, Louis Scola, and Trevor Ariza, they are all role players.
The Rockets won't make the playoffs.
San Antonio Spurs: Contenders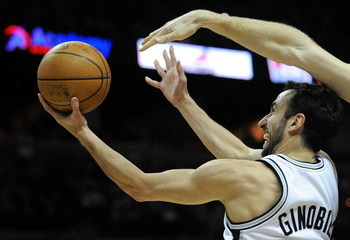 You have to love how the Spurs reloaded this offseason. Just as they start to slip in the Western Conference how do they respond? They nab an underrated scorer and offensive force in Richard Jefferson for virtually nothing, get a rebounding machine in the second-round in DeJuan Blair, and nab Antonio McDyess away from his faithful Detroit.
As long as the Ginobili, Parker, Jefferson, and Duncan can stay relatively healthy, the Spurs will be in the title hunt once again.
Minnesota Timberwolves: Non-Contenders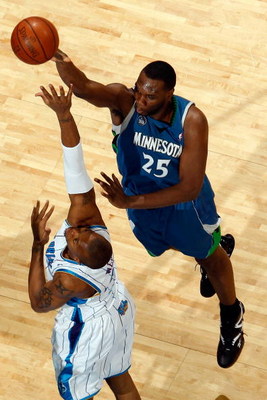 Timberwolves General Manager David Khan confuses me.
If you give a team three first-round picks, including two picks in the top ten, it's nearly guarantee that that team will find a way to dramatically improve itself. This league is built on star-power: if you have two to three exceptional players coupled with supplemental role players that is usually enough to be very competitive. And what better way to turn your franchise around with young, talented players than getting three first round picks?
But I come away from this offseason thinking that the T-Wolves certainly made themselves younger, but not necessarily that much better in the short-term or in the long-term. They give away basically all their veteran guards in Mike Miller, Randy Foye, and Sebastian Telfair and gain only overpaid journeyman Quentin Richardson (who by the way, nobody seems to want nowadays).
They draft two consecutive point guards, one of which doesn't even know if he'll be able to play this year OR next year and hope that the two can co-exist and play together in an extremely undersized line-up. They have virtually no veteran help, and their best player Al Jefferson is coming off of ACL surgery.
Yikes.
Listen, I love Johnny Flynn I think he has the kind of upside to turn into the next Chris Paul...eventually. But I'm not sold on Ricky Rubio even if he does figure out a way to play this year. He's got great playmaking ability but he's not a lights out shooter. He was never a great scorer even in the European leagues, and he certainly doesn't have the quickness or athleticism to match-up with most of the point guards in the NBA. Yes, he's only 18 and he has time to grow, but there are a lot of red flags and I'm not sold on all the hype.
David Kahn how did you honestly manage to NOT make this team pretty good with three 1st-round picks...how? I'm not even from Minnesota and this bothers me.
Portland Trail Blazers: Contenders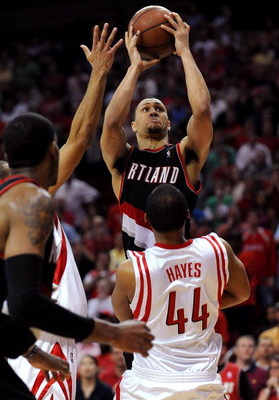 They didn't land Hedo Turkoglu but I think it could turn into a blessing in disguise.
He was a perfect fit in the Magic's system, but he doesn't score as well as people might think and his clutchness isn't as valuable to a team that already has ice-veined Brandon Roy. Over the next few years keep an eye on Turk: he will be the classic overpaid under-productive contract bust that we see every year.
They get a consolation prize in Andre Miller, but he won't dramatically change this team. I expect the Blazers to improve for the simple fact that they are young and talented and have allowed their nucleus to slowly grow year by year. But they are still one big piece away from being serious title-contenders.
Phoenix Suns: Non-Contenders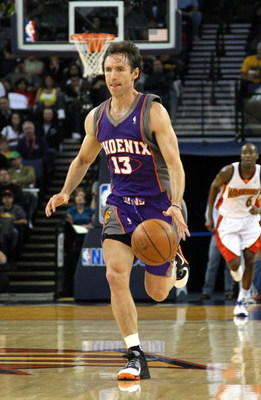 The Suns were so exciting once, weren't they? But now they give away Shaq, hold on to an aging Steve Nash and Grant Hill, and will likely let go of Amare as well. It's sad to see such a well-built captivating team slowly deteriorate but that's what's happened the last couple of years. What a shame.
Golden State Warriors: Contenders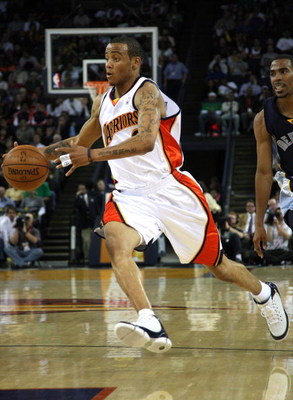 Speaking of exciting teams, the Warriors will be something to watch this year.
This team is young, athletic, and has players that can shoot the lights out of the gym. Monta Ellis, Stephen Jackson, Stephen Curry, and even Summer League point-record holder Anthony Morrow (that Anthony Morrow who dropped 47 a couple weeks ago) can put up shots in a hurry. Not to mention I think Anthony Randolph is one of the most talented and dynamic young players in this league who should be a 20-10 guy in a couple of years.
This team will be, if nothing else, entertaining.
Washington Wizards: Contenders
The Wizards won't be one of the league's worst teams.
Injuries decimated a team that was talented enough to strongly compete with the Cavaliers in the playoffs a couple years ago. The big three of Gilbert Arenas, Caron Butler, and Antawn Jamison should be back (assuming Agent Zero finally is over his knee problems) and they have some new weapons as well.
Add Randy Foye, Mike Miller, a promising young center in JaVale McGee, and an improving Nick Young and the Wiz have some nice pieces to work with.
Keep Reading