ASU Athletic Director Seeks Return to 1950s style Cheerleading*
May 7, 2008
Last week ASU Athletic Director Lisa Love (a former USC Volleyball coach) cut the cheerleading program when pictures of the Sun Devil Cheer Squad posing in their underwear hit the internet via the website The Dirty.com. Reports now indicate the squad will be reinstated in the 2009 school year and have new uniforms.
Their current uniforms (pictured at left) do not cover substantially more skin than the now infamous underwear shot does.
So, when the new squad takes the field in 2009, they will be sporting these uniforms: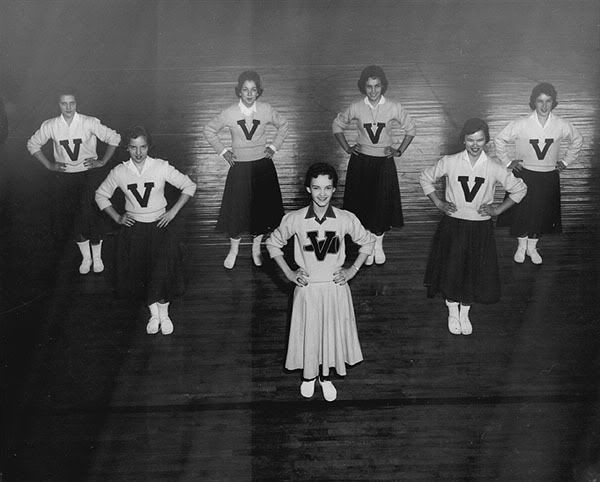 Hmmm I don't know, those might get a bit hot in the Phoenix sun.
* This is a joke people. Actually the whole story was proven to be wrong. This rumor spread like wildfire throughout the internet and main stream media last week. ASU Athletic Director Lisa Love never wrote the email stating she was cutting the cheer program that have been attributed to her.
The ASU Cheer Program is alive and well and will be on the field at the start of football season. No disciplinary action has been taken against the girls for the underwear shot. And that is good, because I was all prepared to come here and rant on the hypocrisy of it all. That underwear shot shows NOTHING that a bikini or their uniforms do not show. In fact, the underwear shot shows LESS than an average bikini.
Case in point, the USC Song Girls in their USC bikinis: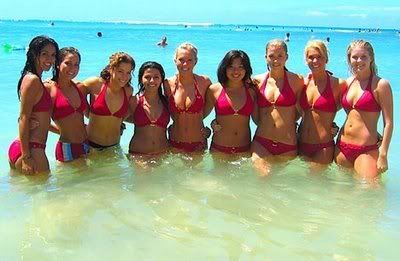 So rest assured Sun Devil Nation, Sparky and the Cheerleaders are safe and sound and will not suffer heat prostration from the old school style unis.
-Your Gridiron Goddess