The 20 Best Starting Pitchers of the '80s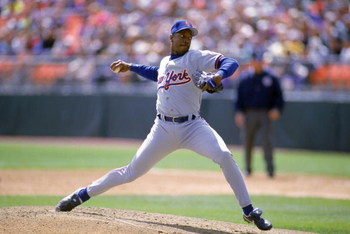 This is the second in my series running down the 20 best starting pitchers from each decade. My first was on the 1970s; here's a link to the article in case you missed it.
The '80s were quite a bit more difficult than the '70s were. There was not such a clear-cut upper echelon during this decade, at least not compared to the '70s.
I ran into problems with players who started their careers in the middle of the decade, like Dwight Gooden and Roger Clemens, as well as players who retired in the middle of the decade, like Steve Carlton and Ron Guidry.
I look forward to hearing what you as the reader think of who made my list, as well as where I ranked them, and I encourage you to let me know what you would have done differently.
No. 20: Jimmy Key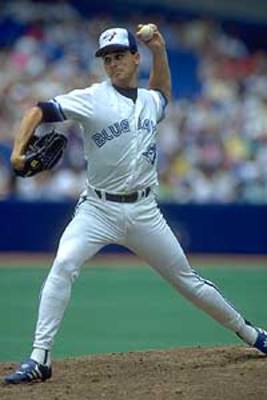 Games/Starts: 224/157
IP: 1115
Record: 74-49
ERA: 3.36
ERA+: 124
WHIP: 1.189
Ks: 614
CG: 22
SHO: 6
1x All-Star
After serving as the Blue Jays' setup man and posting 10 saves in 63 appearances during his 1984 rookie season, Key joined the rotation the next season and was named an All-Star.
His best season came in 1987, when he went 17-8 with a league-best 2.76 ERA and 161 Ks. He also led the league in WHIP (1.057) and ERA+ (164).
While he would go on to be a vital member of the Blue Jays' early success, Key was great from the time his career began.
No. 19: Teddy Higuera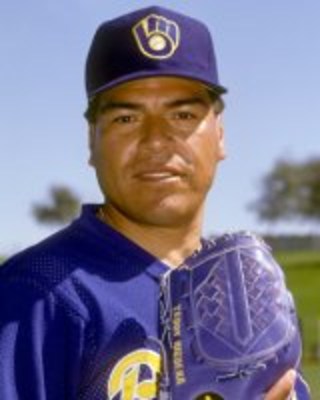 Games/Starts: 154/152
IP: 1085
Record: 78-44
ERA: 3.28
ERA+: 129
WHIP: 1.172
Ks: 857
CG: 46
SHO: 11
1x All-Star
It would be interesting to see how many games Higuera would have won had he not started his career at the age of 26.
As it is, he posted a 94-64 record in nine seasons.
He came out of the gates strong, finishing second in ROY voting in 1985 with a 15-8, 3.90 ERA, 127 K season.
The next season he finished second in Cy Young voting, with a 20-11 record, a 2.79 ERA, and 209 Ks. That season, he also made his only All-Star appearance.
His career was a short one, but he was effective, to say the least, and is one of the best pitchers to ever take the mound for the Brewers.
No. 18: Charlie Hough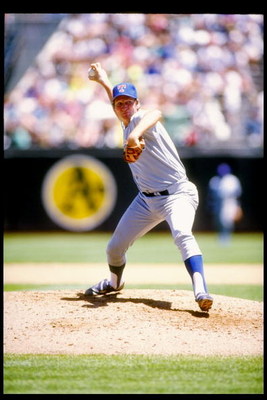 Games/Starts: 331/282
IP: 2121.2
Record: 128-114
ERA: 3.67
ERA+: 112
WHIP: 1.277
Ks: 1363
CG: 93
SHO: 11
1x All-Star
Hough was the 1980s version of Tim Wakefield, as he floated in knuckleballs with incredible success and seemed to do so year in and year out.
From 1982-1988, Hough won at least 14 games each season, but he also lost at least 10 games every season as well.
His best season came in 1987 for the Rangers, when he went 18-13 while leading the league in starts (40) and IP (285.1).
Hough is perfectly summed up by his career record of 216-216. It shows that he was effective but not great, and for most teams, that is all you can ask for out of a pitcher.
No. 17: Dave Stewart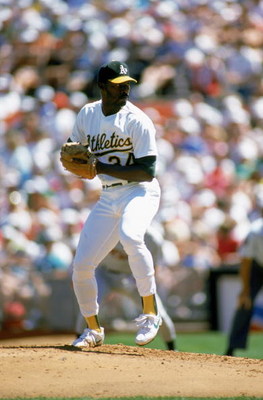 Games/Starts: 356/182
IP: 1559
Record: 101-74
ERA: 3.68
ERA+: 105
WHIP: 1.314
Ks: 1035
CG: 39
SHO: 4
SV: 19
1x All-Star
Considering he did not become a full-time starter until 1987, Stewart's numbers are pretty impressive.
After going just 30-35 from 1981 until his trade to the A's midway through the 1986 season, Stewart went 71-39 over the next three-and-a-half seasons.
Following a 9-5 showing in only half of the 1986 season, Stewart became the ace in 1987, leading the league in wins with a 20-13 record.
He followed that up with records of 21-12 and 21-9 the next two seasons. Also, he finished in the top four in Cy Young voting each of his three seasons in the rotation.
Stewart posted a 5-1 playoff record with the A's, including a 2-0 record with a 1.69 ERA and 14 Ks in the 1989 World Series that earned him World Series MVP honors.
No. 16: Rick Sutcliffe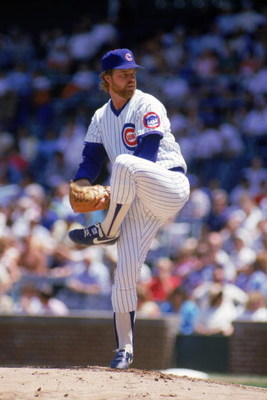 Games/Starts: 310/260
IP: 1860
Record: 116-93
ERA: 3.87
ERA+: 102
WHIP: 1.349
Ks: 1285
CG: 59
SHO: 15
3x All-Star
1x Cy Young Winner
Coming off of a 17-11 season with the Indians in 1983, Sutcliffe struggled early on in the 1984 season, going 4-5 with a 5.15 ERA through his first 15 starts.
That would soon change though, as a midseason trade to the Cubs would turn things around, both for the Cubs and for Sutcliffe.
In 20 starts following the trade, Sutcliffe went 16-1 with a 2.69 ERA and 155 Ks as he led the Cubs into the playoffs, and he took home the NL Cy Young despite spending half the season in the AL.
No. 15: John Tudor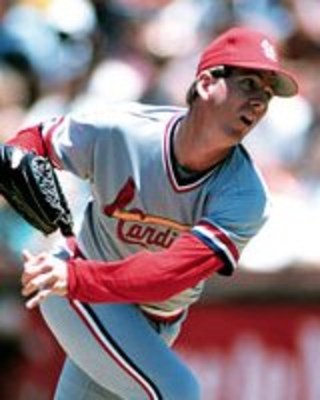 Games/Starts: 250/235
IP: 1622.2
Record: 104-66
ERA: 3.13
ERA+: 124
WHIP: 1.204
Ks: 914
CG: 48
SHO: 15
Just looking at the numbers, Tudor seemingly should be in the top 10 on this list, but those numbers received a huge boost from his one incredible season in 1985.
Tudor's line of 21-8, 1.93 ERA, and 169 Ks would have won the Cy Young virtually any other year, but Dwight Gooden stood in his way for this season.
He was also the NL leader in WHIP (0.938) and SHO (10).
The WHIP of 0.938 was the second-best single season mark of the decade (Mike Scott 0.923 in '86) and the 13th-best since 1970.
No. 14: Frank Viola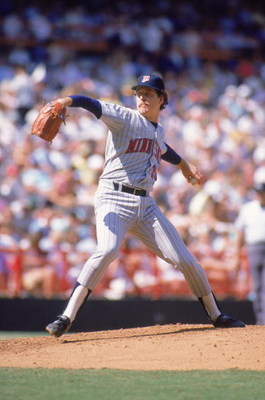 Games/Starts: 272/271
IP: 1858
Record: 117-98
ERA: 3.84
ERA+: 110
WHIP: 1.291
Ks: 1287
CG: 56
SHO: 11
1x All-Star
1x Cy Young
One of the biggest reasons for the Twins' rise from baseball's cellar in the late 1980s was Viola, as he was the team's ace.
From 1984-1988, Viola won at least 16 games each season, and he capped off that impressive run with a Cy Young season in 1988.
With a line of 24-7, 2.64 ERA, and 193 Ks, Viola was at his best, but his best performance may have come the year before, when he went 3-1 in five playoff starts as the Twins won the World Series.
No. 13: Steve Carlton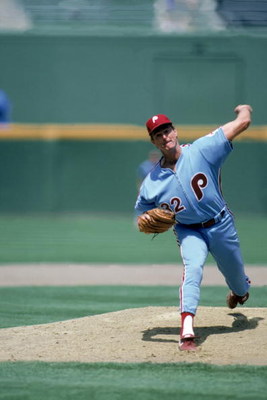 Games/Starts: 254/240
IP: 1732.1
Record: 104-84
ERA: 3.48
ERA+: 109
Ks: 1453
WHIP: 1.290
CG: 54
SHO: 13
3x All-Star
2x Cy Young Winner
Carlton cracks the list for what he accomplished from 1980-1984. However, he played too long and bounced between five different teams in his last two seasons.
The early '80s were more of the same for Carlton, as he won the Cy Young in 1980 and in 1982.
The 1980 season saw him post a line of 24-9, 2.34 ERA, and 286 Ks as he led the league in wins and Ks, as well as IP (304) and ERA (162).
The 1982 season was strikingly similar, with a line of 23-11, 3.10 ERA, and 286 Ks, as he again led the league in wins and Ks, as well as CG (19), SHO (6), and IP (295.2).
After racking up 28 more wins the next two seasons, Carlton hit the wall in 1985 at the age of 40, going 1-8 in just 16 starts.
He finished 9-14 in '86 and 6-14 in '87 before finally calling it quits early in the 1988 season.
No. 12: Ron Guidry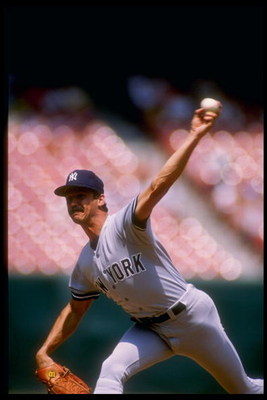 Games/Starts: 252/232
IP: 1639.2
Record: 111-72
ERA: 3.66
ERA+: 108
WHIP: 1.226
Ks: 1126
CG: 55
SHO: 10
2x All-Star
While his time as a dominant starter had pretty much come to an end by 1986, Guidry was still great for the first half of the decade.
He never approached the dominance of the 25-3 season that he had in 1978. However, he managed to post a couple of great seasons in the '80s.
During the strike-shortened 1981 season, he went 11-5 wiht a 2.76 ERA and 104 Ks in 21 starts while leading the league with a 0.992 WHIP.
The 1985 season was his best of the decade, however, as he led the league with a 22-6 record, earning him a second place finish in the Cy Young voting.
No. 11: Mike Scott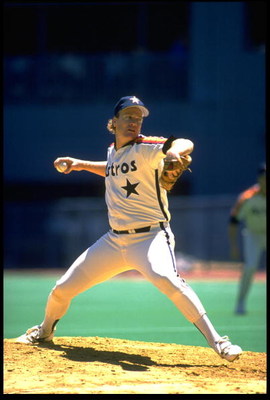 Games/Starts: 295/276
IP: 1803.2
Record: 114-90
ERA: 3.42
ERA+: 103
WHIP: 1.181
Ks: 1324
CG: 41
SHO: 20
3x All-Star
1x Cy Young Winner
After a slow start to the decade, there were few pitchers better than Scott from 1985-1989, as he posted an 86-49 record in those five years.
He won 18 games twice and 20 once, and he took home the NL Cy Young in 1986.
With a line of 18-10, 2.22 ERA, and 306 Ks, Scott was the runaway choice for the award, as he led the league in ERA, Ks, K/9 (10.0), SHO (5), H/9 (5.3), ERA (161), and WHIP (0.923).
He also led the NL in wins in 1989 with a 20-10 record, finishing second in Cy Young voting that season.
Scott should go down as the best pitcher in Astros history, with a mention to J.R. Richard, Nolan Ryan, and Roy Oswalt, in that order.
No. 10: Bert Blyleven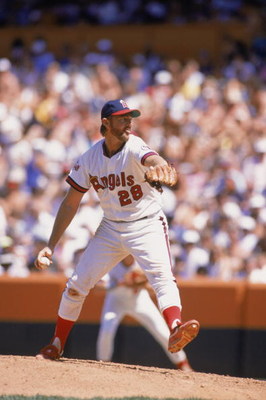 Games/Starts: 291/288
IP: 2078.1
Record: 123-103
ERA: 3.64
ERA+: 113
WHIP: 1.223
Ks: 1480
CG: 94
SHO: 21
1x All-Star
Blyleven is one of the most prolific strikeout pitchers of all time. While he was at his best during the 1970s, he was still an ace throughout the 1980s as well.
The 1984 season was definitely his best of the decade, as he finished third in AL Cy Young voting with a line of 19-7, 2.87 ERA, and 170 Ks.
The 1985 season was a good one as well, as he posted a 17-16, 3.16 ERA, and 206 K line while leading the league in Ks, CG (24), starts (37), and IP (293.2).
Throughout his career, Blyleven was a workhorse and a consistent winner.
Here's hoping that this is the year the Hall gives him the recognition he deserves.
No. 9: Bob Welch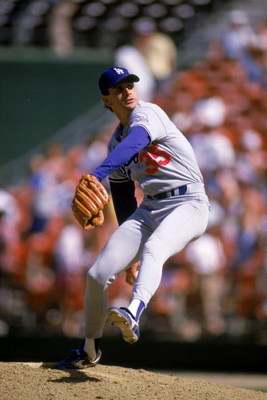 Games/Starts: 313/311
IP: 2082.1
Record: 137-93
ERA: 3.21
ERA+: 113
WHIP: 1.225
Ks: 1457
CG: 47
SHO: 22
1x All-Star
From 1987-1989, there was no better duo in all of baseball than Welch and Dave Stewart, as they combined for 111 wins.
Success seemed to follow Welch, as his teams made the playoffs six times during the decade.
His 137 wins were the third-most for the decade behind only Dave Stieb and Jack Morris. That's pretty good company to be in.
While he never had the big season, he won at least 13 games eight times during the decade, with a high of 17, which he accomplished twice.
No. 8: Fernando Valenzuela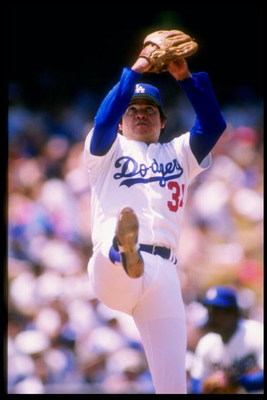 Games/Starts: 298/287
IP: 2144.2
Record: 128-103
ERA: 3.19
ERA+: 111
WHIP: 1.265
Ks: 1644
CG: 102
SHO: 27
6x All-Star
1x Cy Young
R.O.Y.
What would this list be without a little bit of Fernandomania? He truly took the game by storm in 1981.
After a brief 10-game stint out of the bullpen in 1980 at the age of 19, where he gave up no runs over 17.2 innings, Valenzuela was the Dodgers' ace during the strike-shortened 1981 season.
He posted a 13-7, 2.48 ERA, and 180 Ks line in 25 starts. He led the NL in Ks, CG (11), SHO (8), and IP (192.1) while taking home the Cy Young and the Rookie of the Year.
He went on to a 3-1 record in five playoff starts in 1981, as the Dodgers won the World Series.
No. 7: Dave Stieb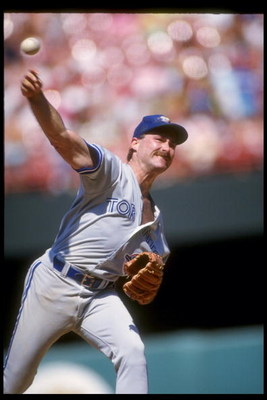 Games/Starts: 339/331
IP: 2328.2
Record: 140-109
ERA: 3.32
ERA+: 127
WHIP: 1.221
Ks: 1380
CG: 92
SHO: 27
6x All-Star
Stieb never posted that one signature great season during the 1980s, but he was consistently good each year.
He won 16 games twice and 17 games three times. Even though his record may not have reflected it, the 1985 season may have been his best.
Stieb went 14-13 in '85, but he led the AL with a 2.48 ERA, 172 ERA+, and 7.0 H/9. He finished seventh in AL Cy Young voting and made the All-Star team as well that season.
No. 6: Nolan Ryan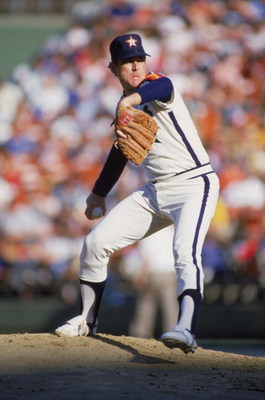 Games/Starts: 314/314
IP: 2094
Record: 122-104
ERA: 3.14
ERA+: 111
WHIP: 1.192
Ks: 2167
CG: 44
SHO: 15
3x All-Star
Ryan is a tough case when it comes to rankings.
He is clearly the best strikeout pitcher in the history of the game, and it is hard to look past that sometimes.
His 9.3 K/9 for the decade is fantastic. Had Ryan not been pitching for some poor Astros teams, he may have had an even better record.
For example, in 1987, Ryan posted a record of 8-16. On the surface that seems like an awful season.
However, he led the NL with a 2.76 ERA and 270 Ks.
His best season was probably the strike-shortened 1981 season, when he went 11-5 with a 1.69 ERA and 140 Ks, leading the NL in ERA while posting an impressive ERA+ of 194 in just 21 starts.
No. 5: Bret Saberhagen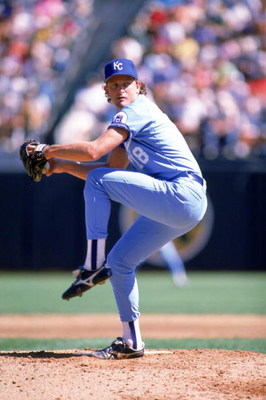 Games/Starts: 204/178
IP: 1329
Record: 92-61
ERA: 3.23
ERA+: 128
WHIP: 1.127
Ks: 870
CG: 52
SHO: 12
1x All-Star
2x Cy Young Winner
In what would be a theme of the decade, Saberhagen enjoyed tremendous success at an incredibly young age.
In 1985, at just 21, he posted a season of 20-6, 2.87 ERA, 158 Ks and won the Cy Young.
That was only the beginning though, as he led the Royals to the World Series and completely dominated on the game's biggest stage.
In his two World Series starts, Saberhagen went 2-0 with a 0.50 ERA and struck out 10 while throwing two complete games and giving up just one run.
Obviously, he took home World Series MVP for his performance.
He was again on top of his game in 1989, winning his second Cy Young with a 23-6, 2.16 ERA, and 193 Ks line over the season. He also led the AL in CG (12), IP (262.1), WHIP (0.961), and ERA+ (180).
No. 4: Orel Hershiser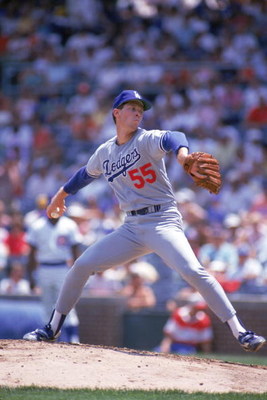 Games/Starts: 231/191
IP: 1457
Record: 98-64
ERA: 2.69
ERA+: 132
WHIP: 1.149
Ks: 1011
CG: 58
SHO: 23
3x All-Star
1x Cy Young Winner
After splitting time between the bullpen and rotation his first two season, Hershiser cemented his spot in the rotation with a fantastic 1985 season.
With a line of 19-3, 2.03 ERA, and 157 Ks, he very well could have won the Cy Young had it not been for Dwight Gooden's even better season that year.
It is not often that a ERA+ of 170 does not lead the league, but that was the case for Hershiser in '85.
The signature season of his impressive career came in 1988, when he went 23-8 with a 2.26 ERA and 178 Ks, leading the league in wins, CG (15), and SHO (8) en route to a unanimous Cy Young.
The most impressive part of that season was his 59 consecutive scoreless innings streak, a record that still stands today and appears to be up there with the other unattainable records.
No. 3: Jack Morris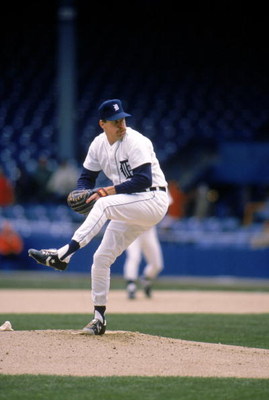 Games/Starts: 332/332
IP: 2443.2
Record: 162-119
ERA: 3.66
ERA+: 109
WHIP: 1.256
Ks: 1629
CG: 133
SHO: 20
4x All-Star
As big of a fan of statistics as I am, the numbers do not tell the whole story for Morris.
He had intangibles that made him one of the most feared and most consistent pitchers of the 1980s.
Morris posted the most wins for the decade and had a pair of 20-plus-win seasons, but he never won a Cy Young or posted an ERA under 3.00.
All the same, Morris deserves this spot, with serious consideration for the top spot.
No. 2: Roger Clemens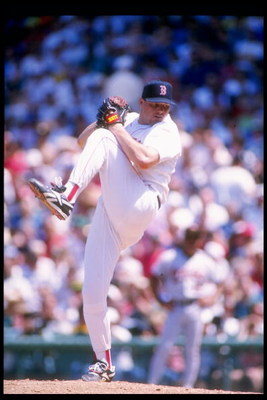 Games/Starts: 175/174
IP: 1284.2
Record: 95-45
ERA: 3.06
ERA+: 139
WHIP: 1.136
Ks: 1215
CG: 58
SHO: 21
2x All-Star
2x Cy Young
1x MVP
Clemens was an absolute monster from the first time he set foot on the mound, and he is one of the few pitchers to ever be named MVP.
In 1986, at the age of 23, Clemens put together a line of 24-4 with a 2.48 ERA and 238 Ks, leading the league in wins and ERA as well as WHIP (0.969) and ERA+ (169).
The next season, he again led the AL in wins with a 20-9 season. He added AL highs with 18 complete games and seven shutouts.
He was consistently great from then on, winning at least 17 games each of the next five seasons, as he established his place as one of the game's best.
No. 1: Dwight Gooden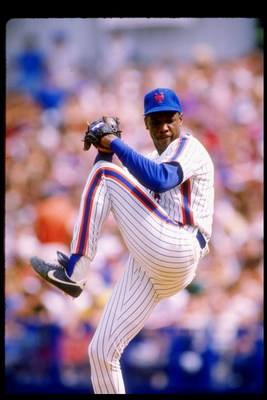 Games/Starts: 177/175
IP: 1291
Record: 100-39
ERA: 2.64
ERA+: 132
WHIP: 1.109
Ks: 1168
CG: 52
SHO: 19
4x All-Star
1x Cy Young
R.O.Y.
Gooden took the game by storm as a 19-year-old rookie in 1984, going 17-9 with a 2.60 ERA and 276 Ks.
He led the league in strikeouts and WHIP (1.073) while winning the Rookie of the Year and finishing second in Cy Young voting.
He somehow managed to improve on that the next season, as he turned in one of the single most dominant pitching seasons in baseball history.
Gooden won pitching's Triple Crown in 1985, with a line of 24-4, 1.53 ERA, and 268 Ks. He also posted the 12th best ERA+ ever at 228 and had a WHIP of 0.965.
While he would never repeat the success of the '85 season again, and though drugs derailed what would have been a Hall of Fame career, Gooden earns the top spot for his sheer dominance early in his career.
Honorable Mention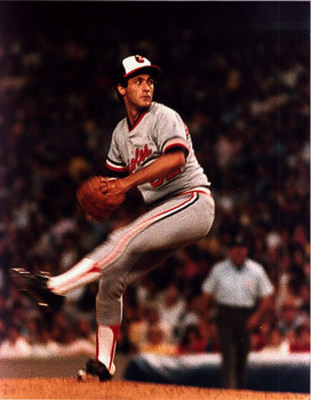 Joaquin Andujar: 90-81, 100 ERA+
Mike Boddicker: 101-87, 110 ERA+
Ron Darling: 87-55, 103 ERA+
Storm Davis: 92-62, 102 ERA+
John Denny: 72-62, 107 ERA+, 1983 NL Cy Young
Sid Fernandez: 69-45, 108 ERA+
Mark Gubicza: 84-67, 118 ERA+
LaMarr Hoyt: 98-69, 98 ERA+, 1983 AL Cy Young
Bruce Hurst: 103-84, 104 ERA+
Mark Langston: 86-76, 110 ERA+, 200+ Ks five times
Charlie Liebrandt: 92-78, 108 ERA+
Dennis Martinez: 107-87, 96 ERA+
Dan Petry: 107-87, 104 ERA+
Rick Reuschel: 97-82, 113 ERA+
Jerry Reuss: 105-83, 105 ERA+
Rick Rhoden: 109-100, 103 ERA+
Steve Rogers: 72-58, 110 ERA+, 1982 ERA leader
Mario Soto: 94-84, 111 ERA+
Keep Reading