The West Virginia Mountaineers were supposed to go to Atlanta and get thrashed by the dynastic Alabama Crimson Tide.
Clint Trickett was supposed to have problems all day against the Tide's defense, and head coach Dana Holgorsen's spot on the hot seat was supposed to be solidified.
But that's not the story that ended up being told.
Instead, the Mountaineers gave fans in Tuscaloosa a shock to their system. The Crimson Tide struggled to put away a team that lost to Kansas—yes, Kansas—last year before finally walking away with a 33-23 win. For Trickett, he proved that he's the man for the job in Morgantown, as he racked up 365 yards through the air with a touchdown and no interceptions.
But more importantly, the Mountaineers proved that they will be contenders in the very competitive Big 12 this season.
Impressive performance by West Virginia today. Just remember, that was the consensus #8 team in the league. BIG 12 looking very deep

— PickSixPreviewsBig12 (@PickSix_Big12) August 30, 2014
West Virginia entered this season ranked just eighth in the Big 12 preseason poll, ranking above only Iowa State and Kansas, the former of which just lost to North Dakota State this week. In the poll, the team received just 170 points, 127 less than seventh-place TCU.
Much of the doubt was based on WVU's performances last year, when the Mountaineers went just 4-8 overall and a horrid 2-7 in Big 12 play, with losses to both Kansas and Iowa State.
With not much talent coming in, 2014 was thought to be much of the same.
But what nobody anticipated was that, although they were a year late, Trickett and his receivers are finally starting to replace Geno Smith, Tavon Austin and Stedman Bailey.
Not only did Trickett—who split starts with Paul Millard while struggling last season—put up impressive numbers, but five receivers had 50 or more yards catching against the Tide, highlighted by a nine-catch, 143-yard showing by Kevin White.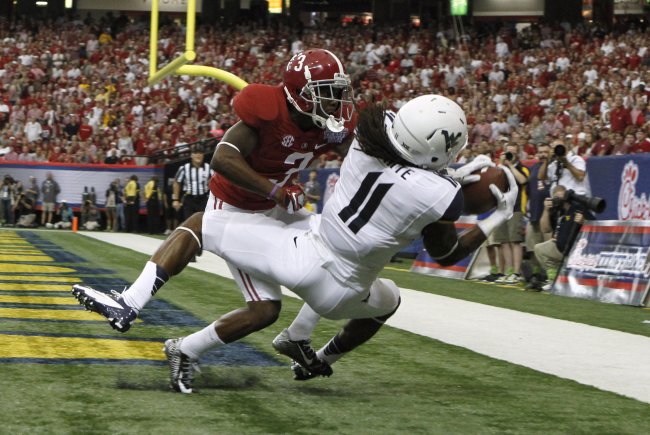 USA TODAY Sports
Now that the Mountaineers know that they can hang with the best college football has to offer, they can go into their next two games at home against Towson and on the road against rival Maryland with a real expectation that they can win.
That'll set up a Big 12 opener at home against Oklahoma, the team picked to win the league. And that game could very well set the tone for the entire conference.
Each of the last three Big 12 champions (Baylor in 2013, Kansas State in 2012 and Oklahoma State in 2011) have one thing in common—beat the Sooners.
It's no secret that the road to a Big 12 title goes through Norman each and every year. But the last two seasons, West Virginia's first two in the league, the Mountaineers have given the Sooners problems.
In 2012, a shootout in Morgantown ended in a thrilling 50-49 win for the Sooners. Then last season, Oklahoma squeaked by at home against WVU 16-7.
The fact that West Virginia looks like they can hang with Oklahoma isn't all that's working in their favor. As LostLettermen.com points out, all of the toughest games left for WVU are at home.
WVU fans should be encouraged. Great effort & all toughest Big 12 games - Oklahoma, Baylor, K-State - at home. Chin up.

— LostLettermen.com (@LostLettermen) August 30, 2014
There are a few issues the Mountaineers need to address, but avoiding Alabama's NFL-caliber defensive line may be enough of a cure. For starters, WVU finished Saturday's loss with just 28 rushing yards on 24 carries.
Granted, four of the carries were from Trickett, and he netted negative-11 yards. But even in Holgorsen's high-flying spread offense, you have to have some sort of rushing threat to counter the pass.
The Mountaineers also allowed 288 yards on the ground. But as a whole, the Big 12 is a passing league and the team will likely not see an offensive line or a running back as high caliber as Alabama's the rest of the way.
However, Alabama was also going through growing pains and still won the game by double digits. Blake Sims was starting his first-ever game for the Crimson Tide under a new offensive coordinator in Lane Kiffin, so to judge the Alabama team that showed up on Saturday to what it has been the past half-decade is unfair.
Other concerns that surround the Mountaineers include their lack of depth at some key positions, including the offensive line and the secondary.
The blown series inside the 10-yard line to start the fourth quarter, including two bad passes from Trickett and a snap over the quarterback's head wasn't necessarily a sign of good things to come, either. But if enough guys step up, just like they almost did against the Tide, anything can happen this season.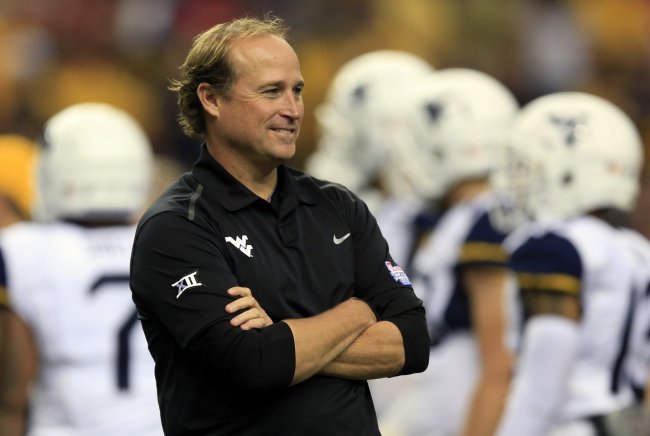 USA TODAY Sports
The Big 12 is known for having champions rise from the ashes. Baylor was picked fifth in the league last year, the year of its first-ever Big 12 title. A year prior, K-State was picked sixth before Bill Snyder won his second Big 12 title.
This season, with West Virginia proving on Saturday that it can hang with the elite, could very well see the Mountaineers be the Big 12's phoenix in 2014.