A run of three straight PGA Tour victories, including two majors, finally came to an end at The Barclays for Rory McIlroy. But with the world No. 1 heading to Boston, he is in search of a new streak at the Deutsche Bank Championship.
Not only was his run cut short of four straight, but McIlroy also finished outside of the top 20 in a PGA event for the third time all season. Still having confidence from his previous hot streak, the 25-year-old comes in looking to reach the top of the FedEx Cup standings.
McIlroy shared his thoughts coming into the crucial tournament, per BBC Sport:
My frame of mind and where I am mentally is very similar. ... I am very relaxed, I'm going out on to the golf course and I'm not really putting a whole lot of pressure on myself.

I'm just going out and playing and I know that if I play well, that I'll have somewhat of a chance to maybe win the tournament. I am excited for the opportunity to get back to that number one place and move on to Denver with a little bit of a lead.
Still sitting atop the Europe Ryder Cup standings, McIlroy has a chance to distance himself even further as the No. 1 player. Pressure is constantly applied to McIlroy, so getting off to a hot start will be important to shake any doubters.
Despite the blistering July he enjoyed, being the hottest star in the sport means greatness is expected. Doug Ferguson of The Associated Press joked about that after The Barclays:
McIlroy in a tie for 22nd. If he doesn't win next week, headlines to read: "What's wrong with Rory?"

— Doug Ferguson (@dougferguson405) August 24, 2014
With the Deutsche Bank Championship already underway, here's a look at McIlroy's daily scores and updated leaderboard from the tournament.
Day 4 Recap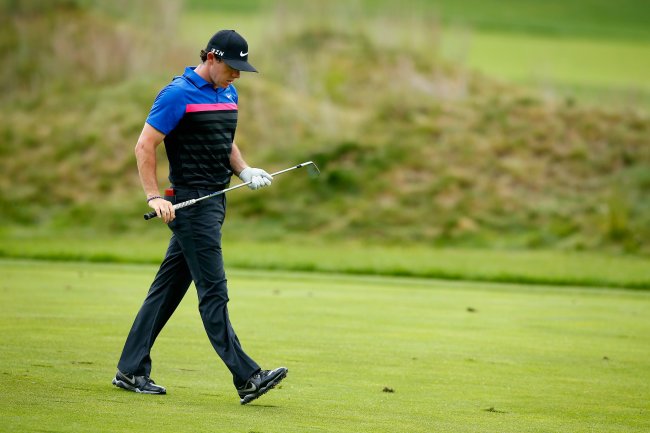 Jared Wickerham/Getty Images
Just a day after the best round of the weekend for McIlroy, he closed out on a sour note.
On Sunday, McIlroy posted one of the best rounds of the season. Coming into Monday, he was confident and ready to chase down the leaders, as he posted on Twitter:
Happy to have another chance for a W here in Boston! Good memories from 2012 when I chased down the lead... Need to do the same tomorrow 💪⛳️

— Rory Mcilroy (@McIlroyRory) August 31, 2014
Instead of catching the contenders, though, he faltered and fell slightly down the leaderboard with a one-under 70 to tie for sixth. That was thanks to a late charge on the course, as he entered the 16th hole at one over par.
Playing on Monday is typically unfamiliar territory for golfers, but Labor Day was a laborious one indeed for McIlroy. After starting the day tied for third, McIlroy struggled to fall outside of the top five and short of a fourth win in his last five events.
While Sunday was an encouraging one for the two-time major winner in 2014, Monday was a frustrating one. After three birdies and two bogies on the front nine, McIlroy started the back off with two more bogies through the first three holes.
The infuriating start for McIlroy led to an interesting scene after the two straight bogies on the fifth and sixth holes. Adam Sarson of The Score provides a look at the young golfer throwing his ball:
GIF: After back-to-back bogeys, Rory has decided that the ball is to blame. http://t.co/Z613xbIebe

— Adam Sarson (@Adam_Sarson) September 1, 2014
Following the difficult start to the back nine, McIlroy leveled off and had three straight pars from the 13th through the 15th holes. Then, as he did on Sunday, McIlroy crushed his shot off the tee at the 16th to secure another birdie.
Here's a look at the shot, courtesy of PGATour.com:
Unfortunately, that shot would not mean much, as he was already well outside the hunt. With Chris Kirk and Billy Horschel running away from the field, even another birdie on the final hole wasn't enough to help McIlroy catch up to the top contenders.
Tom Layman of the Boston Herald referenced the shot on 16 and his round overall:
McIlroy's last two tee shots at 16 have been ridiculous. If he was in contention that would have been shot we talked about for a long time.

— Tom Layman (@Tom_Layman) September 1, 2014
This round looks like Rounds 1 and 2 for McIlroy. Just know momentum built whatsoever. Now 4 bogeys. We will always have Sunday Rory.

— Tom Layman (@Tom_Layman) September 1, 2014
McIlroy may have returned to earth on Monday, but he still proved just how talented he can be on the final three holes. But without the consistency from Sunday, the final round was a trying one for the No. 1 golfer.
Moving forward, McIlroy is still one of the top contenders for the FedEx Cup. He won't be at the top of the leaderboard as he departs from Boston, but he is still in striking distance if he can muster up a few more wins after the Deutsche Bank Championship.
Day 3 Recap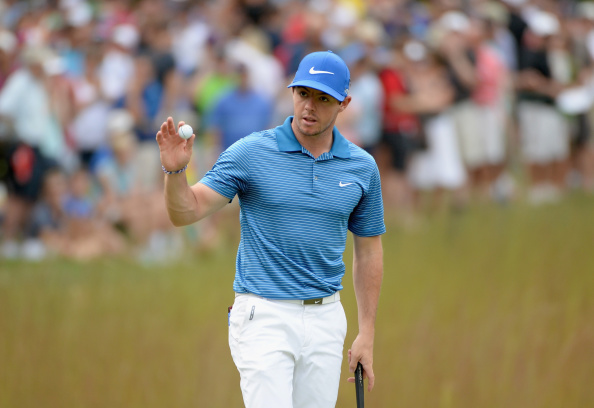 Ross Kinnaird/Getty Images
Sunday is rarely considered the Moving Day in golf, but McIlroy did plenty of it with his play.
After two disappointing days at the Deutsche Bank Championship thus far, Sunday marked a huge change for the golfer. Putting together a round of seven-under 64, McIlroy vaulted back up the leaderboard and walked off the course in a tie for second.
The clean card for the Northern Irish player was highlighted by several birdies on the day, including a huge shot on the 13th hole. PGA Tour provides video of the splendid birdie for McIlroy.
As he walked off the course, McIlroy tied the lowest round of the day and just short of a share of the lead. With Jason Day still on the course, the 25-year-old narrowly missed out on tying for the lead with a birdie on the 18th.
While he didn't take the lead, McIlroy still came away with one of the lowest rounds of his career. Justin Ray of the Golf Channel points out just how historically great the round was for McIlroy:
The lowest 3rd round score of Rory McIlroy's @PGATOUR career is 64. It came last year at this event. He's -7 through 16 today.

— Justin Ray (@JustinRayGC) August 31, 2014
The two-time major winner in 2014 had his staunchest competition directly next to him on the course. Chris Kirk, who was paired up with McIlroy on Sunday, remained tight with the elite golfer and equaled him with a seven-under round of his own.
Ray notes the exceptional round for both golfers on Moving Day in Massachusetts:
Rory McIlroy and Chris Kirk, playing together today, combined: 14-under, 0 bogeys, 32-for-33 on putts inside 10 feet.

— Justin Ray (@JustinRayGC) August 31, 2014
Following the round, McIlroy spoke about his huge performance, per the NBC broadcast:
"I played well," McIlroy said. "I hit a lot of iron shots close and put myself in position to do that more so than the first couple of days. ... It was a really solid day of golf and obviously puts me into a good position going into tomorrow."
Just one day might have marked a huge turnaround for McIlroy and could lead to yet another win for him on the year. Despite losing a three-tournament win streak his last time out, it might be time for another run in Boston.
Day 2 Recap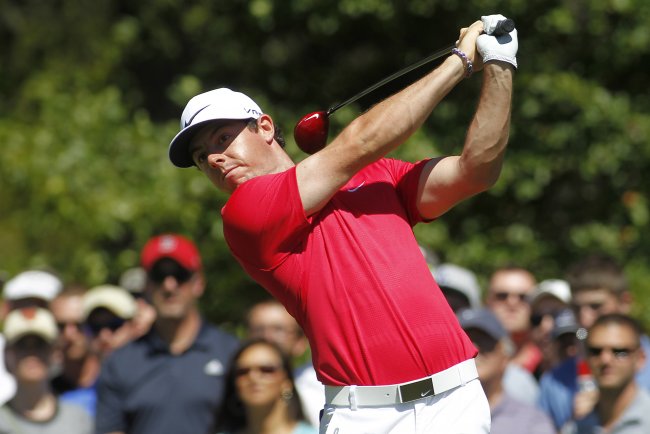 Stew Milne/Associated Press
McIlroy continued to display a bit of erratic play on Saturday. He looked brilliant at times, but faltered at others. This trend completed another lackluster day for the world No. 1 on a course susceptible to low numbers.
Here's a look at his Round 2 scorecard:
Rory McIlroy's Day 2 Scorecard at TPC Boston

| | | | | | | | | | | | |
| --- | --- | --- | --- | --- | --- | --- | --- | --- | --- | --- | --- |
| Hole | 1 | 2 | 3 | 4 | 5 | 6 | 7 | 8 | 9 | OUT | |
| Par | 4 | 5 | 3 | 4 | 4 | 4 | 5 | 3 | 4 | 36 | |
| Score | 3 | 4 | 4 | 4 | 4 | 3 | 5 | 3 | 4 | 34 | |
| Status | -1 | -2 | -1 | -1 | -1 | -2 | -2 | -2 | -2 | -2 | |
| Hole | 10 | 11 | 12 | 13 | 14 | 15 | 16 | 17 | 18 | IN | TOTAL |
| Par | 4 | 3 | 4 | 4 | 4 | 4 | 3 | 4 | 5 | 35 | 71 |
| Score | 4 | 3 | 4 | 4 | 6 | 3 | 3 | 4 | | | |
| Status | -2 | -2 | -2 | -2 | E | -1 | -1 | -1 | | | |
PGATour.com
McIlroy started out in quality fashion, quickly posting a birdie at the par-four first. His approach settled to 16 feet and he calmly rolled in the birdie putt. Here's a look at his his nice roll:
While the world No. 1 followed that up with yet another birdie, a bogey on the par-three third quickly brought him back to one under for the day. All of a sudden, it appeared as though he was primed to post a similar score to his Day 1 performance.
A birdie on the par-four sixth took McIlroy back to two under for the day, and after parring out the remaining three holes on the front side, he made the turn with a 34.
He maintained his two-under standing after parring four more holes; however, disaster struck soon after. An errant approach well off the green led to a double bogey, as McIlroy dropped to even for the day.
He rebounded nicely, birdieing the following hole to get back to one under, and a well-struck approach to the par-five 18th led to his final birdie of the day and a two-under 69.
Golfweek noted McIlroy's nice response to his double:
Rory McIlroy (-2) responds to double w/ birdie at 15th; Jason Day (-9) leads @DBChampionship. Live blog: http://t.co/jDlDwz515G

— Golfweek Magazine (@GolfweekMag) August 30, 2014
Saturday's round gets McIlroy to three under for the tournament, and he creeps ever so closer to the eight-under pace set by leader Ryan Palmer, who shot an even-par 71 on Day 2.
McIlroy is in great position entering the final 36 holes of the tournament. He's put up some very low numbers at times this season, and appears poised to make a run at yet another title in 2014.
Day 1 Recap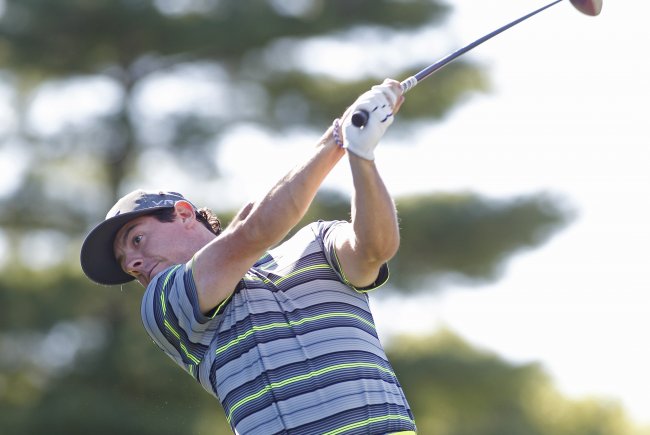 Stew Milne/Associated Press
McIlroy's opening round had several ups and downs, but he still stood within striking distance of the lead as he walked off the course.
His one-under 70 was highlighted by a strong start to the round that saw him open with three birdies through the first four holes. With his strong opening round, McIlroy headed to the clubhouse tied for 17th heading after Friday.
Opening on the back-nine, McIlroy was powerful from the beginning and looked the part of the favorite. The PGA Tour account gives a look at the start for the Northern Irish player:
Rory just stuck it to a foot at 10 for an opening birdie. Watch every shot live: http://t.co/4NYJ9DzN5t #FedExCup pic.twitter.com/hmMpzMdRp9

— PGA TOUR (@PGATOUR) August 29, 2014
That early play would hold up throughout the rest of the back-nine as he finished at two-under. Despite a late bogey on the 17th, McIlroy's approach on the 13th was a memorable one, as PGA Tour shows:
Great #GolfTip from Rory today: Want to make more birdies? Just hit it to a foot on every hole: http://t.co/m6hofngsn0 #FedExCup

— PGA TOUR (@PGATOUR) August 29, 2014
While the first nine holes were great for McIlroy, the final part of the round was erratic.
After remaining at two under through the first three holes, he made it to the top of the leaderboard with a birdie on the fourth hole. Unfortunately, McIlroy would quickly fall back down with bogeys on both the fifth and sixth before recovering on the seventh.
The fall back to Earth hurt McIlroy slightly, but he was able to remain in the top 10 heading into the final holes. Along with the No. 1 player, several others were in contention at the end of the round, per Tom Layman of the Boston Herald:
Keegan Bradley leads at 5-under. Jason Day, Jordan Spieth, Patrick Reed, Rory McIlroy, Jimmy Walker all w/in a few shots. @DBChampionship

— Tom Layman (@Tom_Layman) August 29, 2014
Though he bogeyed the final hole and fell into a tie for 18th, McIlroy remains a contender for the title heading into the weekend.
While McIlroy didn't come away with the lead, his performance on Friday proves he can compete for another title at the Deutsche Bank tournament. With a good start, expect to see much more consistent play from McIlroy this weekend.
In order to keep his hot streak going, McIlroy will need to keep the same approach game that he found on Friday. If he can maintain par rather than bogeys through the front-nine, look for McIlroy's name near the top of the leaderboard again on Monday.
Follow @RCorySmith on Twitter.