Hello Football Fiends,
Below is an article I wrote in 2004 for the Hollywood Stock Exchange. If I were to rewrite this piece today, I'd have to include Invincible in the list.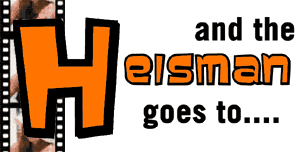 The Heisman trophy is being awarded on Saturday night in New York City. Amongst the outstanding finalists are two players from my alma mater. So, in the spirit of Troy, we'll take a look at Sports movies this week. Much like the Heisman, we have five finalists. I sent a ballot out to a number of trusted colleagues, family and friends and asked them to rank these five films from 1 to 5. I tallied the votes, and my friends, HSX's Heisman for Outstanding Sports Movie goes to…
You didn't think I was going to give it up that easily, did you? Like the real Heisman judges, I had certain criteria in choosing my five finalists. They had to have heart. They had to have character. They had to feature a triumph over the odds Four of the five move me to tears every time. One of those four makes me sob uncontrollably. And then there's the dark horse candidate, the classic comedy.
It was a tight race. We had a three-way tie for first until the last ballot arrived in my inbox this morning. We had dissension and debate in the ranks at HSX - would it be Rocky or Caddyshack? The Natural or Hoosiers? Or, would it be the saddest tale ever told, Brian's Song? And what about… well, the list of honorable mentions could go on for pages. It seems that everyone has an opinion on what the greatest sports movie of all time is, and they can defend their position vehemently. What I don't understand is several voters' assertions that The Bad News Bears must be on the list. OK, The Bad News Bears was a cute little film. But is it Rocky? Is it Redford's The Natural? Is it the story of Gale Sayers and Brian Piccolo? Absolutely not.
Each film received 5 points for each first place vote, four points for second place, three points for third place, two points for fourth place, and one point for last place.
So, without further ado, I present you with the five HSX Heisman for Sports Movies Finalists.
5. HOOSIERS (1986)
Director: David Anspaugh
Screenwriter: Angelo Pizzo
A small town high school hires a coach with a checkered past plus the local drunk to coach its basketball team. The set up is a recipe for disaster, which of course means this is a story of grit, determination and heart. Gene Hackman, Dennis Hopper and Barbara Hershey star in this film. Set in the 1950's, the story is a classic David vs. Goliath tale, with the small town basketball team battling it out for the state championship against teams from bigger schools who are perennial powers on the court. Based on a true story, Hackman plays the volatile coach. His portrayal drew comparisons to real life volatile University of Indiana coach Bobby Knight. I've known a few guys who consider this the best movie ever made. None of them were consulted for this polling. Hoosiers received no first place votes.
4. CADDYSHACK (1980)
Director: Harold Ramis
Screenwriters: Harold Ramis, Brian Doyle-Murray, and Douglas Kenney
Chevy Chase, Rodney Dangerfield, and Bill Murray starred in this classic comedy about an exclusive golf club and the cast of characters that work and golf there. Though the other four films on this list are dramas, I did not feel my Heisman Sports Movie list would be complete without this gem. In high school, we watched this film so many times that each of my friends could do a dead on impersonation of Bill Murray's "Its in the hole" and we were often telling people we had "happy feet." A comedy that stands the test of time as this one has deserves to be a finalist. Its theme of rich vs. poor, real estate development, politics, and of course, the crazy groundskeeper are as applicable to today's society, and therefore as amusing, as they were in 1980. Caddyshack received one first place vote.
3. BRIAN'S SONG (1971)
Director: Buzz Kulik
Screenwriters: Gale Sayers, Alan Silverman (book) and William Blinn
This film about the life and death of Chicago Bear Brian Piccolo ranks right up there with Old Yeller as one of the saddest of all time. Even typing this paragraph has me on the verge of tears, so strong is the emotional pull of this film. James Caan and Billy Dee Williams starred as Brian Piccolo and Gale Sayers. Piccolo was the leading rusher in all of college football in his senior year at Wake Forest University. Considered too small for the NFL, he did not get drafted. Legendary Bears owner and coach George Hallas picked "Pic" up as a free agent. The two were the first interracial roommates in the NFL. They were also best friends. During his physical in training camp in 1969, Pic's chest x-ray showed nothing amiss. Four months later he had a grapefruit sized tumor in his chest cavity and had to undergo emergency surgery. It was a fast moving and rare type of cancer. Eight months later, on June 16, 1970, at the age of 26, Brian Piccolo died. A month earlier, Piccolo's best friend Gale Sayers was awarded the NFL's most courageous player award. He uttered the now famous quote that follows: "I love Brian Piccolo, and I'd like all of you to love him. When you hit your knees to pray tonight, please ask God to love him, too." Sayers would only accept the award on Piccolo's behalf. Brian's Song received two first place votes.
2. THE NATURAL (1984)
Director: Barry Levinson
Screenwriter: Bernard Malamud (book) and Roger Towne & Phil Dusenberry
I've always found this film to be haunting. Robert Redford starred as Roy Hobbs, an unknown middle-aged baseball player in the 1930s that appears seemingly out of nowhere to take a losing baseball team to the championship. In flashback we learn that Hobbs' earlier career was tragically cut short when he is shot by a mysterious woman that continues to float in and out of his life. His bat is his lucky charm, hewn from the trunk of a tree felled by lightning. His aura is one of legend. And the theme music, who can forget that? Robert Duvall, Glenn Close, Kim Basinger and Barbara Hershey co-star. The Natural received two first place votes.
And the HSX Heisman for Sports Movies goes to:
1. ROCKY (1976)
Director: John G. Avildsen
Screenwriter: Sylvester Stallone
Rocky fulfills all the criteria set forth by the HSX Heisman committee (um, Me). It has heart and soul, its intelligent, its got moments of humor, it has a triumph over the odds, and its central character is beloved. Rocky Balboa, our loveable lump of a guy with raw boxing talent manages to string together a rag tag bunch of trainers and managers and boxes his way into the big time. But Rocky is sweet and tender as well as we see in his courtship of Adrian. And anyway, come on, its Rocky, of course he gets the trophy. And like the other films on the list, Rocky stands the test of time. If you are one of the few people in this country that have not seen this film, your assignment it to go rent it. Or, turn on your cable box; it can usually be found playing somewhere. AMC, ESPN and TBS are the most likely sources for it. This is truly a story of what the human will can achieve when it is inspired. Rocky won the Best Picture award at the 1977 Academy Awards Ceremony. Talia Shire, Burt Young, Burgess Meredith and Carl Weathers co-star.
Honorable Mentions: Field of Dreams (1989), Knute Rockne All American (1940), The Bad News Bears (1976), Endless Summer (1966), North Dallas Forty (1979), Bull Durham (1988), Remember the Titans (2000)
And so, we conclude the first HSX Heisman for Sports Movie presentation. Congratulations go out to all of our finalists. Good luck to all of the real Heisman contenders, but especially University of Southern California players Matt Leinart and Reggie Bush. Fight on Gentlemen!
-Your Gridiron Goddess