United States goalkeeper Tim Howard, who single-handedly kept the Yanks in the World Cup round-of-16 clash against Belgium, announced Thursday that he will be taking a one-year break from international play.
.@TimHowardGK is taking a #USMNT break (but not retiring!) until Sept. 2015 to spend more time with family. pic.twitter.com/ov5DriWTox

— U.S. Soccer (@ussoccer) August 21, 2014
Howard, who will still play for Everton in the English Premier League, has found the perfect time to take a break from the national team, as Jurgen Klinsmann's side will not face too many tests outside of the 2015 CONCACAF Gold Cup over the next 12 months.
Tim Howard will step away from #USMNT until Sept. 2015. His U.S. career numbers: pic.twitter.com/N7dZCaoUC9

— Paul Carr (@PCarrESPN) August 21, 2014
With the departure of the 35-year-old from the national team picture, the door has been left open for Brad Guzan to claim the first-choice keeper position on a near permanent basis.
Guzan should be called up to the squad for the September 3 friendly against the Czech Republic, which is a match that could see 21-year-old Cody Cropper receive a call from Klinsmann as well.
Jim Rogash/Getty Images
Guzan and Cropper are just two of the American netminders that will benefit from the break taken by Howard.
The 2015 Gold Cup carries a smaller amount of significance for the Yanks after their win in the 2013 tournament, but it would still be nice to win it again on home soil.
Howard was never likely to feature in that competition, as it should be a summer full of games for younger players to break into the first team ahead of the 2016 Copa America Centenario—the most important tournament the Yanks will play in between now and the 2018 World Cup.
With Howard back in the fold in 12 months time, he will have plenty of opportunities to earn his starting position back, but it will not be easy given the competition he will be facing.
Guzan is next in line to the American goalkeeping throne that Howard sits in right now, and it is highly likely that the 2018 World Cup will be his tournament in goal. But for that to happen, he has to impress in between the pipes while Howard is away.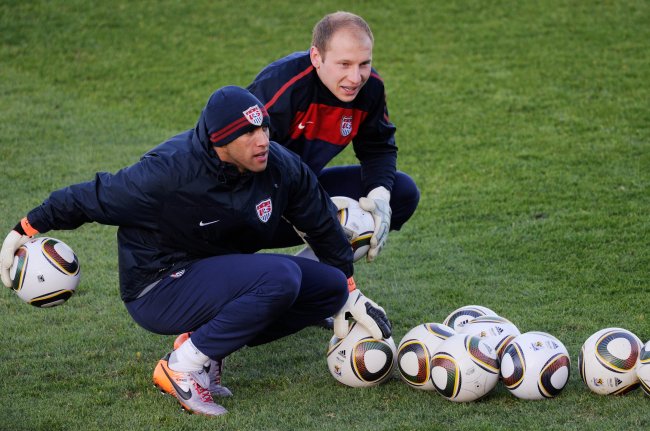 Kevork Djansezian/Getty Images
In the Czech Republic and the Republic of Ireland, who the Yanks will play in Dublin November 18, Guzan will have two quality European opponents to flex his muscles against in goal.
Guzan should also be in line to get the call for the October 10 friendly in Connecticut against Ecuador as well, since the crop of Major League Soccer keepers in the national team pool will be in the thick of the playoff race.
Behind Guzan on the depth chart are Nick Rimando, Sean Johnson and Bill Hamid, all of whom have put together solid resumes in MLS.
All three of those keepers will have a strong chance to make the Gold Cup roster, but if Guzan plays in that tournament, none of the trio could see game time there, which means every call-up before then will carry more importance.
Rimando (35) might not be around for 2018, but he has a few years left, which puts him in contention for the Copa America Centenario, and based on his usual form he should have no problem making that team.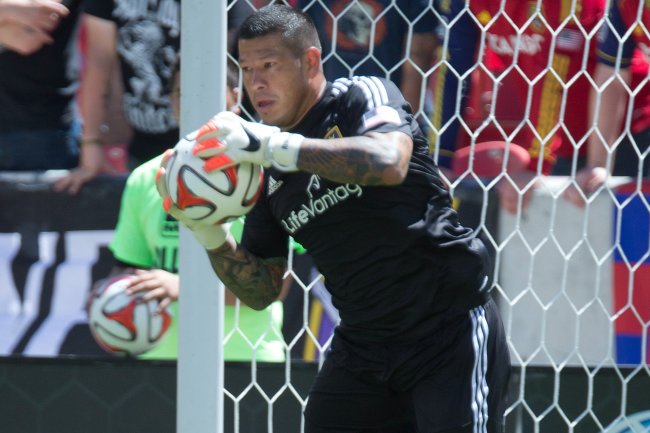 USA TODAY Sports
For Johnson (25), Hamid (23) and even Cropper to an extent, they must take advantage of every opportunity they are handed between now and the time Howard returns to showcase why they should be included in the next World Cup qualifying cycle.
As you can see, the United States will not be at a shortage of goalkeeping talent anytime soon, and Howard's absence will actually benefit a few young keepers, who can now get the chance to impress Klinsmann in training.
Howard's self-imposed break from the national team does seem similar to the one Landon Donovan took in 2013, but in many ways it is completely different.
Howard is coming off a spectacular World Cup, and the next year produces a minimal amount of challenges for the true first team of the United States.
US Soccer - Tim Howard to take 1 year break from Nat'l team, will be avaialble again Sept. 2015. Misses 8 potential friendlies & Gold Cup.

— Max Bretos (@mbretosESPN) August 21, 2014
The 35-year-old also has plenty of reliable replacements behind him on the depth chart already, which says something about the continued production of American keepers.
When Donovan took off for Cambodia, he did so right before the start of the Hex, and he didn't have a replacement waiting in the wings to take over right away, although Graham Zusi did an admirable job in his place during the final stage of World Cup qualifying.
Howard is also still going to be playing at the club level, while Donovan stepped away from the LA Galaxy as well during his sabbatical.
Given the form he has been in, Howard will be just fine once he comes back to the United States, and he could potentially come back even better than he was before thanks to the time off he will have during international dates.
With Howard gone from the national team for a year, it will only help the progression of the team moving forward, which is something that is needed after the 2014 World Cup.
Follow Joe on Twitter, @JTansey90.