No pressure, Mo'ne Davis. You just have the eyes of a nation watching your every move on the mound at the 2014 Little League World Series.
The Taney ace is set to take the bump against a talented Nevada team on Wednesday night in the semifinals of the American half of the LLWS bracket. No player at Williamsport, Pennsylvania, has captured the attention of the sporting public quite like Davis.
"To be honest, I never thought I'd be famous for baseball," she said after being featured on the cover of Sports Illustrated, per SI.com's Scooby Axson. "I want to play basketball, and I could also do both basketball and baseball—but I really want to play basketball."
Before Davis takes center stage, the cream of the crop internationally stepped onto the diamond of the famous Howard J. Lamade Stadium to determine who'd be advancing to the international championship.
On one side stood LLWS juggernaut Japan, and on the other was South Korea, who's riding an unbeaten streak into Williamsport.
You couldn't have asked for a better day of Little League baseball.
2014 Little League World Series—Day 7

| | | | |
| --- | --- | --- | --- |
| Time (ET) | Team 1 | Result | Team 2 |
| 4:25 p.m. | South Korea | 4-2 | Japan |
| 7:30 p.m. | Nevada | 8-1 | Pennsylvania |
LLBWS.org
Bracket
You can view an updated Little League World Series bracket here.
Day 7 Recap
South Korea 4, Japan 2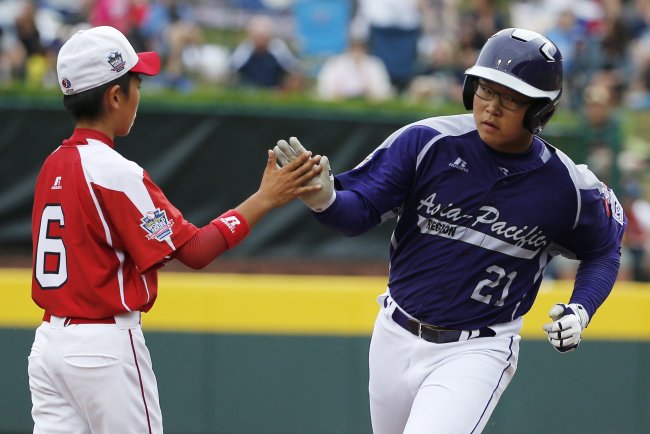 Gene J. Puskar/Associated Press
Nothing like a go-ahead home run in the final inning of the game to begin Day 7 of the Little League World Series.
Japan looked like it would draw first blood in the bottom of the second inning with the bases loaded. However, South Korea got out of the jam with no damage done.
Then Hae Chan Choi stepped up in the top of the third and socked a massive two-run home run to give South Korea a 2-0 lead. Ben Brigandi of the Williamsport Sun-Gazette tracked the homer at 260 feet:
Hae Chan Choi's 260-foot home run is one way to break up a no-hitter. 2-0 Seoul in top of third.

— Ben Brigandi (@benbrigandisg) August 20, 2014
The Japanese team gave a great sign of respect toward Choi as made it around the diamond, per Ed Graney of the Las Vegas Review-Journal:
Best part about Korean HR from Hae Chan Choi: All the Japanese players high-fiving him as he rounded the bases. 2-0 Korea, bottom 3 #lvrj

— edgraney (@edgraney) August 20, 2014
Japan's bats woke up shortly thereafter, manufacturing two runs via a sacrifice fly and wild pitch to tie the game. From there, the group from Tokyo relied heavily on the pitching staff, and up until the sixth, the plan worked.
That's when Jae Yeong Hwang broke the deadlock with a solo home run to right field. ESPN The Magazine's Mina Kimes couldn't contain her excitement when South Korea took the lead:
HWANG GOES YARD 🇰🇷🇰🇷🇰🇷🇰🇷🇰🇷🇰🇷🇰🇷🇰🇷🇰🇷🇰🇷🇰🇷🇰🇷

— Mina Kimes (@minakimes) August 20, 2014
South Korea added an insurance run in the top of the sixth to take a 4-2 lead.
Japan got a runner on base with the tying run at the plate in the final frame but couldn't push the game to extra innings.
With the win, South Korea improves its record to 9-0 at the Little League World Series, per ESPN Stats & Info:
South Korea: improves to 9-0 all-time at the Little League World Series with 4-2 win over Japan

— ESPN Stats & Info (@ESPNStatsInfo) August 20, 2014
This is one of the bigger upsets of the tournament so far. Japan is the two-time reigning LLWS champion and has won three of the last four titles. In the lone year the Japanese didn't win, they finished runners-up.
Now, they'll be fighting for their tournament lives on Thursday against Mexico in the losers' bracket. The winner will face South Korea in the international championship, which is scheduled for Saturday at 12:30 p.m. ET.
Nevada 8, Pennsylvania 1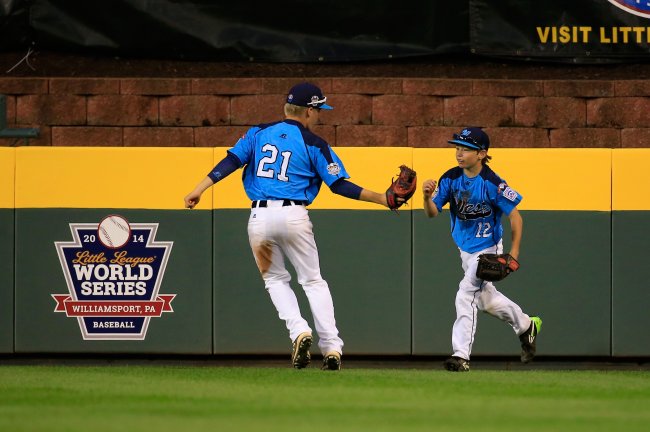 Rob Carr/Getty Images
A capacity crowd packed into Lamade Stadium on Wednesday night for Pennsylvania vs. Nevada. According to ESPN Stats and Info, a little over 34,000 fans were in attendance, which was almost 9,000 more than showed up for the nearby Philadelphia Phillies' game:
Attendance at Pennsylvania-Nevada game- 34,128 ...about 9,000 more fans than at the Phillies-Mariners game today

— ESPN Stats & Info (@ESPNStatsInfo) August 21, 2014
The Mo'ne Davis hype train ground to a halt on Wednesday, with Nevada pouring in a couple of early runs and knocking out the right-hander after 2.1 innings. Davis surrendered three runs before exiting the game, per CBS Sports:
Mo'ne Davis done pitching for night. Allows 3 runs and Ks 6 in 2.1 IP on 55 pitches. Nevada up 3-0 after 3 ins. pic.twitter.com/L2bSPiwdw5 #LLWS

— CBS Sports (@CBSSports) August 21, 2014
Down 1-0 in the bottom of the first with two outs, Pennsylvania's Jack Rice nearly tied the game, only to watch his fly ball to right field snared by a diving Alex Barker, via ESPN:
Nevada's outfielder makes a phenomenal catch on a deep ball hit to right center. #SCtop10 http://t.co/khOKicX1Tg

— ESPN Highlights (@HighlightsESPN) August 21, 2014
Nevada capitalized on that great defensive play a half-inning later. Davis found herself in trouble again in the second inning. With a runner on, Dallan Cave hit a two-run homer to give Nevada a 3-0 lead, per SportsCenter:
Home run, Dallan Cave! He takes Mo'ne Davis yard with 1 out in 2nd inning. Nevada jumps out to 3-0 lead over Pennsylvania. #LLWS

— SportsCenter (@SportsCenter) August 21, 2014
Pennsylvania made it 3-1 in the bottom of the fourth after Davis walked and a wild pitch allowed a runner to score. With the bases loaded and nobody out, Austin Kryszczuk came on to pitch for Nevada and registered a strikeout and an inning-ending double play to go into the fifth still up two runs.
It was a marvelous job by Kryszczuk, and he followed up by stranding runners on first and third in the bottom of the fifth to keep it a two-run game.
With five runs in the top of the sixth, Nevada took a commanding 8-1 lead, and that was all she wrote for Pennsylvania, which was held to one run on four hits.
With the loss, Pennsylvania will meet Illinois tomorrow at 7:30 p.m. ET in the last elimination game in the losers' bracket.
The winner of that game will play Nevada in the United States Championship on Saturday.