Darnell Dockett Injury: How Can Arizona Cardinals Replace Pro Bowl DT?
August 19, 2014

Getty Images
Arizona Cardinals defensive tackle Darnell Dockett tore the ACL in his right knee at Monday's practice and will miss the entire 2014-15 season, according to Bob McManaman of AZCentral.com.
In 10 NFL seasons from 2004 through 2013, Dockett made the Pro Bowl three times. He's tallied 40.5 sacks, made 459 total tackles and forced nine fumbles. The man with a pet alligator started 156 of the 158 regular-season games in which he played and was the driving force on defense during the playoff run of 2008, highlighted by three sacks of Pittsburgh Steelers quarterback Ben Roethlisberger in Super Bowl XLIII.
Only one defensive lineman started more games over that span than Dockett—Justin Smith started 158 games for the 49ers and Bengals—and no defensive lineman played in more games, as Dockett tied Smith and Julius Peppers (Panthers and Bears).
Now the Cardinals must figure out how to replace a franchise favorite.
Of all the positions on Arizona's roster, the defensive line is arguably the deepest and most talented. If any unit can withstand a season-ending injury, it is the defensive line.
Most Sacks in Cardinals History
Player
Position
Years
Sacks
Average/Year
Freddie Joe Nunn
DE-OLB
1985-1993
66.5
7.4
Simeon Rice
DE
1996-2000
51.5
10.3
Curtis Greer
DE
1980-1987
50.5
6.3
Ken Harvey
OLB
1988-1993
47.5
7.9
Eric Swann
DT
1991-1999
45.5
5.1
Darnell Dockett
DT
2004-2013
40.5
4.1
Bertrand Berry
DE
2004-2009
40.0
6.7
Al Baker
DE
1983-1986
37.5
9.4
Calais Campbell
DE
2008-2013
36.5
6.1
David Galloway
DT-DE-NT
1982-1989
36.0
4.5
Pro-Football-Reference.com
But with the loss of Dockett, the Cardinals are not just losing a perennial 16-game starter who comes in and works hard every day. The defense is losing its vocal leader, the team its heart and soul. Dockett is the most outspoken character in the locker room—when something must be said, he is the one to say it.
The Cardinals will place Dockett on season-ending injured reserve at some point in the near future. When they do, he will be allowed to be with his team on game days. He can give inspirational pregame speeches and act as an assistant coach of sorts to defensive line coach Brentson Buckner.
But that will be the extent of his football allowance. He won't be able to be with his teammates at the practice facility in Tempe while they prepare for games, nor can he be in the weight room as they work out.
Games are one thing, but practice is where a team becomes a team. It's where teammates develop unbreakable bonds. Going into battle against the opposition on Sundays help bolster those relationships. Talk about ripping a player's heart out.
Finding someone to replace Dockett at defensive tackle is the easy part, believe it or not.
Considering he's a 33-year-old veteran entering his 11th year, defensive coordinator Todd Bowles can likely get someone to match his expected production.
The obvious choice would be veteran Frostee Rucker, who has enjoyed a nice camp and preseason thus far. He has gotten pressure on opposing quarterbacks and provided solid run defense in his time on the field (granted, he's played mostly against backups).
Another choice would be to let rookie fifth-round pick Ed Stinson step in and start. He's had a great camp as well and is the highest-rated defensive player through two games, according to Pro Football Focus (subscription required).

Norm Hall/Getty Images
Stinson also has the highest grade against the run and is one of two Cardinals defensive linemen with a positive grade in both run defense and in the pass rush. The other is defensive end Calais Campbell.
A third option, and the one that's most intriguing, is to have rookie third-round pick Kareem Martin step in as the 3-technique defensive end and let him grow into his role as a pass-rusher. As Senior Bowl Executive Director and former NFL general manager Phil Savage suggests, Martin and Stinson are probably the future of the position for Arizona anyway.
Starting Martin and playing more true 4-3 sets could be a way to get the deepest unit on the defense to play to its full potential.
For the past five or so years, the Cardinals have made a habit of drafting 4-3 defensive ends and turning them into 3-4 outside linebackers. It's been a tough row to hoe because the transition is not an easy one.
The primary objective of a 4-3 defensive end to get after the quarterback.
When that 4-3 end is not rushing the quarterback, he's defending the run. For the most part, playing defensive end in a 4-3 alignment is a two-dimensional game.
When that 4-3 end is told to stand up and be a 3-4 outside linebacker, his world expands. No longer is his game about simply pinning his ears back and beating an offensive tackle or containing a running back.
On any given drive as a 3-4 'backer, he could rush the passer on first down, play the run on second down and then drop into coverage on third down. For many college 4-3 ends, dropping into coverage is something they learn only after being drafted and converted. Just ask this year's No. 1 overall pick, Houston Texans outside linebacker Jadeveon Clowney, what it's like dropping into coverage for the first time ever.
He'd probably tell you it sucks, in more or less colorful words.
Exhibit A: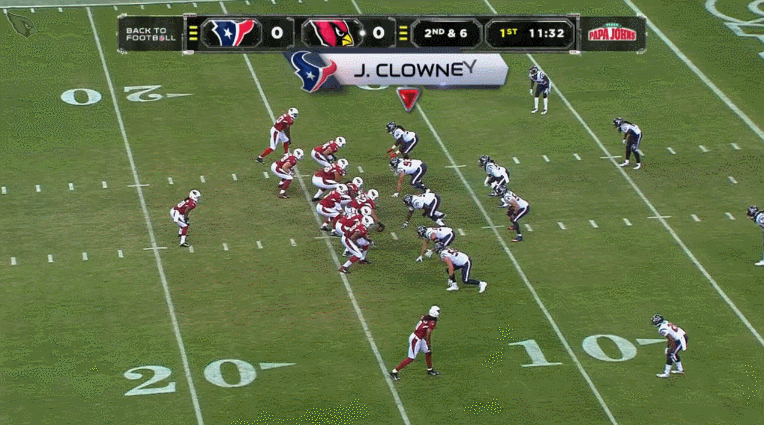 Credit: AZCardinals.com
If the Cardinals are to use a traditional 4-3 look more often this season now that Dockett is out for the year, the line could look something like Campbell at defensive right end, Dan Williams at defensive right tackle, Rucker at defensive left tackle and Martin at defensive left end.
Martin can also play defensive tackle in a 4-3, so the options grow depending on what Bowles wants from his four-man fronts.
The hard part for Bowles and the coaching staff is finding someone to step up and replace Dockett's vocal leadership on the field and in the huddle. Without 2013 mainstays Dockett and inside linebacker Karlos Dansby, who is notorious for being vocal on the field, Bowles must now find a player who is willing and able to speak up and be direct with the defense in the heat of the battle.
Can cornerback Patrick Peterson be that leader? He's certainly being paid as such. We know he will be a top cornerback in terms of production and shutting down the team's No. 1 wideout. But what about the other responsibilities that come with being the best and highest-paid defensive player on the team?
Now would be a great time for the 24-year-old to show why general manager Steve Keim made him the richest corner in the NFL.
However they do it, the Cardinals have an unenviable task ahead of them in replacing Dockett; his on-field leadership and inspiration are difficult to replicate. He is this franchise's Ray Lewis.
I doubt many want to be Bowles right now.