Rory McIlroy arrived at Valhalla Golf Club as a three-time major champion and the No. 1 golfer in the world. He's leaving as a legend.
On Sunday at the PGA Championship, 25-year-old McIlroy won the fourth major title of his young career. It was his second Wanamaker Trophy, his second major win of the year and his third PGA Tour win in a row.
"I didn't think in my wildest dreams I'd have a summer like this," McIlroy said on the CBS broadcast as he held the trophy with a look of disbelief creeping across his face.
He had held major trophies before, but this one was different than all the rest.
This one he won without a large cushion heading into the final day. This one he won with two of the best golfers in the world nipping at his heels. This one he won by coming from behind on the back nine.
This one he won in the dark.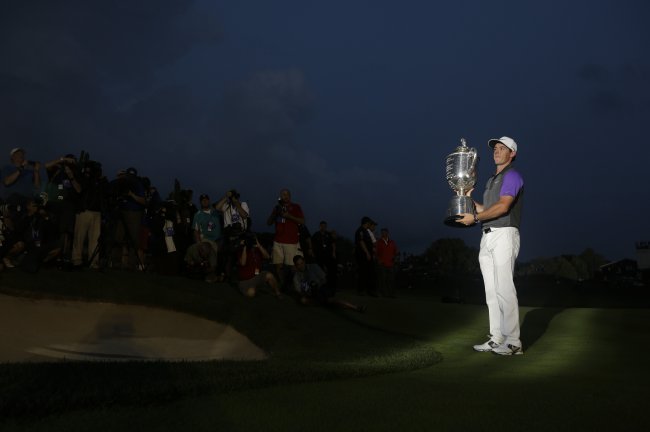 Jeff Roberson/Associated Press
This one displayed a different side of McIlroy. While the other three majors showcased his prodigious talent, this showed his veteran grit. There were plenty of wayward shots, plenty of chances for nerves to make him crumble and plenty of reasons why he shouldn't have walked away as the champion.
He won anyway.
Rory: "I think I showed I had a lot of guts out there to get the job done." #PGAChamp

— Golf Digest (@GolfDigestMag) August 11, 2014
It's hard to think of a final Sunday at a major more dramatic than this one in Valhalla. You name it, this day had it.
It began with biblical rains that delayed play in the late morning and early afternoon. The rains held off through the late afternoon, but as the leaders took the course, there was an ever-present threat that the round wouldn't be completed on Sunday.
But play went on, and with the course softened due to the water, there seemed to be birdie opportunities at every hole. In fact, Jason Day and Bernd Wiesberger (McIlroy's playing partner) were the only two players in the top 15 to score over par on the final 18.
The first three majors of the season had clear winners heading into the back nine on the final Sunday, but there was nothing clear-cut about this Sunday in Kentucky.
Thanks to Kyle Porter of CBS Sports, you can see snapshots of the tight leaderboard throughout the last three-and-a-half hours of play: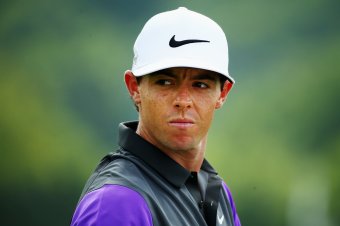 Andy Lyons/Getty Images
McIlroy led the pack by one stroke entering the day, but the names chasing him were a who's who of the best golfers in the world. Phil Mickelson and Rickie Fowler were playing together in the second-to-last pairing, and the Americans didn't give McIlroy any breathing room all day.
Mickelson, who had an awful season up until his final-round 62 at the WGC-Bridgestone Invitational last week, had four birdies on the front nine to put him right into the hunt for his sixth major title.
Fowler, the runner-up at the last two majors, was so on his game that even when he hit his tee shot on the 16th hole into the rough off the fairway on the 15th, he was still able to have a putt for birdie and save par.
Meanwhile, McIlroy struggled on the front nine. He had two bogeys and only one birdie. At one point, he was three strokes behind the leader, tied with three golfers and trailing three others.
It looked like McIlroy would let this major go. A year or two ago, he certainly would have.
However, that's not who he is anymore.
Everything changed on the par-five 10th hole. After a great tee shot, McIlroy hammered a low-flying 3-wood that bounced along the fairway, trickled onto the green and caught a lip that directed it a mere eight feet from the hole. McIlroy made the putt for eagle and was able to take that momentum and run.
Here's the 5-wood Rory hit on No. 7. He'll have that for eagle. https://t.co/YqwBXCieHD

— Eye on Golf (@EyeOnGolf) August 8, 2014
Still, with the fading light and his competitors holding on, there were plenty of theatrics left.
After birdies on the 13th and 17th holes, McIlroy entered the 18th with a two-stroke lead over Mickelson and Fowler. With the light rapidly fading, in a bizarre turn of events, McIlroy and Wiesberger ended up playing up with Mickelson and Fowler so that they could get their tee shots off before it got too dark.
McIlroy then hit his tee shot one foot away from the hazard line near the water and his second shot into the bunker by the green, just to keep things interesting. After chunking his ball out of the bunker, McIlroy needed to find the hole in two putts to keep Valhalla from opening the gates again on Monday for a playoff between him and Mickelson.
With not enough light left to even get a read off of the greens, McIlroy got his first putt so close that his second was a mere formality.
Following one of the wildest rounds of golf in history, the guy who started off the day leading by one stroke ended up winning the tournament by one stroke.
You guys realize we're halfway to a #RorySlam? pic.twitter.com/iTGW2HmEO3

— PGA TOUR (@PGATOUR) August 11, 2014
After what he's done over the past month, winning the British Open, the WGC-Bridgestone Invitational and now the PGA Championship, the hype for McIlroy will reach a fever pitch. That's exactly where it belongs.
"Dear god, we already have our next Tiger," Gregg Doyel of CBSSports.com wrote to open his column.
Whether you agree with Doyel's bold proclamation or with Jack Nicklaus, who thinks McIlroy will win 15-20 majors, the fact is that over the last month, McIlroy's legacy has skyrocketed. Once a huge talent known for his inconsistency and occasional immaturity, he's now seen as a dominant, unrelenting force in the game.
Golf hasn't had consistency at the top for quite some time. In fact, no player had won two majors in one season since Padraig Harrington won the British Open and the PGA Championship in 2008.
Now, golf has McIlroy. And now, golf knows McIlroy can win a major no matter what obstacles are thrown in his direction.
He doesn't need to be playing his best, he doesn't need to have his competitors fade away, he doesn't need to be in the lead all throughout the final round, and he doesn't even need the weather to cooperate.
As he proved during this dramatic PGA Championship win, all McIlroy needs these days is a shot to win. You don't need any light at all to see how special that is.