Rory McIlroy is clearly the best golfer in the world.
He answered yet another set of questions from doubters Sunday. After coming into the final round of the PGA Championship at Valhalla Golf Course in Louisville, Kentucky with a one-stroke lead, McIlroy hit snags on the third and sixth holes.
The two bogeys caused him to fall behind the likes of Rickie Fowler, Phil Mickelson and Henrik Stenson. Yet in the end, McIlroy showed the resolve and the poise that never used to be associated with him.
When the smoke cleared and the sun finally set on a darkened 18th hole, McIlroy had won his third straight tournament and fourth major.
Daylight running out at Valhalla. #PGAChampionship pic.twitter.com/ew4BMSnGXT

— Bleacher Report (@BleacherReport) August 11, 2014
We're about to find out if these guys really could do it with their eyes closed. #PGA

— Cecil Hurt (@CecilHurt) August 11, 2014
This kid is pretty good.
Rory McIlroy has won the #PGAChamp and his fourth career major championship. pic.twitter.com/93GWaAiCBq

— PGA TOUR (@PGATOUR) August 11, 2014
The final 90 minutes of play was as good as it gets for television viewers. The four in contention played at such a rapid pace and made such amazing shots look easy, it was simply a joy to watch.
This has been the most stunning and fascinating final round ever. Basically a foursome on the 18th, in the rain and dark?! #PGAChampionship

— Amber Lee (@blamberr) August 11, 2014
Maybe they should play hurry golf for all Majors #PGAChampionship

— Ryan Baker (@RyanBakerSports) August 11, 2014
To anyone who says/said golf needs Tiger Woods, I hope you watched the final round of the #PGAChampionship... The sport is fine without him.

— Joe Garofalo (@joepgarofalo) August 11, 2014
Without question, had Tiger Woods been playing, Sunday's action would have been of interest to more people. However, for golf enthusiasts, there was nothing lacking from the finale of the last major of the year.
Here's a look at the final standings.
Once McIlroy's win was official, Twitter exploded with reaction toward the four men who had been in contention throughout most of the final round.
Rory is Clutch
Some joked that McIlroy's decision not to get married has been good for his game.
I need to get engaged then break off engagement after sending Save the Dates out, so I can win majors #PGAChampionship #rorymcilroy

— Anya Alvarez (@anyaalvarez) August 11, 2014
Whatever the case may be, the 25-year-old has turned the corner in his career.
A beautiful eagle on the 10th hole and birdies on the 13th and the 17th helped McIlroy shoot four-under par on the back nine. While his competitors all faltered down the stretch, McIlroy did not.
It's Rory's world we are living in kids... #PGAChampionship

— Doug Gottlieb (@GottliebShow) August 11, 2014
He even caught the Wanamaker trophy as it fell during the post-tournament presentation.
Man down!!! Rory McIlroy, expert trophy catcher. #PGAChampionship pic.twitter.com/xfAgVDRsTm

— Jackie Pepper (@Jackie_Pepper) August 11, 2014
Everyone knew McIlroy was capable of the lights-out performances that simply blow away the field and all, but subtract the drama and the pressure from final-round play.
What we've learned from him in his last two tournaments is that McIlroy can stare down challenges from the world's elite and still come out on top.
He did it in a tight battle with Sergio Garcia during the final round of the WGC-Bridgestone Invitational last week, and he did it again in Kentucky Sunday.
#RoryMclLroy in his last 3 tournaments has won The British Open, The WGC Bridgestone & The PGA Championship & now has 4 Major titles! #PGA

— Kenny Roda (@TheKennyRoda) August 11, 2014
That's impressive.
He's come a long way since this image of he and Fowler was taken eight years ago.
Here is Rory & Rickie in 2006.. #PGA #USPGA You're welcome! pic.twitter.com/rtRIKiD8Yu

— Ronan Ryan (@ronanr) August 11, 2014
Close, But No Cigar
That moment when Rickie Fowler realizes he has a share of the lead at the PGA Championship... pic.twitter.com/qd6rR97j2q

— SportsCenter (@SportsCenter) August 10, 2014
Obviously, Fowler was overshadowed by the play of McIlroy, but few players had a better year on the Tour. After tying for third place Sunday, Fowler finished in the top five of every major championship this year.
Take a bow @RickieFowlerPGA really played well at the Majors this year. Definitely due one next year. 👏

— OG Molefe (@OG_Molefe) August 11, 2014
Unfortunately for Fowler, he won't have a major championship to show for his efforts.
Fowler has clearly turned up the intensity in his career. He is no longer the young guy with the bright clothes who doesn't appear to be obsessed with winning.
Rickie Fowler becomes 1st player to record top 5 finishes in all four majors in single season without a win. #greatrunRickie

— Kelly Tilghman (@KellyTilghmanGC) August 11, 2014
He has been totally locked in over the last two months, and it has shown in the scorecards. This may not have been his year to win a major, but if he picks up next year where he left off in 2014, 2015 will be.
Entertaining, but Not the Winner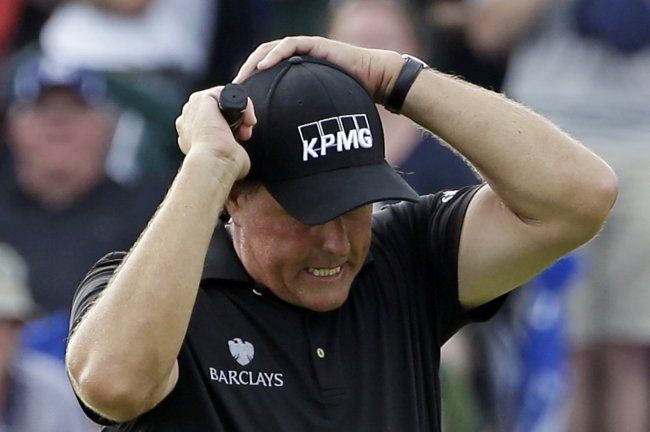 David J. Phillip/Associated Press
No one plays quite as entertaining a brand of golf as Lefty. Whether he's winning or losing, Mickelson wears his emotions on his sleeve.
His facial machinations and not-so-subtle body language take you on the 18-hole journey with him.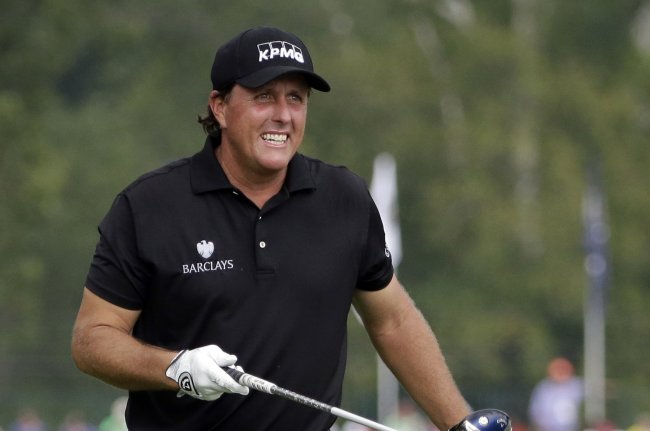 David J. Phillip/Associated Press
Sunday was no exception. From every brilliant shot Mickelson hit en route to his five-under 66, to the bogey on the 16th hole that cost him at least a playoff opportunity, it was easy to see and feel Lefty's emotions.
He played well enough to beat most men, but as Mickelson conceded after the tournament, McIlroy is simply playing on another level right now.
Phil Mickelson was just asked how good Rory McIlroy is right now. "Better than everyone else. He's good -- really good."

— Jason Sobel (@JasonSobelGC) August 11, 2014
That's the ninth career major championship runner-up for Phil Mickelson. Still trails Jack Nicklaus by ten.

— Jason Sobel (@JasonSobelGC) August 11, 2014
At 44 years old, Mickelson still looks to have at least another year of elite play left in him. That might be encouraging to Woods who won't turn 40 until next year.
The First to Crack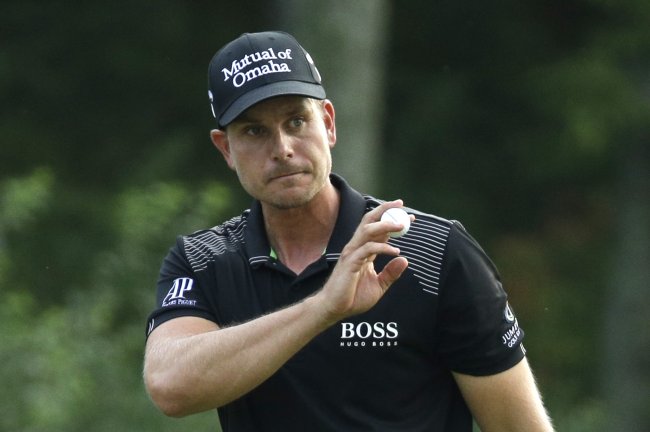 John Locher/Associated Press
Of all four of the serious contenders, Stenson was the first to give in to the pressure. No one needs to apologize for a five-under 66 in the final round of a major, but one shot seemed to dial Stenson back a level and caused him to fall short.
And we have our first "OH MY GOODNESS I'M LEADING ON THE BACK NINE OF A MAJOR" moment from Henrik Stenson.

— Shane Bacon (@shanebacon) August 10, 2014
His bogey on the 14th hole was a big one. He had seemingly grabbed momentum with a birdie on the previous hole, but he gave the shot right back on the next hole, and it seemed to discourage him.
He played tight the rest of the way, and he also squandered an opportunity for a birdie on the par-five 18th hole.
Well done👍@henrikstenson. Great effort #PGAChampionship

— Phil Kenyon (@SwashPutting) August 11, 2014
At this point, the 38-year-old Swede may hold the unfortunate distinction of being the PGA Tour's best player that hasn't won a major.