Marcos Ambrose won the NASCAR Nationwide Series Zippo 200 at Watkins Glen on Saturday, leading the race for 48 laps and edging out Kyle Busch for the crucial victory.
Ambrose notched his fourth victory at a Nationwide Series event at Watkins Glen International. He won three straight times at this course from 2009-2011.
The Watkins Glen International is a rip-roaring road race that throws many drivers for a loop. The change of pace is a welcome sight for many fans and adds plenty of intrigue to both the Nationwide Series Zippo 200 and the Sprint Cup Series Cheez-it 355, which is set to take place on Sunday.
Defending Zippo 200 champion Brad Keselowski stayed near the front of the pack for the entire contest, eventually finishing in fourth place.
Here are the top-10 finishers from the Zippo 200 in Watkins Glen, New York. The full results and standings can be found at NASCAR.com.
2014 Zippo 200: Final Race Standings

| | | | |
| --- | --- | --- | --- |
| Pos. | Driver | Car No. | Laps Led |
| 1 | Marcos Ambrose | 09 | 48 |
| 2 | Kyle Busch | 54 | 1 |
| 3 | Joey Logano | 12 | 6 |
| 4 | Brad Keselowski | 22 | 13 |
| 5 | Matt Kenseth | 20 | 2 |
| 6 | Chase Elliot | 9 | 0 |
| 7 | Elliot Sadler | 11 | 0 |
| 8 | Ty Dillon | 3 | 1 |
| 9 | Paul Menard | 33 | 0 |
| 10 | Brian Scott | 2 | 0 |
NASCAR.com
Recap and Reaction
As the defending champion and one of the few drivers in the field with a road-racing victory, Keselowski had to like his chances heading into the race. He also started the day in pole position, as noted by Watkins Glen International:
Last year's #Zippo200 winner @keselowski raced to the poll for today's @Zippo 200 at The Glen! pic.twitter.com/3ZJ2RV7eO2

— Watkins Glen Int'l (@WGI) August 9, 2014
In what was an early sign of things to come, NASCAR reported the first caution of the day on lap 11 for track debris:
We have the first caution of the #Zippo200 on lap 11 - for debris. #NASCAR

— NASCAR (@NASCAR) August 9, 2014
Keselowski held the league heading into the first green flag of the day, but there would be a few more to come in this one.
Kevin O' Connell spun and hit the wall on lap 27, forcing a caution and a slowdown of the proceedings with 55 laps remaining.
The crash was bad enough that they had to engineer a restart for the race after lap 29, with Marcos Ambrose in the lead at the time.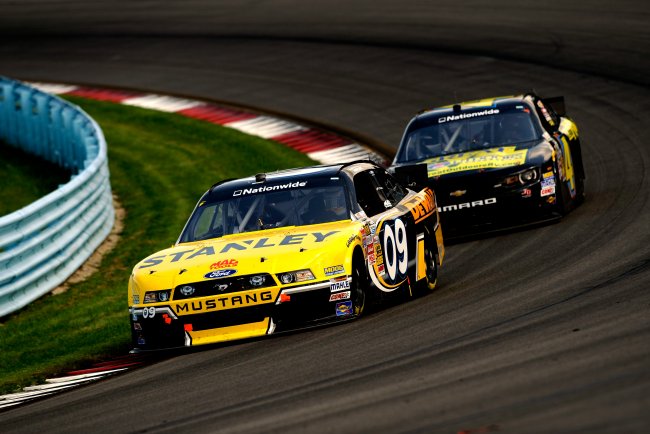 Jared C. Tilton/Getty Images
Just when the race had finally seemed to gain back some of its momentum—thanks to Busch,Keselowski and Chase Elliot jockeying for position—J.J. Yeley spun off the track and crashed into the wall after possibly making contact with another car, resulting in the race's third caution on lap 35.
It was a long day for Trevor Bayne out on the track. He was involved in three accidents during the race, including O'Connell's and Yeley's trips into the wall. Rick Ware Racing, of which O'Connell is a team member, sarcastically thanked Bayne on Twitter for the damage he caused:
Thank you Trevor Bayne! pic.twitter.com/J2AdzFXdu5

— Rick Ware Racing (@RickWareRacing) August 9, 2014
Despite gaining minor notoriety as a wrecking ball out on the course, Bayne finished a respectable 13th.
Kenny Habul had a nervy moment about halfway through the match, spinning his No. 75 car before regaining control and continuing on with the race, avoiding another dreaded caution. This fan noted Brennan Newberry did well to avoid an accident:
Nice move by @brennannewberry to miss that spin by Habul. #NASCAR #NNS #Zippo200

— Kyle Zimmerman (@KyleDZimmerman) August 9, 2014
Ambrose held his lead at the halfway point, but he faced a tough challenge from Joey Logano, who stayed aggressive in his pursuit of the top position.
The pressure to maintain a lead for such a long stretch of road racing may have gotten to Ambrose a bit, as Motor Racing Network's Dustin Long noted that he was warned about his speed after the lap 44 restart:
#NASCAR warns Marcos Ambrose about maintaining his speed on restarts. #AskMRN @MRNRadio

— Dustin Long (@dustinlong) August 9, 2014
The race garnered yet another caution on lap 59 when Landon Cassill's tire was either blown or cut, per NASCAR on ESPN:
Caution for Landon Cassill, who has either blown/cut the right-front tire. We've got 24 laps to go with Ambrose leading Logano, Busch & Brad

— NASCAR on ESPN (@ESPNNASCAR) August 9, 2014
This litany of cautions broke up the race and likely forced many drivers to change their strategies. It certainly didn't help Ambrose, who did well to hold the lead but hardly had a chance to get into a groove. Then again, the cautions prevented those following him from planning and executing their moves.
Keselowski suffered a crushing blow when he spun out into the grass on lap 63 after fighting for position with Busch.
Logano and Ambrose continued to pull away from the rest of the drivers in the field, making it essentially a two-car race for the final 19 laps. Sporting News writer Bob Pockrass gave his take on the performances of Keselowski and Busch:
Rare watch race & think of KyBusch & Keselowski "did they think they could make that move?" Typically "can't believe they made that move."

— Bob Pockrass (@bobpockrass) August 9, 2014
Busch made a thrilling late charge from third place, overtaking Logano on lap 77 and closing the gap on Ambrose. In the end, Ambrose's defensive driving and experience won out. He also made history in the process, via NASCAR on ESPN:
Ambrose now is the all-time leader in Nationwide Series road-course wins; passing Terry Labonte and Ron Fellows. #NASCAR

— NASCAR on ESPN (@ESPNNASCAR) August 9, 2014
Ambrose noted after the race that he may not have been able to hold on to his lead had the race continued any longer, per NASCAR on ESPN:
"Another lap and I would have been in real trouble," winner Ambrose says of the late charge from Kyle Busch. #NASCAR

— NASCAR on ESPN (@ESPNNASCAR) August 9, 2014
The racing action at Watkins Glen is far from over, as the Cheez-It 355 will take place on Sunday afternoon. Jeff Gordon captured the pole position heading into that race, narrowly edging out Ambrose. The veteran driver will be one of the odds-on favorites to win the Sprint Cup Series race.