The entire PGA Tour is Rory McIlory's playground, and the rest of the competitors are simply living in it.
After turning in a five-under opening round Thursday, McIlroy seized the lead after the second round with a four-under 67 Friday. He tallied an eagle, four birdies and two bogeys on the day, and it was a testament to how incredible he is playing on the course that he held the lead despite not quite being at his best.
Here is a look at the leaderboard, with McIlroy sitting on top:
McIlroy explained why he thought he wasn't at the top of his game when he discussed his round and nine-under score, via Bob Harig of ESPN.com:
I scored well, but the golf wasn't quite as pretty as yesterday at times. Neither was the weather, obviously. Played well for the most part. There were some key up-and-downs to keep the momentum going in the round.

Obviously my swing is technically in a good place at the minute. I'm able to shape the ball in both ways. I'm confident, and I'm just on a good run. You've seen when I've been on good runs like this. I can sort of keep it going for a little while. Hopefully I can keep it longer than I have done in the past.
Helen Ross of the PGA Tour provided a summary of McIlroy's performance, while the PGA of America pointed out that this is nothing new at the PGA Championship:
Here are the golfing Cliff Notes on @McIlroyRory's 67 on Friday. He hit 8 fairways, 11 greens and used 27 putts to open a two-stroke lead.

— helen ross (@helen_pgatour) August 8, 2014
Rory McIlroy has shot in the 60's in 7 of his 10 rounds at the #PGAChamp

— PGA of America (@pgaofamerica) August 8, 2014
Caddie Ted Scott put McIlroy's recent stretch of dominance in perspective:
I caddied in the last group in the 2000 Canadian open w @TigerWoods. I haven't seen anyone that confident until this week. Wow #rorymcilroy

— ted scott (@jtedscott) August 8, 2014
McIlroy is only one stroke clear of the rest of the field, but it is difficult to envision him losing his hold on the lead. He has won his past two starts, including the Open Championship, and has been particularly impressive in the short game.
Coming through with the putter on the weekend of a major is always critical, and McIlroy managed to get through Friday's round with only 27 putts. If he continues to sink shots from the green, it will be all the more difficult for the rest of the field to catch him.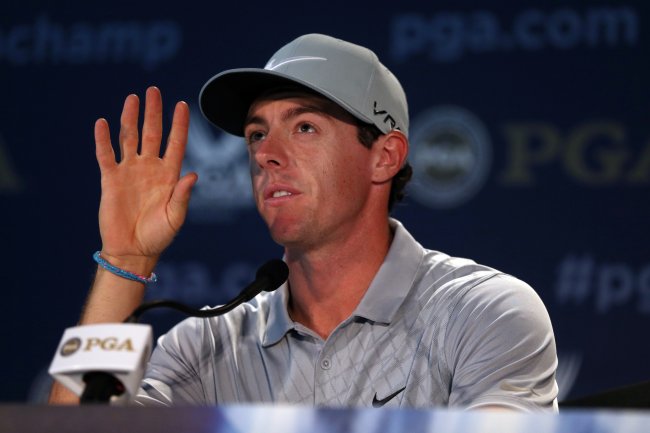 Andrew Redington/Getty Images
Fellow golfer Ian Poulter hinted at such:
Rory is on a mission, he is playing simply incredible golf at the moment. Need to find a gear to step it up.

— Ian Poulter (@IanJamesPoulter) August 8, 2014
While McIlroy continued to play excellent golf, it was difficult to ignore the struggles of Tiger Woods. Kelly Tilghman of the Golf Channel and former NFL tight end Byron Chamberlain gave it the proverbial passing-of-the-torch treatment:
Tiger Woods misses first tee shot left at same time Rory McIlroy's last birdie putt goes right...in the cup.

— Kelly Tilghman (@KellyTilghmanGC) August 8, 2014
we are literally watching the Tiger Woods era end and the Rory Mcilroy era begin in golf. #PGAChampionship

— byron chamberlain (@bc_chamberlain) August 8, 2014
Woods finished with a three-over 74 and missed the cut entirely. During Woods' round, Mark Lamport-Stokes of Reuters noted that it is certainly rare to see the star struggle this badly on a major stage:
Tiger Woods heading for his 4th missed cut as a pro in a major, 2 bogeys and a double leaving him at 7 over in PGA Championship 2nd round.

— Mark Lamport-Stokes (@MarkLamport) August 8, 2014
Woods' playing partner, Phil Mickelson, fared much better.
Mickelson turned in a two-under 69 in Round 1 Thursday and continued his solid play Friday with a four-under 67. He put an exclamation point on the round with an eagle on No. 18, and Sirius XM PGA Tour certainly seemed excited by the developments:
An eagle at 18 for Phil Mickelson & he's now in the house at -6! #PGAChamp

— SXM PGA TOUR Radio (@SiriusXMPGATOUR) August 8, 2014
The large galleries that gathered to watch his pairing with Woods didn't seem to faze him, especially in the midst of an eight-hole stretch from No. 7 to No. 14 when he tallied four birdies and zero bogeys.
Gene Wojciechowski of ESPN was impressed during that run, and Harig noted that Mickelson was converting even though he missed a number of fairways:
Mickelson wasn't kidding when he said yesterday that he finally felt ready to win a tournament. He's at 5-under, four behind McIlroy.

— Gene Wojciechowski (@GenoEspn) August 8, 2014
For what it's worth... Tiger has hit only 8 fairways today (+4). Phil has hit only.... 8 fairways (-2)

— Bob Harig (@BobHarig) August 8, 2014
Another marquee name who was at the top of his game Friday was Rickie Fowler. Fowler turned in a five-under 66 that was driven by eight birdies. In fact, he had more birdies than pars (seven). Steve DiMeglio of USA Today was not surprised, while the PGA Tour pointed out just how consistent the young golfer has been this season:
Another major, another @RickieFowlerPGA sighting on the front page of the leader board. 66 today, 2 back of @McIlroyRory

— Steve DiMeglio (@Steve_DiMeglio) August 8, 2014
Rickie Fowler is one round closer to finishing top 5 in each major this year. He's two off the lead after a 66. pic.twitter.com/0s9yZDAd0J

— PGA TOUR (@PGATOUR) August 8, 2014
Fowler is just two strokes off the lead and tied with Ryan Palmer at seven under par. Palmer turned in a solid one-under 70 Friday after posting a blistering 65 Thursday. Golf Central noted that Palmer was playing for more than just the PGA Championship:
Ryan Palmer (-7) is keeping his #RyderCup hopes alive with solid play at Valhalla: http://t.co/EIezln2z2o pic.twitter.com/JY8pcCjvo8

— Golf Central (@GolfCentral) August 8, 2014
However, it was Jason Day who turned in the most impressive outing Friday. Yes, McIlroy is the clear favorite at this point given the stretch of golf he is in the middle of, but Day is a single stroke back after a six-under 65 put him at eight under par for the tournament. He certainly finished strong, as Golf Digest pointed out:
Jason Day birdied the 18th hole to shoot the low round of the day (65) and earn a spot in the final pairing on Sat. pic.twitter.com/bo62kAY77g

— Golf Digest (@GolfDigestMag) August 8, 2014
PGA of Australia made its cheering preference known:
Aussie @JDayGolf finishes with back-to-back birdies to get to outright second at 8-under par! #CmonAussie

— PGA of Australia (@PGAofAustralia) August 8, 2014
Day is tied with veteran Jim Furyk after Furyk posted a three-under 68 to bring his tournament total to eight under par. Justin Ray of the Golf Channel made a point of noting Furyk's overall consistency:
Jim Furyk will be inside the top-5 entering weekend of major for 6th time since 2010. Only player with more in span - McIlroy (7).

— Justin Ray (@JustinRayGC) August 8, 2014
If fans are treated to a showdown among Furyk, Day and McIlroy Sunday, it will make for must-see golf.