The top golfers in the world have one more chance to bring home a major title in 2014.
This year's PGA Championship will take place at Valhalla Golf Club in Louisville, Kentucky, where Tiger Woods won his title in 2000. While the superstar will try to challenge for his first major since 2008, a loaded field will be looking to bring home a title.
While there has been a bit of a youth movement in golf, the veterans have been stepping up when it counts. None of the last three major championships have been won by first-time winners.
As a result, fans should be focused the bigger names heading into the week. Here is a breakdown of expectations for the game's top stars.
Tiger Woods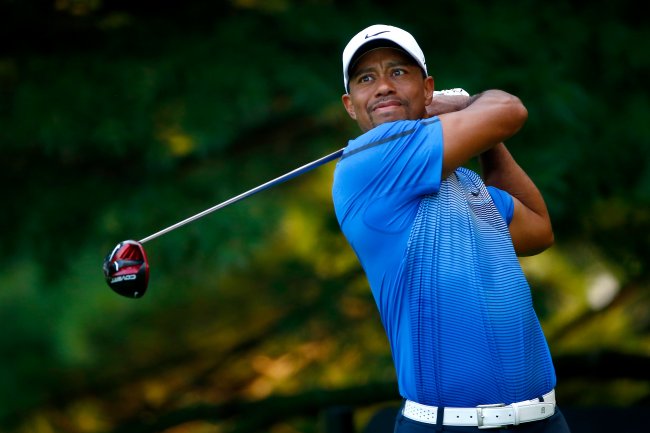 Sam Greenwood/Getty Images
The big question heading into the PGA Championship is whether Woods will even compete. The 14-time major champion was forced to withdraw from the Bridgestone Invitational:
BREAKING: After grimacing in pain after his tee shot on No. 9, Tiger Woods has withdrawn from the @WGC_Bridgestone. pic.twitter.com/BkaouUhMwo

— PGA TOUR (@PGATOUR) August 3, 2014
Jason Sobel of Golf Channel noted the specific problem:
Tiger says he pulled his back on the second hole. It's the lower part of his back. Again.

— Jason Sobel (@JasonSobelGC) August 3, 2014
Bridgestone was only the third tournament Woods had competed in since undergoing back surgery, so this is something to keep an eye on. On the other hand, he has not ruled out competing at Valhalla:
THIS JUST IN: Tiger Woods' agent says Tiger has not ruled out playing in this week's PGA Championship.

— SportsCenter (@SportsCenter) August 4, 2014
If Woods does compete, he has the talent to beat anyone. Even when he is not playing well, he can be accurate off the tee and drain key putts to post a low score. He is also one year removed from winning five tournaments in 2013.
Unfortunately, the one thing he has struggled with this season is his ability to keep up his strong play over the duration of a tournament. Whether it is fatigue or simply his injuries getting worse, it has been hard for him to keep up his low scores heading into the weekend.
Assuming he plays in the tournament, expect him to start off with a solid score before fading down the stretch.
Predicted Scores: 69-72-74-73
Phil Mickelson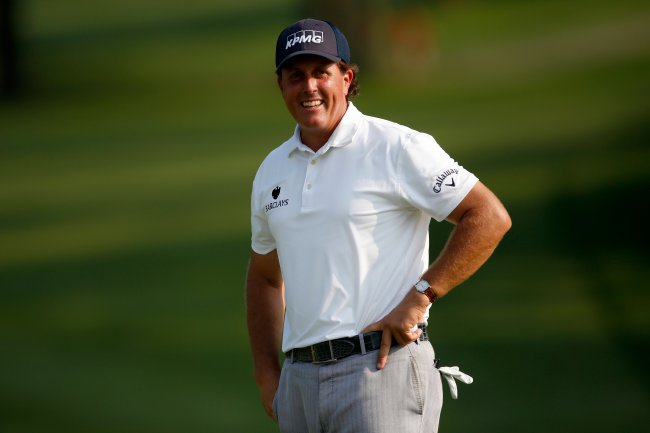 Gregory Shamus/Getty Images
While Phil Mickelson has had some success this year, he has failed to earn a single top-10 finish in a PGA Tour event. In the three majors, he did not finish in the top 20.
On the other hand, Golf Channel notes how well Lefty has fared at Valhalla:
Phil Mickelson is the only player to finish in the top-10 at both PGA Championships held at Valhalla. #PGAChamp pic.twitter.com/QFx3Nckllq

— Golf Central (@GolfCentral) August 5, 2014
It is not an easy course for anyone, but Mickelson can get a lot of birdies thanks to his skill with approach shots. If he can consistently land his wedges close to the pin, he will be able to post some low numbers throughout the week.
Meanwhile, he will be pushed to his best in the first two rounds while playing alongside his biggest individual rival:
In next week's PGA Championship, @TigerWoods and Phil Mickelson are grouped together in the first two rounds.

— Steve DiMeglio (@Steve_DiMeglio) August 1, 2014
Mickelson will not be intimidated by playing alongside Woods and will likely perform well in the opening rounds. Considering he was able to end with a 62 at the Bridgestone Invitational, he should be able to keep his momentum going.
But consistency remains a problem. Even with a strong start, he will not be able to hold on to win a title.
Predicted Scores: 68-66-73-71
Rory McIlroy
After winning The Open Championship, Rory McIlroy won the Bridgestone Invitational. It is rare for anyone to win three tournaments in a row, but the 25-year-old player has the talent to break barriers.
McIlroy has ascended back to the top spot in the world ranking and is playing as well as ever. It has all come from his drives, which have not always been accurate but recently have been extremely long.
Jonathan Wall of the PGA Tour explains how important this is for the player:
Rory McIlroy told me in June that his whole game has been based on how he drives the ball. He's led field in driving distance in two wins.

— Jonathan Wall (@jonathanrwall) August 3, 2014
If he keeps this up, it is hard to imagine anyone beating him.
On the other hand, McIlroy is not ready to crown himself the champion of the upcoming tournament just yet. According to ESPN.com's Bob Harig, he explained:
Sometimes I feel that people are too quick to jump to conclusions and jump on the bandwagon and jump on certain things. I've had a great run of golf, and I've played well over the past few months.

[...]

So I'm not necessarily sure you can call that an era or the start of an era, but I'm just really happy with where my golf game is at the minute, and I just want to try and continue that for as long as possible.
The important thing is he seems to have gotten over his "second-round issue." He had a problem matching his strong performance in the first round with one in the second round until his wire-to-wire win at the British Open.
If he keeps this up, he should be able to at least contend for a title this week.
Predicted Score: 66-69-70-68
Follow Rob Goldberg on Twitter for the latest breaking news and analysis.