Rory McIlroy won the 2014 British Open with a wire-to-wire victory that surely proves he will be in the conversation as one of the game's top talents for many years to come.
He finished with a remarkable 17-under, which sounds ridiculous until you realize it was only two strokes better than Sergio Garcia and Rickie Fowler, who tied for second place and bested McIlroy's Sunday scores.
As ESPN Stats & Info noted, the Northern Irishman's victory in Hoylake, England, put him in rare company when it comes to piling up major wins at such a young age:
At 25 Rory McIlroy is now three-fourths of the way to a career Grand Slam joining some very exclusive company pic.twitter.com/Md4iWsRKci

— ESPN Stats & Info (@ESPNStatsInfo) July 20, 2014
Here is a link to the full leaderboard followed by a quick look at the top 11 finishers at the Royal Liverpool Golf Club:
2014 British Open: Final Top 11

| | | |
| --- | --- | --- |
| Position | Golfer | Final Score |
| 1 | Rory McIlroy | -17 |
| T2 | Sergio Garcia | -15 |
| T2 | Rickie Fowler | -15 |
| 4 | Jim Furyk | -13 |
| T5 | Adam Scott | -12 |
| T5 | Marc Leishman | -12 |
| T7 | Edoardo Molinari | -11 |
| T7 | Charl Schwartzel | -11 |
| T9 | Graeme McDowell | -10 |
| T9 | Victor Dubuisson | -10 |
| T9 | Shane Lowry | -10 |
TheOpen.com
Top Moments
McIlroy showed off his clutch golfing ability with this sensational approach and eagle putt that made up for an embarrassing bogey at the end of Day 3:
His overall play was excellent, with his drives off the tee gaining considerable attention for their length and accuracy.

An entertaining moment came after the tournament when McIlroy slipped up in his victory speech and let the pro-Liverpool FC crowd know exactly where his football allegiances are, via BBC Sport:
"Even though I'm a @ManUtd fan..." - Rory McIlroy is cut off by boos from the @LFC faithful before he can finish #OpenChampion

— BBC Sport (@BBCSport) July 20, 2014
It's doubtful the fans will stay mad at McIlroy for long, as he should be destroying the competition at major tournaments for years to come.
Garcia notched one of the best shots of the tournament with a second-round eagle, via CBS Sports' Eye on Golf:
Sergio gets to 5 under! https://t.co/cMciDjvJYQ

— Eye on Golf (@EyeOnGolf) July 18, 2014
The magnificent shot was, of course, slotted right between two bogeys.
Of course, Garcia turned observers' heads with his unerring surge up the leaderboard in the final round, notching three birdies and an eagle in his first 10 holes.
This put considerable pressure on McIlroy, who was on the verge of succumbing to the high stakes. However, Garcia bailed out the 25-year-old on the No. 15 hole, smacking a shot that couldn't make it out of the bunker and finishing up the hole with a bogey putt.
Perhaps he should have pleaded with the ball to do his bidding, as he did in this clip, courtesy of SB Nation:
Please be good, ball. All Sergio wants is for you to be good, ball: http://t.co/zwbbDeJBRE https://t.co/RKRd4pW0Nj

— SB Nation (@SBNation) July 20, 2014
Garcia couldn't make up the ground over the last three holes, but he remained positive in his post-tournament comments despite missing out on a chance to win his first major.
"Everybody looks at you as second and they want to make it a negative," he told reporters, via Reuters (h/t Tony Jimenez of TheStar.com). "Not at all. I felt like I played well. I felt like I did almost everything I could and there was a better player here. It's as simple as that."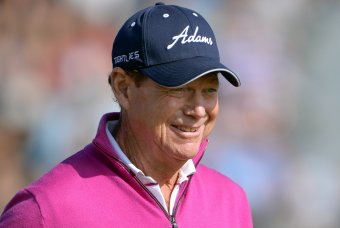 USA TODAY Sports
Is there anything sweeter than watching an old professional turn back the clock? Tom Watson's entire final round was a moment to behold, as the 64-year-old veteran of countless greens scored a 68 to bring his final score to down to just one over par.
ESPN's Gene Wojciechowski noted the respectful attitude and deferential crowd as Watson marched to the green on the 18th hole of the day:
Love how the caddies and playing partner are lagging behind Tom Watson as he makes walk up 18th fairway. Class move by them. And crowd.

— Gene Wojciechowski (@GenoEspn) July 20, 2014
Watson shouldn't be out of the spotlight anytime soon, as he is set to captain the American team in the 2014 Ryder Cup.
Perhaps this isn't necessarily a top moment, but it's worth showing how Tiger Woods wore his emotions right on the short sleeves of his trademark polos in this tournament. Some of his fatal miscues were indeed grimace-worthy, via CBS Sports' Eye on Golf:
The Tiger struggle is real - https://t.co/AGo21cGvAQ

— Eye on Golf (@EyeOnGolf) July 18, 2014
Woods' performance was bereft of true highlights; the 14-time major winner will face plenty of questions about his health and overall play moving forward. With so much attention on McIlroy for winning his third major at such a young age, some may begin to believe that golf is moving into an era that doesn't rely on Woods to generate positive headlines.
There is McIlroy's dominance, the emerging Fowler's outfits and the steady play of World No. 1 Adam Scott to keep casual and hardcore fans entertained throughout the year. Not to mention Garcia's delightful quirks. The PGA is better off with a wider cast of TV-friendly characters.
The 2014 British Open may have been the perfect way to show just how many great golfers there are out on courses around the world.