Chicago Bears 2009 Preview
July 6, 2009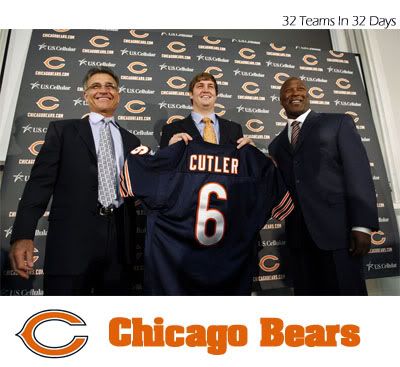 2008 Summary:
Following a 2007 season that saw the
Bears
start three different quarterbacks and finish a disappointing 7-9 after their Super Bowl run in 2006, the Bears decided to go with Kyle Orton and bench Rex Grossman while trading Brian Griese to
Tampa Bay
.
At first, the decision seemed to look outstanding, as the Orton led Bears stormed into
Indianapolis
to open the season with a shocking upset of the Colts and spoil the opening of their new stadium.
The Bears then would win 4 of their next 7 contests, but the three games they would lose would prove to be costly in the second half of the season.
In each of the Bears first three losses, Chicago had leads late in the 4th quarter squandered by the defense that was once known as one of the premiere defenses in all of football. However in 2008, the Bears pass defense was downright miserable, ranking 30th in football - and it would be the major culprit in the Bears missing out on a division title.
Against the Bucs in Week 3, the Bears would blow a 10 point lead in the final six and a half minutes of regulation, as former starting QB Brian Griese would complete the come from behind victory against his former teammates with a crushing overtime victory.
Just three weeks later, after Kyle Orton rallied the Bears offense to a one-point lead after a touchdown pass to Rashied Davis with only 11 seconds remaining, a squib kick and breakdown in pass coverage would give Jason Elam enough time to drill a 48-yard field goal as time expired to give the
Falcons
a two point victory.
The Bears would regret letting each of these victories get away from them, especially after Kyle Orton would go down with an ankle injury in a victory over the hapless
Lions
. Rex Grossman would become the starting quarterback the following week in a pivotal matchup with undefeated
Tennessee
and the Bears would fall by the score of 21-14.
Orton would then return a week later, but perhaps way too early as two of their next three games would result in blowouts against the Bears, leaving the team at 6-6 and needing a rally to have a shot at the postseason.
Chicago would begin a 3-game winning streak, thanks to a late December homestand, and take their record to 9-6 with a must-win situation coming in a Week 17 battle against the upstart
Houston Texans
. In a game that would eventually become meaningless due to a
Vikings
victory over the
Giants
backups, the Bears would lose to Houston 31-24, ultimately clinching the division for Minnesota in either situation.
And again - the two losses at the beginning of the year, would become the sticking point to the Bears being home in January and opening up the postseason at Soldier Field.
An unforeseen quarrel between superstar and inexperienced head coach would open a door of opportunity up for Chicago to bridge the gap of an average offense with average defense to a potentially great offense with average defense.
And they would take that opportunity quickly.
2009 Free Agency Additions:
T Orlando Pace (St. Louis)
T Kevin Shaffer (
Cleveland
)
LB Pisa Tinoisamoa (St. Louis)
T Frank Omiyale (
Carolina
)
S Josh Bullocks (
New Orleans
)
S Glenn Earl (Houston)
TE Michael Gaines (Detroit)
2009 Trade Acquistions:
QB
Jay Cutler
(
Denver
)
2009 Offseason Departures:
QB Kyle Orton (Traded to Denver)
S Mike Brown (
Kansas City
)
QB Rex Grossman (Houston)
T John St. Clair (Cleveland)
S Brandon McGowan (
New England
)
WR Brandon Lloyd (Denver)
2009 NFL Draft:
3-68. Jarron Gilbert, DT, San Jose State
4-99. Juaquin Iglesias, WR, Oklahoma
4-105. Henry Melton, DE, Texas
4-119. D.J. Moore, CB, Vanderbilt
5-140. Johnny Knox, WR, Abilene Christian
5-154. Marcus Freeman, OLB, Ohio State
6-190. Al Afalava, FS, Oregon State
7-246. Lance Louis, G, San Diego State
7-251. Derek Kinder, WR,
Pittsburgh
2009 Outlook:
After
Jay Cutler
felt disenfranchised by new Broncos coach Josh McDaniels, the young star quarterback demanded a ticket out of the Mile High City and Bears GM Jerry Angelo jumped all over the opportunity to finally give the Bears a big named quarterback.
Cutler will come to Chicago with big time expectations, and a fantastic running back to play behind him in
Matt Forte
. Had it not been for some guy named
Matt Ryan
, Forte would have been in the running for rookie of the year and rightfully so. Forte brings a great element of running and catching the football and was far and away the best weapon the Bears had on offense a season ago.
Forte and backups
Kevin Jones
and
Adrian Peterson
(Chicago version) will run behind an offensive line with two new tackles,
Orlando Pace
and
Kevin Shaffer
.
Chris Williams
, a first round pick a season ago, will also factor into the equation and could start come opening day.
Josh Beekman
and
Roberto Garza
will be the guards assigned to opening up rushing lanes for Forte and picking up blitzes to protect Cutler, while longtime vet
Olin Kreutz
will oversee the entire line at the center position.
Who Cutler throws the ball to will be a major topic of discussion, as the Bears depth chart has a lot of youth and inexperience at wide receiver.
Devin Hester
,
Rashied Davis
, and Cutler's former college teammate
Earl Bennett
will makeup the starters at wide receiver, but it could be rookie
Juaquin Iglesias
that becomes the #1 receiver on this team. Tight end
Greg Olsen
will figure to get a lot of balls thrown his way as the Bears offense comes together under Cutler.
The Bears defense will return many of the well-known commodities in its front seven, namely
Tommie Harris
,
Adewale Ogunleye
,
Brian Urlacher
, and
Lance Briggs
.
However, the questions on the Bears defense have little to do with its front seven, a unit that finished 4th against the run in 2008, but rather the guys in the secondary who gave up over 240 yards a game a season ago through the air. Chicago will get back corner
Nathan Vasher
, who missed half of last season with a fractured hand. Starting opposite Vasher will be corner
Charles Tillman
. Also in the secondary are corners
Trumaine McBride
and rookie
D.J. Moore
. Playing at safety, the Bears will start
Kevin Payne
and
Craig Steltz
. Longtime Bear Mike Brown leaves Chicago for Kansas City after a productive, but very injury riddled Chicago career.
2009 Schedule:
Date Opponent

2009 Prediction:
All eyes will be on Jay Cutler when the Bears take the field to open the 2009 season in Lambeau Field against the Green Bay Packers. And it will be Cutler that fairly or unfairly gets a bulk of the credit for the end result of the season, but it could be Lovie Smith that ultimately feels the most heat.

The pressure is now on Smith as Jerry Angelo has finally given the Bears offense that missing piece to the puzzle - a franchise quarterback. It was quarterback play, or lack thereof, that prevented the Bears from winning Super Bowl XLI and it was quarterback play that derailed the Bears 2007 season. In 2008, quarterback play was not as big a factor with Kyle Orton at the helm, but rather the Bears secondary which should improve with Nathan Vasher's return at corner.

With that said, Cutler will need to find reliable targets to throw the ball to. Matt Forte is going to be a great running back in this league, but he cannot shoulder the entire load on offense. However, much like Atlanta with Roddy White and Michael Jenkins, it's hard to say if the Bears receivers are bad or if they were just the result of very inconsistent play at that position.

I believe the Bears secondary will improve, and a couple young Bears receivers will surprise. A relatively soft schedule doesn't hurt either, as Jay Cutler will get his first crack at the postseason, making him beloved in the Windy City.

Predicted Finish: 11-5, 1st NFC North
---------------------------------------------------------------------------------
Hassellbeck - VSN Writer
www.virtualsportsnetwork.com