UFC 175 has come and gone, and it was a great pay-per-view. With such an important show, it was important that each and every fighter made a good showing for themselves, even if it came in defeat.
Most fans are focusing on the co-main events, in which Chris Weidman and Ronda Rousey defended their titles against Lyoto Machida and Alexis Davis, respectively. For Rousey, it was merely another in a line of imperious victories, while Weidman fought back much more resistance from his challenger, arguably looking more impressive as a result.
The middleweight king was one of the bigger winners on the night. Joining him in that regard were the three other stars below.
Chris Weidman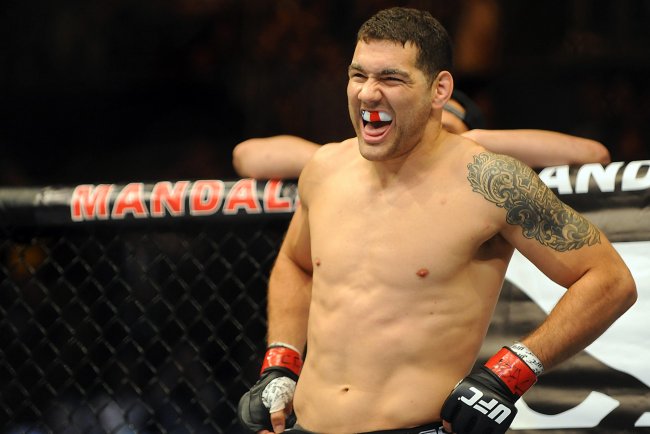 USA TODAY Sports
Anybody with eyes could see that Weidman was a good fighter even before last night. What he needed to do was completely silence the doubters who questioned the legitimacy of his two wins against Anderson Silva.
Bleacher Report's Chad Dundas felt he more than accomplished that task:
That line of inquiry is no longer valid. Weidman rendered it moot with a convincing all-around performance against the former light heavyweight champion, earning the nod from all three judges, 49-45, 48-47, 49-46.

He shut down Machida's elusive, counterstrike-oriented offense with a game plan that looked similar to the ones he used against Silva. Weidman quashed the 36-year-old karate master's unorthodox style with straight-ahead pressure, beating Machida to the punch more often than not and mixing in the occasional takedowns against the fence.
The middleweight champion wasn't dominant in victory. Machida made a late run that nearly turned the fight on its head.
What Weidman did so well was neutralize Machida early in the fight, withstand the onslaught in the fourth round and then recover to take the fifth and ensure that the bout remained his.
Lesser champions would've crumbled where Weidman thrived.
Lyoto Machida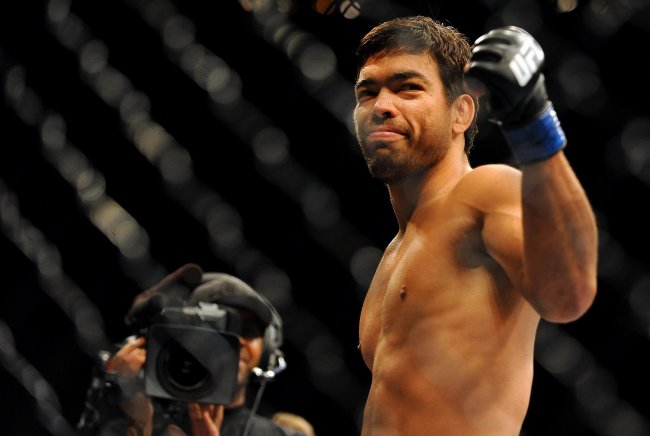 USA TODAY Sports
The main event of UFC 175 was like a classic Ric Flair NWA title match. The champion retains, but the challenger still ends up looking stronger in the process.
Machida was ultimately undone by his sluggish start. Some fighters might have figuratively thrown in the towel at that point—Weidman either ends the fight early or dominates the later rounds and cruises to victory.
That didn't happen with Machida, who saved his strongest stuff for the fourth and fifth rounds. Most fight fans can appreciate a loser who goes down swinging until the end:
What a fight. Great heart/comeback from Machida. Not enough.

— Russillo (@ryenarussillo) July 6, 2014
Machida leaves looking proud of his performance, pumping his first towards the fans left in the arena. Good for him. Great effort.

— Mike Chiappetta MMA (@MikeChiappetta) July 6, 2014
Machida talking now. Imagine he gained a lot of fans for how he rebounded from the early start.

— Ariel Helwani (@arielhelwani) July 6, 2014
Machida showed so much in coming on strong in crunch time.

— Jay Glazer (@JayGlazer) July 6, 2014
Machida may have lost a shot at the title, but his reputation was enhanced by Saturday night's defeat.
Uriah Hall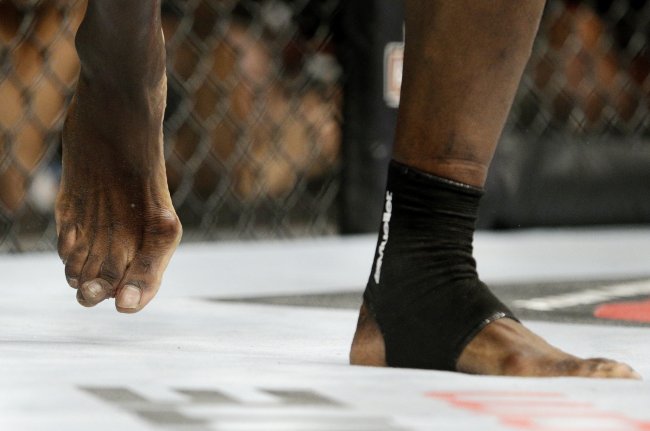 John Locher/Associated Press
There's toughness, which Machida demonstrated, and then there's toughness bordering on madness, which is what Uriah Hall demonstrated.
I'm no doctor, but that toe looks broken, per Bleacher Report MMA (Warning: Images are graphic and NSFW):
Uriah Hall's foot ladies and gentlemen. pic.twitter.com/MEWktaWFV6

— Bleacher Report MMA (@BR_MMA) July 6, 2014
'Tis but a scratch. pic.twitter.com/4TlzHnG1IC

— Bleacher Report MMA (@BR_MMA) July 6, 2014
Hall tweeted out a picture of himself in surgery early Sunday morning getting the toe repaired:
almost back together! thank you every one for the love and support @ufc #neverquit pic.twitter.com/UhWn2N8dgZ

— uriah hall (@UriahHallMMA) July 6, 2014
The word incredible often gets overused, but the fact that he continued fighting—kicking Thiago Santos with the injured toe—and then went on to win the fight was incredible. That's the kind of stuff that gets a fighter remembered forever.
As Sherdog noted, Hall was often been dogged by criticism early in his career about his mental make-up:
Following what seemed to be some weak mental conditioning earlier in his career, Uriah Hall is redeeming himself here. #UFC175

— Sherdog.com (@sherdogdotcom) July 6, 2014
Nobody can ever question Hall's toughness ever again.
Rob Font
USA TODAY Sports
You can't have a much more impactful debut than Rob Font's during UFC 175. He needed just two minutes and 19 seconds to knock out George Roop with a devastating overhand right:
Wow, Rob Font with the KO out of nowhere on George Roop. Overhand right which I think landed behind the ear.

— Kevin Iole (@KevinI) July 6, 2014
Every fighter in UFC needs to start somewhere. Saturday night was a chance for Font to make a great first impression on Dana White and the higher-ups of the company, and that's exactly what he did.
Font is already eyeing up a fight with Sergio Pettis, per UFC on Fox:
Rob Font: I'd love a fight with Sergio Pettis. I think our styles match up well and it would be a great show for the fans #UFC175

— UFCONFOX (@UFCONFOX) July 6, 2014
That probably wouldn't get the 27-year-old on to the main card of a big show, but it would be another stepping stone in his UFC career.