Uruguay and Liverpool striker Luis Suarez has issued an apology to Giorgio Chiellini for biting the Italy defender during a World Cup Group D game in Brazil.

Suarez publicised his apology via his Twitter feed and also included a promise that he would never again repeat such actions:
My apologies to Chiellini: pic.twitter.com/CvfkkjxzlM

— Luis Suarez (@luis16suarez) June 30, 2014
Chiellini later responded to the apology on his Twitter account:
.@luis16suarez It's all forgotten. I hope FIFA will reduce your suspension.

— Giorgio Chiellini (@chiellini) June 30, 2014
As a result of the infringement—the third time Suarez has been charged for biting in his professional football career—Suarez has been suspended by FIFA for nine international matches and is banned from football-related activities for the next four months.
In the fallout from the incident, Suarez initially seemed unrepentant and issued a statement suggesting the bite was unintentional, per Betfair:
Let's take another moment to enjoy that #Suarez excuse again. pic.twitter.com/KZsXSBmr2z

— Betfair (@Betfair) June 28, 2014
However, there were many, including the Daily Mirror's Oliver Holt, who were unconvinced by the explanation:
Is that Suarez statement/excuse a joke? Intentionally or not, it is very, very funny.

— Oliver Holt (@OllieHolt22) June 28, 2014
It seems that he has now taken the decision to admit his guilt and apologise for the incident, which was widely condemned as inexcusable.
Suarez missed Uruguay's opening World Cup game through injury as they lost 3-1 to Costa Rica, but scored twice and inspired La Celeste to victory as he returned against England.
In the Italy encounter, Uruguay claimed the winner after the Suarez incident to see themselves through to the last 16, where they were knocked out by Colombia in Suarez's absence—his ban having already started.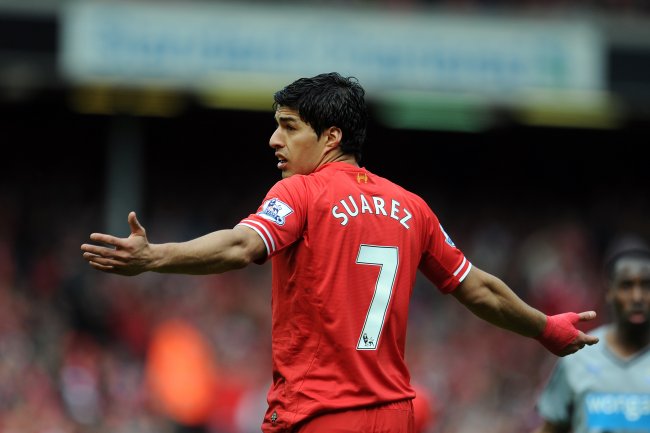 Clint Hughes/Associated Press
It remains to be seen what will become of Suarez and whether he will stay at Anfield where he moved to from Ajax in 2011.
He was the Premier League's top goalscorer last season as the Reds finished second, but rumours continue to abound that he will be bought for £80 million by La Liga giants Barcelona, per Charles Reynolds of The Independent.
His apology, while coming later than many expected, may go some way to repairing his significantly damaged reputation.