Updates from Thursday, June 26
Yahoo! Sports' Adrian Wojnarowski provides a statement from an anonymous executive discussing a potential Cavaliers-Magic swap (WARNING: NSFW LANGUAGE):
Cleveland and Orlando nowhere on a possible deal for the No. 1 pick, team sources tell Yahoo Sports. "Total bullshit," one executive says.

— Adrian Wojnarowski (@WojYahooNBA) June 26, 2014
Cleveland and Orlando have exchanged proposals on No. 1 pick, but there's nothing that's gathered traction, sources tell Yahoo.

— Adrian Wojnarowski (@WojYahooNBA) June 26, 2014
ESPN's Chad Ford previously reported the Cavaliers have considered draft plans if they trade the No. 1 overall pick:
Sources: Cavs were calling around offering teams Orlando's picks at 4 & 12 for players last night. Interesting

— Chad Ford (@chadfordinsider) June 26, 2014
Bob Cooney of the Philadelphia Daily News reported on the 76ers interest in the top selection:
According to league source, Sixers in full court press with Cleveland to get No. 1 pick. "They really, really, really want Wiggins."

— Bob Cooney (@BobCooney76) June 26, 2014
Sam Amick of USA Today refutes those reports, suggesting the Sixers' interest was overblown:
Rumblings of monster offer from Philly to Cleveland being refuted. I'm told the Sixers haven't been as engaged as indicated on landing No. 1

— Sam Amick (@sam_amick) June 26, 2014
Tom Moore of the Bucks County Courier Times had more information on the likelihood of Philadelphia moving up:
#NBA source: Reports of additional Embiid injuries hurt #Sixers chances to move up to No. 1 b/c Embiid no longer an option at 3. #76ers #NBA

— Tom Moore (@tmoore76ers) June 26, 2014
#NBA source: Asking price for No. 1 pick as high as 3, 10 and 32 from #Sixers. If #76ers stay at 3, Exum seems the likely pick.

— Tom Moore (@tmoore76ers) June 26, 2014
However, Yahoo! Sports' Adrian Wojnarowski reports the talks have ended:
Philadelphia is no longer pursuing a deal with Cleveland for the No. 1 pick, league source tells Yahoo Sports.

— Adrian Wojnarowski (@WojYahooNBA) June 26, 2014
Updates from Wednesday, June 25
ESPN.com's Jeff Goodman and Chad Ford detail several offers the Cleveland Cavaliers have received for the No. 1 pick in Thursday's draft:
The Philadelphia 76ers, Orlando Magic and Utah Jazz have all offered their high lottery picks plus a veteran to move up to No. 1.

Of the offers they've received, a source says the Cavs aren't enamored by either the Sixers' offer (Thaddeus Young and the No. 3 pick) nor the Jazz's offer (Derrick Favors and the No. 5 pick). However, the Cavs do have some interest in the Magic's offer of Arron Afflalo, the No. 4 pick and the No. 12 pick.
Adrian Wojnarowski of Yahoo Sports reported on the Cavaliers' discussions with Minnesota about the top selection:
Cleveland pushed on deal centered on No. 1 pick for Kevin Love, but his refusal to re-sign w/ Cavs has killed talks, sources tell Yahoo.

— Adrian Wojnarowski (@WojYahooNBA) June 25, 2014
Ford went on to talk about the Cavs' options if they kept the number one pick:
Sources: Cavs owner Dan Gilbert wants Wiggins at No. 1. Cavs front office wants Parker. Link coming ...

— Chad Ford (@chadfordinsider) June 25, 2014
Later in the evening, Sports Illustrated's Chris Mannix added another name who the Cavs may select No. 1 overall:
Australian point guard Dante Exum is "in the conversation" for the No. 1 overall pick, source tells SI. Wiggins/Parker still leaders.

— Chris Mannix (@ChrisMannixSI) June 25, 2014
Updates from Tuesday, June 24
Comcast SportsNet's A. Sherrod Blakely reports the Celtics may be interested in trading up to the No. 1 overall pick:
A league source has told CSNNE.com that the Celtics have engaged the Cleveland Cavaliers about acquiring the No. 1 overall pick in Thursday's NBA draft.

While no deal is imminent, Boston's pursuit of the top overall pick speaks to their desire to indeed create "fireworks" in a draft that took a step back in terms of luster at the top following the navicular bone fracture to Joel Embiid's right foot.

If the Celtics were able to secure the top overall pick, they are expected to choose between Andrew Wiggins and Jabari Parker, arguably the top two players in this draft although multiple sources indicate Boston would lean more towards Wiggins than Parker.
According to a report from ESPN's Jeff Goodman and Chad Ford, the Cavs are split on who to take with the first overall pick:
Just two days prior to the NBA draft, the Cleveland Cavaliers are split on whether to take Jabari Parker or Andrew Wiggins with the top overall pick, multiple sources told ESPN.com.

"They are torn," one source close to the situation told ESPN.com. "They met for three hours and all they talked about was those two guys."

Added another industry source: "They haven't come to a decision yet."

[...]

For the past few days, the Cavaliers, according to sources, have been leaning toward selecting Parker. The 6-foot-8 forward averaged 19.1 points and 8.7 rebounds as a freshman at Duke last season. He addresses some of Cleveland's most pressing needs: shooting, basketball smarts and toughness. If the Cavs lose Luol Deng to free agency as widely expected, they will need help at small forward.
Original Text
The Cleveland Cavaliers have said they're willing to trade the No. 1 overall pick since the moment they won their second lottery in as many years. The Utah Jazz reportedly have a deal on the table that could lead to some lengthy conversations in Cleveland's front office.
Spencer Checketts of 1280 The Zone in Utah reported on his radio show Monday that Utah has an offer on the table featuring Derrick Favors, the No. 5 overall pick and some combination of Alec Burks, the No. 23 overall pick and a future first-rounder, per Jody Genessy of the Deseret News:
Jazz are offering up Derrick Favors, Alec Burks and No. 5 pick to Cavs for the No. 1 selection and Jarrett Jack, according to @1280Spence.

— Jody Genessy (@DJJazzyJody) June 23, 2014
.@1280Spence clarified that Favors and #5 are on the table. Alec Burks, #23 and/or an unprotected first-rounder are potential sweeteners.

— Jody Genessy (@DJJazzyJody) June 23, 2014
The talks are ongoing and would feature guard Jarrett Jack going to Utah along with the top pick. Cleveland is looking to get out of the final two years and $12.6 million remaining on Jack's deal. Genessy indicated no formal framework of the deal is in place, and the Jazz front office is currently "split" on sweetening the offer with Burks.
Utah would ostensibly be moving up to take Duke forward Jabari Parker. Numerous reports have linked Parker and the Jazz throughout the 2013-14 season, and myriad trade scenarios have been presented since Utah landed the fifth pick. Parker, who is of Mormon faith, is considered both relatable to the local community and the type of instant-impact star the Jazz have been looking for since trading Deron Williams.
Favors, who was part of the package the Nets sent in exchange for Williams, averaged 13.3 points and 8.7 rebounds last season in his first extended look as a starter. A 6'10" forward-center, Favors, 22, would give the Cavaliers a much-needed influx of young talent in the middle of the defense. Favors also has the potential to be a dynamic crasher on pick-and-roll plays with Kyrie Irving.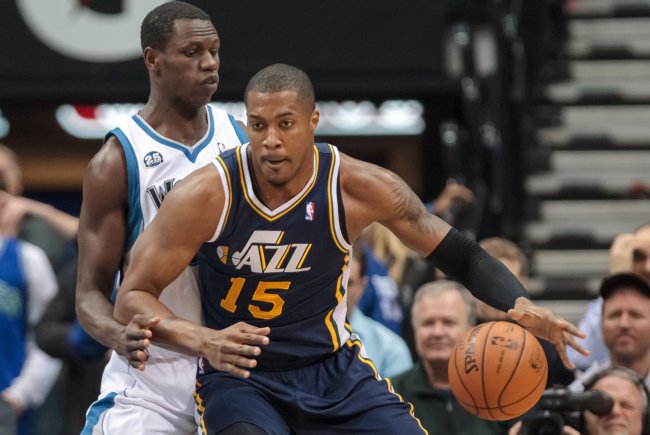 USA TODAY Sports
Burks, Utah's first-round pick in 2011, has improved in each of his three NBA seasons, though many are still unsure of his ceiling. He works best as a primary ball-handler and has the quickness to work as a point guard, but he lacks elite passing skills and often conflicts with Trey Burke when the two share the floor. The Jazz's willingness to add Burks to any trade—thus jettisoning two of their best young assets—is an understandable roadblock in negotiations.
Nonetheless, it's a roadblock Utah may have to get over soon if it wants a shot at landing Parker. Chad Ford of ESPN (subscription required) reported the Sixers and Magic have also reached out to the Cavs in recent days about trading up to No. 1. Fox Sports' Sam Amico added the Timberwolves to that list, ostensibly as part of a package for Kevin Love.
Philly and Orlando can both offer a similar package to Utah, featuring a top-five pick and a veteran piece.
The Sixers have dangled Thaddeus Young for months and have the No. 3 pick. Their worst-kept-secret love for Andrew Wiggins would come into play here. If negotiations become a bidding war, Sam Hinkie also has the No. 10 overall selection and a treasure trove of second-round picks he can offer.
The Magic have Arron Afflalo's bargain contract, the Nos. 4 and 12 selections and plenty of solid young pieces gathered over the past couple seasons. Their motivation—whether it be Wiggins, Parker or even Dante Exum—is a little more up in the air.
From the Cavaliers' perspective, trading the top selection represents both a huge risk and potential for long-term reward. Most expected the Cavaliers to take Kansas center Joel Embiid with the No. 1 selection before a medical exam revealed a fracture in his right foot. With Embiid backsliding, Cleveland could trade back a few spots, add a few young assets and still get the top player on its board.
"I've said many times that I'd trade me if it made us better," general manager David Griffin told ESPN Cleveland's The Really Big Show in May.

Trading down involves taking the risk of blowing two straight No. 1 picks if Embiid's injury concerns derail his career. But good organizations are ones that learn from past mistakes—not run for the hills in fear of being mocked on social media. If the Cavaliers don't think Wiggins or Parker is their man and they want Embiid, the only answer is to mitigate the risk somewhat by making a trade.
Even if Embiid doesn't work out, someone like Favors could be the long-term answer at center anyway. Given the seeming cascade of teams willing to part with young assets and high draft picks, Griffin needs to sit down and think long and hard about pulling the trigger.
Follow Tyler Conway on Twitter: