The United States kept Cristiano Ronaldo under wraps for more than 94 minutes at the Arena Amazonia. But it was the 95th minute that broke the Americans' hearts.
Ronaldo set up the tying goal in the fifth minute of stoppage time as Portugal rescued a 2-2 draw against the U.S. in a thrilling FIFA World Cup Group G match in Manaus, Brazil.
Jermaine Jones and Clint Dempsey scored second-half goals as the U.S. overturned Nani's fifth-minute opener for Portugal. But with the Americans seconds away from victory—and a spot in the knockout round—Ronaldo curled a perfect cross to the back post for substitute Silvestre Varela to head in and keep Portugal alive.
Incredible pass by Cristiano Ronaldo to tie game 2-2 https://t.co/F4LE6Fv7ZI

— gifdsports (@gifdsports) June 22, 2014
With the result, the U.S. is now tied with Germany atop Group G with four points from two matches. Instead of qualifying for the next round—as would have happened with a win—the Americans now need at least a draw against Germany on Thursday to guarantee their progress.
Portugal, by contrast, narrowly avoided elimination. With one point from two matches, Portugal need to beat Ghana on Thursday to have any chance of advancing.
As Sports Illustrated's Grant Wahl noted, the result was "heartbreaking" for the U.S. after coming so close to qualifying for the second round:
FT USA 2:2 Portugal. Heartbreaking finish for the US, which thought they'd pulled off an incredible comeback.

— Grant Wahl (@GrantWahl) June 22, 2014
In its opening win over Ghana, the U.S. benefited from a strong start, with Dempsey scoring after just 30 seconds. Against Portugal, the opposite was true as the Americans fell behind due to a defensive error in the fifth minute.
Portugal controlled possession early but didn't seem to pose a threat as a harmless ball from Miguel Veloso rolled into the U.S. box. But defender Geoff Cameron fluffed his attempted clearance, slicing the ball into the path of Nani at the back post. Unmarked, Nani slammed his shot high into the net for an early 1-0 Portugal lead.
#USMNT has conceded seven goals in the first five minutes of #WorldCup games, most by any team in WC history.

— Paul Carr (@PCarrESPN) June 22, 2014
US miscue leads to Nani goal 1-0 Portugal https://t.co/tUG5XhcHgp

— gifdsports (@gifdsports) June 22, 2014
Facing a deficit for the first time at the World Cup, the U.S. responded well. In the 10th minute, Fabian Johnson chased down a long pass down the right flank, cutting back before seeing his shot blocked. Dempsey then curled a free kick over the bar in the 13th minute and had a low shot saved four minutes later.
Portugal made a chance in the 16th minute as striker Helder Postiga limped off with an apparent hamstring injury. He was replaced by Eder.
Chances kept coming for the U.S. as the first half wore on. Michael Bradley blasted over the bar from long distance in the 24th minute and rolled another shot just wide of the far post four minutes later. In the 32nd minute, Fabian Johnson hit a swerving effort off target.
The U.S. had been the better team since Portugal's early goal, but in the 45th minute, Tim Howard had to make two vital saves in quick succession to keep his side in the match. First, the American goalkeeper pushed a Nani shot onto his near post after initially misjudging its trajectory. Then, after the rebound fell to Eder, he pushed the second shot over the bar.
The start of the second half almost brought an additional disaster for the U.S. defense. After another failed clearance inside the box, the ball fell to Eder in a dangerous position. But despite connecting with an acrobatic volley, Eder's shot sailed over the target.
The U.S. had its best chance of the game to that point in the 56th minute. Graham Zusi started a flowing move with an angled pass to Johnson down the right flank. Johnson worked his way to the byline before cutting back into the middle for Bradley, whose first-time shot was cleared off the line by defender Ricardo Costa.
As the U.S. kept attacking in search of the tying goal, Portugal started to hit back on the counter. Ronaldo escaped down Portugal's right side in the 62nd minute, but his shot was poor and well off target.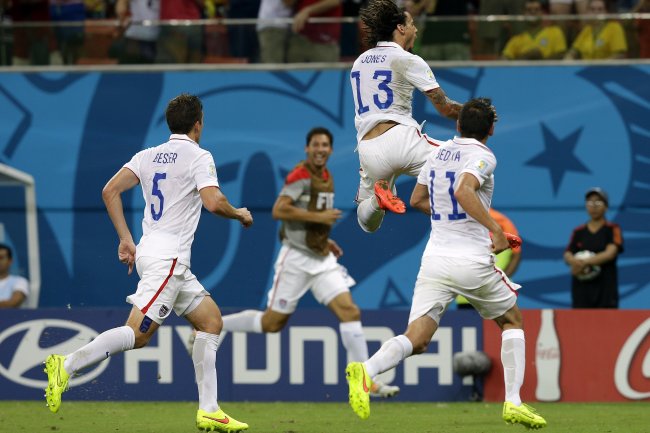 Martin Mejia/Associated Press
The U.S. made Ronaldo and Portugal pay quickly, with Jones scoring a spectacular equalizer two minutes later.
There seemed to be little danger for Portugal as a Zusi corner bounced into the path of Jones outside the box. But after taking a touch to create space for himself, Jones curled an unstoppable shot into the net past Portugal goalkeeper Beto, who could only turn and watch.
JERMAINE JONES !!!!!!!!!!!!!!!!!USA 1-1 https://t.co/DbPzuAwlnh

— gifdsports (@gifdsports) June 22, 2014
With that, the U.S. had finally pulled level—but within moments, Portugal nearly found a second goal. In the 66th minute, Nani floated a cross from the right into the U.S. box, where Howard tipped the ball into the path of Raul Meireles. The midfielder's first touch took the ball in the air, though, and Howard was able to save his volleyed shot.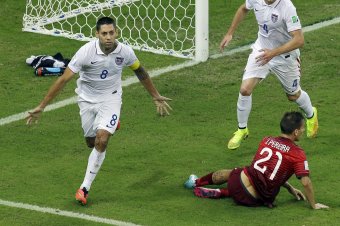 Themba Hadebe/Associated Press
It proved to be an important save. Fifteen minutes later, the U.S. took the lead.
Jones served as the architect this time, cutting open Portugal's defense with a incisive pass to substitute DeAndre Yedlin down the right. Yedlin drove to the byline and cut back into the middle, where the ball bounced around before falling to Zusi.
Zusi then curled a pass into the middle for Dempsey, who redirected the ball into the net with his torso to make it 2-1 and complete the U.S. comeback.
#Mundial2014 Clint Dempsey pone a CR7 con un pie fuera del Mundial. Gol de ¿panza? #USA 2 #POR 1 #Repetición https://t.co/WiqtutTGml

— UNE Mejor juntos (@UNEMejorjuntos) June 22, 2014
Portugal still had chances, of course. Ronaldo headed off target in the 89th minute, and Bruno Alves flicked into the side netting as stoppage time began.
The U.S. appeared destined for victory, but after keeping Ronaldo quiet all night, the reigning Ballon d'Or winner produced a moment of genius in the fifth minute of stoppage time to keep his team alive.
Holding the ball on the right side, Ronaldo curled a perfect pass into the box for Varela, who headed in to make it 2-2 in the dying seconds and give Portugal a priceless point.
Grades
United States Player Ratings

| | | |
| --- | --- | --- |
| Starting XI | Halftime | Full Time |
| Tim Howard | 7 | 7 |
| Fabian Johnson | 7 | 7 |
| Geoff Cameron | 6 | 6 |
| Matt Besler | 6 | 7.5 |
| DaMarcus Beasley | 6.5 | 6.5 |
| Kyle Beckerman | 6.5 | 6.5 |
| Jermaine Jones | 6.5 | 8 |
| Alejandro Bedoya | 5 | 4 |
| Michael Bradley | 6 | 5 |
| Graham Zusi | 6 | 6 |
| Clint Dempsey | 6.5 | 7 |
| Substitutes | Halftime | Full Time |
| DeAndre Yedlin (for Bedoya, 72') | N/A | 6.5 |
| Chris Wondolowski (for Dempsey, 87') | N/A | 6 |
| Omar Gonzalez (for Zusi, 90') | N/A | 6 |
Ratings by B/R
Portugal Player Ratings

| | | |
| --- | --- | --- |
| Starting XI | Hafltime | Full Time |
| Beto | 6.5 | 6 |
| Joao Pereira | 6 | 6.5 |
| Bruno Alves | 6.5 | 6.5 |
| Ricardo Costa | 6.5 | 6.5 |
| Andre Almeida | 5 | 5 |
| Miguel Veloso | 6 | 6.5 |
| Raul Meireles | 6.5 | 7 |
| Joao Moutinho | 6 | 6.5 |
| Nani | 7 | 7 |
| Cristiano Ronaldo | 6 | 6.5 |
| Helder Postiga | 5 | 5 |
| Substitutes | Halftime | Full Time |
| Eder (for Postiga, 16') | 5 | 5.5 |
| William Carvalho (for Almeida, 46') | N/A | 6.5 |
| Silvestre Varela (for Meireles, 69') | N/A | 7 |
Ratings by B/R
Post-Match Reaction
U.S. coach Jurgen Klinsmann (via BBC Sport):
When you concede in the last second, it is unfortunate, but it was an amazing game from us. I can't ask for any more. Now we have to get a result against Germany, and that is what we are going to do.

We will take even more confidence into the next game. It will be another final, but that is what the World Cup is about.

Germany played yesterday and so have more time to recover. We played in the Amazon and they haven't had to travel much. Everything has been made easy for the favourites, whereas we have to struggle to go through, but that is what we will do.
U.S. goalkeeper Tim Howard (via FIFA.com):
We're a little disappointed, but still optimistic. We thought we'd put one foot in the Round of 16, but we are where we'd aimed to be before the tournament: Going into the final game with a good chance of progressing. The coaching staff put in place a great game plan. Portugal didn't cause us too many problems and we could have avoided both their goals. We moved the ball around better and had the clearer chances. We're not going to let the last-gasp goal get us down.
Portugal coach Paulo Bento (via FIFA.com):
It's clearly not a good result for us. The 2-2 doesn't put us out of the World Cup mathematically, but it does leave us in a very difficult situation. Not just because of what we'll need to do against Ghana, but also because we'll need a favourable result from the Germany-United States game. We were unlucky late in the first half, but it was a great effort to level the match (in second-half injury time). Now all we can do is to give everything in our very last game and try and make the most of the very little chance that we have left.