The four surviving teams in the 2014 College World Series took the field on Saturday. Top-seeded Virginia looked to remain unbeaten in bracket play against Ole Miss, while Vanderbilt aimed to do the same against a resurgent Texas team.
A bevy of talent was on display on Saturday, and each star-studded cast came in with one goal in mind: to earn a berth in the championship series.
So, which squads remain alive and kicking after the dust settled?
Let's take a glance at the final scores from Day 8 of the College World Series and recap each game's action.
Final Scores
2014 College World Series Day 8 Results

| | |
| --- | --- |
| Matchup | Winner |
| Virginia vs. Mississippi | Virginia, 4-1 |
| Texas vs. Vanderbilt | Vanderbilt, 4-3 |
NCAA.com
Full bracket can be found at NCAA.com.
Game Recaps
Virginia 4, Mississippi 1
The Virginia Cavaliers became the first team to earn a spot in the championship series after defeating the Ole Miss Rebels 4-1 in a lengthy weather-delayed contest.
Here's what the teams were facing on Friday:
[UPDATE] The Virginia vs Ole Miss game has been suspended due to weather until 3 PM EST on Saturday June 21st. #CWS pic.twitter.com/OVRt08Q1zb

— NCAA Baseball (@NCAACWS) June 21, 2014
Saturday's game began in the top of the second inning after rain suspended the contest that began on Friday.
Cavaliers pitcher Josh Sborz tallied 12 pitches on Friday before rain cleared the field. He remained on the mound when the contest recommenced on Saturday and showed no signs of an overworked arm early in the game.
He went five strong innings, giving up just four singles and one run while walking four and striking out four for an ERA of 2.84.
Artie Lewicki pitched three solid innings of relief, and Nick Howard closed the game effectively.
ESPNU noted the stellar Virginia pitching late in the game:
#Wahoos counting outs. Thru seven full innings, it's 4-1 @UVaBaseball. Artie Lewicki has gone 7-up, 6-down since relieving Sborz.

— ESPNU (@ESPNU) June 21, 2014
Cavaliers coach Brian O'Connor commented on his team's effort on the mound during a press conference with the Associated Press, via ESPN.com, after the game:
I thought we would be pretty darn good in Omaha on the mound. I really did. Obviously, the spacious ballpark and our ability to defend have a lot to do with it. What we've done all year is throw strikes. Our walk numbers are ridiculously low. And we've got really good arms.
Offensively, Virginia tallied eight hits on the day, but the most game-changing of them all was Robbie Coman's two-run, bases-loaded single in the fourth inning, which gave the Cavaliers the lead—one they wouldn't relinquish.
Kendall Rogers of Perfect Game tweeted his thoughts on Coman's performance:
Who has Robbie Coman penciled in as the player of the day so far? Had a huge two-RBI single, now a two-out double for #UVA in the 6th. #CWS

— Kendall Rogers (@KendallRogersPG) June 21, 2014
Chris Ellis took the loss for Ole Miss due to early struggles on the mound. Through 3.2 innings pitched, he gave up four hits and three runs while walking three for an ERA of 2.55.
Ole Miss now heads home, while Virginia continues on its quest for its first ever College World Series title.
Vanderbilt 4, Texas 3
Texas didn't come out playing like it was one game away from the College World Series Finals. After surrendering just one run in their last 28 innings of baseball, the Longhorns allowed the Commodores to build a one-run lead in the first. John Norwood grounded into a fielder's choice, scoring Bryan Reynolds.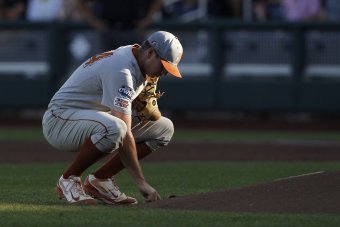 USA TODAY Sports
Over the next two innings, Texas mustered up one measly hit. Its cold offense was joined by its defense in the bottom of the third. Two Longhorn errors brought in another Vanderbilt run.
Finally at the top of the fourth, Texas decided to show up offensively. Kacy Clemens singled to center, sending home C.J. Hinojosa and Collin Shaw to tie the score at 2-2.
Texas and Vanderbilt exchanged scoreless innings before again exchanging runs. In the bottom of the fifth, Rhett Wiseman doubled to deep right, scoring Zander Weil. And in the top of the sixth, a Zane Gurwitz single brought home Tres Barrera.
The scored remained knotted at 3-3 into the seventh-inning stretch, when this fan got to stretch.
The giant glove and cop sunglasses don't match. Or maybe they do pic.twitter.com/sGNRy0pyxq

— CJ Fogler (@cjzero) June 22, 2014
From the bottom of the sixth to the top of the 10th (yes, it went into extra innings), the teams combined for just four hits.
And then the bottom of the 10th with two outs, Wiseman singled to center and stole second. Then Ro Coleman drew a walk. Then Karl Ellison was hit by a pitch.
The bases were loaded for Tyler Campbell who had hit 0-4 on the evening. But this didn't stop him from hitting a slow roller to short that he beat out the throw from by inches, scoring Wiseman for the game-winning run.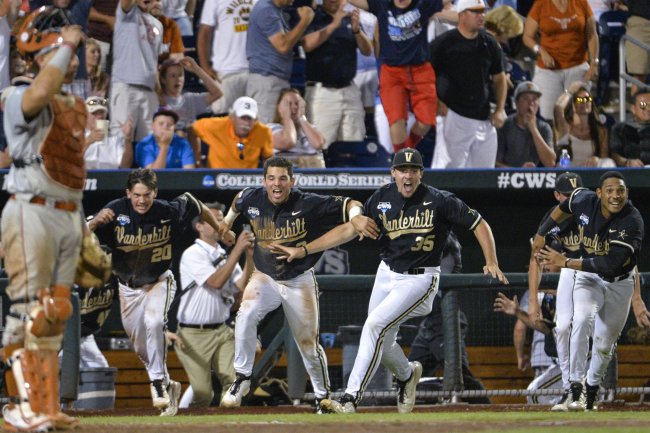 Ted Kirk/Associated Press
With that, Vanderbilt moved on to the College World Series Finals to face Virginia. And Texas will watch with Mississippi.