Argentina rescued a victory from the jaws of a draw on Saturday afternoon, with Lionel Messi proving the difference as La Albiceleste squeezed past Iran in a tight Group F encounter.
The Persian Stars performed superbly throughout and defended stoutly, racking up a fair few chances of their own, but eventually succumbed to the world-class genius of one of the greatest to play the game.
Formations and XIs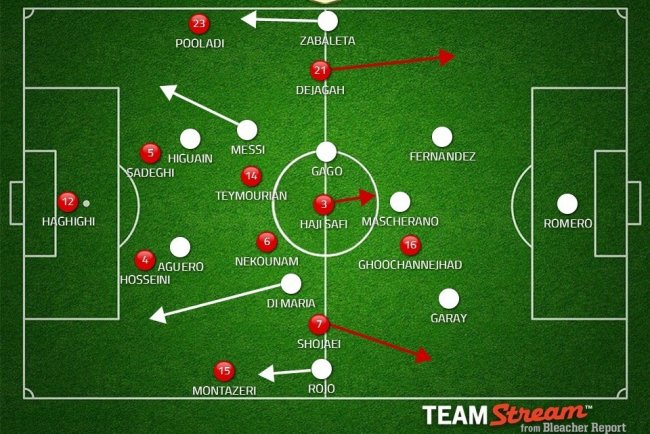 @stighefootball
Argentina fielded a fluid formation ranging between 4-3-3 and 4-3-1-2. Lionel Messi switched from right wing (loose) to No. 10 to dictate the form.
Iran played their usual 4-2-3-1, but it appeared a 4-4-1-1 when off the ball. Ashkan Dejagah played from the left this time, and Masoud Shojaei was restored to the right.
No Surprises
There were no surprises in how the two sides set up.
Alejandro Sabella promised to revert to the 4-3-3 formation pregame and was true to his word, ditching Martin Demichelis from the starting XI and bringing in Gonzalo Higuain from the start.
The system produced plenty of possession—WhoScored.com clocked La Albiceleste at 81 per cent at one stage during the first half—but very little threat on goal, with Ezequiel Garay heading the best chance of the early stages over.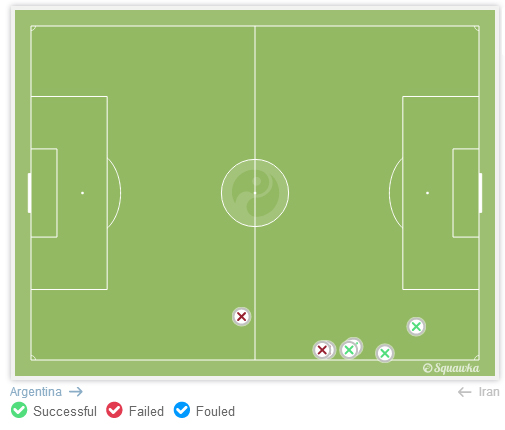 Squawka.com
Iran played so deep they were often trapped in their own third, let alone their own half, and committed to spoiling the game for Argentina rather than create something for themselves.
The wingers were pinned back absurdly deep, with Dejagah in particular outlining how defensive the approach was.
Argentina's Approach
In many ways, the movement of Argentina's forwards mirrored the approach taken against Bosnia and Herzegovina in the 3-5-2 formation.
As the ball was moved forward by Angel di Maria and Fernando Gago into the final third, Sergio Aguero and Gonzalo Higuain would split left and right to create an overload in the channel.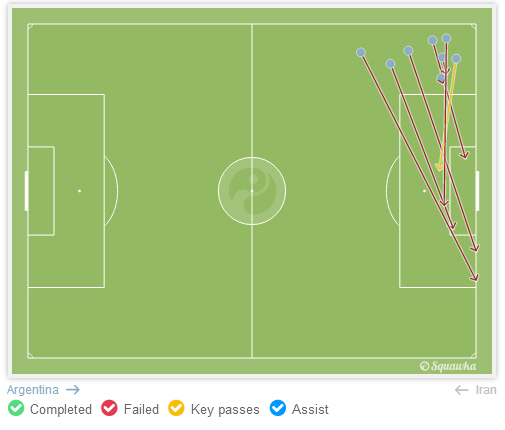 Squawka.com
Full-backs Marcos Rojo and Pablo Zabaleta steamed forward to hold the width and combine with them, and di Maria would often join the left to try to create a three vs. three.
Messi would then breach the centre, hanging on the edge of the box, but in every area they were swamped out by sheer numbers and mass. The central zones were particularly strong for Iran, with Andranik Teymourian and Javad Nekounam holding well.
Rojo made the best headway down the left flank, hitting the byline a number of times and crossing low or cutting back, but none of his deliveries found the mark.
Confidence
In the second half, Iran were able to use their midfield dribblers to gain ground, with Dejagah targeting the space behind Zabaleta and Ehsan Hajsafi hitting the central zones.
A few successful forays forward gave the Persian Stars immense confidence, and before long, more and more began sprinting onward and joining attacks.
It was a little reckless at times, with right-back Pejman Montazeri appearing their prime threat when crossing from the right, and space began to open up for La Albiceleste to use.
#Mundial2014 ¡Messi! La Pulga revive a los argentinos, que no podían con Irán. ¡Justicia? No. Pero la casa ... https://t.co/xh3u4wUKpb

— UNE Mejor juntos (@UNEMejorjuntos) June 21, 2014
It made for a frantic end to the match—an end-to-end spectacle—and it was Messi who eventually broke the deadlock with a moment of genius.
For the first time all game long, Messi skipped inside his marker (onto his left) and found no second Iranian player covering the space. He let loose with a wonderful effort, steering it into the far corner beyond the outstretched paw of Alireza Haghighi.
Conclusion
Iran were so close to a remarkable result and clean sheet, nearly defying the odds—again—to pick up a valuable point in Brazil. It was the biggest game in the country's history, and the team rose to the challenge in fine fettle.
In the 79th minute defending an attack, eight Persian Stars were present in the penalty box to clear an effort on goal. The level of commitment in the defensive phase was astonishing.
AS: "We have a genius in our team. Fortunately Messi is Argentinian." #ARG #IRN

— Peter Hall (@PeteHall86) June 21, 2014
You spare a thought for them, as they had two legitimate penalty shots turned down that could have given them the lead.
For Argentina, questions must be asked. They've played 45 minutes of good football out of a possible 180, but they do at least have six points to show for it.