South Africa just about saw off a stiff challenge from Wales to win 31-30. It was a particularly bitter pill to swallow for the Welsh.
The winning try came courtesy of a controversial late penalty try awarded to the Springboks. The Sky Sports Rugby Union Twitter feed captured the disputed winning score brilliantly:
Penalty Try! Huge drama as the hosts are awarded the late try. Lead Wales 31-30 with 90seconds left. #SkyRugby pic.twitter.com/KsbCQl0Ntq

— Sky Sports Rugby (@SkySportsRugby) June 21, 2014
The only thing to say is judge for yourselves. This was declared an illegal tackle, prompting the award of a penalty try to allow South Africa to escape with a win. However, the late controversy shouldn't obscure a fine fightback from the Boks.
The Welsh had overwhelmed their illustrious opponents early on. Jamie Roberts and in particular, Alex Cuthbert, epitomised the power and energy Wales unleashed on South Africa from the start.
Wales dominated the scrum and sprung via quick exchanges whenever an opportunity presented itself. Quick breaks and power in the scrum were good enough to build a 13-point lead late on:
Wales move 30-17 ahead over South Africa with under 15mins to go. Are they on course for a big away win? #SkyRugby pic.twitter.com/GdwSb02GwP

— Sky Sports Rugby (@SkySportsRugby) June 21, 2014
Having the clock and scoreboard against them seemed to revive South Africa. They stirred into action and threw everything at the Welsh in a gutsy display of daring Rugby.
Ceaseless South African pressure was the pattern of the game for those final 15 minutes. Wales, having had the initiative for so long, looked flat-footed and tired once South Africa began to turn the screw.
Eventually, Welsh resistance became a wobble, one that soon turned into a genuine collapse:
Try to Willie le Roux and Springboks in wave after wave of attack on Welsh line. Steyn converts and the score is 30-24 with 73 mins gone.

— South African Rugby (@bokrugby) June 21, 2014
The dispute over the winning points came after a Liam Williams tackle on Cornal Hendricks near the corner of the line, was deemed illegal. However, it wasn't at all clear that Williams' hit had actually denied Hendricks a scoring chance.
Yet, the shoulder-high tackle is against the rules, so the Welsh should perhaps not feel too hard done by. Afterward, centre Scott Williams tweeted his disappointment that his teammates' efforts weren't rewarded with victory:
Feel for the boys, didn't deserve that! Some outstanding performances after a long season! #hatsoff 👏👏👏👏

— Scott Williams (@ScottWilliams_1) June 21, 2014
While the outcome rested on an interpretation of the rules, the whole game had bordered on the cusp of legality. Several players were dispatched to the sin bin following dubious practice.
South Africa became frustrated at being routinely outrun. Meanwhile, the Welsh simply lacked composure and started to succumb to erratic behaviour at crucial moments.
Players such as outside-half Dan Biggar went into the book, as the cohesion Wales had admirably displayed early on disappeared.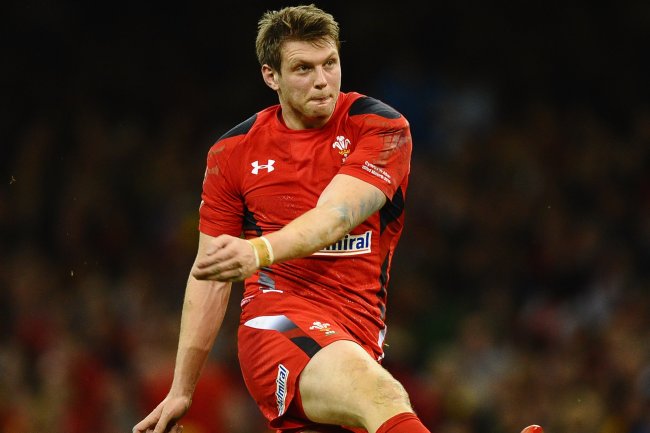 Laurence Griffiths/Getty Images
Biggar wasn't the only culprit as Welsh players continued to lose focus, per Sky Sports:
However just as in the first Test, Welsh indiscipline was to prove costly as the Springboks capitalised on yellow cards with 14 unanswered points.

South Africa's driving lineout was the source of Wales' problems and Luke Charteris was binned for infringing as the green jerseys surged forward.

With Francois Louw carrying at the tail of a devastating drive, Biggar was penalised and referee Steve Walsh awarded South Africa a penalty try, converted by Steyn, and sent the Welsh fly-half to join Charteris in the sin bin.
The loss of discipline is probably what will irk coach Warren Gatland the most. His team had played quick and efficient rugby to build a commanding lead.
But Gatland's boys also allowed themselves to be drawn into too many petulant exchanges. The second half became a scrappy and defiant battle of wills that suited South Africa. It ultimately served to stifle Wales' forward-thinking intent.
After the match, Gatland could not contain his disappointment in seeing victory snatched away so late, per the Welsh Rugby Union Twitter feed:
Warren Gatland post match: "Probably toughest defeat in my coaching career" #RSAvWal

— Welsh Rugby Union (@WelshRugbyUnion) June 21, 2014
This performance was like night and day compared to the Tourist's first Test mauling. But despite the positives, it also revealed a team that doesn't have the right habits to win even when playing well.
Fixing the lack of discipline and the inability to protect a lead and finish off a game should be Gatland's priorities.