The United States men's national team got a much-needed win against Ghana in their first match of the 2014 World Cup, but an injury to Jozy Altidore could become devastating for the team's chances.
In the 24th minute of the opening match, the forward appeared to strain his hamstring while chasing down a ball on the left side of the pitch. According to Evan Doherty of Yahoo! Sports, he was set to be evaluated on Tuesday:
Update from #USMNT: Jozy Altidore & Matt Besler underwent MRI's today. No word on results. Clint Dempsey has nasal fracture, to play vs #POR

— Evan Doherty (@YSportsEvan) June 17, 2014
Unfortunately, things do not look good for the young player. Head coach Jurgen Klinsmann thinks the player will return but is not sure when, via Dan Wetzel of Yahoo! Sports:
Klinsmann is "full of hope" Jozy Altidore will return in this tournament. No word when. MRI results pending. Uncertain about Portugal game

— Dan Wetzel (@DanWetzel) June 17, 2014
Meanwhile, his former teammate Landon Donovan pointed out that Altidore would likely be out until at least the knockout stage, via Paul Pabst of The Dan Patrick Show:
"It would be hard to imagine him (Jozy Altidore) playing again...at least in the first round." Landon Donovan @dpshow

— Paul Pabst (@PaulPabst) June 17, 2014
This certainly puts a wrinkle in the team's plans, as the forward was expected to play a major role on the team throughout the tournament. He has been a consistent scorer in international competition and was a key part of the squad's recent 4-4-2 diamond formation.
Without him, Team USA will have to make some adjustments going forward. Earning points against Portugal and possibly Germany will be vital for the squad to advance to the round of 16, and it will require better offensive play than what was on display against Ghana.
There are no perfect options to replace Altidore, but here are the most likely scenarios for the upcoming match against Portugal, assuming the rest of the lineup remains the same.
Chris Wondolowski
The reason Chris Wondolowski is on the roster is for his pure scoring ability. He has a knack for being in the right spot at the right time and knows how to finish when given the chance.
After leading the MLS with 27 goals in 2012, Wondo got his first legitimate chance with the national team, where he impressed with five goals at the CONCACAF Gold Cup. This helped him earn a spot on the World Cup roster, although few expected him to be any more than just a late substitute.
However, he will now have an opportunity to actually get a start against one of the best teams in the world.
The good news is that Portugal will be shorthanded defensively against the United States, as noted by Arlo White of NBC Sports:
Coentrao out of the World Cup with injury. #POR will be missing 2 key defenders for the #USA game.

— Arlo White (@arlowhite) June 17, 2014
Pepe will be the other player missing after picking up a red card in the opening match against Germany. This will give the Americans a better chance to get looks in the box that ordinarily would not be there.
The United States should also be hopeful after seeing Portugal give up easy scores like this one against Germany:
GOAL!! Muller gets his hat trick https://t.co/chNNQqIqdm

— Footy Vines.com (@Footy_Vines_) June 16, 2014
Rebounds like this are Wondolowski's bread and butter with his great positioning. If he can turn opportunities into goals, the team will be in good shape.
Aron Johannsson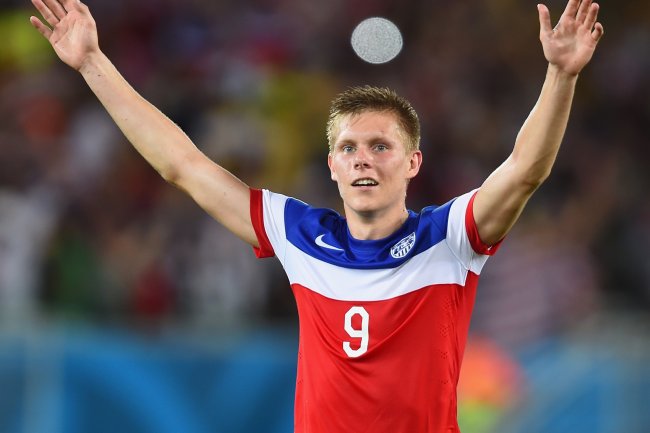 Jamie McDonald/Getty Images
While Wondolowski has been impressive in the MLS, Aron Johannsson's scoring ability should not be overlooked. The forward scored 17 times for AZ Alkmaar in Eredivisie, the top-flight league in the Netherlands.
He also has a quickness and ability to create plays for himself that Wondolowski lacks, especially against this level of competition.
Ives Galarcep pointed out that Johannsson has the opportunity to be an X-factor in this tournament:
Aron Johannsson is getting the call. I said coming into the tournament that he could be a serious X factor, now he will have his chance.

— Ives Galarcep (@SoccerByIves) June 16, 2014
Although he was unable to make a huge impact after replacing Altidore against Ghana, he still showed plenty of bright spots. Goalkeeper Tim Howard was impressed by his teammate's performance, saying, "You wonder what's going to happen after Jozy pulls up, but Aron filled that role well. That is why we built a team and built a squad. I thought Aron did fantastic," via the Associated Press (h/t ESPN).
Considering he would be lined up again in a two-man front alongside Clint Dempsey, there would not be too much pressure on him to create opportunities. He could simply wait for the action to come to him and find a way to finish when he gets the chance.
Even if he does not start, there remains a strong chance he will come in as a substitute in an effort to bring some speed and offensive ability into the match.
Graham Zusi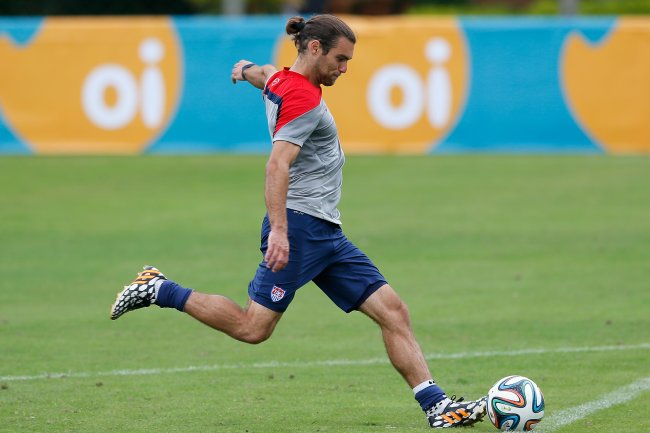 Kevin C. Cox/Getty Images
If Klinsmann decides to keep his 4-4-2 formation, there is a strong chance that he simply inserts Wondolowski or Johannsson into the lineup to replace Altidore. However, the better option is likely to change the strategy to get the best players onto the pitch.
By returning to the 4-2-3-1 formation that got the team through qualifying, Klinsmann can keep Kyle Beckerman and Jermaine Jones as his defensive midfielders while adding an attacking trio of Michael Bradley, Alejandro Bedoya and Graham Zusi:
| | | | | |
| --- | --- | --- | --- | --- |
| | | Dempsey | | |
| Bedoya | | Bradley | | Zusi |
| | Jones | | Beckerman | |
| Beasley | Besler | | Cameron | Johnson |
| | | Howard | | |
This tweak would provide a number of positive changes going forward.
Primarily, the five-man midfield will help do a better job of controlling possession, something that was barely seen in the previous match, as Ghana held the ball for 62 percent of the match, according to WhoScored.com.
Even the U.S. Soccer Twitter account noted that Zusi's addition helped keep possession after substituting into the match:
Michael Bradley gets into the #GHA half and finds Zusi who brings it back to Johnson. A welcome bit of possession...

— U.S. Soccer (@ussoccer) June 16, 2014
Holding the ball not only helps create more opportunities on offense, it also limits opposing chances on the other end of the pitch.
Meanwhile, Zusi could help provide the rest of the squad with more scoring chances thanks to his brilliant crossing ability. This skill was seen in the game-winning corner kick to John Brooks, as noted by Jason McIntyre of The Big Lead:
Zusi service was devine. And Brooks, the 21-year old, comes through. Incredible. Just unbelievable #USA

— Jason McIntyre (@jasonrmcintyre) June 16, 2014
The downside is that Dempsey would be left by himself on top of the defense, which is not truly his strong suit. Still, he showed in the first minute of this World Cup that he can score when given the chance, and Zusi being in the lineup would give him more chances.
Although changing a strategy after a win is not always a smart move, inserting the midfielder into the lineup would be the best of the limited options for the United States.
Follow Rob Goldberg on Twitter for the latest breaking news and analysis.