The College World Series can seem fairly complicated to the uninitiated, but it has now reached the straightforward part of the tournament. The ornate regionals and super regionals have ended, and the remaining teams are knee-deep in double-elimination bracket play with a shot at the best-of-three final round.
The eight teams left standing after the super regionals included five No. 1 seeds, but with the final four teams very nearly decided, a plucky No. 2 seed has ascended the list of favorites, which are rounded out by a No. 3. Here's a rundown of the remaining six teams and the best shots to win the College World Series.
1. Vanderbilt
The Boilermakers have lost only one game in the CWS, coming at the hands of Stanford in the super regionals. In their two wins so far in bracket play, they've scored at least five runs in each. None of the other seven teams has scored five runs in any game.
Tampa Bay Rays pitcher David Price, who chose to attended Vanderbilt instead of playing for the New York Yankees out of high school, emphasized his alma mater's pitching and defense in the following tweet:
Pitching and defense...pitching and defense...pitching and defense!! They can swing it a little as well #vandybaseball #cws #2-0 #whoyawith

— David Price (@DAVIDprice14) June 17, 2014
He also observed that the Boilermakers can "swing it a little," which comes as a massive understatement, as they have outscored all other teams through two games of the double-elimination round.
Moreover, their pitchers can be overpowering, ranking third in the nation with 9.3 strikeouts per nine innings, via NCAA.com.
Vandy plays Friday afternoon at 3 p.m. ET. No other No. 1 team is on their side of the bracket, and with no losses yet in this round, a win would vault Vandy into the best-of-three championship matchup.
With their potent blend of pitching and offense already placing them one win away from the final round, expect the Boilermakers to claim this year's title.
2. TCU
The Horned Frogs make their living on pitching. Through June 9, they led all other teams with a 2.19 ERA, per NCAA.com. They've got a stable full of live arms, including first-round draft pick Brandon Finnegan.
#Royals 1st round pick Brandon Finnegan pitches for #tcubaseball tonight at 7pm on @espn. http://t.co/qsThRlQYT5

— 610 Sports Radio- KC (@610SportsKC) June 17, 2014
They've dropped two games so far in the CWS. Just as in the pros, pitching often wins championships in college, even if the bats make a metallic thud instead of a satisfying, woodsy crack on contact.
3. Virginia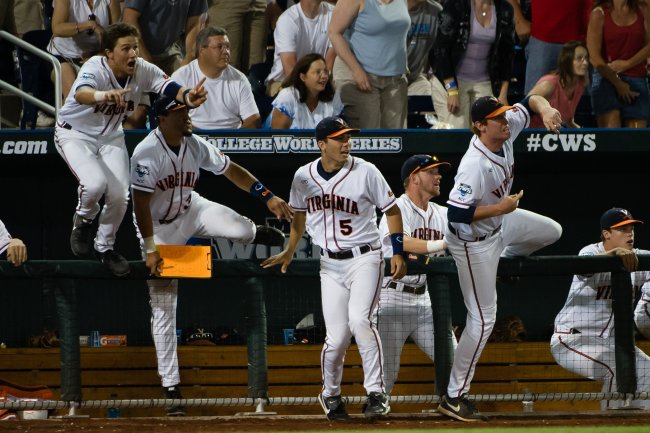 USA TODAY Sports
Virginia doesn't slouch either, and its pitchers take the mound with the same earnest commitment Cavaliers students make to the school's honor code. While TCU stood above all other pitching staffs during the season, Virginia was similarly stingy in compiling a 2.31 ERA, fifth in the nation.
Virginia has rolled over the competition as well, with a 5-4 loss to Maryland the only blemish entering double-elimination bracket play.
4. Texas
No. 2 Texas escaped its regional grouping after top-seeded Rice dropped two out of three games. Despite a tough 3-1 loss to UC-Irvine to open bracket play in the CWS, the Longhorns stormed back and downed No. 1 Louisville in the losers bracket, eliminating the Cardinals from the tournament.
As Texas pitcher Parker French told the Associated Press' Eric Olson, via NCAA.com, after helping beat Louisville, "When I step out there every game, I think this is the best defensive team in the country. I can say that with confidence, up the middle and everywhere. They make those plays, it makes me more of a strike-throwing machine, because they're going to be aggressive and let me keep my pitch count down."
Shortstop C.J. Hinojosa and left fielder Ben Johnson each produced a web gem in the field to help hold Louisville to a single run in the momentous win. On the other side, four Cardinals errors helped ensure the result.
A rematch against UC-Irvine awaits on Wednesday evening at 8 p.m. ET, with the winner going on to face mighty Vandy.
5. Ole Miss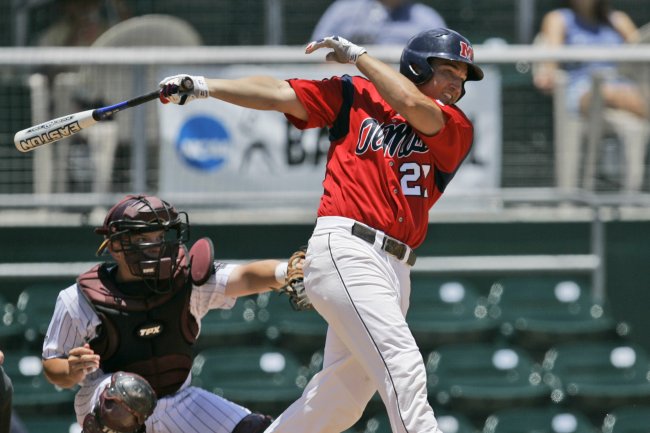 Wilfredo Lee/Associated Press
After a three-game series that looked like batting practice for both Ole Miss and Louisiana-Lafayette, Ole Miss will have to rely on a pitching staff that ranked a respectable 22nd in WHIP.
Ole Miss dropped a 2-1 heartbreaker to Virginia to open double-elimination play in the CWS, sending them to the losers bracket.
As talented as its own pitching has been, scoring runs against top-notch pitching has proved a challenge for Ole Miss. The Rebels narrowly survived for a 2-1 elimination win over Texas Tech, and both runs were unearned. Fortunately, Christian Trent stood tall on the mound with eight shutout innings to knock off the Red Raiders.
6. UC-Irvine
The only remaining No. 3 seed in the tournament can pull off an impressive upset, but UC-Irvine won't be able to hit its way there against the best pitchers in the game.
UC Irvine coach Mike Gillespie: Bat changes too drastic, game suffers http://t.co/o0bcNg3Ll9 (@ericolson64) #CWS

— AP Top 25 (@AP_Top25) June 16, 2014
Manager Mike Gillespie has a history with heavy-hitting teams, as noted by the AP's Eric Olson:
If one could point to a single event that pulled the plug on offense, it would be the nine home-run 1998 national championship game that ended with Gillespie's Southern California team beating Arizona State 21-14...According to the NCAA's midseason statistical trend report, the Division I batting average of .268 and per-team scoring of 5.14 runs a game were lowest since the wooden-bat era of 1973. The per-team home-run average of 0.36 a game was lowest since at least 1969. In 1998, Division I teams batted .306, scoring 7.12 runs and averaging 1.06 homers a game, all records.
Despite Gillespie taking issue with some of the rule changes the sport has seen recently, it hasn't hampered his team's results this year.
The Anteaters have made the biggest impact with strong pitching, as have all the best teams in the CWS. Through June 9, they ranked 20th in the nation with a 2.76 ERA. If they can manage to make the run to the title, it will be down to heroics on the mound.