After two days of the 2014 College World Series, all of the eight teams in Omaha have played their opening matchups. That means four of them entered Day 3 just one loss away from elimination.
Monday's slate started with Texas and Louisville facing off in the losers bracket. After both the Cardinals and Longhorns lost their opening matchups on Saturday, the loser of Monday's game saw their season come to an end.
That's not all that's on tap for Monday, though, as Vanderbilt and UC Irvine face off in the winners bracket for a spot in the semifinals.
Let's break down the Day 3 results.
2014 College World Series: Day 3

| | | | |
| --- | --- | --- | --- |
| Game No. | Matchup/Result | Time (ET) | TV |
| 5 | Texas 4, Louisville 1 | - | ESPN2 |
| 6 | Vanderbilt 6, UC Irvine 4 | - | ESPN2 |
NCAA.com
Day 3 Results
Texas 4, Louisville 1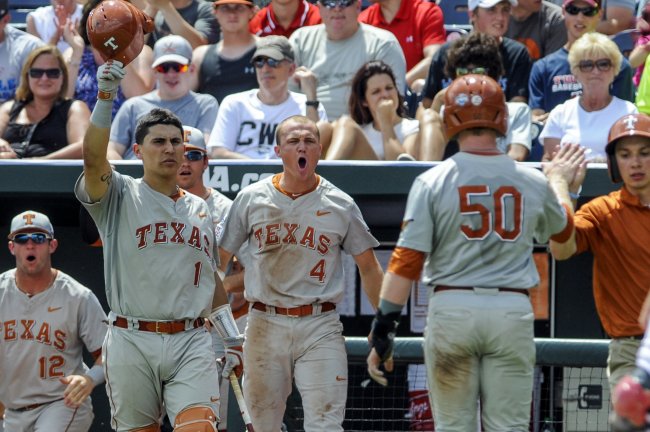 Eric Francis/Associated Press
The Texas Longhorns entered Monday with their backs against the wall in an elimination game, but they stood tall and brisked past the Louisville Cardinals in a 4-1 victory.
NCAA Baseball captured the result:
Hook 'em Horns! @Texas_Baseball fights on with a 4-1 victory over Louisville. #CWS pic.twitter.com/z0oJNUibpW

— NCAA Baseball (@NCAACWS) June 16, 2014
Parker French was the hero for Texas. The Longhorns' starter pitched 7.1 innings, allowing just four hits and keeping Louisville's bats at bay long enough to preserve the victory. His only earned run came after leaving the mound in the eighth with a three-run lead.
French had to outduel another ace on the mound for Louisville. Anthony Kidston got the start for the Cardinals and pitched a masterful eight innings, allowing just six hits and striking out five.
But as far as keeping runners off the basepaths, he was far from perfect in keeping Texas at bay. In the third inning, the Longhorns struck when Zane Gurwitz scored off a sacrifice fly from Ben Johnson to give Texas a 1-0 lead.
With the Longhorns drawing first blood, Baseball America's Aaron Fitt put Louisville's recent CWS struggles into perspective:
Texas takes a 1-0 lead on a sac fly to left. Louisville has yet to take a lead in 4 CWS games at TD Ameritrade Park over last 2 years.

— Aaron Fitt (@aaronfitt) June 16, 2014
Fielding errors for the Cardinals doomed them in the next inning, as a throwing error to first scored another Texas runner in the fourth to make it 2-0 Longhorns.
Louisville committed yet another error in the fifth, allowing Texas to take a commanding 3-0 lead.
The Longhorns cruised into the stretch of the game with that lead, but it was far from safe. The Cardinals put two runners in scoring position when French came off the mound for good, as Perfect Game's Kendall Rogers lauded his performance:
#Texas pulls Parker French after two #UL hitters get into scoring position with one out. Just a terrific overall performance by the righty.

— Kendall Rogers (@KendallRogersPG) June 16, 2014
French left his team in a jam, but they quickly got out of it and retired the side. In the top half of the ninth, Texas added an insurance run to make it 4-1 and firmly shut the door on any sort of late Louisville opportunity in the bottom of the ninth—effectively ending the Cardinals' season.
Texas head coach Augie Garrido summed up what made the difference in the game, per Texas Baseball:
Garrido: We played much better today. At yesterday's practice we made sure our attitude, teamwork & togetherness were in the right place

— Texas Baseball (@Texas_Baseball) June 16, 2014
Garrido: the game was controlled by the pitching of Parker French and Travis Duke. Catcher Tres Barrera called a great game.

— Texas Baseball (@Texas_Baseball) June 16, 2014
Texas will now get a shot at redemption, facing the loser of the nightcap between UC Irvine and Vanderbilt. Should UC Irvine lose, the Longhorns will have a chance to eliminate the Anteaters—the team that drew first blood on Texas in the tournament opener.
For Louisville, it's just another chapter in its book of disappointing showings in Omaha.
Vanderbilt 6, UC Irvine 4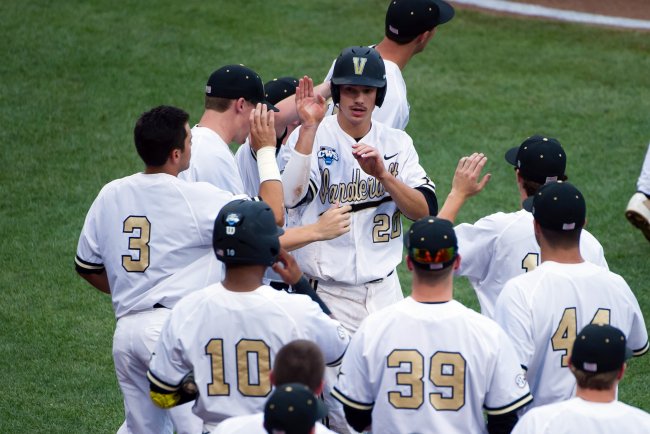 USA TODAY Sports
A pitcher stole the show in the first winners bracket game of the College World Series, but it wasn't a starter. Vanderbilt's Walker Buehler came on in relief and took over, allowing the Commodore bats to power them to a 6-4 win.
Vandy Baseball captured the team heading to the field to celebrate:
VICTORY https://t.co/CnRRlRwXXL

— Vandy Baseball (@VandyBaseball) June 17, 2014
Tyler Beede started the game on the mound for Vanderbilt, but the Commodores ace didn't get off to a strong start to say the least.
Vanderbilt gave him two runs in the top of the first, but Beede conceded four in the second inning as UC Irvine took an early 4-2 lead. After 3.2 innings and Vandy in a hole, Buehler came on in relief.
Immediately upon entering, Buehler shut things down. He pitched 5.1 innings of hit-less action, striking out seven and offering stability to the Vanderbilt defense when it needed it most.
Things were out of whack until Buehler arrived, per ESPNU:
Before Walker Buehler: messy scorecard. During Walker Buehler: clean scorecard. 3outs to go @VandyBaseball, up 6-4 on @UCIbsb going to 9th

— ESPNU (@ESPNU) June 17, 2014
Not only did Buehler's presence shut down the Anteater bats, but it also invigorated the whole team, per 102.5 The Game's Willy Daunic:
Strong momentum being generated by Buehler. #Dores looking to use it on offense now and grab a run.

— Willy Daunic (@WillyD1025) June 17, 2014
In the top half of the fifth, the Commodores finally struck to give Buehler a lead to work with. Two doubles and a single in the fifth brought home three runs to give Vandy the 5-4 lead.
One more insurance run in the seventh, and it was up to Buehler to keep his fastball dominant and his pitches away from UC Irvine batters. He did just that.
UC Irvine's best chance to close the gap late came in the eighth, putting two runners on board. But Buehler struck out his seventh batter to oust the opportunity. That was as close as the Anteaters would get in the closing moments.
After the game, Baseball America's Aaron Fitt was enamored with Buehler's performance:
Buehler's a treat to watch. Sitting 94-96, and has elevated fastball very effectively with riding life. Power curve 79-82 changes eye level.

— Aaron Fitt (@aaronfitt) June 17, 2014
UC Irvine head coach Mike Gillespie didn't even think it was as close as it was, per Perfect Game's Kendall Rogers:
#UCIrvine HC Mike Gillespie: "This game was a surprisingly close score. I promise you, it felt like a root canal." #CWS @VandyBaseball

— Kendall Rogers (@KendallRogersPG) June 17, 2014
It certainly wasn't ideal for Vandy to have to give extensive action to two of its most valuable arms, but with three days off, the Commodores will be able to rest. With two wins in two games, they're sitting pretty and on into the semifinal round.
As for UC Irvine, it will have to rebound for an elimination game. The Anteaters will put their season on the line against Texas, the team that they beat to open up play in Omaha who will be looking for revenge.
Follow Steven Cook on Twitter.