The 2014 NBA Finals were an anticlimactic rematch. Just don't tell that to the San Antonio Spurs, their multitude of fans or purists who enjoy marvelous, impeccably executed team basketball.
In Game 5 at the AT&T Center on Sunday, San Antonio knocked off the two-time defending champion Miami Heat, 104-87, closing out this lopsided series in dominant fashion.
The #Spurs are the 2014 NBA Champions! pic.twitter.com/jLbgRqVD9R

— Bleacher Report (@BleacherReport) June 16, 2014
Often a team associated with boredom, coach Gregg Popovich's Spurs indeed made the Finals unexciting in terms of the final result. But they did what championship squads do in overcoming early adversity, remaining composed under intense pressure and fulfilling their potential as an unstoppable juggernaut.
Nike Basketball poked some fun at the criticisms that are often leveled at San Antonio:
Champion is the only label we'll remember. pic.twitter.com/t6VhYCc4Xc

— Nike Basketball (@nikebasketball) June 16, 2014
This resounding conquest will also quell the pain of the Spurs' painful Finals loss to Miami last year in seven games. TNT's David Aldridge was impressed with the victors' resolve:
Congrats to the San Antonio Spurs, an amazing champion for 2013-14. One of the most remarkable emotional recoveries I've ever seen.

— David Aldridge (@daldridgetnt) June 16, 2014
Heat owner Micky Arison congratulated San Antonio on its win when the end was imminent:
Congratulations to the @spurs to Peter Holt, Pop & the entire team on an amazing run to a championship.

— Micky Arison (@MickyArison) June 16, 2014
ESPN's Numbers Never Lie account had quite the stat regarding the Spurs trio of stars:
Duncan, Parker & Ginobili become first set of 3+ teammates to win 4 titles together since Magic, Abdul-Jabbar, Michael Cooper & Kurt Rambis.

— Numbers Never Lie (@ESPN_Numbers) June 16, 2014
The account also had a visual graphic reminding everyone just how accomplished Duncan is:
DO NOT SLEEP on Tim Duncan, when talking about the all-time greats. pic.twitter.com/FMi0WMsZl0

— Numbers Never Lie (@ESPN_Numbers) June 16, 2014
Tim Duncan has now won five titles in six Finals trips. The Big Fundamental had 14 points and eight rebounds, and The University Star's Quixem Ramirez alluded to how Duncan's greatness spans so many years:
And Tim Duncan is the second player in NBA history (John Salley) to win titles in three different decades. The man never stops.

— Quixem Ramirez (@quixem) June 16, 2014
The all-around play of Kawhi Leonard may be the biggest story, though, as the young Spur spearheaded the team's charge in the past three wins. Leonard had a team-high 22 points and 10 rebounds in taking home NBA Finals MVP honors.
Yes, the Heat have the best player in the game in LeBron James, who had 31 points, 10 rebounds, five assists and two blocks. Sometimes, the biggest stars can help a team with less depth overcome even the most formidable foes. Unfortunately for the Miami faithful, the other contributors to their All-Star triumvirate were nowhere to be found.
Bleacher Report's Ethan J. Skolnick highlighted how no one but James showed up for much of the first half:
LeBron 6-of-12 at the half.... Rest of team 7 of 22. No one could blame him for shooting 22 times in second half.

— Ethan J. Skolnick (@EthanJSkolnick) June 16, 2014
Dwyane Wade (11 points on 4-of-12 shooting) is declining at an alarming rate, reflected in this statistic from mySynergySports.com:
Dwyane Wade shot 29% in isolation situations and 38% in transition during the NBA Finals.

— mySynergySports (@mySynergySports) June 16, 2014
The following ill-fated remarks from Chris Bosh before Game 5 will be rendered irrelevant in the wake of Sunday's rout, per SI.com's Ben Golliver:
We're not going down, we're going to win this game tonight. We're going to come, prepare like we need to do. Plain and simple, we're going to win this game. I don't care about guarantees, we're just going to win the game. Take it like you want it.

[...] Everybody comes to you with statistics and numbers and stuff like that. We're in a situation we've never been in before. There is more desperation in everything. We don't have time for mistakes or anything. We have to be perfect tonight.
Bosh and his teammates were far from perfect, though they started out the game at a blistering pace, scoring the first eight points and taking a massive first-quarter lead.
Grantland's Bill Barnwell noted just how wrong things went for Miami after its excellent road start:
Heat started 22-6. Since then, Spurs 50, Heat 20.

— Bill Barnwell (@billbarnwell) June 16, 2014
Cold shooting was to blame for San Antonio's slow break out of the gate at home. It's fair to say the Spurs were suffering a bit of a letdown after blowing the Heat out twice in South Beach.
James was also lighting it up with 17 points through one quarter, but Leonard was subsequently there to match him:
Kawhi Leonard is carrying the Spurs for 3rd straight game. Leonard has 15 points in 2nd quarter. #MIAvsSA

— SportsCenter (@SportsCenter) June 16, 2014
Leonard has really emerged as a star in these Finals, proving his worth as a great two-way player in helping San Antonio to the title. The Spurs turned it on in the second quarter, storming out to a 47-40 lead at intermission with heightened offensive execution:
A tale of 2 Quarters for the @Spurs: 28.6% FG (6/21) in the 1st, 50% (11/22) in the 2nd #NBAFinals pic.twitter.com/8EejzxNzqh

— NBA.com/Stats (@nbastats) June 16, 2014
Heat coach Erik Spoelstra tried adjusting the rotation, per ESPN's Michael Wallace:
Heat tweaking lineup again for second half. Birdman starting alongside Bosh, LeBron, Wade and Allen

— Michael Wallace (@WallaceNBA_ESPN) June 16, 2014
Evidently, it didn't have much of an impact, as the Spurs momentum carried over into the third quarter. In that 12-minute frame, San Antonio outscored the Heat, 30-18, thanks mostly to a flurry of points from Spurs backup point guard Patty Mills.
ESPN personality Skip Bayless was pleased with Mills' play after he netted 14 points in the third:
I've said several times on air that Patty Mills has become my favorite Spur. He has hit huge shots all season - none bigger than THOSE.

— Skip Bayless (@RealSkipBayless) June 16, 2014
It's amazing that Leonard and Mills were the two individuals who ripped nylon in the middle quarters of the game. With Spurs legends such as Duncan, Tony Parker and Manu Ginobili all in the fold, they took center stage.
Parker didn't make a shot from the field until the second half, which was another indication of how deep San Antonio is. As NBA expert Chris Palmer points out, the crafty guard eventually got his in finishing the night like a true winner:
Parker started 0-10. Gone 7-7 since.

— Chris Palmer (@ChrisPalmerNBA) June 16, 2014
On the opposite end of the spectrum, the Heat were still struggling for much of the period. Zach Lowe of Grantland attempted to pinpoint Miami's issues, observing how Chris Andersen and Wade were hurting the Heat offensively:
Crazy good D by the Spurs. Perfect decisions. Just like Game 4. Heat easier to guard with both Wade and Bird on the floor.

— Zach Lowe (@ZachLowe_NBA) June 16, 2014
After the game Bosh gave all the credit to the winning team via CNN's Rachel Nichols:
Chris Bosh on these Spurs: "Best team I ever saw. Best team I ever played against."

— Rachel Nichols (@Rachel__Nichols) June 16, 2014
Erik Spoelstra offered similar sentiments via the San Antonio Express-News' Dan McCarney:
Spoelstra: "Were a very good offensive team, but we weren't able to do much. You have to give credit to the Spurs."

— Dan McCarney (@danmccarneysaen) June 16, 2014
Popovich was quick to praise the Heat per McCarney:
Pop: "It's somewhat still disbelief, but because they're such a great team, it really makes it worth it to us."

— Dan McCarney (@danmccarneysaen) June 16, 2014
Parker had a strong statement about the win via Sports Illustrated's Ben Golliver:
"It's the sweetest one. It's unbelievable to win seven years ago and to come so close last year." Tony Parker on 2014 title

— Ben Golliver (@BenGolliver) June 16, 2014
Now that the Spurs have secured the Larry O'Brien Trophy, it will be fascinating to see what the future holds. It's hard to dispute this notion from the Houston Chronicle's John McClain:
Is there a better-run organization in professional sports than the Spurs? No. From top to bottom, they've been the best. Congrats!

— John McClain (@McClain_on_NFL) June 16, 2014
Duncan, Ginobili and even Parker are advanced in age, but their experience could carry them to another championship next year if they want to pursue it. San Antonio has enough depth to accommodate them, and Popovich did a masterful job resting his most important core players throughout the regular season in preparation for this epic playoff run.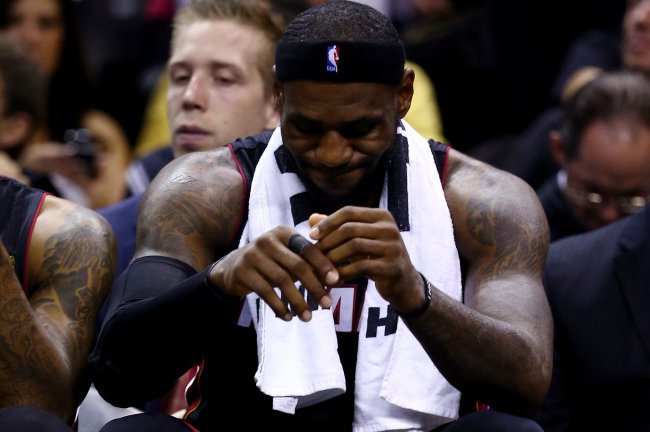 Andy Lyons/Getty Images
This is the fourth time James, Wade and Bosh have made the Finals in as many years. They're 2-2. The mixed results and the opportunity to opt out of their contracts may see James flee town and join up with another team that has better pieces in place.
Who should be the favorite to win next year's NBA Finals?
Wade looks to be on his last legs, while Bosh is often not even a solid No. 2 or even third option due to a lack of aggressiveness. It would not be a surprise at all to see James in a different jersey after the Finals went so awry for the Heat.
The quest for a three-peat has suddenly turned sour, and Miami has a long way to go in terms of rebuilding if James decides to depart.
However, the focus should be on the Spurs more than anything concerning the defeated Heat. San Antonio is built for both immediate and long-term success thanks to supreme coaching from Popovich and the top-notch talent evaluation of general manager R.C. Buford and the front office. Even in a loaded Western Conference, the Spurs figure to be favorites to repeat as champions next year.