Forget Neymar. One of the biggest stars of the 2014 World Cup opener came in an aerosol can.
For the first time in the tournament's history, a referee used "vanishing spray" to mark out the requisite 10 yards on a free kick.
Former referee Graham Poll regretted not being able to use it when he was at the World Cup:
Fantastic introduction of the spray to show players 10 yards (9.15m). Wish I'd had that.

— Graham Poll (@Graham_Poll) June 12, 2014
For those unaware of how it's used, the referee will spray it on the ground around the ball and in front of the wall on free kicks to ensure that the wall doesn't encroach on the set-piece taker. And almost just as quickly as the spray is used, it's gone, leaving no lasting effect on the pitch.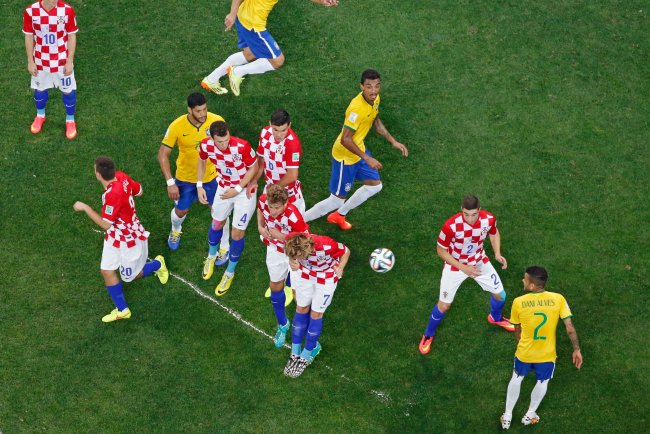 Pool/Getty Images
You see it all the time on free kicks: Once the referee is done putting the wall in place, in unison, the wall collectively moves forward inch by inch.
That closes down the angle with which the set-piece taker can operate. Most of the time, he can't fire the ball over the wall without overshooting his intended target as a result.
In theory, vanishing spray should eliminate that problem altogether. In practice, that's an unrealistic goal. Vanishing spray should at least keep the wall more honest.
"It will assist us in getting the players back at a free kick and, in turn, that gives the attacking team a better opportunity of creating something from that set-piece," English referee Howard Webb said, per BBC Sport's Luke Reddy.
Unfortunately, vanishing spray can't be used for everything. Sorry, Gary Lineker:
I like this vanishing spray FIFA are using for this World Cup. Would it work on Sepp Blatter?

— Gary Lineker (@GaryLineker) June 12, 2014
Although this was the first year for vanishing spray in the World Cup, it's already been used in various leagues around the world:
MLS has been using the vanishing spray for years. It's pretty effective in stopping the wall creeping forward. The Prem should look into it.

— J. Hughes (@JJHughes_) June 12, 2014
Vanishing spray has been used in Korea's K-League for a couple of seasons. Good to see at the World Cup

— John Duerden (@JohnnyDuerden) June 12, 2014
Down goes the vanishing spray. Novel for us, but has been in use in Brazilian football for a decade or more...

— Tom Peck (@tompeck) June 12, 2014
FIFA officially approved of the method two years ago, paving the way for its usage in the World Cup, per South American football journalist Rupert Fryer:
Fifa approved vanishing spray two years ago. About time it was in world's biggest competitions.

— Rupert Fryer (@Rupert_Fryer) June 12, 2014
As with any new innovation in the game, vanishing spray is bound to have its critics. According to Reddy, Bayern Munich and Germany goalkeeper Manuel Neuer wasn't a fan of it during last year's Club World Cup, claiming the spray slowed the game down.
Neuer probably would've said the same about the offside law, too.
There's little question that vanishing spray helps to make a referee's job a little easier.
"I tried it at the Fifa Under-20 World Cup [last summer, in Turkey] and to my surprise I appreciated it," said Swedish referee Jonas Eriksson, per BBC Sport's Steve Crossman. "We started this project in September 2012, two years before the tournament, the same time as the teams started their qualifying. I think this will be the best World Cup for the referees."
Would you like to see vanishing spray implemented in the Premier League?
Australian referee Ben Williams concurred.
"Players respect it," he said. "It's a great innovation and I'm looking forward to using it."
Most fans would agree that match officials have an extremely difficult job, so whatever can be done to take a little pressure off is a step in the right direction. Also, unlike video technology, there isn't any sort of break in play needed to use the vanishing spray.
While this all feels a bit novel now, it will become a fixture of the game in no time. Now that it's appeared in the World Cup, more leagues in Europe will likely pick up on the trend.
Look at it this way: If vanishing spray means getting to see more Andrea Pirlo or Luis Suarez free kicks ending up in the back of the net, what's there to complain about?