On June 17, EA Sports is set to bring the fight to Xbox One and PlayStation 4 in the form of its new mixed martial arts title.
EA Sports UFC has already wowed gamers with the visuals in screenshots and the demo that released on June 2.
With the full release due to drop on Tuesday, we will soon have all the power of the strikes, takedowns and submissions in our hands.
The roster is not all inclusive, but it is vast. Here's a look at the fighters and arenas that will appear in the game at launch. The "(c)" represents the current champion in each division.
Ladies first...
Women's Bantamweight
Here's a shot of Ronda Rousey from EA Sports UFC pic.twitter.com/3htTtRb6ag

— Bryan Wiedey (@pastapadre) March 6, 2014
(c)"Rowdy" Ronda Rousey
Sara McMann
Sarah Kaufman
Alexis "Ally-Gator" Davis
Liz "Girl-Rilla" Carmouche
Cat "Alpha" Zingano
Miesha "Cupcake" Tate
Flyweight
Welcome to #EASPORTSUFC @MinotauroMMA and @MightyMouseUFC ! Click here for Minotauro: http://t.co/xHGbRUaI21 pic.twitter.com/oC02EIjuPH

— EA SPORTS UFC (@EASPORTSUFC) January 9, 2014
(c) Demetrious "Mighty Mouse" Johnson
Louis "Goodnight" Gaudinot
John "The Magician" Dodson
Joseph Benavidez
Darren "BC" Uyenoyama
Ian "Uncle Creepy" McCall
Tim Elliott
Scott "Young Guns" Jorgensen
Men's Bantamweight
NEW @UrijahFaber @EASPORTSUFC roster reveal. Lookin good Cali Kid! @ufc #ufc @danawhite @chadmendes pic.twitter.com/y9z6Mm4NZY

— Torque (@Torque1net) June 6, 2014
Renan Barao
Eddie Wineland
Brad "One-Punch" Pickett
Erik "El Goyito" Perez
Michael "Mayday" McDonald
Bruce Lee*
Demetrious "Mighty Mouse" Johnson
Urijah "California Kid" Faber
Mike "The Hulk" Easton
"The Dominator" Dominick Cruz
Brian Bowles
Featherweight
Here is Jose Aldo's character in EA Sports UFC: pic.twitter.com/FTdWMPpJJi

— Josh Sánchez (@jnsanchez) January 31, 2014
(c) Jose "Scarface" Aldo
Cub Swanson
Dennis Siver
Dustin "The Diamond" Poirier
"The Prodigy" BJ Penn
Chad "Money" Mendes
"Notorious" Conor McGregor
Bruce Lee*
Ricardo "The Bully" Lamas
"The Korean Zombie" Chan Sung Jung
Clay "The Carpenter" Guida
Urijah "The California Kid" Faber
Frankie "The Answer" Edgar
Lightweight
#EASPORTS #UFC #Gameplay #JoseAldo vs. #AnthonyPettis What do you think?¿Qué os parece?http://t.co/ihlkNMth13 pic.twitter.com/f6OjynNVEq

— Maykol (@maykolizate) May 24, 2014
(c) Anthony "Showtime" Pettis
Benson "Smooth" Henderson
TJ Grant
Joe "J-Lau" Lauzon
Josh "The Punk" Thomson
"The Korean Zombie" Chan Sung Jung
Bruce Lee*
Gray "The Bully" Maynard
"Notorious" Conor McGregor
"El Nino" Gilbert Melendez
Jim Miller
Khabib "The Eagle" Nurmagomedov
Ross "The Real Deal" Pearson
"The Prodigy" BJ Penn
Jose "Scarface" Aldo
"Cowboy" Donald Cerrone
Nate Diaz
Welterweight
.@JohnyHendricks in #EASPORTSUFC. Click for @CarlosCondit, @Junior_Cigano, @LyotoMachidafw http://t.co/HmMIvtKwiy pic.twitter.com/kzwbeUZfis

— EA SPORTS UFC (@EASPORTSUFC) March 13, 2014
(c) Johny "Bigg Rigg" Hendricks
Jake "The Juggernaut" Ellenberger
Nick Diaz
Nate Diaz
"The Natural Born Killer" Carlos Condit
Georges "Rush" St-Pierre
Tarec "Sponge" Saffiedine
"The Prodigy" BJ Penn
Demian Maia
Rory "Ares" Macdonald
Bruce Lee*
"Ruthless" Robbie Lawler
Pascal "Panzer" Krauss
Josh "Kos" Koscheck
Martin "The Hitman" Kampmann
Middleweight
Robbie Lawler in EA Sports UFC is one of the best I have seen yet: pic.twitter.com/F6TiMbuOHH

— Josh Sánchez (@jnsanchez) March 6, 2014
(c) "All-American" Chris Weidman
Ronaldo "Jacare" Souza
Chael "The American Gangster" Sonnen
"The Axe Murderer" Wanderlei Silva
Anderson "Spider" Silva
Luke Rockhold
Costas Philippou
"The Filipino Wrecking Machine" Mark Munoz
Demian Maia
Lyoto "The Dragon" Machida
Cung Le
"Ruthless" Robbie Lawler
Dan "Hendo" Henderson
Royce Gracie**
Rich Franklin
Francis "Limitless" Carmont
Michael "The Count" Bisping
Vitor "The Phenom" Belfort
Light Heavyweight
I never could have imagined being in a video game. @EASPORTSUFC my wrestling rating better be highest in the game lol pic.twitter.com/9zVbZjEAL0

— Daniel Cormier (@dc_mma) June 6, 2014
(c) Jon "Bones" Jones
Dan "Hendo" Henderson
Alexander "The Mauler" Gustafsson
Forrest Griffin
Rich "Ace" Franklin
Rashad "Suga" Evans
Phil "Mr. Wonderful" Davis
Daniel "DC" Cormier
Michael "The Count" Bisping
Vitor "The Phenom" Belfort
Ryan "Darth" Bader
Glover Teixeira
Chael "The American Gangster" Sonnen
Wanderlei "The Axe Murderer" Silva
Anderson "Spider" Silva
Mauricio "Shogun" Rua
Antonio Rodrigo "Minotauro" Nogueira
Gegard "The Dreamcatcher" Mousasi
Lyoto "The Dragon" Machida
Chuck "Iceman" Liddell
Heavyweight
EA Sports UFC Reveals Cain Velasquez and Brad Pickett - http://t.co/oykyEU2ywg pic.twitter.com/mx18bjYTSn

— SciFighting (@SciFighting) February 20, 2014
(c) Cain Velasquez
Antonio "Bigfoot" Silva
Alistair "The Reem" Overeem
Antonio Rodrigo "Minotauro" Nogueira
Roy "Big Country" Nelson
Frank Mir
Mark "The Super Samoan" Hunt
Junior "Cigano" dos Santos
Daniel "DC" Cormier
Travis "Hapa" Browne
Pat "HD" Barry
Fabricio "Vai Cavalo" Werdum
* Bruce Lee is a pre-order bonus who can be unlocked by finishing the career mode on pro difficulty or higher.
** Royce Gracie can be unlocked by finishing the game on pro difficulty or higher.
Arenas
MGM Grand
Staples Center
Honda Center
Prudential Center
Toyota Center
Madison Square Garden
Air Canada Centre
Bell Center
Rio Arena
Chicago Arena
Roster Notes
Bruce Lee and Royce Gracie
MMA legends Bruce Lee and Royce Gracie have been included in the roster. Lee is playable in five weight classes, while Gracie is exclusive to the middleweight division.
Veteran referee Yves Lavigne got a kick out of seeing Lee stick it to The Prodigy in this E3 presentation.
;) EA Sports UFC - Bruce Lee vs BJ Penn E3 2014 Gameplay TRUE-HD QUALITY: http://t.co/wBF5sYlUCH via @YouTube

— Yves Lavigne (@YvesLavignemma) June 11, 2014
Gracie has appeared in UFC games in the past, but this is the first time his render looked this spot on.
Look who's coming to @EASPORTSUFC! Learn how you can play as Royce Gracie: http://t.co/HLgM5feBWX pic.twitter.com/JEkLgjZmZP

— EA SPORTS (@EASPORTS) April 25, 2014
This is obviously the older Gracie, but because there's a possibility of seeing younger versions of some fighters on the roster, don't be shocked if the MMA pioneer shows up in his younger days as part of DLC.
That, per creative director Brian Hayes, would not be free, if it does happen.
Notable Omissions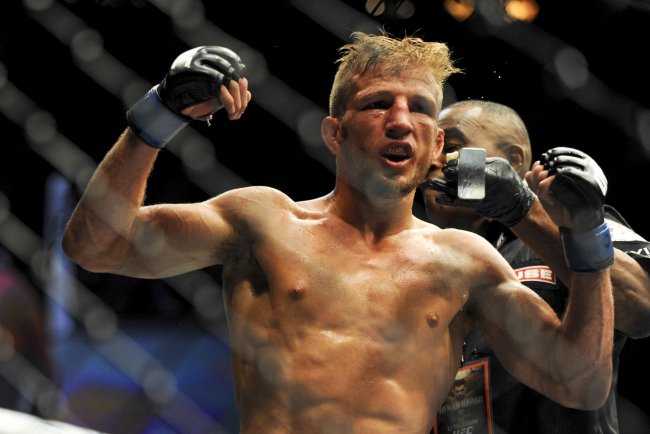 USA TODAY Sports
There are a few guys and women whom fans of the UFC will indeed miss at launch. Newly crowned bantamweight champion TJ Dillashaw is the first who comes to mind.
He completely dominated Renan Barao at UFC 173 to claim the title. Brendan Schaub, who will face Andrei Arlovski at UFC 174 on Saturday, is another.
Ali Bagautinov will challenge Johnson for his flyweight title on Saturday, and he isn't part of the roster. If he were to win, the game would be devoid of two current champions upon release.
That would be unfortunate.
Jessica Andrade is perhaps the most notable woman not included in the roster.
There's all the reason in the world to believe that these gaps will be filled in shortly.
The guys at UndisputedOnline.net had hands-on time with the game and spoke to creative director Brian Hayes. He said that there will be free and regular roster updates to add fighters like Dillashaw post-release. That's great news and something to look forward to for fans of the game.
New stars emerge all the time in the UFC. It's good to know that there is a commitment to putting them into the game after it releases.
Features and the Demo
Enhanced Graphics and Animations
The fighter likenesses are among the best character models you'll see in any game. They truly rival—and may even surpass—the ones we marveled at with NBA 2K14 in Oct. 2013.
This visual realism is enhanced when you see the full-body deformation from strikes and grappling.
EA Sports UFC Precision Movement, Exertion, Full-Body Deformation and Real Damage http://t.co/Fseljod08Y pic.twitter.com/8f58jabZsl

— Steve Noah (@Steve_OS) March 26, 2014
The progressive and graphic facial damage also bring the brutality of MMA right to your monitor or TV. If a game's graphics were likened to the exterior beauty of a woman, this one is a supermodel.
I had an opportunity to speak with Hayes about this and other features in the interview below.
MMAi
Great graphics can only be fully appreciated if the characters behave intelligently and realistically.
Per EA Sports, the MMAi feature promises each fighter will have a unique fight plan. Those plans will have options A, B and C for every fight. Direct from the game's page on the EA Sports website, the feature description reads: "Down on the scorecards, look for the AI to end the fight with a knockout or a submission. A smarter opponent equals a more challenging and unpredictable fights."
If you've played the demo, you've seen evidence of that. If you have not, here are two separate fight videos to add some level of reference.
The demo only allows you to use Jones or Gustafsson, but it's clear to see how each man fights differently. If you begin to land strikes against Bones, he'll fall back on his wrestling prowess and attempt to take you down.
Brian Parker, aka Paakaa 10, of Good Game Bro offered this assessment of Gustafsson's aggressiveness in the demo: "The brazen offensive onslaught unleashed by the CPU AI was confusing to me in the demo at first, but in truth this is not out of character with how Alexander Gustafsson approaches fights, including the one real-life head-to-head fight with Jon Jones."
In the long term, I'm not sure if this will be good or bad. For now it's fun.
Once we get our hands on other fighters, we'll be able to gauge the level of variety in the way all the other fighters behave.
Submission Battles
EA Sports UFC Trailer, Fighting and Submission Details Revealed http://t.co/FelGQ1Vc9u pic.twitter.com/I9Gsz4uPaW

— Steve Noah (@Steve_OS) February 10, 2014
Submissions are a tricky thing in MMA games. Button mashing isn't a good thing, but overcomplicating the process is a deterrent.
EA Sports UFC attempts to find a happy medium. With a good number of hours put into playing the demo, I'll admit that I'm very much a work in progress when it comes to submissions.
#EASportsUFC Ronda Rousey Vs Miesha Tate. #EASports refine strategic submission battles - http://t.co/tdH8ucsP11 pic.twitter.com/PJseuV70P3

— Digital Gathering (@DGINSIDER) May 28, 2014
Essentially, the submission system is a bit of a guess-and-counter contest between you and your opponent. Fatigue, damage and the skill of the two men play a big role in success and failure.
Without enough time and variation of fighters to speak on, it's best to save the evaluation of this part of the game for the review of the full retail version.
Career Mode
Our hands-on impressions of @EASPORTSUFC - [http://t.co/WYyEphNiJE] pic.twitter.com/tyIDZ5PBBd

— GoodGameBro (@GoodGameBro) May 27, 2014
We haven't actually seen a lot of the career mode, but we do know that you get an opportunity to create a fighter. You can use the awesome GameFace feature that allows you to upload an image of yourself, or you can simply use the wizard-like database available.
You begin your career as part of the very popular UFC reality series The Ultimate Fighter.
As your career progresses, you're obviously trying to win championships and level up your skill set. Perhaps the most interesting aspect of the mode is that your fighter has a longevity rating.
Because MMA is such a brutal sport, this takes into account the amount of damage your fighter takes. Bloody battles are awesome, but too much wear and tear takes a toll on the body and shortens careers.
The Demo
For those of you who haven't had an opportunity to download the demo, it is currently available for free on the Xbox Marketplace and PlayStation Network.
Look for the full review to drop on Tuesday, June 17 when the game officially releases.
Follow me. My name is Brian...and I'm a sports gamer.