Appropriately, Game 7 between the Los Angeles Kings and the Chicago Blackhawks wasn't decided until overtime. It would have been wrong for a series so fantastic to end in any other manner.
Both clubs are titans of the league, teams that have proven themselves time and again as elite franchises. Three of the last four Stanley Cups have been won by one or the other, with Chicago taking the championship in 2010, Los Angeles doing the same in 2012, and the Blackhawks regaining the title in 2013.
Either team would have been a deserving Western champion this year. In the end, the gap between the two was a single goal, as the Kings secured a 5-4 overtime decision over Chicago in the decisive seventh contest. In knocking off the defending champions, the Kings secured the Clarence S. Campbell Bowl as the best team in the Western Conference, though L.A. captain Dustin Brown made his further ambitions clear by his actions:
Don't touch it. pic.twitter.com/bJgLcaecLL

— LA Kings (@LAKings) June 2, 2014
Still, this was an undeniably huge moment for the Kings. Not only did the team avenge last year's Conference Final loss at the hands of the 'Hawks, but it also made history, as Los Angeles becomes the first team to advance to the Stanley Cup Final after playing three seven-game series:
Prior to this season, no team who had played Game 7 in Round 1 & 2 made it to Cup Final. Now both NYR & LA do it in the same year.

— Ian Mendes (@ian_mendes) June 2, 2014
LRT: LA could be first team to win the Cup after going 7 games in the first 3 series.

— Victor Carneiro (@vcarneiro) June 2, 2014
The games were everything anybody could have hoped for.
Chicago opened strongly, winning Game 1 by a 3-1 margin and holding a 2-0 lead halfway through Game 2, but then the Kings' offence came alive (and/or goaltender Corey Crawford imploded). Between the halfway mark of that contest and the end of Game 4 the Kings would score 15 goals, winning all three by scores of 6-2, 4-3 and 5-2 respectively. It was good hockey, but it was about to get much better.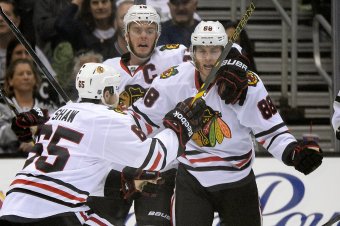 Harry How/Getty Images
With Chicago facing elimination in Game 5, Blackhawks coach Joel Quenneville rearranged his lines, and the trio of Patrick Kane, Andrew Shaw and Brandon Saad combined for nine points as the 'Hawks gritted out a 5-4 double-overtime win. Kane continued scoring, posting three points in Game 6 as Chicago upset the Kings in L.A. by a 4-3 score to force Game 7. Both games were close-run affairs, where a bounce one way or the other would have decided things.
Game 7 was much the same, with two closely-matched teams at the height of their powers giving everything they had. In the end, a deflection off Blackhawks' defenceman Nick Leddy cost Chicago a chance at defending its 2013 title:
"It was one of those goals that was tough luck," Quenneville said afterward in a press conference streamed live on CBC.ca.
"You look at how close we were, how competitive it was, and it's a tough league," he added, when asked about how close Chicago was to repeating as champions. "I couldn't be prouder of our guys and the way we competed."
Kings coach Darryl Sutter, typically, was taciturn in his postgame availability, but his team's official Twitter feed did a nice job of summing up the consensus not just of Kings' fans, but of anyone who had the pleasure of watching the series:
What a game. What a series. Wow.

— LA Kings (@LAKings) June 2, 2014
Los Angeles now faces a fourth test. In the first round, the Kings fought back from a 3-0 deficit; in the second they knocked off the team that tied for the NHL lead in wins (Anaheim, with 54) and in the third they defeated the defending champions. Now, they face a New York Rangers team that comes into the Final as underdogs but matches up well against L.A. in a number of areas.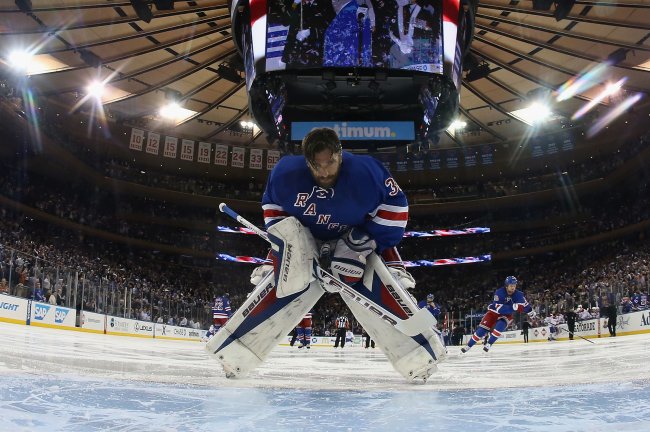 Bruce Bennett/Getty Images
In net, New York has arguably the NHL's best goalie in Henrik Lundqvist, who has been the team's strongest player and currently holds a 0.928 save percentage in the postseason. L.A. counters with Jonathan Quick, who was exposed by the Blackhawks and has posted an ugly 0.906 playoff save percentage.
The Rangers bring size to match the Kings, bring depth that could find weaknesses in L.A.'s injured defence corps and have a coach in Alain Vigneault who is one of the best in the league (and who, with Sutter, Quenneville and Boston's Claude Julien is now one of the four to appear in multiple Stanley Cup Finals over the last five seasons).
For all their strengths, however, the Rangers cannot help but be seen as less-favoured than the Kings. Los Angeles has proven, both with its epic win over Chicago and its own illustrious recent past that it deserves to be seen as the likely winner of this year's Stanley Cup Final.
It should be a great series, but it will have to be to compete with the one that concluded on Sunday night.
Jonathan Willis covers the NHL for Bleacher Report. Follow him on Twitter for more of his work.
Statistics courtesy of NHL.com unless otherwise noted.