The Miami Heat's trio of LeBron James, Dwyane Wade and Chris Bosh popularized the "Big Three" label, but the San Antonio Spurs' trifecta of Tim Duncan, Tony Parker and Manu Ginobili just perfected it.
Spurs' Tim Duncan, Tony Parker and Manu Ginobili set 'Big 3' record for most playoff wins http://t.co/MOAJzTj5fr pic.twitter.com/4inmsP8TZ3

— Ben Golliver (@BenGolliver) May 22, 2014
In beating the Oklahoma City Thunder by a massive margin in Game 2—112-77 for those scoring at home—Gregg Popovich's boys notched their 111th postseason victory. That feat was good enough to move into first place on the all-time list of the league's most historically successful three-man units.
As if that accomplishment weren't impressive enough on its own, the group they passed should help provide some context: Magic Johnson, Kareem Abdul-Jabbar and Michael Cooper, who won 110 playoff games from 1979-80 to 1988-89.
Manu, Duncan and Parker move past Magic, Kareem & Cooper for the @NBA's most playoff wins all-time as a trio (111) pic.twitter.com/ZitkvPJHtU

— NBA.com/Stats (@nbastats) May 22, 2014
The Spurs' ageless trio has been together since the 2002-03 season and, of course, have been in the playoffs every year since.
With an average of more than 10 postseason wins per year during that span, the Spurs have easily been the most successful playoff team for as long as their Big Three have been together. And as impressive as their raw win total is, the fact that they've also collected three NBA titles since that 2002-03 season is even more incredible.
As you might expect, none of the Spurs care much about the record. When they tied the mark set by Johnson, Abdul-Jabbar and Cooper with their Game 1 win over the Thunder, Ginobili told reporters, via Scott Cacciola of The New York Times, "We'll have time to think about that in a few years once we are on a couch with a remote."
Duncan was even less enthused, per Cacciola: "Haven't thought about it. ...Our only goal, our only purpose, is winning this series and moving on."
He then powered down into sleep mode, giving his circuits time to recover from the strain of fielding a question about an individual record.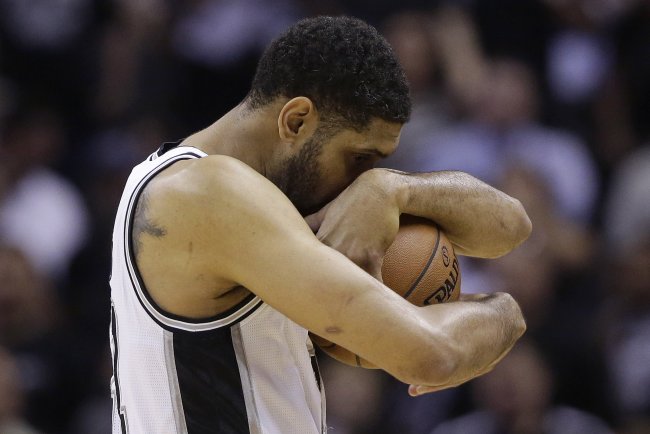 Eric Gay/Associated Press
With the way San Antonio is playing right now, it's fair to expect the record to swell with a few more postseason wins. Assuming the Spurs can finish this run with another championship, they'll stretch the mark to 117 at the conclusion of this postseason.
Not too early to consider: If Spurs close out Thunder on May 27th, they would have 8 full days off prior to NBA Finals.

— Ethan J. Skolnick (@EthanJSkolnick) May 22, 2014
It certainly doesn't look like the run will come to a close anytime soon. Despite their advancing age (Duncan is 38, Ginobili is 36 and Parker is 32), the Spurs are showing no signs of slowing down. After all, if you can smoke the athletic, youthful and typically dangerous Thunder by 35 points in a postseason contest, it's hard to believe a decline is on the way.
Expect the Spurs' Big Three to conclude their run on their own terms, likely with a Duncan retirement. You know, probably after the end of the 2036-37 season.