The SEC has been arguably the best college baseball conference in the nation this season, making the postseason tournament something fans cannot miss.
This event features 12 of the 14 teams in the conference, and each squad is capable of surprising people with a deep run in this tournament. In fact, almost all of them could reach the NCAA tournament and do damage there.
Ole Miss head coach Mike Bianco explained before the start of the conference tournament, "If there was ever a year you could get 11 (in the NCAA tournament), this would be the year," via David Brandt of the Associated Press, via NOLA.com.
Before the teams start thinking on a national level, however, they must first battle each other to be named the best in the conference.
Things kicked off Tuesday with a single-elimination round that will cut the amount of competitors to eight. Here is a breakdown of all the action from Day 1 that will be updated as available, followed by a schedule for Day 2.
Day 1 Results

| | |
| --- | --- |
| Game No. | Result |
| 1 | Vanderbilt 3, Tennessee 2 |
| 2 | Arkansas 4, Texas A&M 0 |
| 3 | Kentucky 7, Alabama 1 |
| 4 | Mississippi State 5, Georgia 4 |
via SECDigitalNetwork.com
Day 1 Recap
Vanderbilt 3, Tennessee 2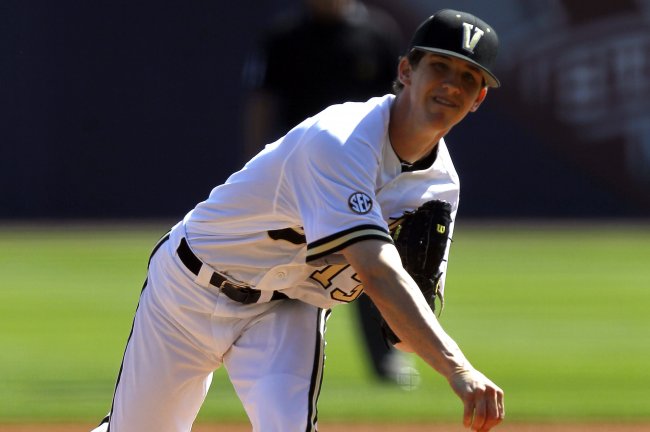 Butch Dill/Associated Press
Walker Buehler gave Vanderbilt everything he had on the mound and helped the Commodores win the opening game of the SEC tournament.
The pitcher went eight innings while allowing just two runs on six hits to go with five strikeouts. Carson Fulmer got the save while the offense did just enough to help the team advance through Round 1.
Most of the scoring came early in this ballgame as the Commodores were all over Tennessee starter Hunter Martin. Vince Conde came through with two runners on and two outs in the bottom of the first with an RBI single to score the first run of the game, as described by Nick Cole of The Tennessean:
Conde reaches out takes an 0-2 pitch to RF, driving home Turner to give VU a 1-0 lead. Nice piece of hitting.

— Nick Cole (@ncole6) May 20, 2014
His aggressive baserunning helped make it 2-0 when a stolen-base attempt forced an errant throw, allowing Bryan Reynolds to score from third.
However, Tennessee was quickly able to tie the game in the top of the second as Buehler struggled early, as noted by Kendall Rogers of Perfect Game:
#Vandy RHP Walker Buehler not commanding well, and Vincent Jackson/Derek Lance tie things up w/ RBI singles on 94,95 Mph FBs. @Vol_Baseball

— Kendall Rogers (@KendallRogersPG) May 20, 2014
In the bottom of the inning, Vanderbilt took the 3-2 lead after Rhett Wiseman tripled and eventually scored on a Ro Coleman single.
Although it seemed like this would be a back-and-forth offensive battle, this is where the scoring ended as Buehler settled down and started to pitch to his potential. His eight innings not only helped give his team the lead, but it also saved the bullpen for the rest of the SEC tournament.
Fulmer came in for the save and got into trouble early when he allowed a leadoff double to Nick Senzel and then balked to send the runner to third. Fortunately, a great defensive effort from Xavier Turner saved the game for the Commodores:
UNREAL PLAY FROM TURNER. He grabs a one-hopper and tags Senzel at 3rd before he can get back to the bag. BIG PLAY!

— VandyBaseball (@VandyBaseball) May 20, 2014
Two outs later, Vanderbilt was able to escape with the 3-2 win in the first game of the tournament.
The Tennessee bullpen did its job with five shutout innings, but the offense could not manage to get much going. The squad will now head home after being eliminated from the SEC tournament.
Vanderbilt will now face LSU in a double-elimination game on Wednesday. While the pitching is something to rely on, the Commodores will need some more consistent hitting to ensure their survival for the rest of the tournament.
Arkansas 4, Texas A&M 0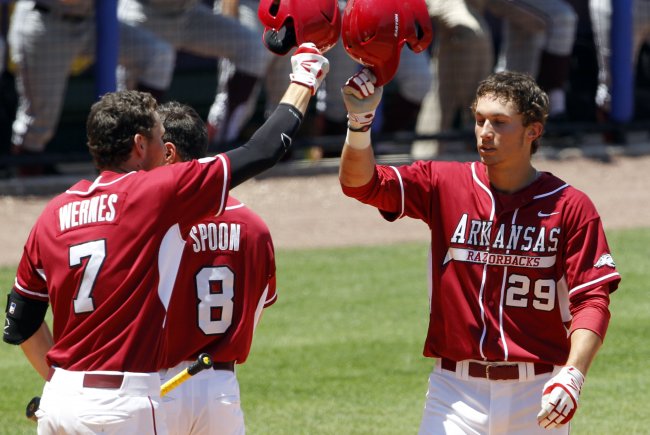 Butch Dill/Associated Press
The bats never got going for Texas A&M as Trey Killian and Zach Jackson completely shut down the Aggies offense in a shutout victory for Arkansas.
Killian got the start and pitched six scoreless innings while allowing just four hits. Johnson followed him up and pitched three scoreless innings himself. Kendall Rogers of Perfect Game was quite impressed with both of them:
#Arkansas showed off two premium arms in Trey Killian and Zach Jackson. Both touched 93-94 and showed good stuff. Love this #Hogs staff.

— Kendall Rogers (@KendallRogersPG) May 20, 2014
Meanwhile, Eric Fisher had the big bat for the winning team, going 2-for-4 with a home run for the Razorbacks.
Blake Allemand, Krey Bratsen and Troy Stein each had two-hit games for Texas A&M, but the squad could not string enough together to get onto the scoreboard.
For a while, it seemed like Fisher's shot in the second inning would be the only scoring. The good news is that it was quite a shot, as noted by Adam Alter of SportsTalk with Bo:
Eric Fisher just hit a homer. It's really hard to hit it out of that park.

— Adam Alter (@Adam_Alter) May 20, 2014
However, the Razorbacks finally added to that lead with a big inning in the bottom of the seventh. A walk and a single led up to an Alex Gosser RBI single to extend the lead to 2-0, but this was just the start of the trouble for Texas A&M.
Aggies starter Daniel Mengden hit the next batter to load the bases and was subsequently removed, but his replacement did not fare much better. Matt Kent also hit the first batter he faced and then walked Andrew Benintendi two batters later to bring in two more runs.
Andrew Vinson eventually got the final out of the inning for Texas A&M, but the damage was already done.
Jackson then closed out the game, totaling three scoreless innings in relief to earn the save the hard way.
Arkansas advances to the next round to face Ole Miss, which has been quite impressive as of late. The good news is that the double-elimination factor gives the Hogs a chance to stay alive even with a loss on Wednesday.
Texas A&M will now have to wait to see if they make the NCAA tournament, although their strength of schedule should be enough to ensure them a spot.
Kentucky 7, Alabama 1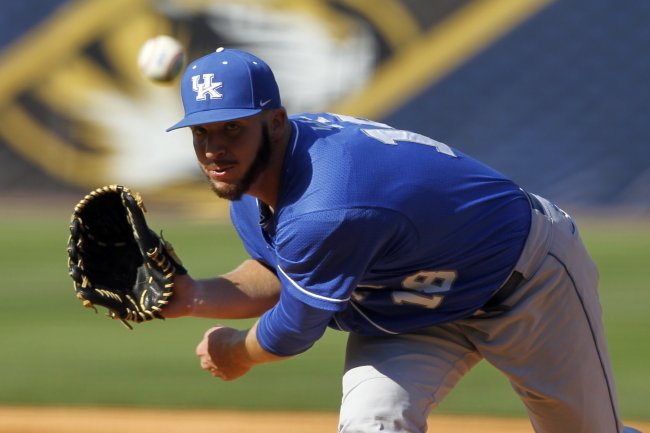 Butch Dill/Associated Press
Kentucky used some timely hitting to light up the scoreboard and blow away Alabama in a Round 1 win in the SEC tournament.
Austin Cousino totaled three RBI in the win while Matt Reida and Storm Wilson totaled two hits each for the Wildcats. A.J. Reed did not do too much at the plate, but he pitched five innings while allowing just one run. Andrew Nelson then managed four shutout innings in relief to help secure the victory for Kentucky.
Alabama starter Nick Eicholtz only lasted one full inning as things started going south in the second. A hit by pitch and two walks forced the team to make a change. Reida then hit a sacrifice fly, while was followed by a RBI fielder's choice that featured good hustle by Cousino:
Cats make it 2-0 on fielder's choice grounder by Austin Cousino. Hustles down line to avoid inning-ending double play.

— Jeff Drummond (@JDrumUK) May 20, 2014
The Tide were able to cut the lead to 2-1 when Wade Wass hit an RBI double in the bottom of the third. Unfortunately, this was the last good moment for the No. 8 seed.
Cousino broke the game open with a two-run single in the top of the fourth:
Cousino drops a single into RF, scoring Wilson, with Reida making a heads-up play to score from first on the knock. UK leads 4-1.

— Kentucky Baseball (@UKBaseball) May 20, 2014
Kentucky added two more runs in the sixth and one in the eighth to ensure the 7-1 victory. It was a great pitching performance by Reed and Nelson to keep the Crimson Tide off the board, and it knocked them out of the tournament.
Meanwhile, Kentucky will advance to the second round to face top-seeded Florida in what will be one of the best matchups of the week. It will take a lot to upset the Gators, but the club will have to keep hitting well to have a chance.
Mississippi State 5, Georgia 4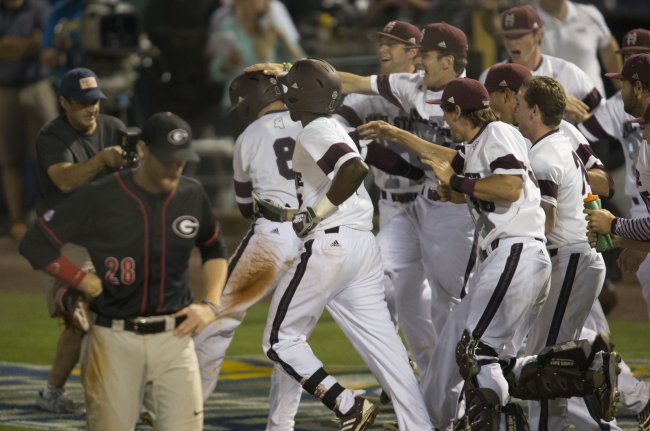 Hal Yeager/Associated Press
In an all-Bulldog affair, Mississippi State was able to come away with a clutch performance in the 10th inning on Tuesday night to down Georgia, 5-4.
Georgia went up in the third inning 2-1 after an RBI single from Conor Welton and a Dylan Cole RBI groundout, but Mississippi State's massive sixth inning gave them a 4-2 advantage.
A two-run double from Wes Rea got the action started, but it was Derrick Armstrong's gutty base running from around second that stole the show, as captured by Matt Wyatt of SuperTalk Mississippi:
Derek Armstrong beats the tag at the plate. 4-2 #HailState https://t.co/wCBEfWf8Ov

— Matt Wyatt (@MaroonWyatt) May 21, 2014
In all, Mississippi State got a little more than eight strong innings from starting pitcher Lucas Laster. But RBI singles from Sean McLaughin and Jess Posey tied things up in the ninth inning.
But then Georgia imploded in extra innings. Mississippi State's Gavin Collins singled to start the inning and then came around to score later to end the game thanks to a Georgia throwing error into the outfield.
It's a horrible way for Georgia's tournament title bid to end, but Mississippi State is no stranger to thriving in that sort of scenario after winning six games in as many days to win the 2012 tournament. Those Bulldogs will be in action yet again on Wednesday against South Carolina.
Day 2 Schedule
SEC Tournament Schedule (May 21)

| | | |
| --- | --- | --- |
| Game No. | Matchup | Time (ET) |
| 5 | No. 3 LSU vs. No. 6 Vanderbilt | 10:30 a.m. |
| 6 | No. 2 Ole Miss vs. No. 7 Arkansas | TBD |
| 7 | No. 1 Florida vs. No. 9 Kentucky | 5:30 p.m. |
| 8 | No. 4 South Carolina vs. No. 5 Mississippi St. | TBD |
via AL.com
For a complete look at the SEC tournament bracket, check out AL.com.
The action will continue on Wednesday with the top four teams finally getting started. Florida and Ole Miss remain the favorites, but both LSU and South Carolina have tons of talent that could help them win games at this event.
Day 2 also represents the beginning of the double-elimination portion of the tournament. The four losing teams will get a chance to play their way back into the championship, but it will be a longer road to get there.
While the play-back games give each squad a safety net, you can be certain that every club will do its best to stay undefeated as long as possible in this competitive atmosphere.
Follow Rob Goldberg on Twitter for the latest breaking news and analysis.