After the 7-2 disaster (debacle, rout, embarrassment—pick a descriptor) that was Game 1, the Montreal Canadiens were saying all the right things.
"These games happen," star defenceman P.K. Subban told CBC. "When I look at how we've played the whole playoffs...we haven't played like this all playoffs. We just have to turn the page and get ready for the next game."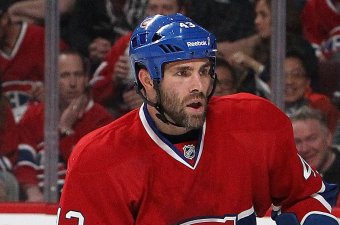 Francois Laplante/FreestylePhoto/Getty Images
"The best thing is it's a seven-game series," added teammate Mike Weaver. "You're not going to win it in one game."
In some ways, the very lopsidedness of the loss may work in the Canadiens' favour. Subban's comment served rather to dismiss the loss as an aberration, and that's probably a healthy attitude for the team in general. A big loss is useful in that it guards against overconfidence and complacency, but it's also important not to read too much into it.
In Nate Silver's book The Signal and the Noise, he talked with Los Angeles Dodgers scout John Sanders, who extolled something he called a "major league memory," by which he meant a short one:
In baseball, even the best hitters fail a majority of the time, and every player will enter a slump at certain points during the season. The ability to cope with this failure requires a short memory and a certain sense of humour. One of Sanders [sic] favorite scouting tactics is to observe how a player reacts after hitting a rough or unlucky play. 'I like to see a hitter, when he flails at a pitch, when he takes a big swing and to the fans it looks ridiculous, I like to look down and see a smile on his face. And then the next time—bam—four hundred feet!'
Comments such as those from Subban and Weaver suggest that the Canadiens fully appreciate the value of simply forgetting about the loss. That they were able to be so philosophical immediately following the game (as opposed to sometime later) should mean they regard it as the one-off that it was, which in turn should allow them to treat Game 2 as a fresh start.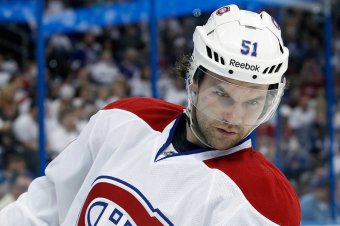 USA TODAY Sports
The players' job is to be ready to go mentally when the puck drops in that second game. As David Desharnais put it when asked to contrast the two teams after Game 1, the Rangers "meant business, they were ready, and that's the attitude we need to have."
But while shrugging off a bad loss is the best way for the Canadiens players to be prepared to give it their all in Game 2, the same is not true for the team's coaches, who are tasked with making necessary adjustments to blunt New York's attack.
In French, Michel Therrien suggested that the loss was a good lesson for the Canadiens, one that would bring them back to Earth:
Tu ne veux jamais perdre, mais cette défaite va nous ramener sur la terre. C'est une bonne leçon -- Michel Therrien #CH #Rangers

— Francois Gagnon (@GagnonFrancois) May 17, 2014
More is needed. As Sportsnet's Chris Boyle has so nicely demonstrated, Therrien was able to make adjustments to counter the Boston Bruins in Round 2, adjustments that allowed the Habs to win that series in seven games.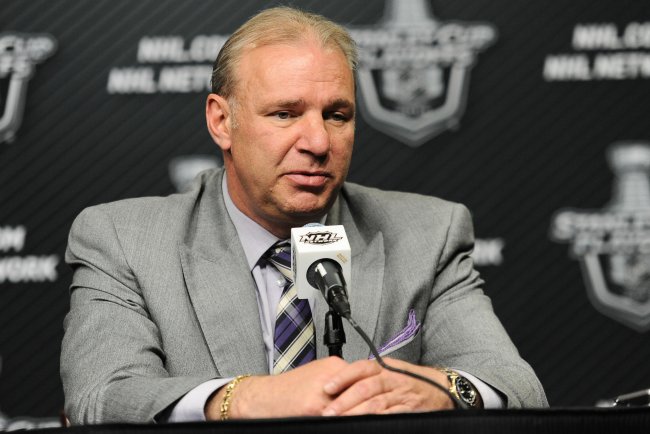 USA TODAY Sports
As Boston was a very different team than Tampa Bay, so New York is a very different team than Boston. Weaver admitted after Game 1 that the Canadiens had not handled the Rangers' speed as well as they should have, and Therrien's task in the day-and-a-half between the first and second game of the series is to make whatever changes are needed to counter New York.
Those changes go well beyond simply countering the Rangers' speed.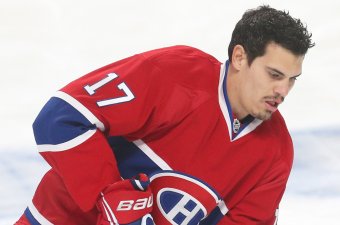 USA TODAY Sports
The penalty kill will get some deserved attention, as will player discipline; New York's final three goals were all scored on the power play, and the Canadiens ran up 24 penalty minutes to the Rangers' six. Rene Bourque alone took as many minor penalties as the entire New York roster; it is a very good bet that the Montreal team we see in Game 2 will show more discipline than the one we saw in Game 1.
Montreal's play without the puck in the defensive zone could also stand some work. By my count, three of the Rangers' first four goals came off solid work down low in the Canadiens' end of the rink; the two goals against early in the first period were both the result of Montreal being unable to handle New York buzzing around its net.
The Canadiens spent the vast majority of the game chasing, and when defencemen are pinching aggressively to tie the score, it's easy for speed to look like the primary problem, when the real root cause is an early deficit forcing the team to cheat for offence.
Game 2 should be a very different affair than the series opener was.
Therrien has already proved himself adaptable in these playoffs, and he's bound to have identified and addressed problems in the interim. His comments hinted that perhaps Montreal was a little overconfident heading into this series; the team may not be scarred after Game 1, but it should have no problems with complacency.
Montreal needs to treat this game as a fresh start. If it does, there is every reason to think it can win Game 2, and if it does that, this will be a brand-new series.
Jonathan Willis covers the NHL for Bleacher Report; follow him on Twitter for more of his work.