After launching a team-high 15 field-goal attempts Monday night, Joe Johnson kept firing shots during postgame interviews while hitting LeBron James with an accusation of flopping.
With the score knotted at 94, less than 90 seconds left on the clock and James saddled with five personal fouls, Johnson went at the five-time All-Defensive first-team selection on back-to-back trips. Johnson, one of the NBA's premier clutch scorers, misfired on both: a turnaround fadeaway and a step-back jumper.
James' defense drew rave reviews from some of the viewing public:
Man, LeBron's defense on Joe Johnson the last couple of minutes has been all-world good.

— Richard Deitsch (@richarddeitsch) May 13, 2014
Johnson, though, wasn't impressed.
"He flopped that last one," Johnson said, via Tim Bontemps of the New York Post.
Here is video of the play Johnson referenced, courtesy of CJ Fogler:
Johnson said James hitting the deck threw off his rhythm, but admitted a foul call was unlikely in that situation.
"I should've known they wouldn't have called a foul," he said, via Bontemps, "but I went into my shot anyway, so I had plenty of time."
Johnson said he "wasn't necessarily trying to draw the foul on [James]," but it's hard to see what any other motivation could have been. The Brooklyn Nets clearly had no answers for the four-time MVP on the opposite end, where James tied a playoff career high with 49 points on 16-of-24 shooting.
Still well within striking distance—and in desperate need of a win with the Miami Heat holding a 2-1 series lead—Nets coach Jason Kidd opted to attack the best player on the planet.
That decision had barely escaped Kidd's mind before it was skewered by a number of analysts:
What kind of sense does it make to have Joe Johnson run iso twice against LeBron James w season on the line...plain dumb...

— Michael Wilbon (@RealMikeWilbon) May 13, 2014
Joe Johnson twice at LeBron with game on the line. Got it. There are 4 or 5 guys coaching in the NBA. Everyone else collecting a check.

— Jason Whitlock (@WhitlockJason) May 13, 2014
I don't care how many fouls LeBron has...isolating Joe Johnson on him for back to back possessions is a losing proposition.

— Frank Isola (@FisolaNYDN) May 13, 2014
Miami held on for a critical 102-96 win, and James patted himself on the back for his defensive play after the contest.
"I take pride in my defense just as much as I do offensively," he said, via Bleacher Report's Ethan Skolnick. "I believe in a one-on-one situation, I can stop anyone from scoring."
Johnson might say that James will go to any means necessary to get those stops, but the scoreboard says James made the right plays—or Kidd called the wrong ones.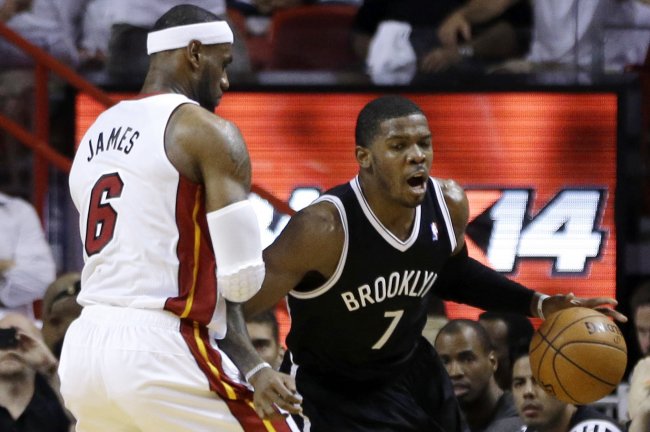 Lynne Sladky/Associated Press
With the win, Miami moved one victory away from its fourth consecutive Eastern Conference Finals appearance. The Nets need three straight wins, including two at American Airlines Arena, to keep that from happening. The Heat haven't lost consecutive playoff games since the 2012 conference finals.
In other words, Johnson might be better off using his energy to figure out how Brooklyn can beat Miami instead of searching for an explanation of his team's loss. With 49 points surrendered to a single player, he might want to worry about Brooklyn's defense instead of dissecting Miami's.