Neither rain delays nor a top-notch field could stop Martin Kaymer from winning the 2014 Players Championship. A one-under 71 on Sunday did the trick for the 29-year-old German...but just barely.
Overall, Kaymer was 13 under par for the tournament, just one shot better than Jim Furyk and two shots better than a late-charging Sergio Garcia.
Tell them what he won, SportsCenter:
Martin Kaymer wins THE PLAYERS Championship, his 2nd career PGA TOUR win. Kaymer takes home $1.8 million.

— SportsCenter (@SportsCenter) May 12, 2014
The win was Kaymer's second PGA tour victory. The victory was especially sweet for Kaymer on Mother's Day. His mom passed away from cancer in 2008. Per First Take's Skip Bayless, the win was dedicated to her.
What a great finish to Mother's Day. Martin Kaymer won the Players for his mom, who died of skin cancer six years ago.

— Skip Bayless (@RealSkipBayless) May 12, 2014
Here's the final leaderboard:
Kaymer was seemingly coasting to an easy win with a three-stroke lead through 15 holes, but a rain delay put things on pause.
Play has been suspended at #THEPLAYERS due to inclement weather. Furyk has a 3' par putt remaining at 18. #PGATOUR pic.twitter.com/It0Ead8lIg

— PGA TOUR (@PGATOUR) May 11, 2014
Coincidentally, Furyk was putting when the horn sounded to halt play. Former major leaguer Mike Hargrove was called "The Human Rain Delay" because of his long batting routine.
Hargrove might have to embrace a new member to the fraternity. Furyk took his sweet time to putt. Before he did, the horn signaled the rain delay. The tournament wouldn't conclude until 8:12 p.m. ET.
Analyst Johnny Miller chided Furyk for his slowness, per Ryan Lavner of the Golf Channel.
Jim Furyk had 4-footer on 18 when horn blew. Johnny Miller: "Well when you take that much time messing around with it, that's what you get."

— Ryan Lavner (@RyanLavnerGC) May 11, 2014
ESPN 850's Greg Brinda was more forceful.
Jim Furyk.....you got to be kidding! Putt the freaking ball.

— Greg Brinda (@SirFranksnBacon) May 11, 2014
One might suggest Furyk was being strategic in hopes that a rain delay might make Kaymer fold. If that was indeed the plan, it almost worked.
Kaymer ran into some major issues when he double-bogeyed the 15th hole. His lead quickly shrunk down to one shot.
Chris Dunham, Jr. put Kaymer's predicament into perspective.
Think you know what pressure is? Martin Kaymer is going to have a 90-minute wait to think about his 3-shot lead as The Gauntlet looms ...

— Chris Dunham, Jr. (@ChrisDunhamJr) May 11, 2014
Pro golfer Luke Donald said what everyone watching was thinking.
#THEPLAYERS Championship just got interesting.....

— Luke Donald (@LukeDonald) May 11, 2014
Some interesting choices and approaches kept things on pins and needles until the finish. Kaymer managed a nice par on the 16th hole, but things got really scary on the dreaded 17th.
Kaymer's first shot had more backspin than a Rafael Nadal forehand, and it spun his ball back rapidly toward the water.
For an instant, it seemed destined to drench his dreams of winning a second PGA tour event. The heavy rough protected Kaymer from disaster. That set up the shot that really won the tournament for him.
Kaymer drilled a difficult 28-foot put to save par and lower his blood pressure heading into the final hole. Here's what Bayless had to say about the clutch putt.
Martin Kaymer just made as great a collapse-halting, tournament-saving, big-breaking guts putt as I've seen (on 17!) and won the Players.

— Skip Bayless (@RealSkipBayless) May 12, 2014
The PGA Tour's official Twitter account lets us replay the dynamic shot.
SEE IT AGAIN: The par putt that saved Martin Kaymer's Players Championship. #WhatAPar #THEPLAYERS #FedExCup http://t.co/QaJ5aBkLcq

— PGA TOUR (@PGATOUR) May 12, 2014
On the 18th hole, Kaymer was much more calm and confident. He played the final hole smart but not too passive. He actually went for a birdie on his third shot instead of laying up just short to make the tournament-winning par putt easier.
He missed the birdie but calmly sank the par to escape with the prize.
With this major win under his belt, the rest of Kaymer's season has to be looking pretty bright. There's no measuring how much a win like this should boost his confidence.
He just fought off a rain delay, some self-inflicted adversity and a fierce field to win the sport's fifth major. That's a good four days' work.
Others Who Were in the Hunt
Jim Furyk
Despite falling one shot short of a playoff, Furyk obviously played well. Golf Central caught up with Furyk after his round.
Jim Furyk (-12) caught up with @ToddLewisGC after his round. #ThePlayers pic.twitter.com/Dm5kWy9S9X

— Golf Central (@GolfCentral) May 11, 2014
The veteran finished with his best round of the tournament. His six-under 66 made it tough for Kaymer, but in the end, it wasn't enough.
Still, Furyk appears to be at peace and is excited about the rest of his golf season. Golf Channel's Kelly Tilghman talked about how Furyk has found his happy place on the golf course.
Jim Furyk told me reason he's playing well again is because he learned how to enjoy golf again. Happiness breeds better golf.

— Kelly Tilghman (@KellyTilghmanGC) May 11, 2014
Jordan Spieth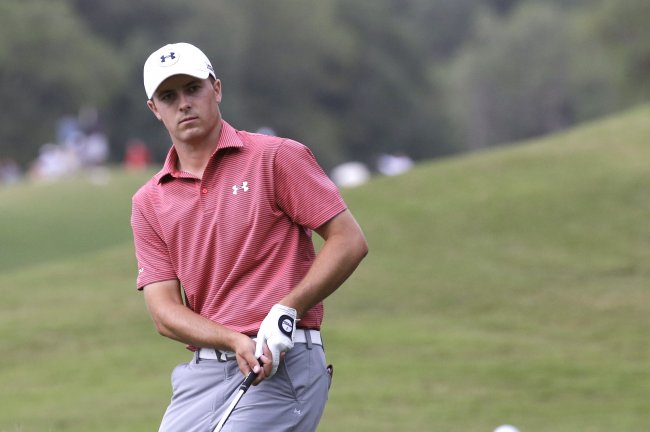 John Raoux/Associated Press
One day, it'll be Spieth's time to break through in a big tournament; it just wasn't today. After tearing up the first two days of the tournament, Spieth stumbled to a one-over-par performance on the weekend.
His bogey-less streak was snapped at 58 holes, and that seemingly sent him into a tailspin.
Bogeyman finally catches Jordan Spieth. Took him 59 holes.

— Jason Sobel (@JasonSobelGC) May 11, 2014
He had five bogeys on the day, and that killed any chance the 20-year-old would have to win the tournament.